Strawberry Frosting is infused with the vibrant flavors of strawberries and will elevate any cake or dessert you put it on.
If there's one thing that can instantly elevate the taste of any dessert, it's a luscious, creamy frosting. Strawberry Frosting is infused with the vibrant flavors of strawberries and is so good on cake or cupcakes.
Strawberry buttercream frosting is perfect for frosting cupcakes. Whether you're baking a batch of classic vanilla cupcakes or indulging in rich chocolate ones, the strawberry buttercream frosting will complement the flavors perfectly. The combination of the fluffy cake and the fruity frosting is a match made in heaven.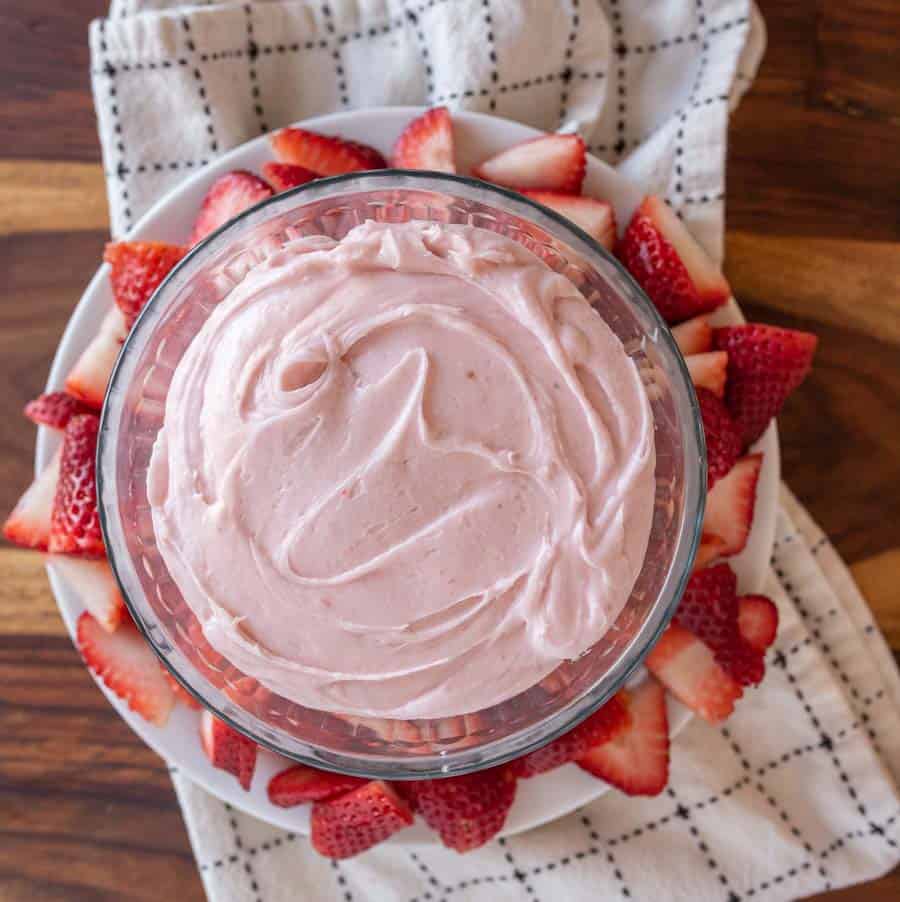 Strawberry Frosting
If you're in the mood for something more elaborate, strawberry buttercream frosting pairs wonderfully with cakes as well. Picture a moist and tender vanilla cake, layered with strawberry preserves, and enveloped in a generous coating of the strawberry buttercream frosting. Each bite will be bursting with a delightful balance of sweetness and tang, leaving you yearning for more.
But why stop at cakes and cupcakes? Strawberry buttercream frosting can also add a touch of indulgence to other treats. Imagine spreading it generously over freshly baked cinnamon rolls, allowing the sweet strawberry flavors to mingle with the warm, cinnamon-infused dough. The result is a mouthwatering breakfast or brunch delight that will have your taste buds dancing.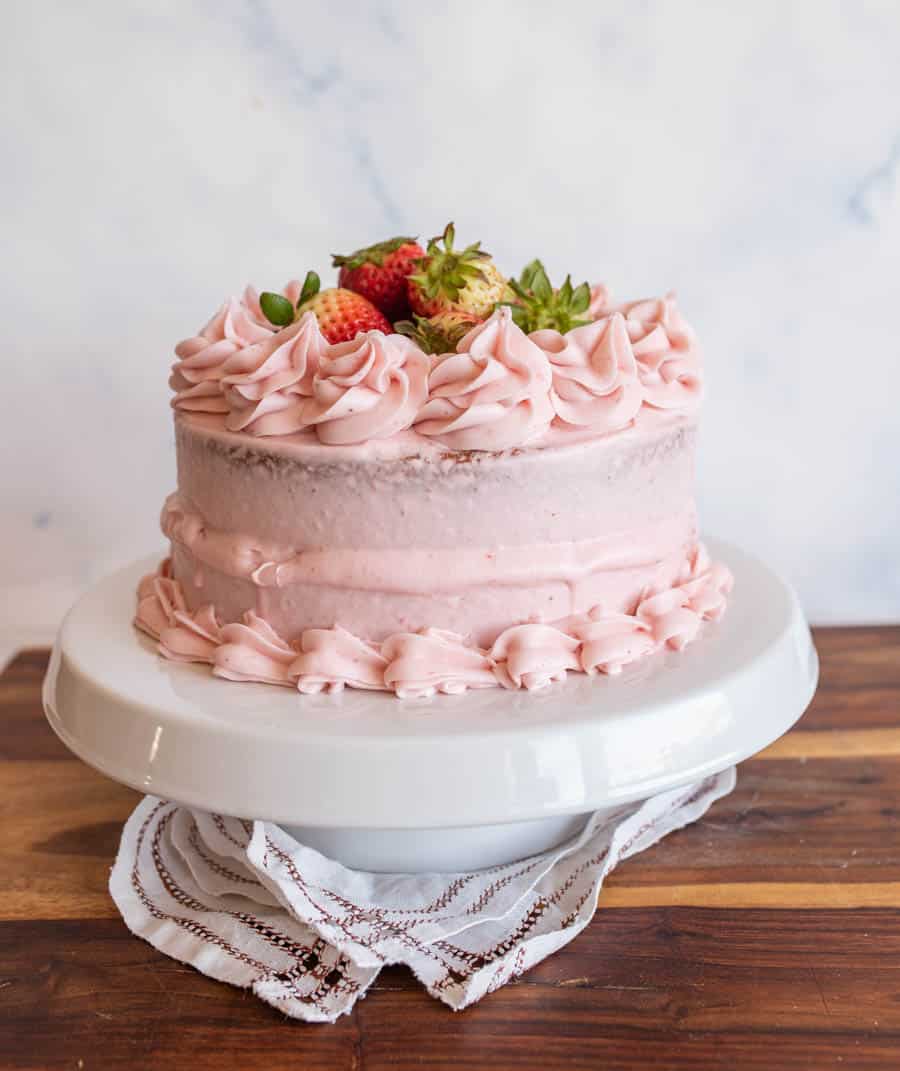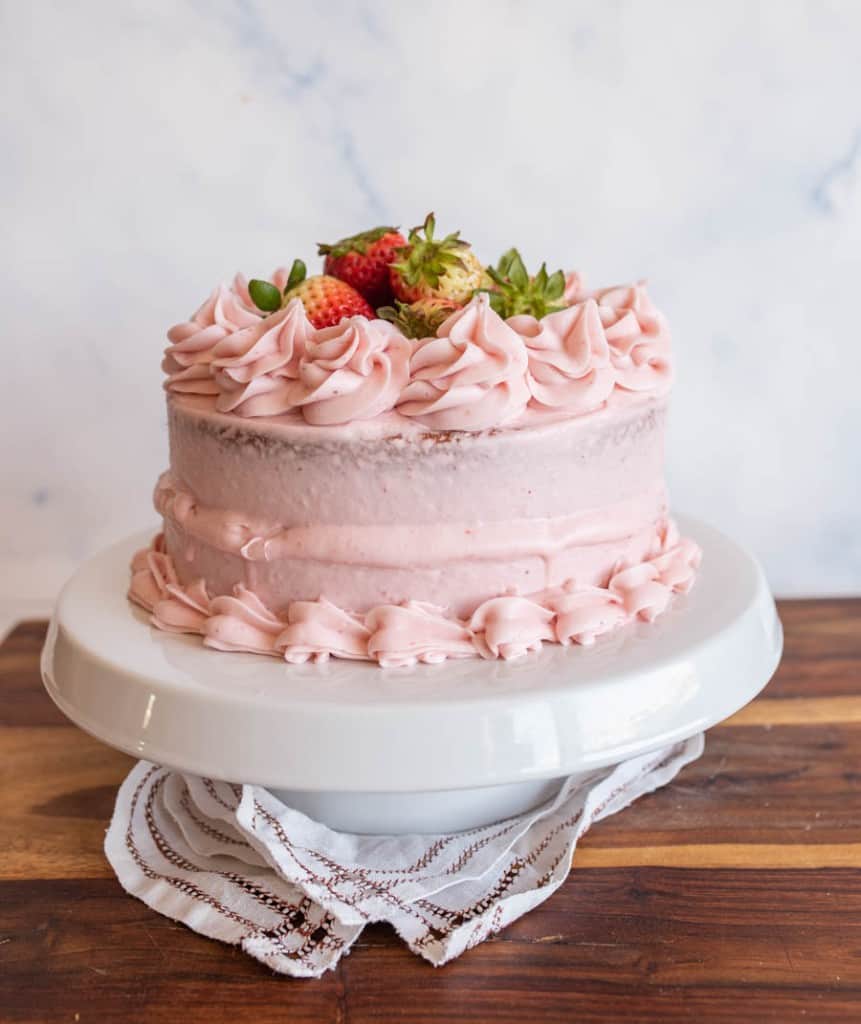 Ingredients
Strawberries
Lemon juice
Cream cheese
Butter
Powdered sugar
Keep scrolling to find a full, printable recipe with a detailed ingredient list.
Recipe Instructions
Making strawberry buttercream frosting is easier than you might think. To begin, you'll need some fresh strawberries. In a food processor, blend the strawberries until they form a smooth liquid. Next, strain the strawberry liquid through a mesh strainer to remove any pesky seeds. Transfer the strained liquid into a small saucepan and stir in a splash of lemon juice to enhance the strawberry's natural tanginess.
Now comes the reduction process. Heat the saucepan over medium-high heat, allowing the strawberry puree to simmer gently. Stir occasionally and let it cook until the puree has thickened and reduced by about half. This process will take roughly 10 to 15 minutes, and you'll end up with a beautifully concentrated strawberry essence. Set it aside and allow it to cool completely.
Once the strawberry puree has cooled, it's time to bring together the other key ingredients: cream cheese and butter. Cream these two ingredients together until they form a smooth and creamy mixture. Then, add powdered sugar and a pinch of salt, and continue beating until the frosting becomes light and fluffy. This usually takes around 3 minutes of mixing, resulting in a delectable base.
Finally, it's time to introduce the star of the show: the cooled strawberry puree. Gradually add between ¾ to 1 cup of the puree to the cream cheese and butter mixture. The amount you use depends on your desired consistency, so feel free to adjust accordingly. Beat the mixture thoroughly, ensuring that the strawberry puree is fully incorporated.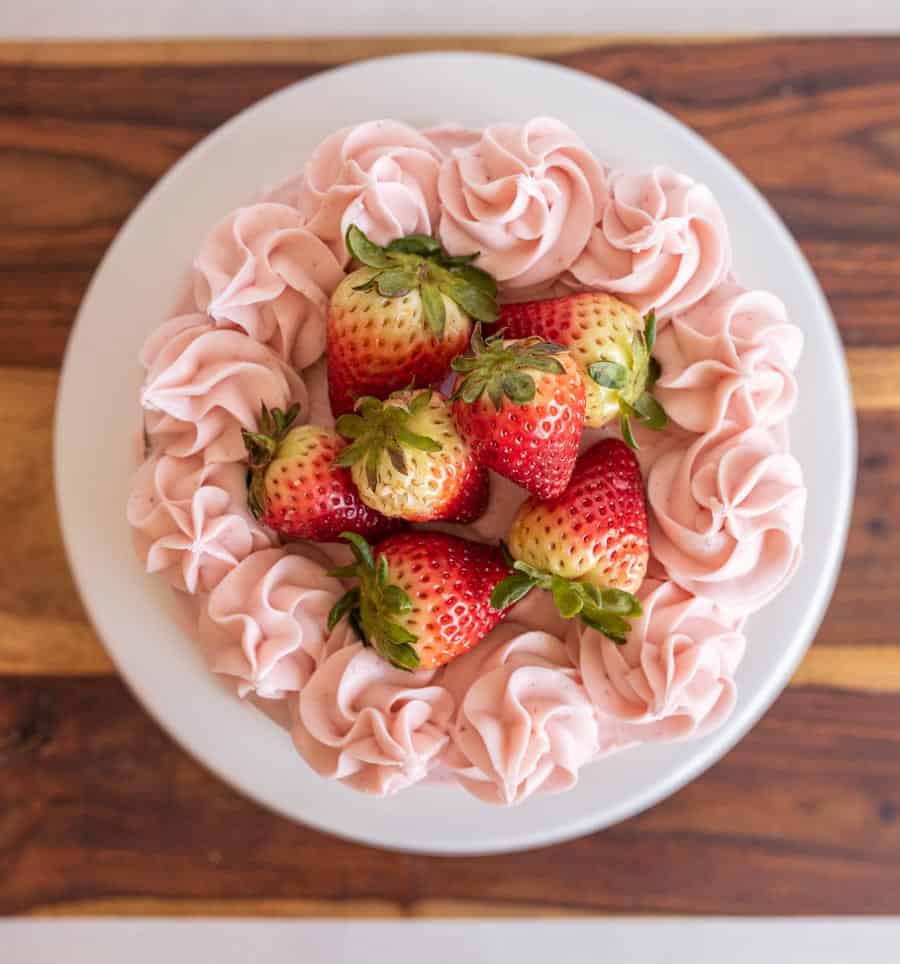 Frequently Asked Questions
Can I use frozen strawberries instead of fresh ones?
Absolutely! If fresh strawberries are not readily available, frozen strawberries can be a convenient alternative. Thaw the berries before pureeing them, and proceed with the recipe as usual.
How should I store the frosting?
Store the frosting in an airtight container in the refrigerator. It can typically last for up to five days. Before using, allow it to come to room temperature and give it a quick whisk to restore its creamy texture.
Can I adjust the sweetness of the frosting?
Yes, you can adjust the sweetness of the frosting to suit your preferences. The recipe includes powdered sugar, which adds sweetness. If you prefer a less sweet frosting, you can reduce the amount of powdered sugar. Start with a smaller amount and gradually add more to taste. Remember to balance the sweetness with the tartness of the strawberries for a well-rounded flavor.
Can I use this frosting on other desserts besides cupcakes and cakes?
Strawberry buttercream frosting can be used on various desserts to add a delightful fruity twist. It pairs well with cookies, brownies, and bars. You can also use it to fill macarons or sandwich it between layers of a pavlova or a sponge roll. Get creative and experiment with different dessert combinations to find your favorite strawberry-infused treat.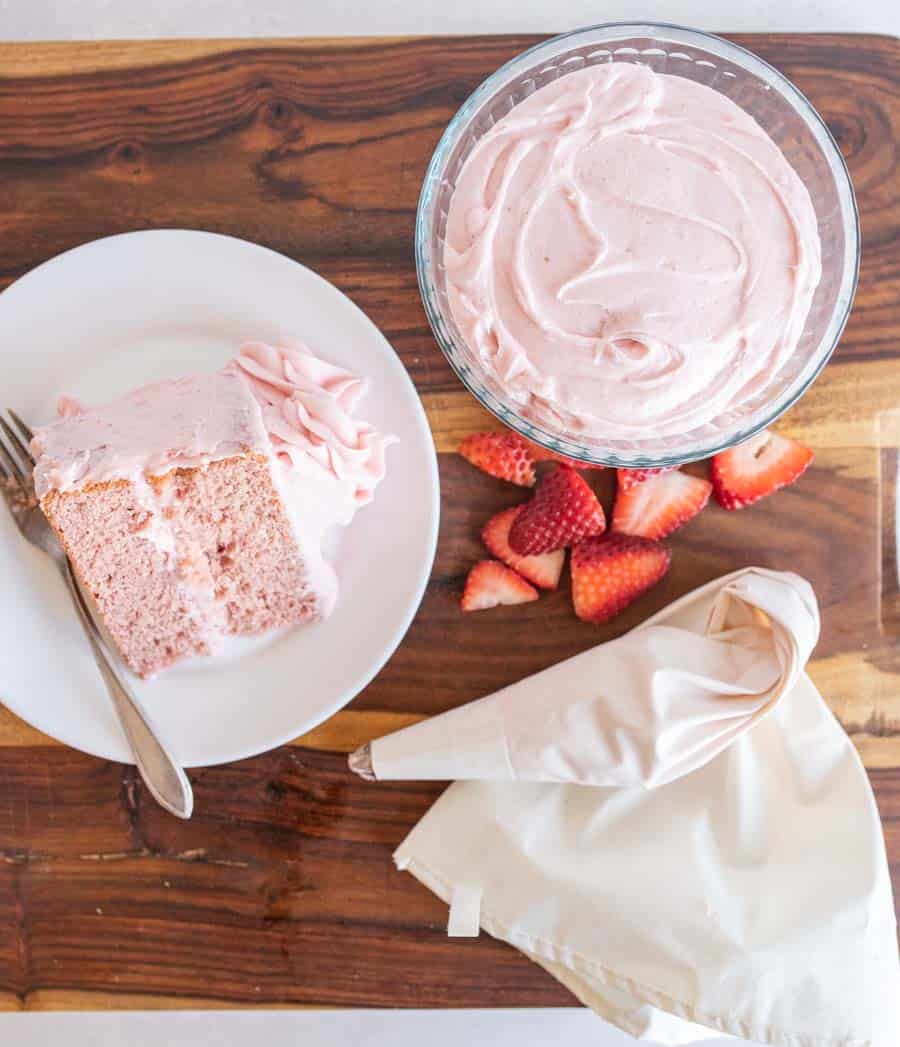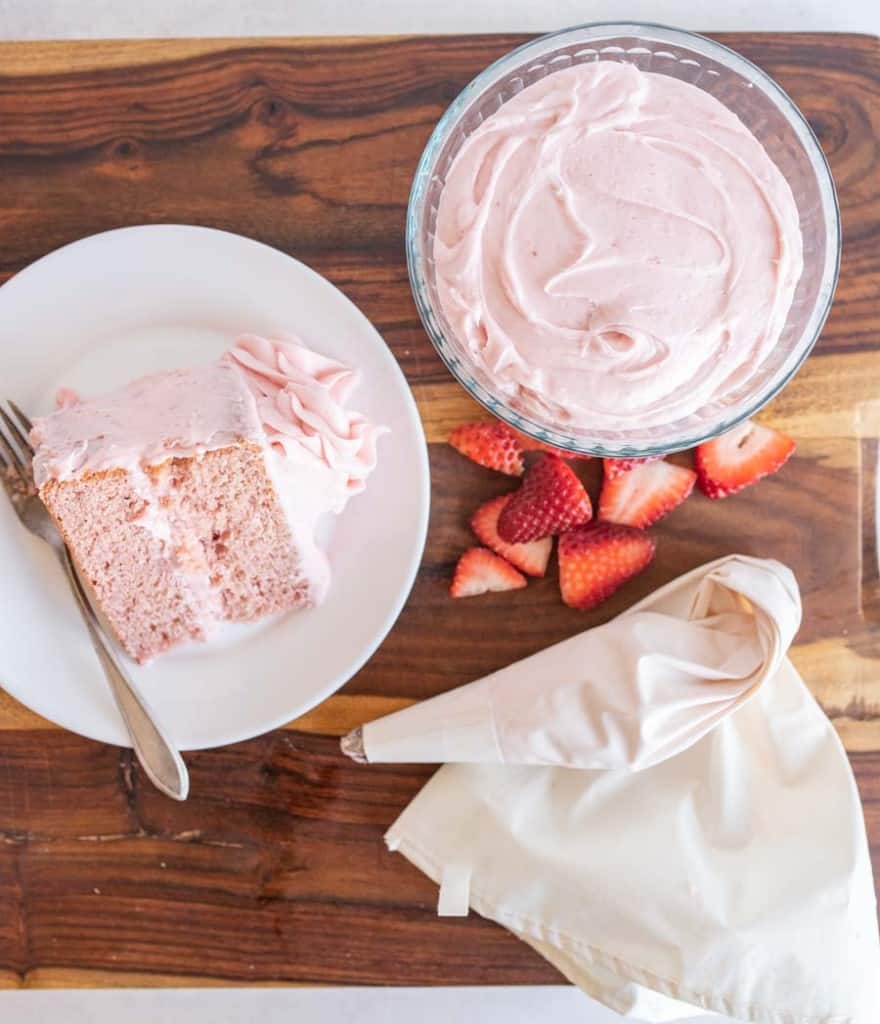 More Recipes
If you've tried this Strawberry Frosting recipe or any other recipe on Bless This Mess, then don't forget to rate the recipe and leave me a comment below! I would love to hear about your experience making it. And if you snapped some pictures of it, share it with me on Instagram so I can repost on my stories.
📖 Recipe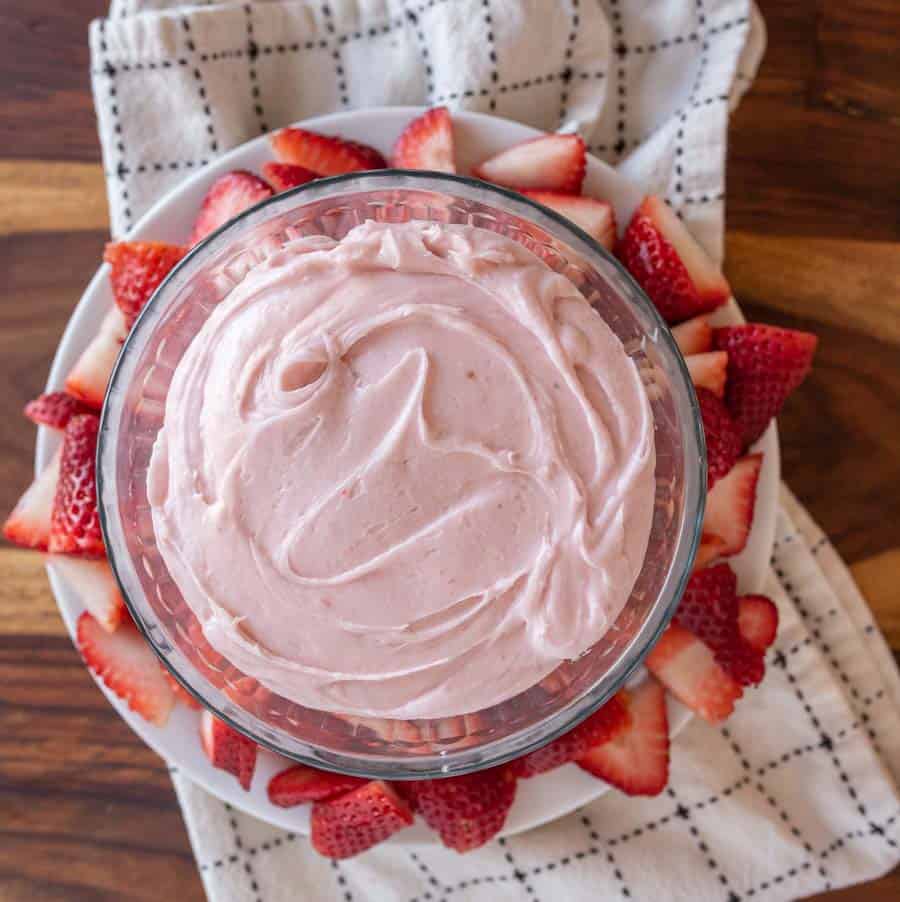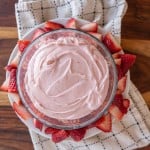 Print Recipe
Strawberry Buttercream Recipe
Strawberry Frosting is infused with the vibrant flavors of strawberries and will elevate any cake or dessert you put it on.
Ingredients
1

pound

strawberries

washed, hulled, and halved

1

tablespoon

lemon juice

8

ounce

cream cheese

1

cup

unsalted butter

12

cups

powdered sugar

about 4 pounds

pinch

of salt
Instructions
In a food processor process strawberries until pureed into a liquid.

Strain strawberry liquid through a mesh strainer to remove seeds into a small saucepan. Add the lemon juice to the saucepan and stir to combine.

Heat over medium-high heat until puree is reduced by half (it should be about 1 cup when it is done and thickened), this will take 10-15 minutes.

Cream together cream cheese and butter until smooth.

Add powdered sugar and salt and beat until light and fluffy, about 3 minutes.

Add ¾ to 1 cup of cooled strawberry puree until you reach the desired consistency and beat well to combine.

Use on your favorite cupcakes, cakes, or even on cinnamon rolls.
Notes
This makes a really big batch of strawberry icing and will be enough to frost a 9 inch cake (including in-between the layers) or to frost 24 cupcakes. You can half the recipe if you'd like.
Make sure you aren't too hasty when it comes to making your strawberry reduction, it should be nice and thick. If it's too thin you'll end up with a thin icing.
I had a little of this leftover after making a strawberry cake and I but it on cinnamon rolls a few days later, it was excellent! It's also really good in between two pieces of graham cracker for a graham cracker icing sandwich (favorite after school snack from my childhood!).
Nutrition
Calories:
340
kcal
|
Carbohydrates:
62
g
|
Protein:
1
g
|
Fat:
11
g
|
Saturated Fat:
7
g
|
Polyunsaturated Fat:
0.5
g
|
Monounsaturated Fat:
3
g
|
Trans Fat:
0.3
g
|
Cholesterol:
30
mg
|
Sodium:
32
mg
|
Potassium:
46
mg
|
Fiber:
0.4
g
|
Sugar:
60
g
|
Vitamin A:
366
IU
|
Vitamin C:
11
mg
|
Calcium:
15
mg
|
Iron:
0.1
mg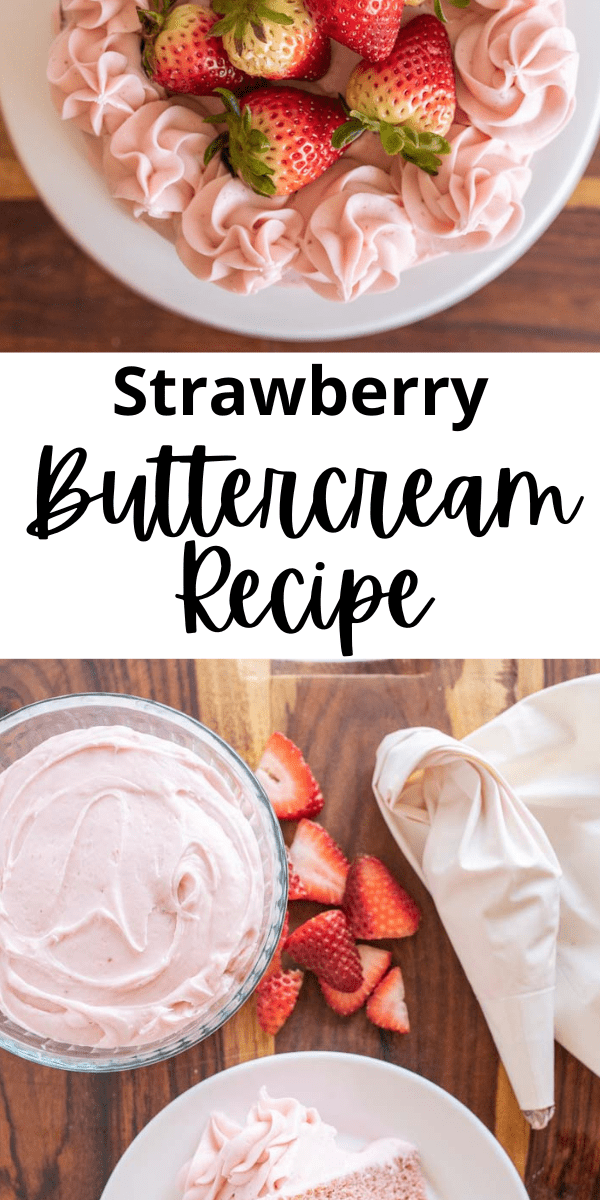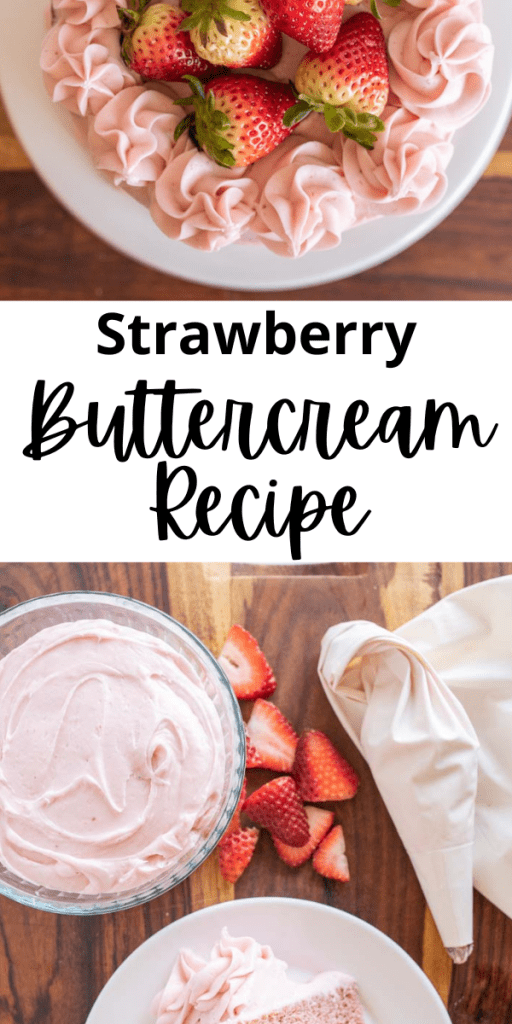 Strawberry buttercream frosting is a versatile and delightful addition to your baking repertoire. With its ease of preparation, the ability to customize sweetness, and its compatibility with various desserts, it's a surefire way to add a burst of fruity goodness to your favorite treats.