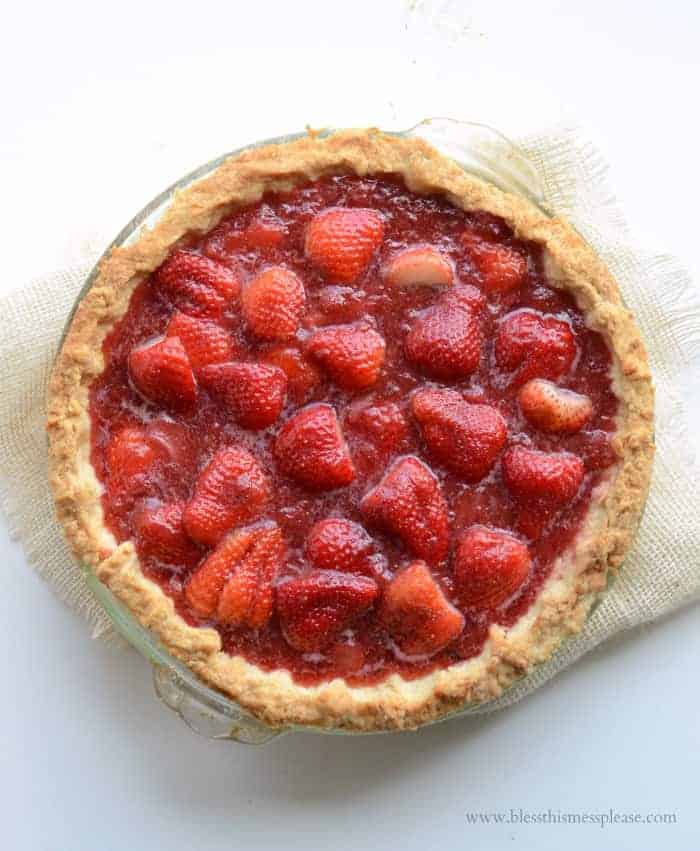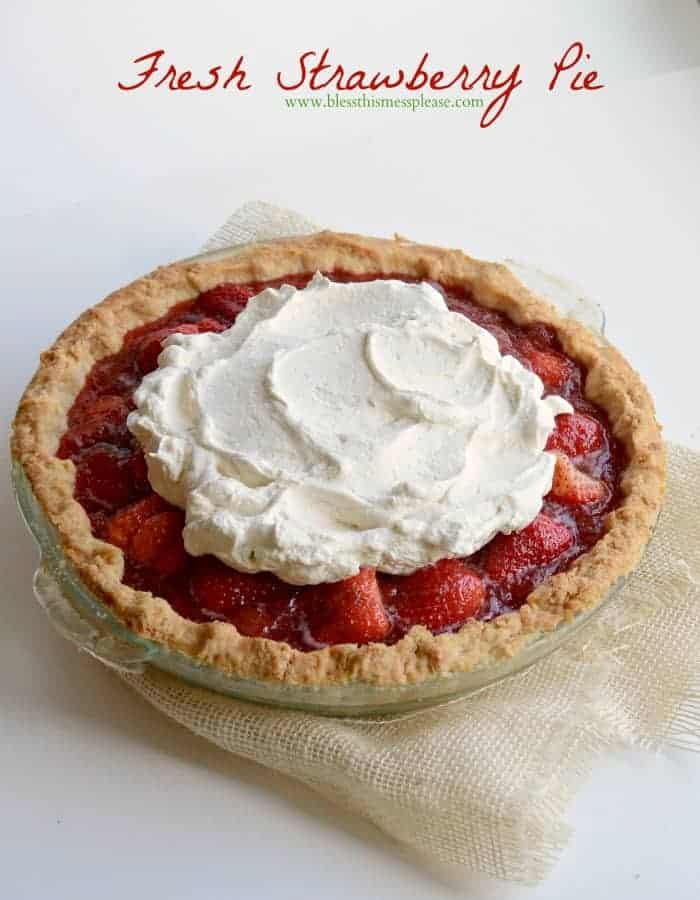 Today is the day!! I'm sharing with you the beautiful, the delicious, and the oh so seasonal America's Test Kitchen's Fresh Strawberry Pie. I dare say this is the perfect fresh strawberry pie recipe. I love that it doesn't use Jello. I don't really like fake strawberry flavor (and you are paying for all those berries, you might as well taste that!) and I love that you can either use just fresh berries if you have a lot or a combination of fresh and frozen, which is a real budget saver if berries aren't at their peak and cheap. I can't wait until you make this pie! If you do, I sure hope you send me a picture of your masterpiece!
I didn't leave instructions for the pie crust. The recipe just calls for a baked 9 inch pie shell, so use your favorite. Crust is something I'm not fabulous with so I don't have a recommendation for you. I've tried a million recipe and a million different methods for making that crust and I just don't have it mastered. So if you have a recommendation for pie crust for me, I'm all ears!
And can we chat for 2 seconds about the topping on this fresh strawberry pie? It's not just normal old fresh whipped cream. No, no, it's got cream cheese in it! It's a wonderful little addition to this pie. Be sure to use heavy whipping cream and that topping will stay stable for hours and even over night. This is an excellent dish to take to a party because it's a show stopper.
Seriously though, isn't it pretty? I planted 60 strawberry plants 8 days ago. I bought bare root plants online which means they come all roots and no top, so the very first set of three leaves are popping up on each plant! I was so excited to see this because in a year I'll have fresh strawberries of my own. I'm super excited. I've dreamed a million things for our future farm including a pumpkin patch, popcorn farm, but my current dream is a you-pick berry farm! Wouldn't that be amazing to have a lot of different strawberries, blackberries, and raspberries? Time will tell, but I've thought a lot about this current dream.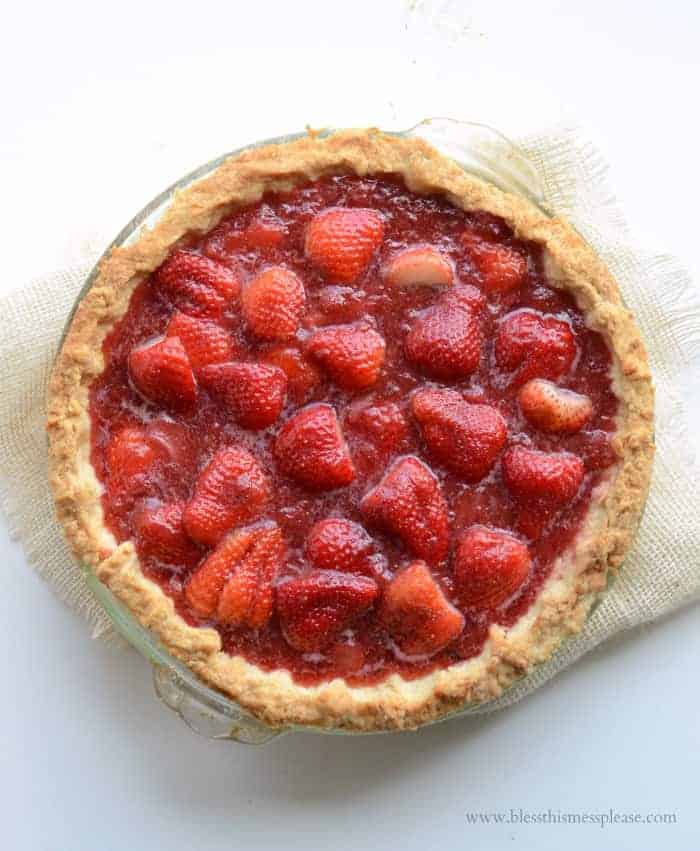 If you try this fresh strawberry pie, let me know what you think! Leave a comment, pin it, and don't forget to tag a picture #blessthismesseat on Instagram. I love to see your kitchen skills in action!
Print
America's Test Kitchen's Fresh Strawberry Pie
---
Yield:

1 9-inch pie
Ingredients
For the Filling
2 pounds frozen strawberries
2 tablespoons lemon juice
2 tablespoons water
1 tablespoon unflavored gelatin
1 cup sugar
1 pound fresh strawberries, hulled and sliced thin
pinch salt
1(9-inch) pie shell, baked and cooled
For the Topping
4 ounces cream cheese, softened
3 tablespoons sugar
½ teaspoon vanilla extract
1 cup heavy cream
---
Instructions
Cook the frozen berries in large pan over medium-low heat until berries begin to release juice, about 3 minutes. Increase heat to medium-high and cook, stirring frequently, until thick and jam like, about 25 minutes, you should have about 2 cups of liquid in the end.
Combine lemon juice, water, and gelatin in small bowl. Let stand until gelatin is softened and mixture has thickened, about 5 minutes. Stir gelatin mixture, sugar, and salt into cooked berry mixture and return to simmer, about 2 minutes. Transfer to bowl and cool to room temperature, about 30 minutes.
Fold the fresh berries into filling. Spread evenly in pie shell and refrigerate until set, about 4 hours. (Filled pie can be refrigerated for 24 hours.)
With electric mixer on medium speed, beat cream cheese, sugar, and vanilla until smooth, about 30 seconds. With mixer running, add cream and whip until stiff peaks form, about 2 minutes.
Serve pie with whipped cream topping.
To make with all fresh berries: substitute the 2 pounds of frozen berries for 2 pounds of fresh berries (that have been hulled and sliced in half). Place the fresh berries in the pan, add the sugar at this point (and not later when you add the gelatin), and crush the berries lightly with a potato masher to help release the juices before cooking them for the 25 minutes.
Notes
Using frozen berries is very cost effective but if you have lots of fresh, it is excellent too.
I didn't slice the second (1 pound) of berries and instead I just cut them in half. This looked nice but they pieces were too big to eat in one bite. It won't look quiet the same, but I recommend slicing the fresh berries more than I did for a more pleasant eating experience.
For this recipe, I recommend:
[asa_collection btmp]pie[/asa_collection]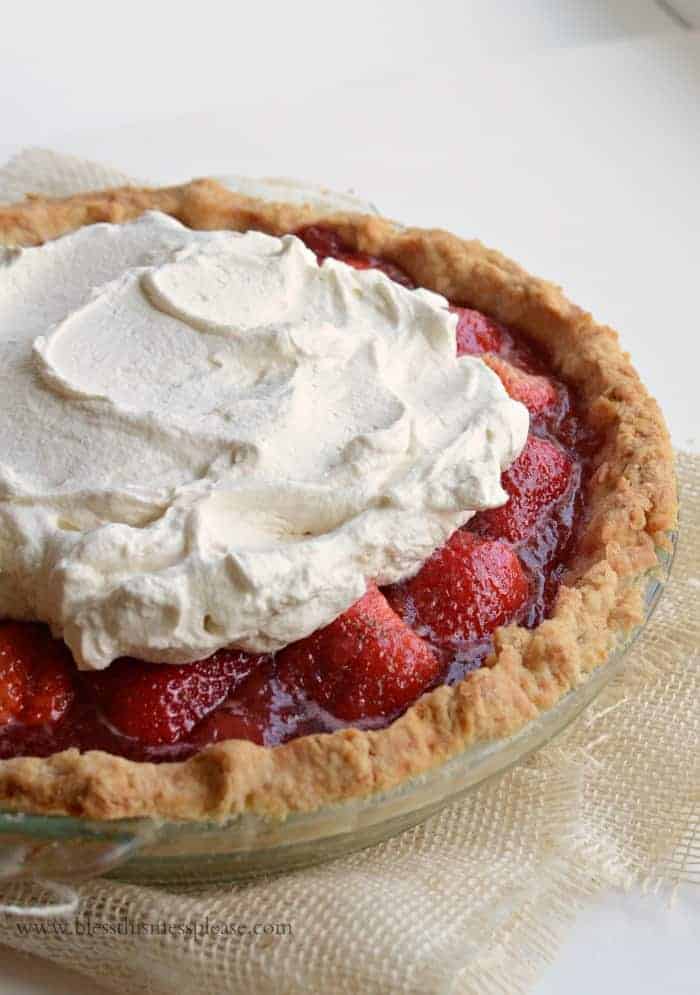 I hope your weekend was fabulous. I spent Friday and Saturday up north with my family, came home Saturday night, and woke up Sunday feeling like I got hit by a truck. All that family time and memory making was worth it though, and I can't wait to share our adventure with you later in the week.
You are the best. I can't wait to see your pies!