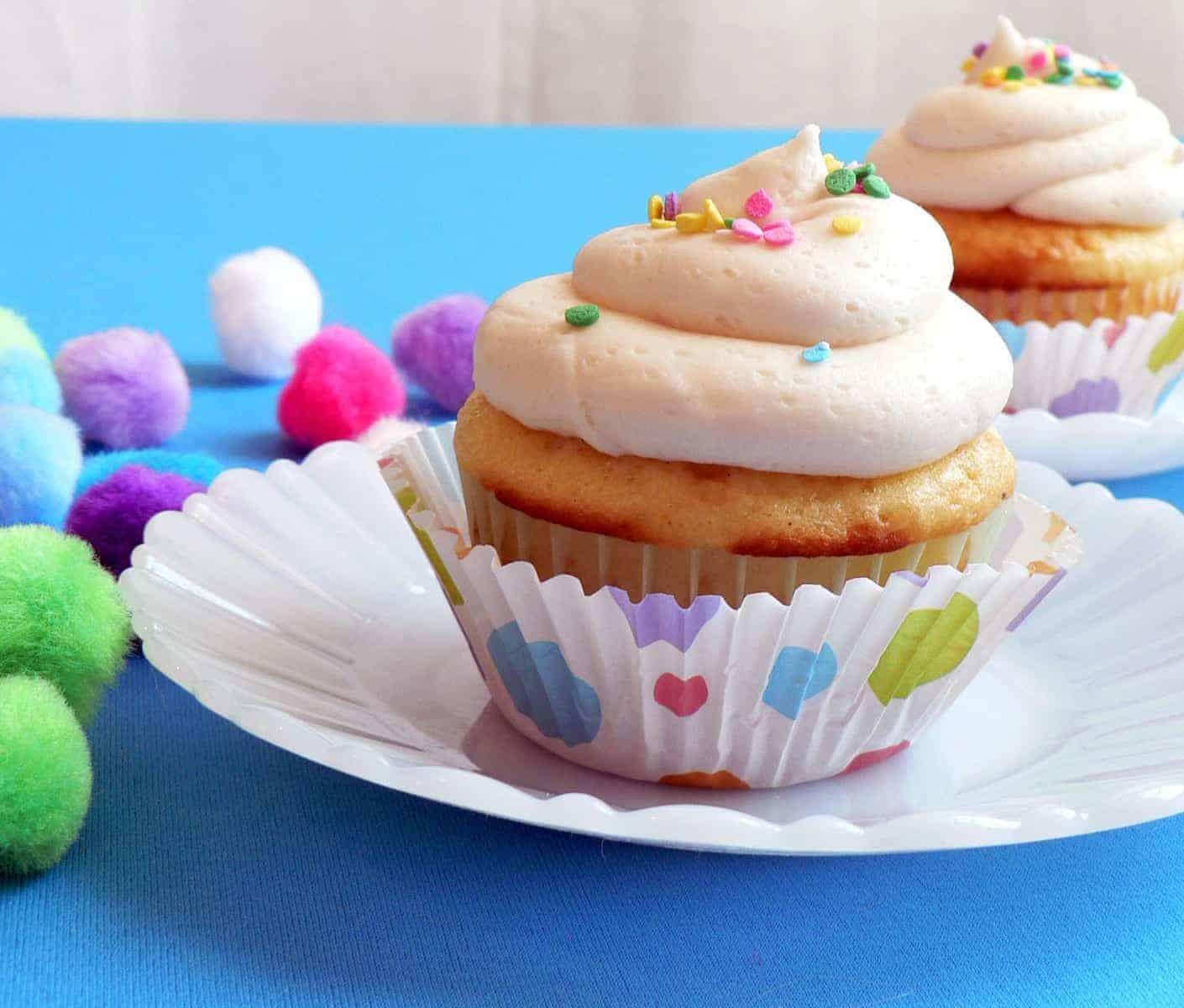 Everyone needs a good general vanilla icing recipe. This is great! It's perfect on cupcakes, slathered on graham crackers, or in between oatmeal cookies. Mmm…homemade oatmeal pies are the best.
I made these cupcakes for a dessert auction at church and they were a huge hit!
I made a ton of cupcakes and didn't feel like I had the time to make all of the cake from scratch. So I spruced up a cake mix (or 3). I found a few recipes on the web and I'm pretty sure the idea comes from the book Hello Cupcake. Using a cake mix, replace the water called for on the box with 1 cup of buttermilk, use 4 eggs instead of the number called for, and use the amount of oil called for on the box. You just stir those 4 ingredients together and then bake as you would any other cupcake for 12 minutes. 12 minutes does seem short, but that's all they needed! The box made slightly less than the standard 24 cupcakes. I got 18-20 cupcakes per box. They weren't  homemade cake, but they were great; the cupcakes had a sturdier texture (they didn't crumble like a normal cake mix) and that yummy buttermilk tang.
Now you just need some icing to top those cupcakes!
Classic Vanilla Buttercream Icing for Cupcakes
Icing for 9-10 heavily frosted cupcakes
1/2 cup butter, at room temperature
3-4 T. heavy cream (milk will do, but cream is better)
1 T. vanilla
2.5-3  cups powdered sugar
Add the butter and cream to the bowl of your stand mixer. Mix on medium speed with the whisk attachment until the butter and cream combine. Increase the speed to high and mix for 3-5 minutes until the mixture is light and fluffy, stopping to scrape down the sides a time or two. Add the vanilla and 2.5 cups of the powdered sugar. Mix on low until combined and then increase speed to medium and whip for 1 to 2 minutes.
The constancy of the icing is important if you are going to pile it high on a cupcake. It should be a medium consistency. If you mix the batch of icing with a metal teaspoon (the kind you use for dinner) it should stand up straight in the middle of the bowl when it is in the icing. So, you should be able to stir it with a spoon by hand but it should also be sturdy enough to hold the spoon up. If the icing is too thick, add a little cream. If it needs to be a little thicker add a 1/4 cup of powdered sugar and whip to combine until it's sturdy enough.
Place in an icing bag and pipe on the cupcakes with tip 2A
I'm linking this recipe up at:
Sweet Treats Thursday at Something Swanky