Hello all! While I'm enjoying the newest (and teeniest) member of our family, I have asked some of my very favorite blogging friends to share some of their absolute favorite recipes with you. First up is Emily from One Lovely Life. If you are a regular reader you know that I adore Emily. Long before I dreamed of a food blog of my own I was reading hers. One Lovely Life is the very first food blog that I ever followed and she is the one who truly inspired me to start a little blog of my own. Not only is she a ninja in the kitchen but she is an amazing mom and woman… her blog will bring a smile to your face! Enjoy Emily and thanks so much for reading!
Hello Bless This Mess readers! I'm Emily, and I'm completely honored to be guest-posting for Melissa today. Melissa is one of my greatest blogging inspirations. She's so organized and on top of it; she really makes me want to be a better blogger!
To introduce myself a bit, I blog over at One Lovely Life. Most of my recipes center around whole foods and happy, good-for-you ingredients. We've always been fans of good eating, but that's become an even greater focus for our family since our daughter Sophie's autism diagnosis. Still, we live lives of moderation, so no matter what our diet consists of, there will always be room in our diet for pancakes. Pancakes will always, always speak comfort to my soul.
It was a no-brainer for me to share these delicious pumpkin buttermilk pancakes. They're a bit of a change from most pumpkin recipes you see, loaded with lots of spices or chocolate. Don't get me wrong, I love spiced pumpkin cake and pumpkin chocolate chip muffins, but these are subtle and delicious. Tender, light, and comforting. Everything a pancake should be. I hope you love them as much as I do!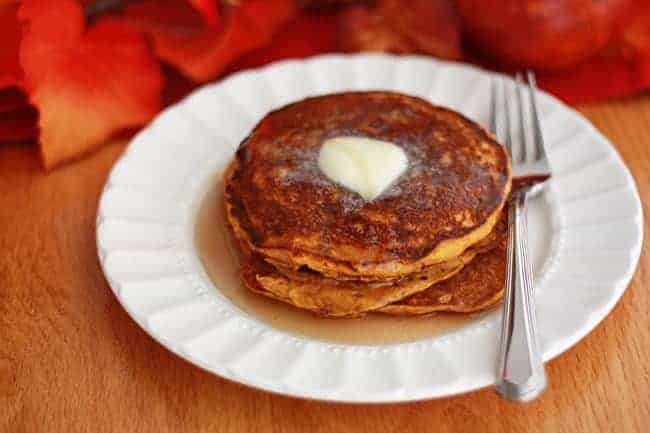 Feel free to come visit, stay awhile, then send all your happy thoughts back to Melissa and her sweet new bundle!