Pumpkin puree is perfect for making all sorts of tasty pumpkin treats! Making Homemade Pumpkin Puree is as easy as roasting, scooping, and blending a fresh pumpkin. You'll love its bright color, smooth texture and easy preparation!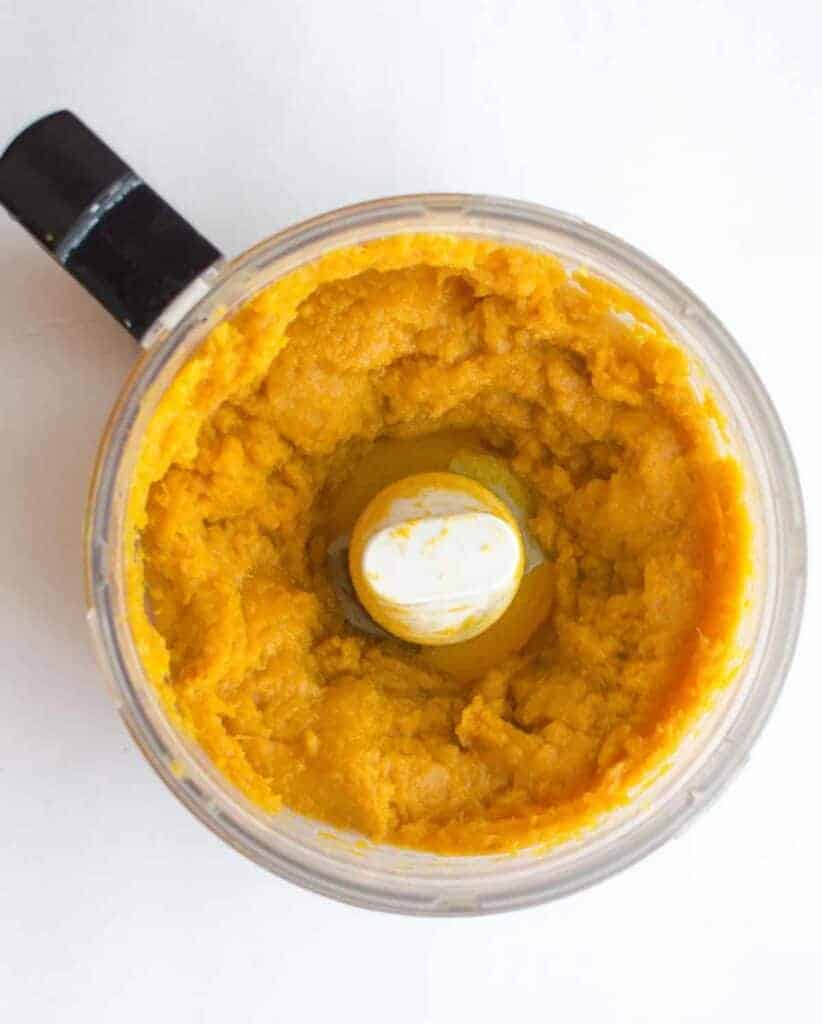 Homemade Pumpkin Puree Recipe
I love to use fresh pumpkin in my fresh pumpkin pie, homemade pumpkin pasta, pumpkin enchiladas, and healthy pumpkin muffins.
Homemade pumpkin puree is a glorious light orangy-yellow color. It looks quite a bit lighter than canned store-bought pumpkin, too. I did a little research to see why this was the case and found out that store-bought canned pumpkin contains more than just traditional pumpkins - it contains a variety of winter squash, like butternut, Hubbard, Boston Marrow, and Golden Delicious. These squash varieties can be less stringy and richer in sweetness and color than pumpkin. Neat, huh?
Even though the can says 100% pumpkin, on the ingredient list it can still contain a variety of squashes because they fall under the same genus. The USDA is pretty lenient with its distinction between pumpkin and squash. Here's their take on the contents of canned purée: "The canned product prepared from clean, sound, properly matured, golden-fleshed, firm-shelled, sweet varieties of either pumpkins and squashes by washing, stemming, cutting, steaming, and reducing to a pulp."
Now you know!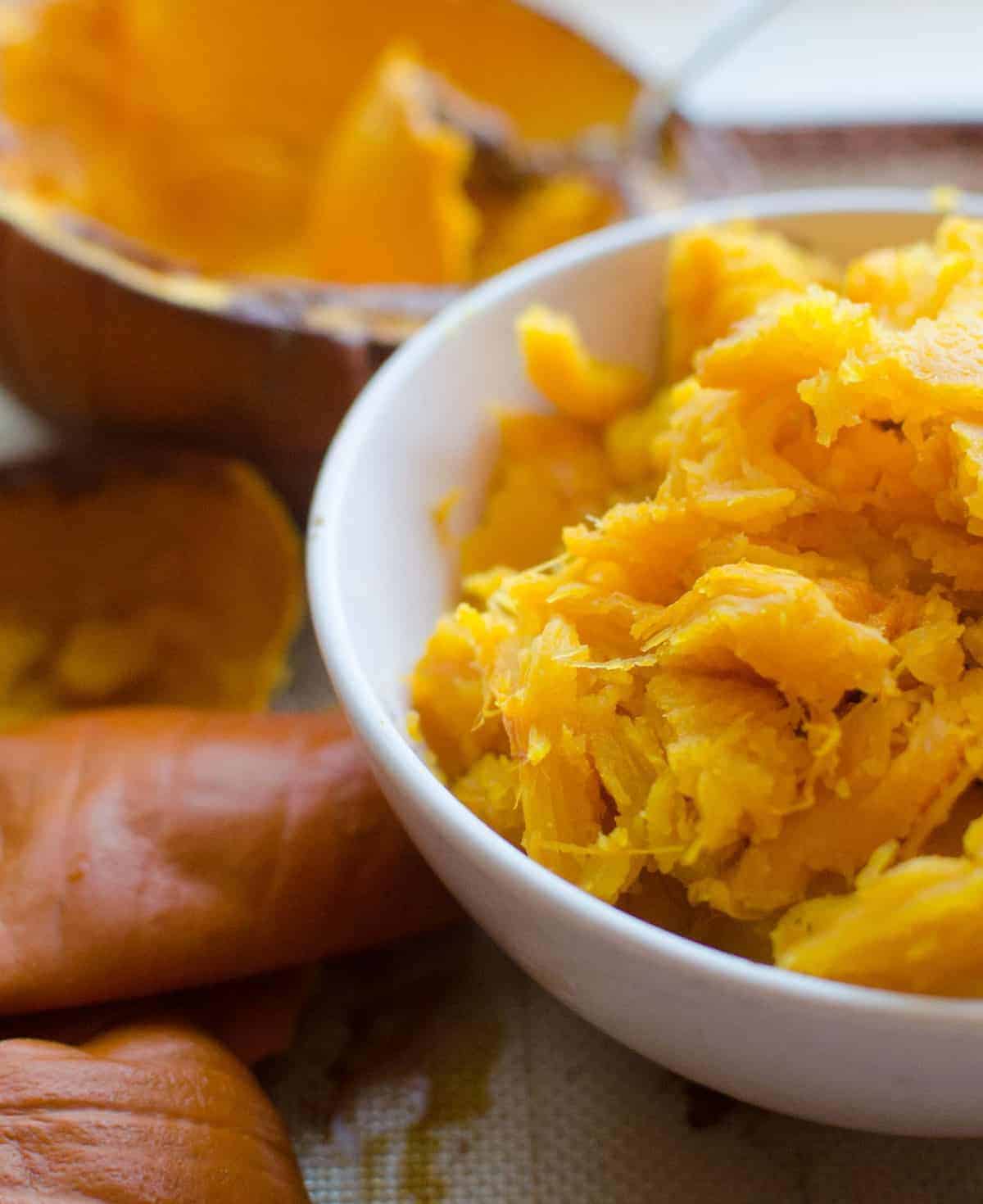 With fresh pumpkins popping up in our gardens, in stores, and at the farmer's market, I thought it timely to let you know one simple way to turn that little round fall decor into something deliciously edible. Homemade pumpkin puree is quick and simple to make, stores great, and is a great skill to have up your sleeve.
Today is day one of Pumpkin Week 2017! My good friend Emily from One Lovely Life and I are sharing a full week's worth of our favorite pumpkin recipes and I can't wait to get started. You can check out her post for glorious pumpkin chili here! I have everything on hand to make this soon and I can't wait! Stay tuned for allllllll the pumpkin recipes this week!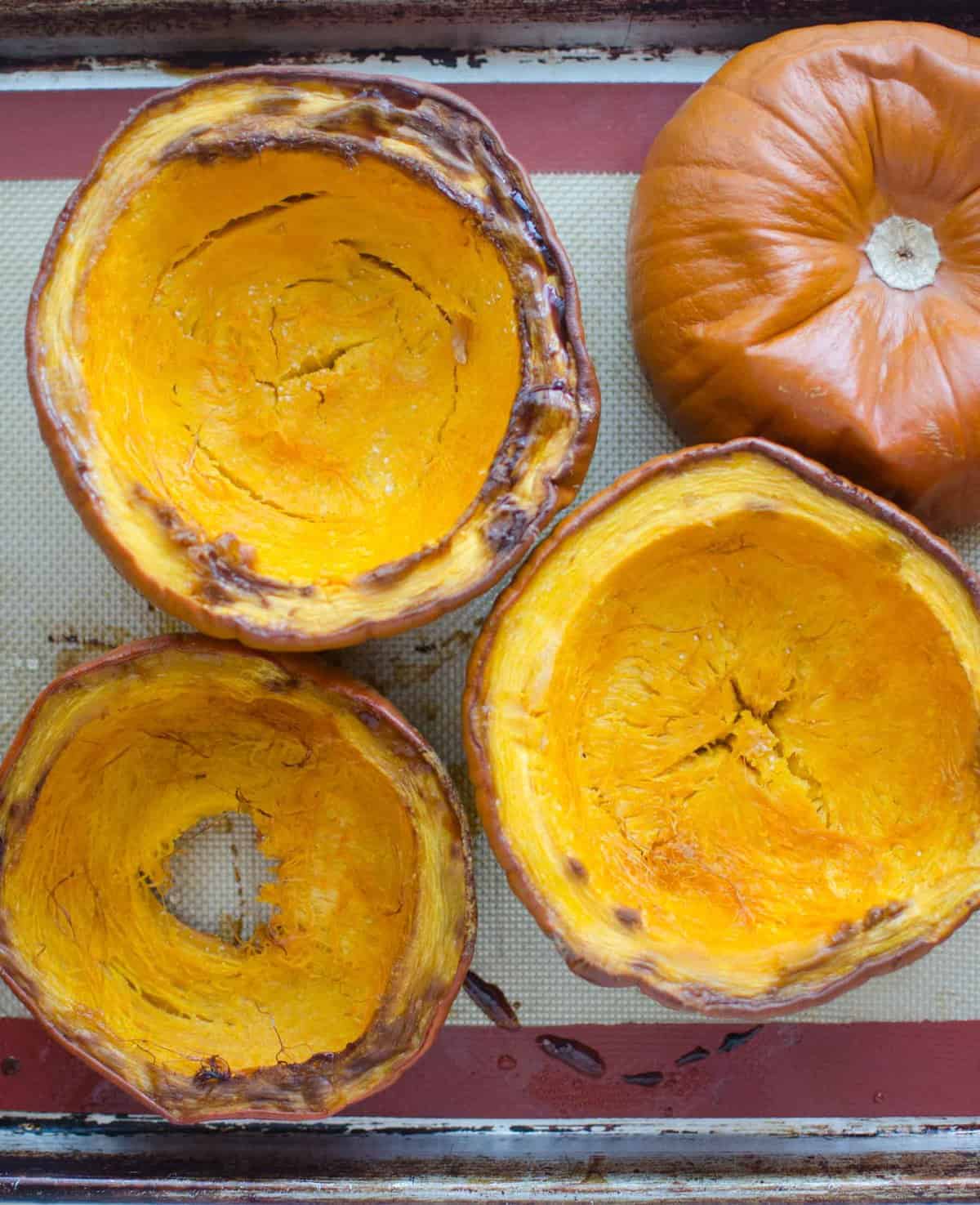 What Type of Pumpkins Are Best to Puree?
Sugar, sweet, or pie pumpkins are general terms for the smaller 3 to 5 pound pumpkins that are typically grown to be eaten. They'll be labeled at the store as a pumpkin that is good for baking (generally with a sticker or label attached to them). Their flesh is firmer and sweeter than other varieties, which makes them a great choice for cooking. The insides are a lot less slimy, stringy, and wet than typical jack-o-lantern pumpkins, so prepping them is pretty painless. Most you-pick pumpkin patches will have a section of edible pumpkins/squash so be sure to ask if you go.
Do I Use a Blender to Make Pumpkin Puree?
I would puree your homemade pumpkin puree in the food processor or blender for that smooth velvety texture.
What Can I Make with Pumpkin Puree?
You can use fresh pumpkin puree in any recipe calling for pumpkin, though the color will be a little different than using canned pumpkin.
Can I Freeze Pumpkin Puree?
Homemade pumpkin puree freezes like a dream. Freezing it in one cup proportions is the best option for long-term storage.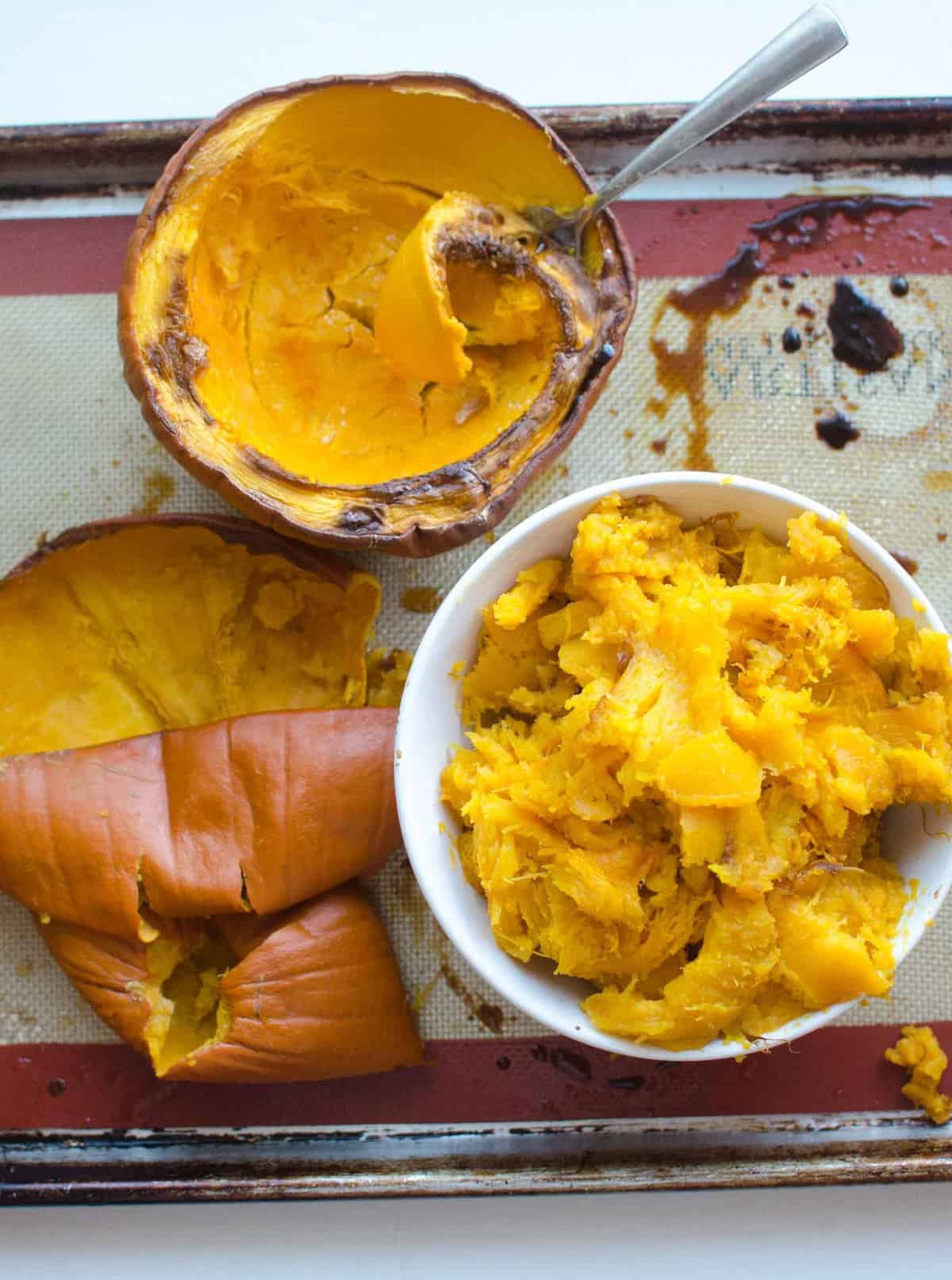 Print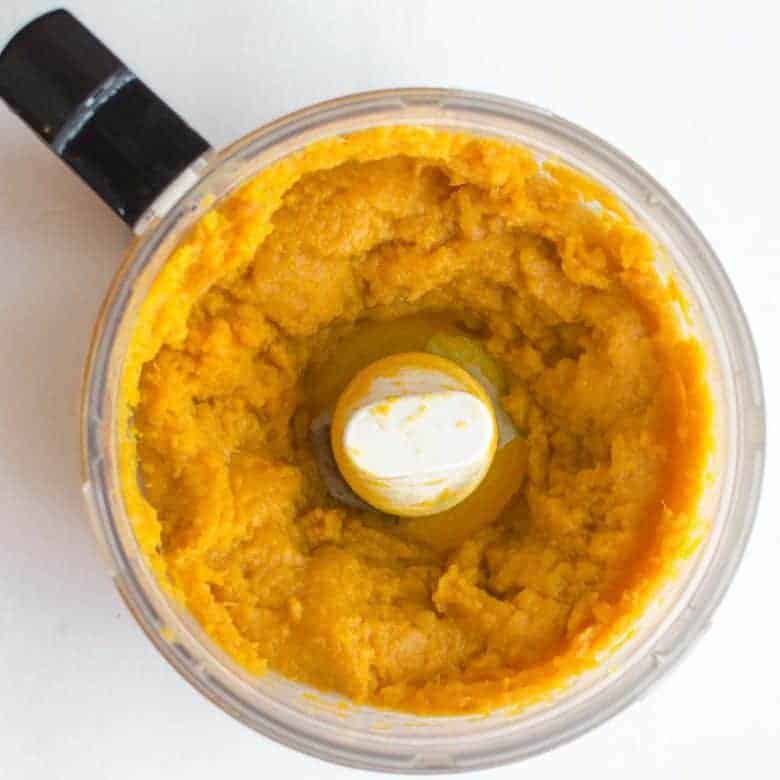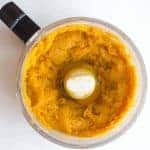 How to Make Homemade Pumpkin Puree
---
Author:

Total Time:

35 minutes

Yield:

2

-

3

cups

1

x
Description
Pumpkin puree is perfect for making all sorts of tasty pumpkin treats! Making Homemade Pumpkin Puree is as easy as roasting, scooping, and blending a fresh pumpkin. You'll love its bright color, smooth texture and easy preparation!
---
6

-

10

pounds of fresh pumpkin (

one

smaller medium or

two

small pumpkins)
---
Instructions
Prepare your pumpkins by washing the outside under running water. This helps to make sure you don't get any dirt or other derbis in your homemade pumpkin puree.
Cut the stem end off of the pumpkin and then cut it in half horizontally to make two pumpkin "bowls".
Scrape the seeds from inside the pumpkin (I like to make honey roasted pumpkin seeds with them!).
Flip the pumpkins over so the "bowl" is upside down on a parchment or baking mat rimmed baking sheet).
Bake at 375 degrees until the flesh is very soft and can be pierced with a fork - 30 to 40 minutes depending on the size of your pumpkin.
Remove from the oven and allow to cool enough to handle.
Use a spoon to scrape the flesh from the skin. Mash with a fork or for a truly smooth homemade pumpkin puree, toss the cooked pumpkin flesh into a food processor or blender and process until smooth (this is the preferred method over just using a fork).
Store pumpkin puree in an air-tight container in the fridge for up to a week or in the freezer for up to 6 months.
Notes
See the tips and tricks section in the post for all kinds of notes on what kinds of pumpkins to buy and more.
Prep Time:

5 minutes

Cook Time:

30 minutes

Category:

Side Dish

Method:

Oven

Cuisine:

American
Keywords: how to make pumpkin puree, pumpkin puree recipe, easy pumpkin recipe, how to cook pumpkin, cooking a pumpkin, homemade pumpkin puree, pumpkin recipe
More Pumpkin Recipes!
How simple is that! Now you know a little bit more about making pumpkin puree at home and why it's different from store bought pumpkin. I hope you pick up some pumpkins next time you see them just to give this a try.
Enjoy pumpkin everything from my home to yours!