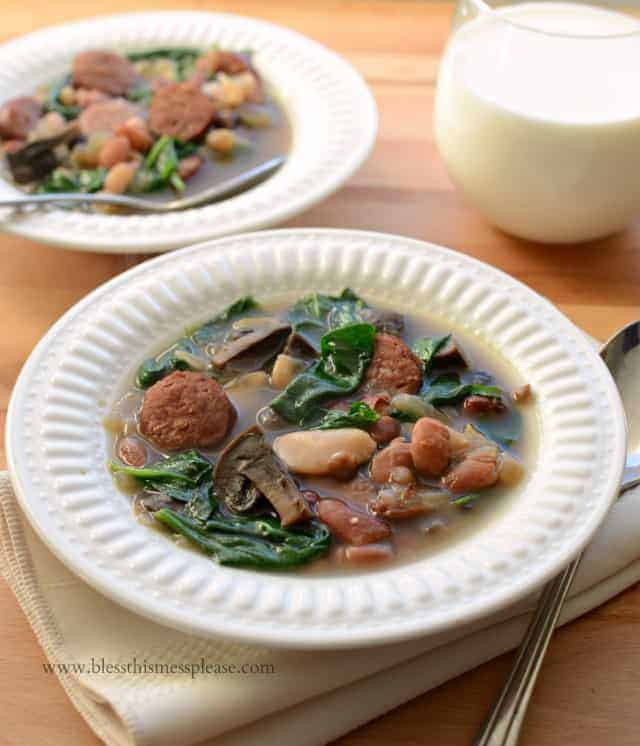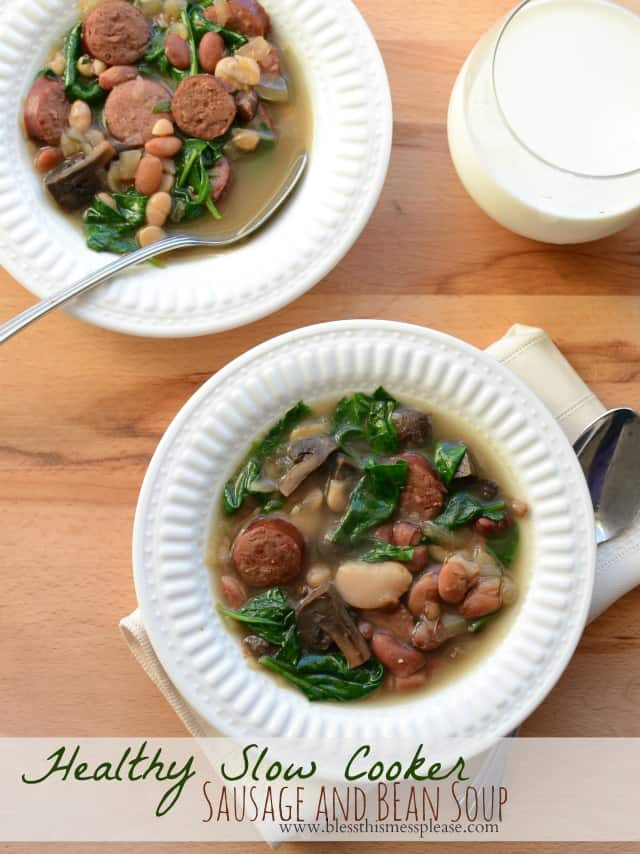 Healthy Slow Cooker Bean and Sausage Soup with Spinach is something to get excited about this fine Monday morning! A 1 2/3 cup serving has 230 calories, 3 grams of fat, 20 grams of protein, and 5 grams of fiber! That is awesome! Between the beans and the spinach, I'm sure it has a lot of iron and other vitamins and minerals too. I love this soup!
America's Test Kitchen has a new cookbook out: The Healthy Slow Cooker Revolution,
and it is definitely something to get excited about! I'm giving away a copy to two winners today, so keep reading.
If you are new to the blog, you will quickly find that I love all things America's Test Kitchen. My husband bought me two of their books for Mother's Day a few years ago and I've been hooked ever since. I'm pretty sure they don't publish a bad recipe; they all come out perfect! I was so confident in ATK and their amazing recipes that we had another family over for dinner the night I made this soup. My husband laughed, because I have served many a botched new recipe to company. When I told him it was from America's Test Kitchen, he was put at ease. And of course, it was fabulous.

I already have ATK's other two slow cooker books (both amazing! Find them here
 and here
), so I was really looking forward to getting their healthy slow cooker book. ATK is great about using real food wisely, and that is something I really feel passionately about. They have tons of slow cooker tricks up their sleeve too, like making a foil packet for the veggies to cook in on top of meat, or microwaving the onions and herbs before adding them to help their flavor develop and bloom. From their books, I have learned some great tips for slow cooking that have taken my slow cooker meals to the next level! The books even have dessert sections – how cool is that?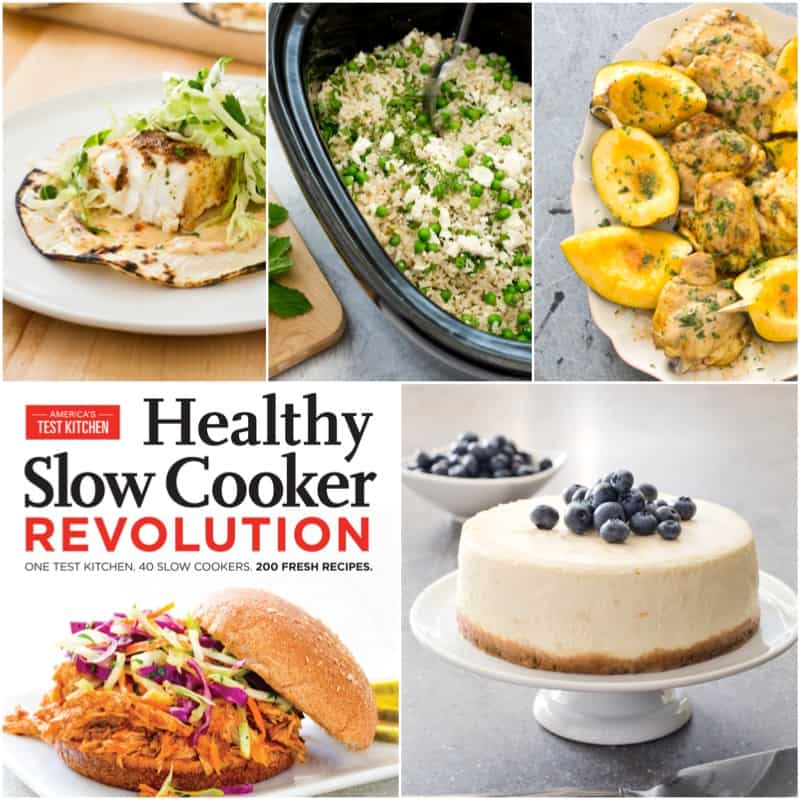 If you pop over to this Amazon link for The Healthy Slow Cooker Revolution,
 you can click on the picture of the book (on the left) and it will let you look at the pages inside the cookbook! You'll see they share their product review of slow cookers as well as Slow Cooking 101. My favorite part is that every recipe comes with a whole paragraph before it titled "Why this recipe works." They give a pretty detailed explanation of what they did, why, and why it's the best option for the slow cooker. I love learning new cooking tips, and America's Test Kitchen Cookbooks are FULL of new kitchen information to make even the newest home cook a little bit more confident in the kitchen.
Healthy Slow Cooker Revolution had a fancier vibe to it than their other books, in my opinion. I think in their pursuits of really delicious food that was lower in calories, they took the best ethnic recipes across the board and suited them to the slow cooker. Don't get me wrong, you'll see lots and lots of classic favorites, but a few of the recipes will have you trying new-to-you ingredients.
Here are some of the recipes that I'm excited about:
Thai-Style Chicken and Coconut Soup
Spiced Tomato Soup
Classic Corn Chowder
Old-Fashion Chicken Soup
Shredded Chicken Tacos with Pineapple Salsa
Beef and Broccoli "Stir-Fry"
Teriyaki Pork Tenderloin
Shrimp Boil with Corn and Potatoes
Shrimp Fra Diavolo with Linguine
Penne with Chicken and Mushroom Sauce
Mexican Lasagna
Chicken Pot Pie
Vegetable Enchiladas with Poblanos and Beans
Chocolate Snack Cake
Creme Brulee
Here are a few recipes that I'm wanting to try but would really push me out of my comfort zone:
Greek-Style Chicken with Warm Tabbouleh
Moroccan Fish Tagine with Artichoke Hearts
North African Beef Stew
Spanish Seafood Soup (it calls for 8-ounce squid bodies!!!)
Pork Loin with Dried Fig Compote
Poached Salmon with Tangerine Relish
Farro and Wild Mushroom Gratin
There's are whole sections for pasta, cooking for two, and desserts, as well as your more classic meats, soups, stews, and sides. Can you tell I'm loving this book?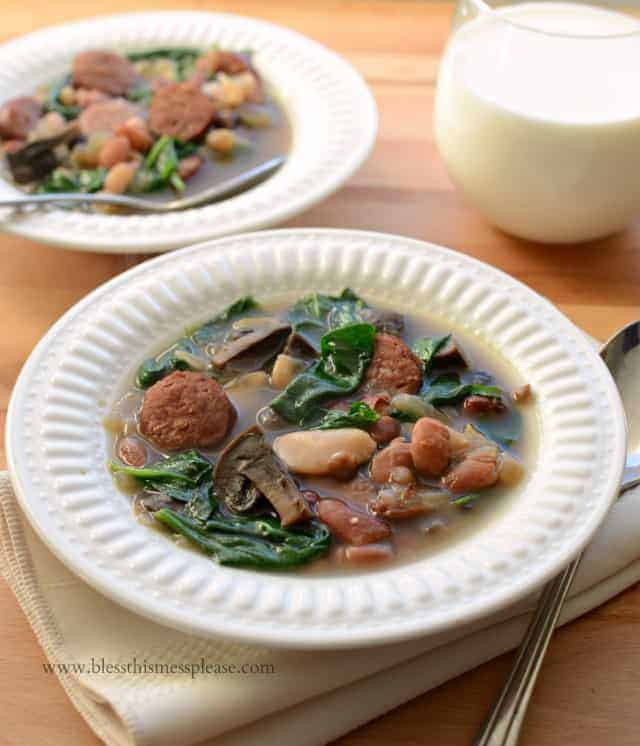 And let's not forget the purpose of the post. Some amazing Slow Cooker Bean and Sausage soup! I loved that the recipe called for dried beans. Just give them a rinse and sort through them quickly to pick out anything odd (you'll be shocked at how often you find little rocks in dried beans…), and toss them in. Everything ends up tasting like brothy sausage heaven in the end and the spinach gives it a light fresh pop. It was so good! The kids were a bit critical of the soup, but serve it with a side of crusty bread (my favorite no-knead recipe coming soon!), and everyone will be happy. Plus it's healthy. What's not to love?
Craving more? Subscribe to Bless this Mess to get new recipes, meal plans, and a newsletter delivered straight to your inbox! If you try this slow cooker bean and sausage soup, let me know what you think! Leave a comment, pin it, and don't forget to tag a picture #blessthismesseat on Instagram. I love to see your kitchen skills in action!
Print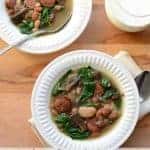 Healthy Slow Cooker Bean and Sausage Soup with Spinach
---
Author:

Prep Time:

10 min

Cook Time:

8 hours

Total Time:

8 hours 10 minutes

Yield:

Serves

6

1

x
Description
You have to try this amazing Slow Cooker Bean and Sausage soup! Toss the ingredients in the slow cooker in the morning, then enjoy brothy sausage heaven for dinner in the evening.
---
Scale
Ingredients
8 ounce

s cooked hot or sweet Italian chicken sausage, sliced 1/2 inch thick

1

onion, chopped fine

4

–

6

cloves garlic, minced

1 tablespoon

fresh thyme or

1 teaspoon

dried

1/4 teaspoon

red pepper flakes

6 cup

s chicken broth

2 cup

s water

8 ounce

s whit mushrooms, trimmed and quartered

8 ounce

s (

1 1/4 cup

s) 15-bean soup mix, flavoring packet discarded, rinsed and picked over

2

bay leaves
salt and pepper

4 ounce

s (

4 cup

s) baby spinach
---
Instructions
Microwave the sausage, onion, garlic, thyme, and pepper flakes in a bowl, stirring occasionally, until the onion starts to soften, about 5 minutes. Place the onion mixture in your slow cooker. Add the broth, water, mushrooms, dried beans, bay leaves, and 1/4 teaspoon of salt. Stir to combine. Cover and cook until the beans are tender, 9 to 11 hours on low or 6 to 8 hours on high.
Throw away the bay leaves. Stir in the spinach and let it sit until slightly wilted, about 5 minutes. Season with salt and pepper to taste, and serve right away.
---
Notes
A 4 to 7 quart slow cooker is the best size for this recipe.
Category:

Soup

Method:

Slow Cooker

Cuisine:

American
Keywords: healthy slow cooker soup recipe, easy bean soup recipe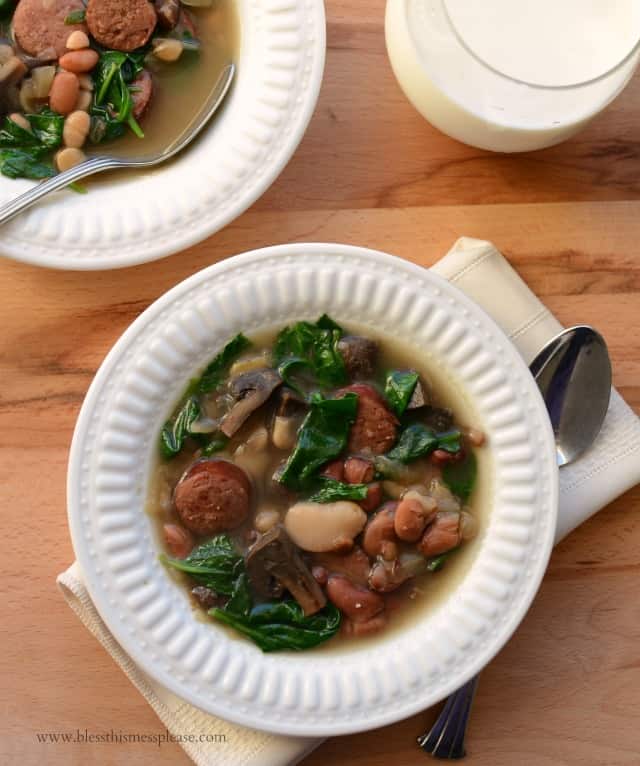 America's Test Kitchen is always quick to say yes when I ask if they'll give away a few copies of a new cookbook, and The Healthy Slow Cooker Revolution
 was no different. Just enter below to win one of two copies, shipped right to your door. Two copies up for grabs means that your chances of winning are already doubled.
Valentine's Day is just around the corner. Any of their cookbooks would makes a great gift for your Valentine. Heck, it would make a great gift to yourself. You deserve it, and your family will thank you once you start making all the delicious recipes!
Good luck and enjoy that soup!
PS. Just because we can. Here are a few other America's Test Kitchen Recipes that I love and use all of the time which I have also blogged about. Give them a try, you'll find they quickly become your go-to recipes! My all time favorite Chocolate Chip Cookies (the secret is in melting the butter first!), Perfect Banana Bread, Healthy Veggie Stuffed Bell Peppers (slow cooker recipe), Skillet Pizza, Ultimate Fudgy Brownies (THE BEST!), Cheddar Bacon Corn Muffins, Healthy Homemade Chicken Nuggets (ready to stick in the freezer and used later!), Peanut Butter Brownies, Stove-top Macaroni and Cheese. Let the drooling being!
Disclosure: America's Test Kitchen provided me with a copy of a Healthy Slow Cooker Revolution and is providing the prizes as well as doing the shipping. I wasn't paid to blog about their company or the book. I really do love ATK!!! All opinions are my own. Thanks for supporting the companies I choose to blog about! Some of the link are affiliate links.