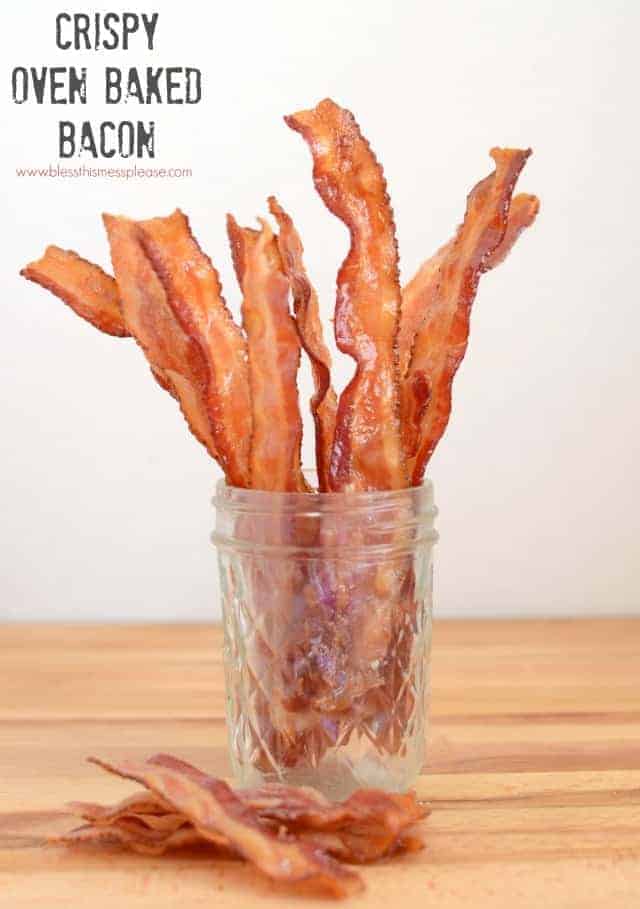 Baking bacon in the oven is the simplest and cleanest way to make crispy bacon! This easy bacon recipe comes out perfect every time no matter how much bacon you're making.
Have you tried baking bacon in the oven?
My mom is a traditional stove-top bacon fryer, and that's all that I really knew. A few years ago my grandpa (the one who painted the pictures on my hutch) mentioned that he would bake large quantities of bacon in the oven to serve to his men's group at church. That was honestly the first time I had ever heard about oven baked bacon.
Bacon and I have an interesting relationship. I, like the rest of the world, like the stuff. BUT when I was in high school I worked at an amazing little deli called The Big Cheese. Every Saturday for years, I fried up 30 to 40 POUNDS of bacon. It was to prep it for the rest of the week. I would spend literally hours frying bacon and produce something like 3 gallons of bacon grease by the time that I was done. I would come home and just smell so strongly of bacon I had to shower immediately. My clothes smelled until my mom washed them, my car would smell until it had a day or two to air out; Holy Bacon Batman! After years of this, I started to hate bacon, especially the smell.
I stopped eating bacon at around 16 and didn't look back. The smell was what really set me off; I just hated that cooking bacon smell. So I lived a bacon-free life and didn't think much of it. After I got married and started cooking more for a family instead of just myself, bacon slowly made a reappearance. I like it just fine now – it tastes great – but the smell still isn't my favorite.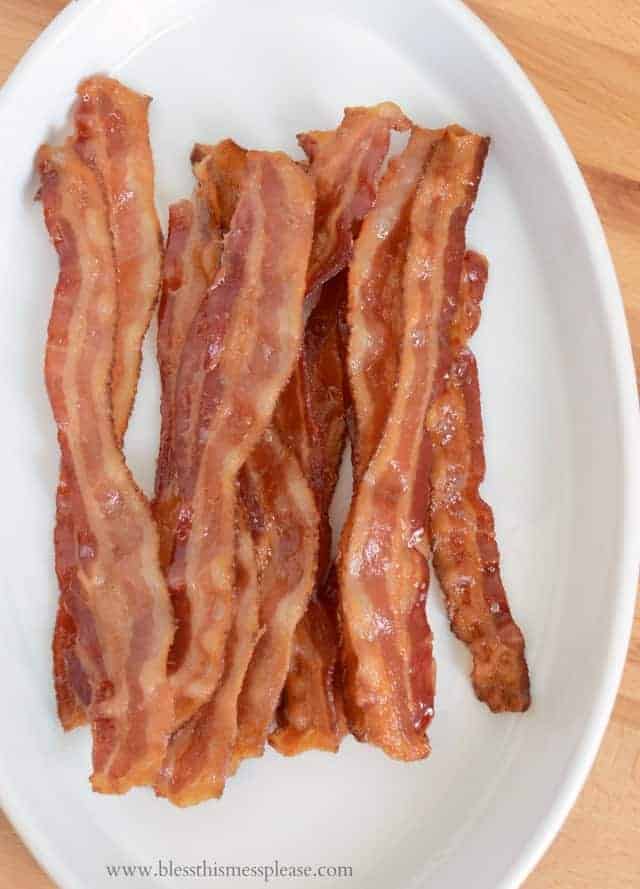 Baking bacon in the oven has been a total game changer for me!
It requires little to no effort, you don't get splattered with hot grease, it's easy to clean up, and the smell is not quite so in-your-face when you are done. The house definitely smells delightful and all of the babies come to see what I'm cooking, but it doesn't linger forever or make your clothes bacony because you were standing over the pan.
You will LOVE how easy it is to get evenly crispy pieces and it literally takes out all of the work of cooking bacon, no matter how large or small the batch. It makes cooking a few pounds at a time a cinch (I've put three pans, one pound of bacon each, in the oven all at the same time and it worked great). Or, if you only need a few strips for a soup recipe, you can just throw it in the oven and forget it.
Trust me on this one, oven baked bacon is where it's at!
Oven Baked Bacon is perfect to make bacon just to eat or to prep it for a recipe.
My favorite bacon recipes include these:
Print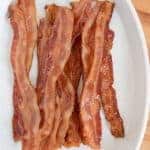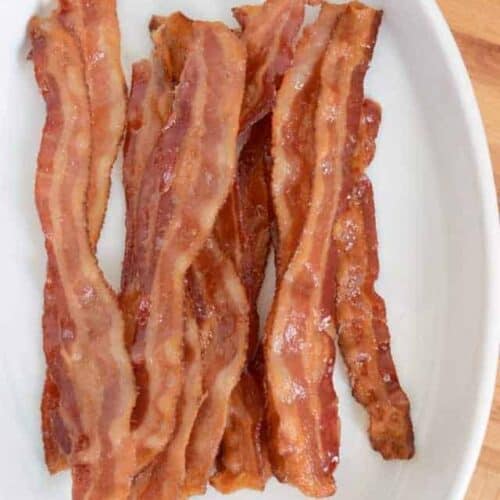 Oven Baked Bacon
---
Author:

Prep Time:

5 min

Cook Time:

18 min

Total Time:

23 minutes

Yield:

12
Description
Baking bacon in the oven is the simplest way to make a large or small amount of crispy bacon! This easy bacon recipe comes out perfect every time.
---
---
Instructions
Preheat the oven to 400 degrees.
Line a rimmed baking sheet with foil (have the foil overhang the edges so that the grease doesn't get onto your pan). Lay the bacon onto the foil in a single layer, if the edges of the raw bacon overlap a little, that's OK.
Put the bacon in the oven and cook for about 18-22 minutes. You want the bacon to be cooked through but not too dark. So keep an eye on it towards the end of baking. The actual baking time will depend on the thickness of your bacon.
When the bacon is cooked, take it out of the oven. Remove the bacon from the pan and place it on a paper towel-lined plate to absorb extra grease. You can pour the extra grease in the pan into a heat-resistant container and save it for another use. Once the pan is cool, simply throw away the foil.
Enjoy in your favorite recipes or eat as is.
---
Notes
You don't have to wait for your oven to preheat all of the way to start cooking your bacon, just FYI.
Nutritional info is for 12 pieces of baked bacon
Category:

Breakfast

Method:

Oven

Cuisine:

American
Keywords: baking bacon, how to make bacon in the oven, baked bacon recipe, crispy bacon, how to make crispy bacon, baking bacon in the oven, oven baked bacon
So tell me…
Have YOU baked bacon in the oven before?! What do you think?