5 simple steps for how to pack and ship Christmas cookies this holiday season so that you can spread love all over the country!
There's nothing like fresh baked cookies around the holidays, am I right? I look forward to holiday baking all year, and I love sharing my creations with friends and family. Unfortunately, many of my friends and family live far from me, so the only option I have is to ship them! If you're in the same boat as me, follow these 5 simple steps to make sure your offering of love makes it to its intended recipient in all its holiday glory!
Choose a Cookie Recipe That Ships Well
Not every cookie is ideal for shipping. To ensure your cookies make it intact, choose a cookie that is firm and not super moist. Shortbreads, bars, drop cookies, gingerbread, and sugar cookies are all good choices. Avoid sending softer cookies, cookies that require refrigeration, or delicate cookies like madeleines. If you're sending to a warmer area, make sure you don't ship cookies that could melt.
Plan Ahead
To ensure peak freshness, plan to ship the cookies as soon as possible after baking them. Take into consideration the timing – if you bake them on a Saturday, you may not be able to ship them until Monday, losing a day of freshness. Likewise, if you ship on a Friday, they may sit in a shipping facility over the weekend. Choose a shipping speed that will get your special delivery there as soon as possible.
Prep the Cookies for Shipping
Allow the cookies to cool before packaging them to avoid any extra moisture that can spoil the cookies. Once they are cool and have had a chance to firm up, package them quickly to seal in the freshness. Start the packing process by cushioning the cookies. Make sure you pack soft and crisp cookies separately so they retain their texture. Wrap them in small groups in plastic wrap, aluminum foil, or plastic bags.
Pack the Cookies
Choose a sturdy container with a lid and fill the bottom with a couple inches of bubble wrap or packing peanuts. Line the container with foil, plastic wrap, or wax paper and place the cookies inside – heaviest cookies on the bottom—adding layers of crumpled paper towel or bubble wrap between layers. Don't over-pack the cookies, but don't leave too much space either. You want them to be secure but not smashed. Use stuffing to fill in any holes and cover the top of the cookies. Fasten the lid to the top of your container and tape around the edge to seal in the freshness.
Pack the Box
Pack the container inside of a large, sturdy shipping box, with additional 2-3 inches of stuffing between the box and container on all sides of the container. The container should not be able to move inside of the box. If needed, shake it a bit to see if it moves and add more stuffing if necessary. Tape up the box and write "Fragile" on the outside as an extra precaution.
I try to do all of this on the same day and then head to the post office. I have found that shipping Priority works great. It's not as expensive as shipping overnight but will get to everywhere in in the US in 2-3 days which is the perfect amount of time to still have fresh cookies show up on your loved one's door.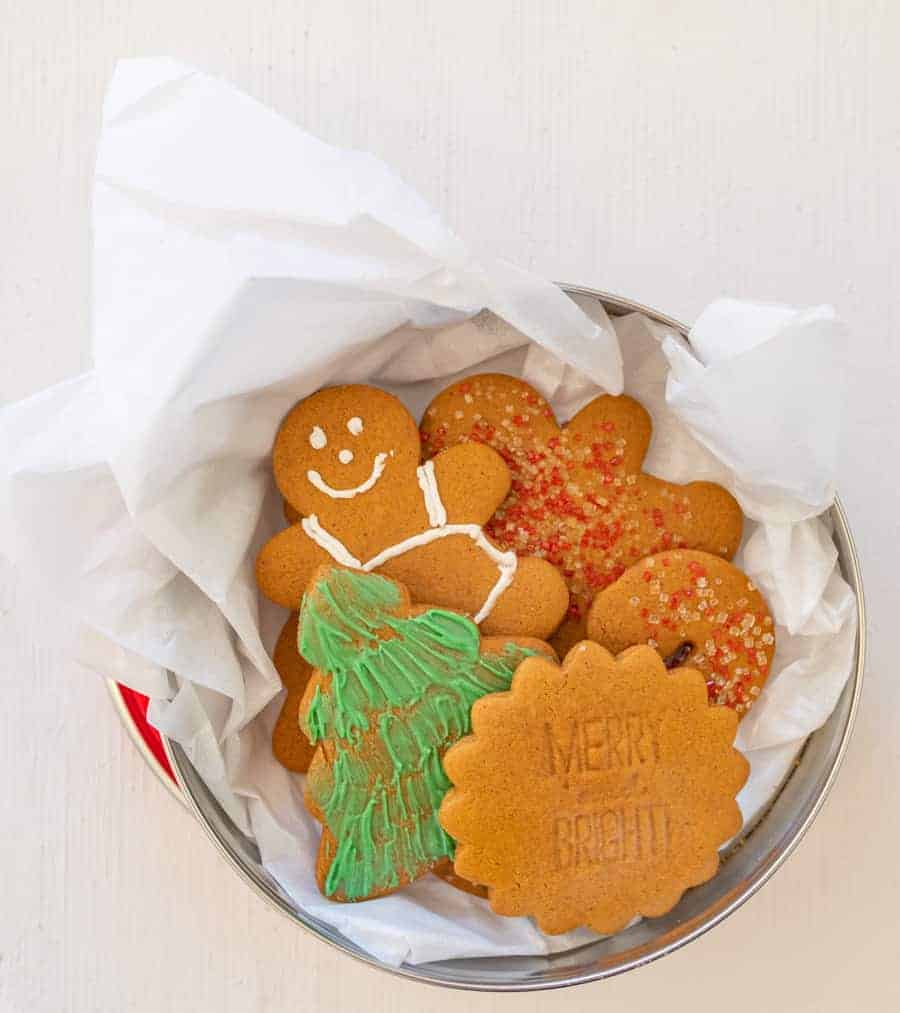 My favorite cookies to ship:
By following these simple steps, your friends and family will receive a wonderful, yummy gift in the mail, rather than a box of crumbly mess. In my world, food is love, so spread the love this holiday season!