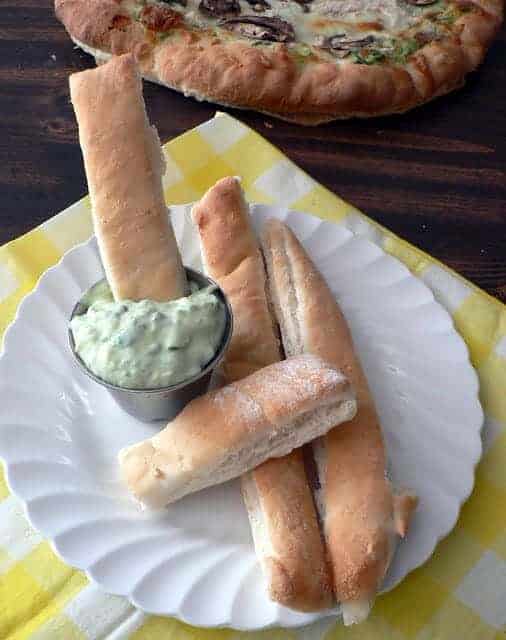 Breadsticks are all about timing, in my opinion. I bake the first pizza, then the breadsticks, and then the second pizza. If we are still hungry after the first pizza the breadsticks get munched on, and by the time the second pizza is out of the oven everyone is full. Hurray for leftovers!
Easy Breadsticks
Makes dough for 24 breadsticks or 1 large pizza and about a dozen bread sticks
2 1/2 cups warm water
1 T. yeast
1 T. sugar
1 tsp. salt
1/4 cup olive oil
4-6 cups flour
In a large mixing bowl add the water, yeast, sugar, salt, and olive oil. Allow mixture to stand for 5 minutes. Add one cup of flour and mix to combine. Add another cup of flour and mix through. Mix for 1 or 2 minutes. The dough should be the consistency of cake batter.
Add another cup of flour and mix through. Add flour until you can't mix it by hand very well. Sprinkle some flour on your table and turn the dough onto the table. Knead the dough by hand until it is smooth and elastic, adding flour as needed. This should take 6 to10 minutes of kneading. Place the dough back in the bowl, cover it with a towel, and let it rise in a warm place for 15 to 60 minutes (this time varies a lot for me, I just let it rise according to how long it is until dinner time).
Preheat oven to 375 degrees. Divide the dough in half. Use one half for a pizza and the other half for breadsticks or use both halves for breadsticks. Roll the dough out on a piece of parchment (about a half inch thick) and then use your pizza cutter to cut the dough into 12 strips (about one and half inches wide). Slide the parchment onto a baking sheet and bake for 12-15 minutes until the breadsticks are light brown. If the breadsticks stick a together a little, just recut them after they have baked with the pizza roller. If you want more breadsticks, repeat, but if you want a pizza do that with the other half of the dough. Serve hot with your favorite dipping sauce.
To serve them I like to wrap the bread sticks in the parchment paper they baked on. So fancy!