Wondering how to make Easy Homemade Pizza Dough? This is my go-to recipe. You only need 6 ingredients and 10 minutes to make this easy, versatile dough!
I got you covered when it comes to Pizza. Here are a few of my favorites: Amazing No-Knead Refrigerator Pizza Dough, Homemade Supreme Pizza Recipe and 30 Minute Meaty Margherita Pizza.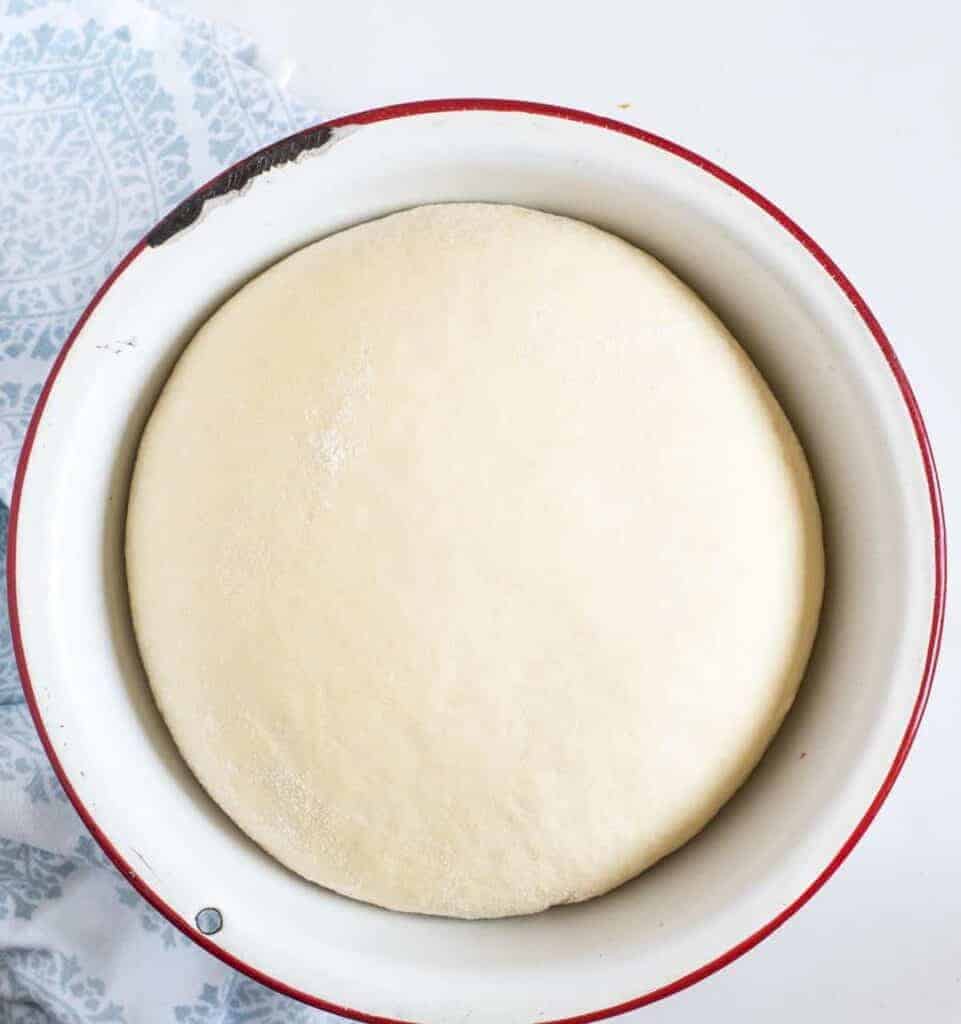 Easy Homemade Pizza Dough Recipe
There are a few skills that I feel are essential for being a good mom. Making homemade pizza is one of them. I don't know why, but being able to make a mean pizza is important to me! I meal plan based on genre. Friday at our house is pizza night! Every Friday I make a version of one of the following: pizza, deep dish pizza, personal pizzas, sheet pan pizza, calzones, Stromboli, or pizza rolls.
For all of my pizza options, this is the super easy pizza dough that I use. You can't go wrong with a simple dough that works every time. It only has 6 simple ingredients, and it's very forgiving (you really can't ruin this dough, trust me!).
For this recipe I have also included my favorite pizza baking method (because those two things go together). It's very pizzeria in style. The dough is a medium thickness, the bottom gets nice and brown, and the cheese around the edge gets crusty, edging on burnt. Mmmm...that crusty dark cheese! Don't be tempted to overload on cheese and toppings. With pizza, more is not always better. The crust won't cook through if you get too crazy, and very few things are grosser than doughy pizza.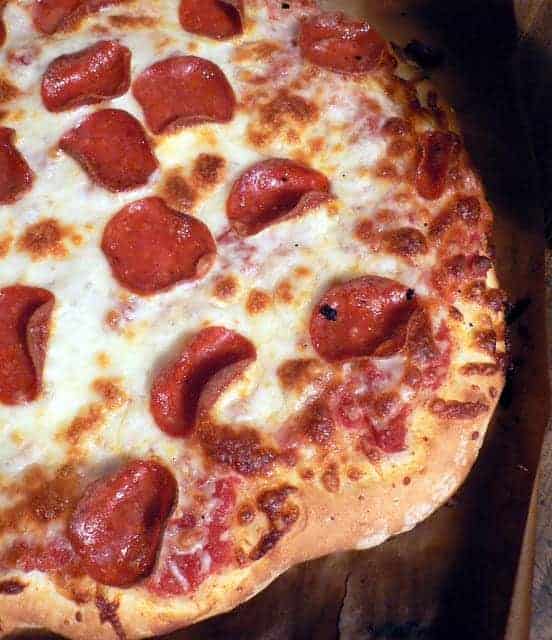 What should I bake this pizza in?
I have added my recommendations on how to cook the pizza but you can really cook this however you like. Press it in a sheet pan, in a pizza pan, in a cast iron skillet,or however you like to make pizza.
What should I do with the other half of the dough if I only want 1 pizza?
If you don't want 2 large pizzas, make 1 large pizza and a batch of breadsticks with the second half of the dough.
Looking for a fun Friday night activity with the kids?
Use this dough to make mini or individual pizzas. Let the kids do the rolling and top with what they like. My kids love DIY pizza night.
How long do I let the dough rise?
The rising time if very flexible. The longer it rises, the more fluffy/bready the baked dough; the shorter it rises, the more chewy/dense it will be. I just let it rise as long as it takes me to prep my veggies, cheese, and sauce.
Can I use whole wheat flour to make pizza dough?
Feel free to use half whole wheat flour and half all purpose flour, so delicious. This is my favorite 100% whole wheat pizza dough recipe if you are in the market.
What is the best homemade pizza sauce to go with this dough?
Looking for the best (and easiest) pizza sauce recipe? You'll need 2 tablespoons olive oil, 2 cloves garlic, and 1 (28-ounce) can crushed tomatoes. In a small sauce pan, cook the oil and garlic together over medium heat until the garlic starts to smell good. Add the tomatoes and simmer until it thickens a bit, about 15 minutes. Season with salt and pepper to taste. DONE! Really. Three ingredients and it tastes amazing!
How do you know if yeast is still good?
Fill up a small measuring cup with a little warm water. Add ¼ teaspoon of your yeast and then add a pinch of sugar and lightly stir it together. Wait for 5 minutes. If the yeast is still active you will see little bubble along the top of the water and it will start to "foam". I think the date on the yeast package is a good guide, and I like to store my yeast in the fridge to help keep it fresh. When in doubt, get new yeast. Nothing is worse than a unrisen loaf of bread because of old yeast!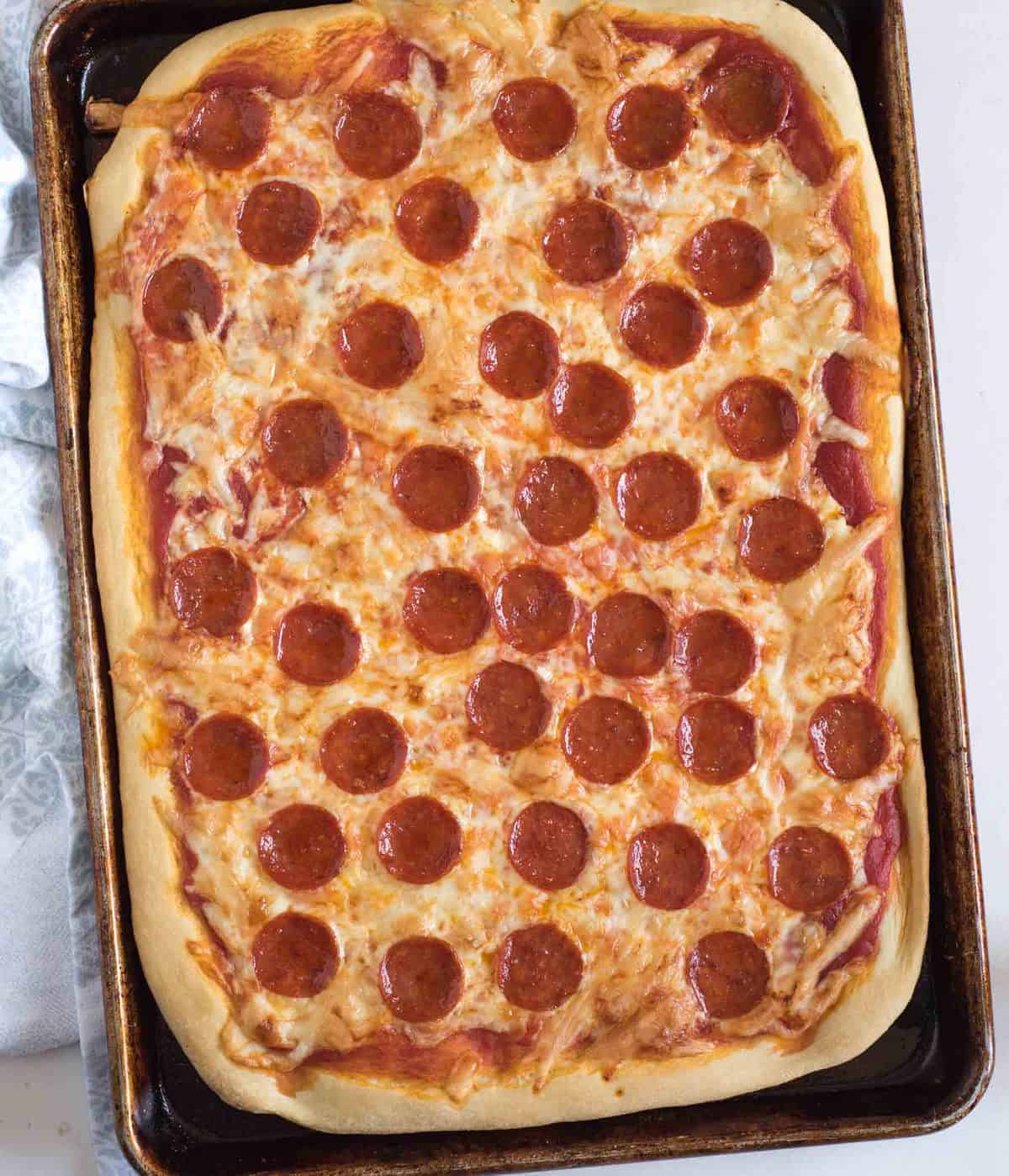 Print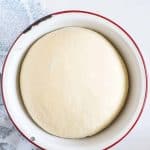 Easy Homemade Pizza Dough Recipe
---
Author:

Total Time:

1 hour 30 min.

Yield:

2

large pizzas

1

x
Description
Wondering how to make easy homemade pizza dough? This is my go-to recipe. You only need 6 ingredients and 10 minutes to make this easy, versatile dough!
---
For the easy pizza dough
2 ½ cups

warm water

1 tablespoon

yeast

1 tablespoon

sugar

1 teaspoon

salt

¼ cup

olive oil

6

to

6 ½

cups flour
For the Pizza
Pizza sauce (about 2 cups), see post for a super simple recipe
Cheese (about 4 cups)
Toppings
---
Instructions
To make the dough
In a large mixing bowl, add the water, yeast, sugar, salt, and olive oil. Allow mixture to stand for 5 minutes.
Add one cup of flour, and mix to combine. Add another cup of flour and mix through. Mix by hand for 1 or 2 minutes. The dough should be the consistency of cake batter. Add another cup of flour and mix until well combined. Add flour until you can't mix it by hand very well.
Sprinkle some flour on your table and turn the dough onto the table. Knead the dough by hand until it is smooth and elastic, adding flour as needed. This should take 6 to 10 minutes of kneading. You can also do this part in a stand mixer if you have one.
Place the dough back in the bowl, cover it with a towel, and let it rise in a warm place for 15 to 60 minutes (This time varies a lot for me - I just let it rise according to how long it is until dinner time).
To make the pizza
While the dough is rising, preheat your oven to 500 degrees. If you have a baking stone, put it in the oven to heat, too. I would recommend using a stone for baking this pizza. If you don't have a stone, you can turn your biggest cookie sheet upside down (so that the flat side is up) or use a rimless sheet. If you are using a stone let the stone heat for 30 minutes. If using a baking sheet, let it heat for 10 minutes.
When the oven is hot, cut your dough in half. Place half of the dough on a piece of parchment paper that is 18 inches long. Using a rolling pin, roll the dough (on top of the parchment paper) into a 12 to 14 inch circle. The dough should be about a half-inch thick. Top with 1 cup of pizza sauce, 1 ½ to 2 cups of shredded mozzarella, and toppings of your choice.
When the pizza is all ready, slide the pizza, which is on the parchment paper, onto a rimless cookie sheet or one that is upside down. This will help you get the pizza to the oven.
Open the oven and slide the pizza which is still on the parchment paper, from the cookie sheet onto the hot baking stone or hot cookie sheet. I just tug on the edge of the parchment paper with my hands and slide it onto the stone. BE CAREFUL! Your oven is set to 500. It's super hot, obviously! Make sure the babies are out of the way and be careful when sliding the pizza into the oven.
Bake for 10 to 15 minutes until the top is bubbly and the edges are starting to brown. When the pizza is done, tug the edge of the parchment paper and slide the pizza back onto the cookie sheet you used to transfer it to the oven. Again, be careful!
Let your stone reheat for 10 minutes. While the stone is heating, repeat the whole thing with the second half of the dough and bake the same way.
Enjoy, enjoy enjoy!
Notes
I serve it right off of the parchment paper (which gets all dark and cooked looking) or I'll tear off a new piece and serve it on a crisp white sheet of parchment. Very pretty!
This cooking method is my preferred way to make pizza at home but it's just a suggestion. You can use this pizza dough to make mini pizza, sheet pan pizza, and even bread sticks. Just be sure that no matter what you cook you pizza in/on, the bottom of the crust is golden brown before you remove it from the oven.
Don't need two large pizzas? Make one pizza and use the rest of the dough for bread sticks.
Prep Time:

15 min

Cook Time:

25 min

Category:

Bread

Method:

Oven

Cuisine:

American
Nutrition
Serving Size:

1 Slice

Calories:

330

Sugar:

1.5g

Sodium:

234.7mg

Fat:

6.4g

Carbohydrates:

59g

Protein:

8.2g
Keywords: pizza dough recipe, how to make pizza dough, homemade pizza dough, easy pizza dough, best pizza dough recipe, homemade pizza dough recipe, how to make pizza dough from scratch, how to make homemade pizza dough, how to make pizza dough at home
If you love Pizza, Check these recipes out too:

And there you have it, the best Easy Pizza Dough on the block. You can't mess this one up friends, even if you don't consider yourself a baker or tend to be wary of making yeast doughs. You can do it!