Amazing No-Knead Refrigerator Pizza Dough that is made with only 4 ingredients, only has to be stirred together, and can sit in the fridge for up to 3 days.
Super excited to share this simple but amazing recipe with you. Homemade pizza doesn't have to be hard or fussy and this recipe is going to prove it. Plus, the taste and texture of refrigerator pizza dough is the best. It's so chewy and delicious that you might just switch to this full-time for your homemade pizza dough needs.
All you do is stir together a little flour, water, salt, and yeast and then you let it sit in your fridge until you want to use it. It's best after 24 hours in the fridge and can last up to 3 days. This is a great make-ahead dough recipe that cuts off a lot of time when it comes to pizza making night. It's one of my favorite recipes and I've made it many, many times. I can't wait for it to become a regular in your kitchen, too.
What is the best homemade pizza sauce to go with this dough?
Looking for the best (and easiest) pizza sauce recipe? You'll need 2 tablespoons olive oil, 2 cloves garlic, and 1 (28-ounce) can crushed tomatoes. In a small sauce pan, cook the oil and garlic together over medium heat until the garlic starts to smell good. Add the tomatoes and simmer until it thickens a bit, about 15 minutes. Season with salt and pepper to taste. DONE! Really. Three ingredients and it tastes amazing!
How do you know if yeast is still good?
Fill up a small measuring cup with a little warm water. Add ¼ teaspoon of your yeast and then add a pinch of sugar and lightly stir it together. Wait for 5 minutes. If the yeast is still active, you will see little bubbles along the top of the water and it will start to "foam". I think the date on the yeast package is a good guide, and I like to store my yeast in the fridge to help keep it fresh. When in doubt, get new yeast. Nothing is worse than an unrisen loaf of bread because of old yeast!
This is what the pizza dough looks like after you mix it and after 3 days in the fridge: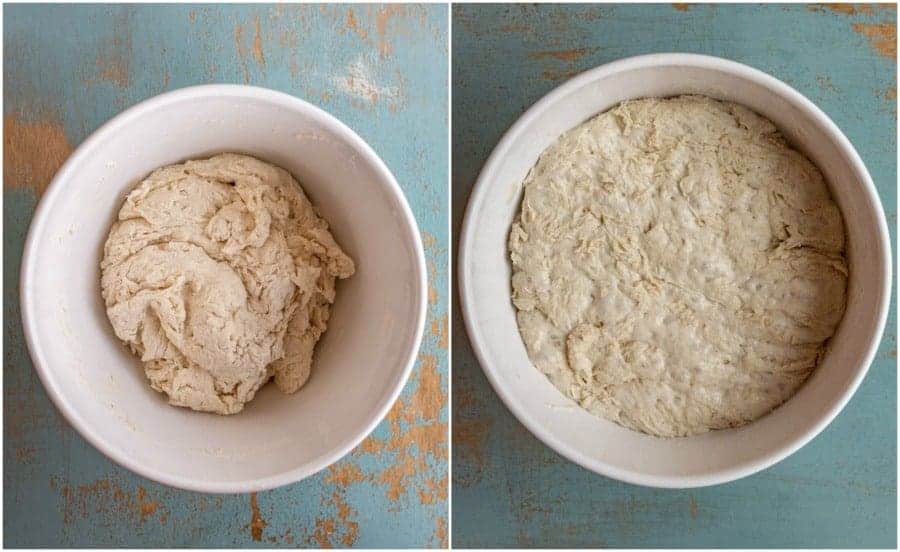 Print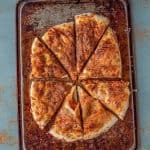 Amazing No Knead Refrigerator Pizza Dough
---
Author:

Total Time:

24 hours 15 minutes

Yield:

2

medium pizzas (

2

pounds of dough)

1

x
Description
Amazing No-Knead Refrigerator Pizza Dough that is made with only 4 ingredients, only has to be stirred together, and can sit in the fridge for up to 3 days.
---
3 cups

bread flour

½ teaspoon

instant yeast

1 ½ teaspoons

salt

1 ½ cups

water
---
Instructions
In a medium bowl, add the flour, yeast, and salt. Stir to combine.
Add all of the water and stir until the mixture comes together and there are no dry spots. No need to knead, just stir until it's a uniform texture.
Cover the bowl and dough tightly with a lid or plastic wrap and place the dough in the fridge.
Keep in the fridge for at least 24 hours and up to 3 days. The longer it rests, the chewier the baked pizza crust will be.
An hour before you plan to use the dough, remove it from the fridge and let it rest at room temperature.
To make the pizza: While the dough is resting, preheat your oven to 500 degrees. If you have a baking stone, put it in the oven to heat, too. I would recommend using a stone for baking this pizza. If you don't have a stone, you can turn your biggest cookie sheet upside down (so that the flat side is up) or use a rimless sheet. If you are using a stone, let the stone heat for 30 minutes. If using a baking sheet, let it heat for 10 minutes.
When the oven is hot, cut your dough in half. Place half of the dough on a piece of parchment paper that is 18 inches long. Using a rolling pin, roll the dough (on top of the parchment paper) into a 12 to 14 inch circle. The dough should be about a quarter-inch thick. Use extra flour to keep the dough from sticking while you roll it out.
Top with 1 cup of pizza sauce, 1 ½ to 2 cups of shredded mozzarella, and toppings of your choice.
When the pizza is all ready, slide the pizza, which is on the parchment paper, onto a rimless cookie sheet or one that is upside down. This will help you get the pizza to the oven.
Open the oven and slide the pizza which is still on the parchment paper, from the cookie sheet onto the hot baking stone or hot cookie sheet. I just tug on the edge of the parchment paper with my hands and slide it onto the stone. BE CAREFUL! Your oven is set to 500. It's super hot, obviously! Make sure the babies are out of the way and be careful when sliding the pizza into the oven.
Bake for 10 to 15 minutes until the top is bubbly and the edges are starting to brown. When the pizza is done, tug the edge of the parchment paper and slide the pizza back onto the cookie sheet you used to transfer it to the oven. Again, be careful!
Let your stone reheat for 10 minutes. While the stone is heating, repeat the whole thing with the second half of the dough and bake the same way.
Notes
Use extra flour as needed to help you roll the dough out. It'll be lightly sticky.
Prep Time:

24 hours

Cook Time:

15 min

Category:

bread

Method:

bake

Cuisine:

American
Keywords: pizza dough, pizza, crust, dough, bread, yeast, no knead, refrigerated, make ahead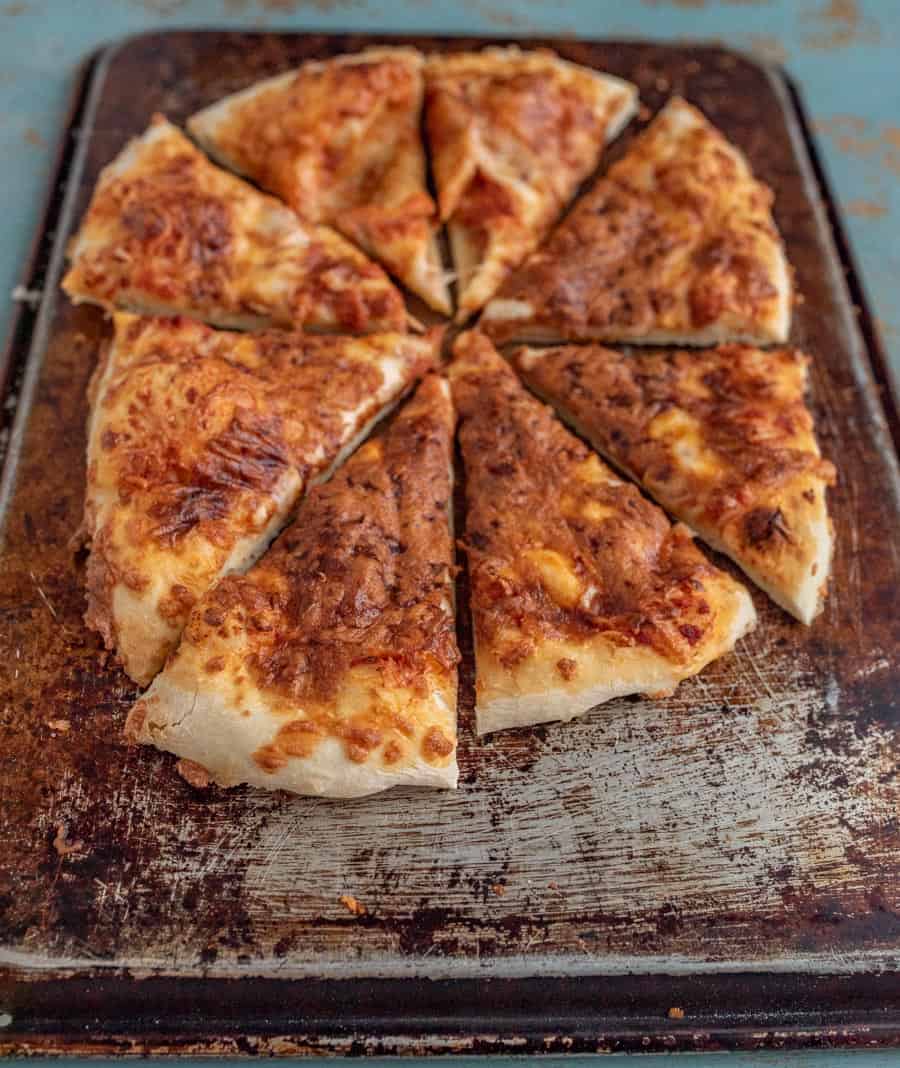 Love this refrigerated pizza dough recipe? You'll love these pizza recipes to go with it:
Make this one and you will thank me! The crust is magical.