If you've ever wondered how to paint furniture, this easy tutorial is for you! My step-by-step guide will walk you through the process of giving old furniture new life with a can of paint and a few other handy tools.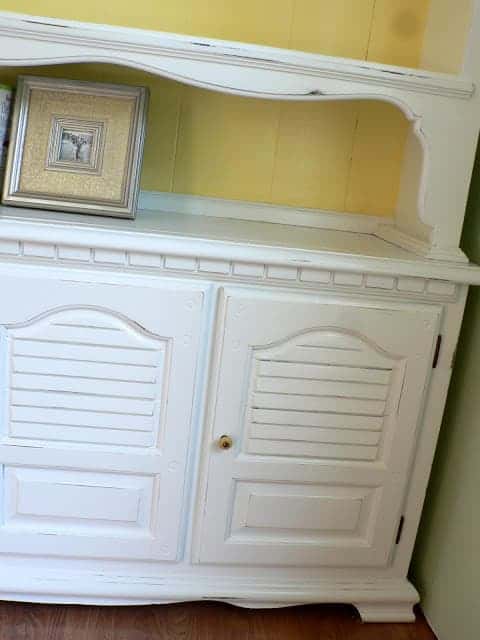 It's done! It's finally done! I now own the kitchen hutch of my dreams. I've been wanting, craving, a hutch for years, and now I own it. I'm beyond pleased with how it turned out.
I bought this beauty at a garage sale last Saturday for $50. It's large. Very, very large. It's just shy of five feet wide and almost seven feet tall. The whole thing is wood except for the back panel which is a laminate panel.
How to Paint Furniture without sanding
Before: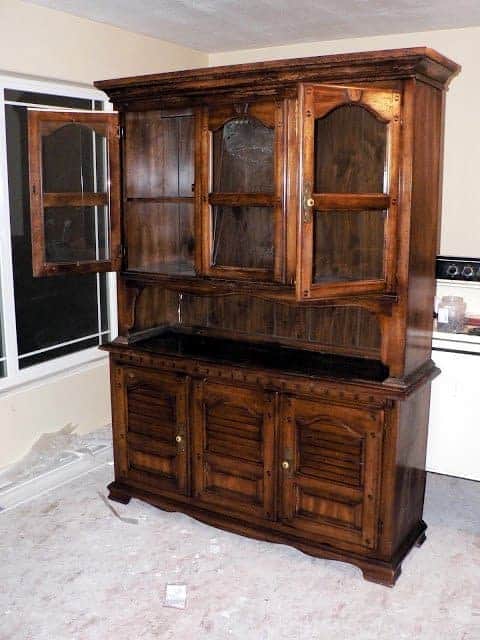 After: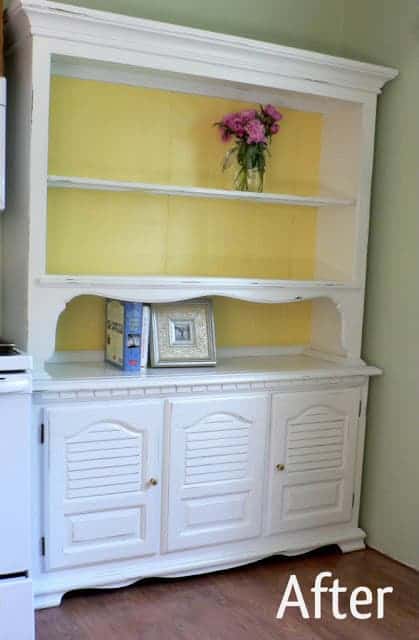 I did some serious research in preparation to paint this hutch. The most useful site that I found was Centsational Girl. The woman is a genius, has painted tons of things, and is so clear in her instructions. I am so glad I found her site because it's just plain great.
One of the big reasons for the research was because I was not going to sand the entire thing down to the wood. I read lots and lots and went with a method that involved very little sanding. Painting furniture without sanding is the way to go!
Most of the big-time furniture painters are very specific on brands and types of primer/paint conditioner/polyurethane that they use. Lots of the women paint and then sell furniture in shops, so they do it for a living. I went with what the experts said.
How to paint furniture without sanding (including laminate)
What you will need:
Zinsser Cover Stain oil-based primer
Floetrol paint conditioner
paint thinner
Elmer's wood filler
good quality two-inch angled brush (mine is a Purdy brush)
fine-grit sanding block, medium-grit sanding block, coarse-grit sanding block
paint of your choice
Minwax water-based Polycrylic (Varathane water-based polyurethane was also an acceptable choice)
screw driver
tack cloth or lint free rag for wiping and dusting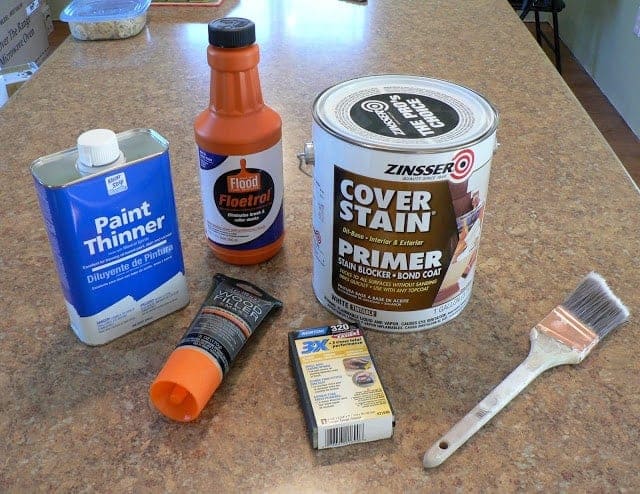 Prep the furniture
Remove all of the doors and hardware using a screwdriver. I decided that I didn't want the doors on top at all, so I removed them and then used a Sawzall to cut the two vertical boards that the doors were attached to. I pulled out the boards but was left with holes where the boards were and where the hinges were screwed in. I followed the directions on the Elmer's wood-filler to patch the holes and then sanded them smooth. If you are planning on changing the hardware you may need to patch the old hardware holes too. The wood filler is also great to fix large scratches and dings.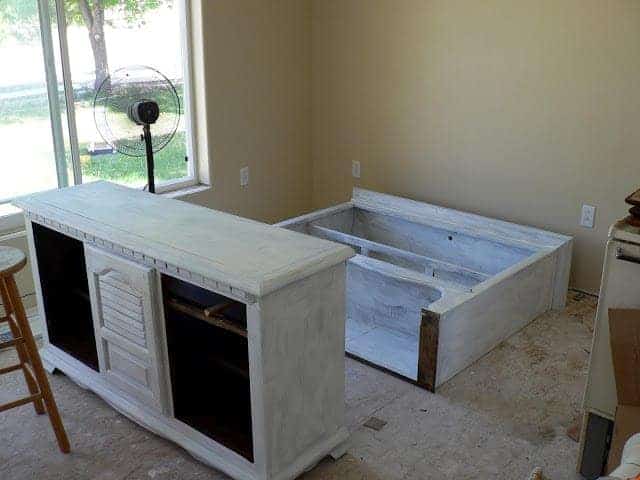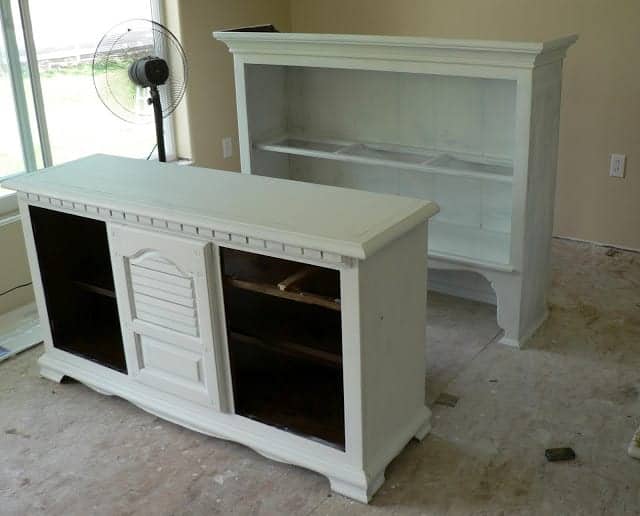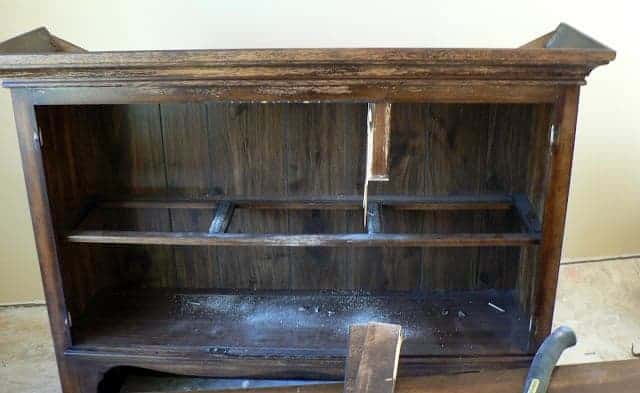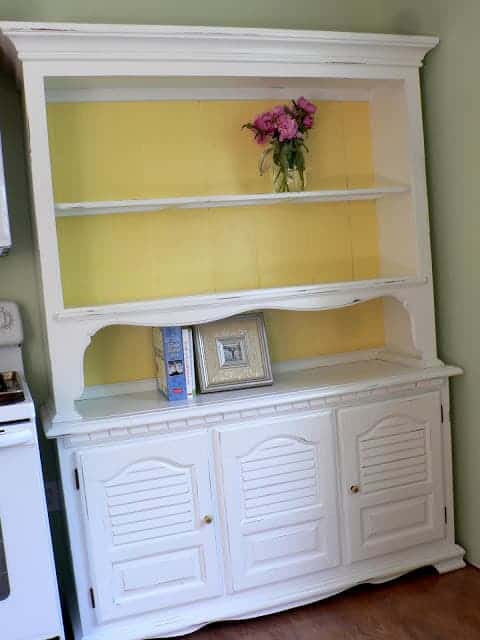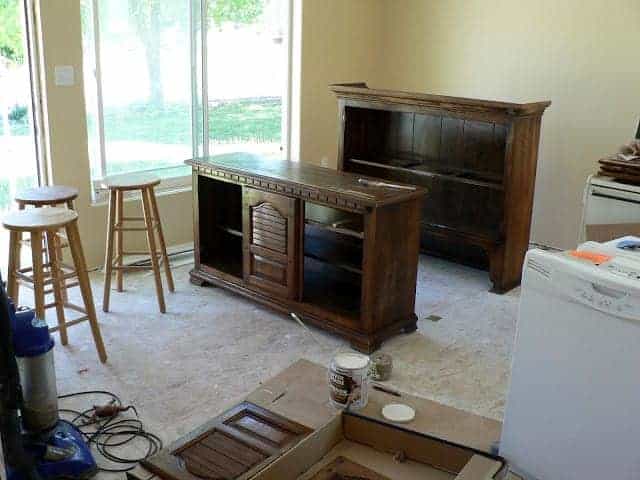 Light sanding
Use the medium-grit sanding block to rough up all surfaces you are going to paint. I didn't paint the inside of the cabinet bottoms; it's a personal preference. You aren't really sanding, you are just lightly scratching the surface to give the primer a better finish to adhere to. I just quickly went over the entire piece, which only took me 15 minutes. Remove all of the dust completely before moving on.
Prime
Using Zinsser Cover Stain oil-based primer is the key here. It's the only primer any of the big-timers use and I have to agree that it worked great. It's the key for painting without sanding and for painting laminate furniture. At around $20 for the gallon, it's well worth the time you save on sanding. It is oil-based, so you will need paint thinner or mineral spirits to clean your brush. And be warned - this stuff is not low-VOC. Holy stink; I had all of the windows and door open as well as a fan blowing air out the window. I opted for two coats of primer because two is better than one in this case.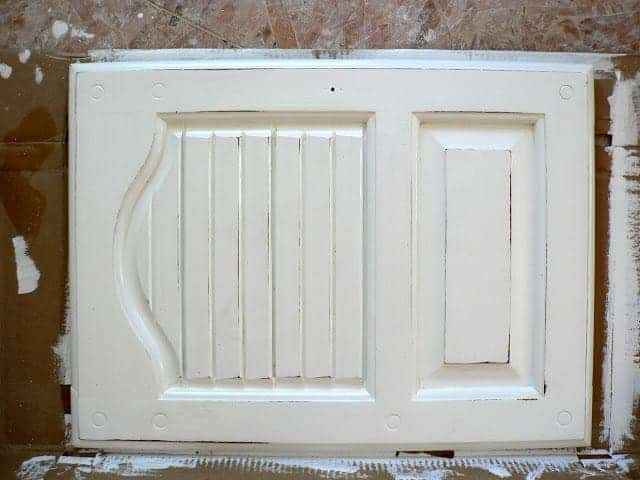 Paint
Even though the primer is oil-based, you can use whatever paint you want. Most people suggested using an acrylic water-based paint. I had lots of white paint left over from painting the ceilings of our remodel, so I used that. The sheen of the paint doesn't really matter because you are going to cover it anyhow. I added the Floetrol paint conditioner to the paint which is meant to help reduce brush marks. Just follow the instructions on the bottle. Again, I did two coats of paint. Allow the paint to dry for 24 hours before moving on to the polyurethane.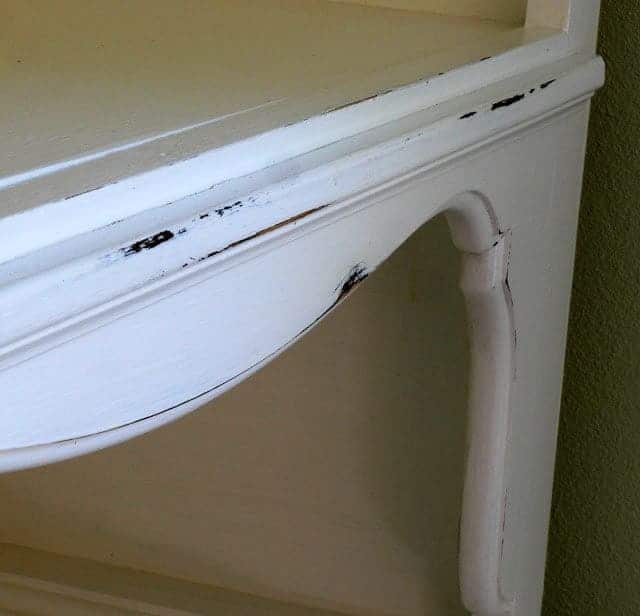 Distress
If you are going for the shabby chic/vintage look then you can distress the paint. If you like it without, then skip this step. I wasn't sure if I wanted to distress this piece or not. It was my first big painting project. I had my fair share of paint drips and brush strokes regardless of the care I took to prevent them, so I decided that distressing was a good option for me. It was painful at first to scratch up my freshly painted piece, but in the end I'm glad that I did it. I like the look, but it also will make using it easier. I don't want to worry about a little wear and tear from the babies. Now the first scratch will blend in.
Use the coarse sandpaper block to go over the edges, and then follow up with the medium-grit sandpaper. The coarse cut through my 4 layers well and the medium fanned out the scratch lightly to make it look more real. This step was really fun once I made the plunge.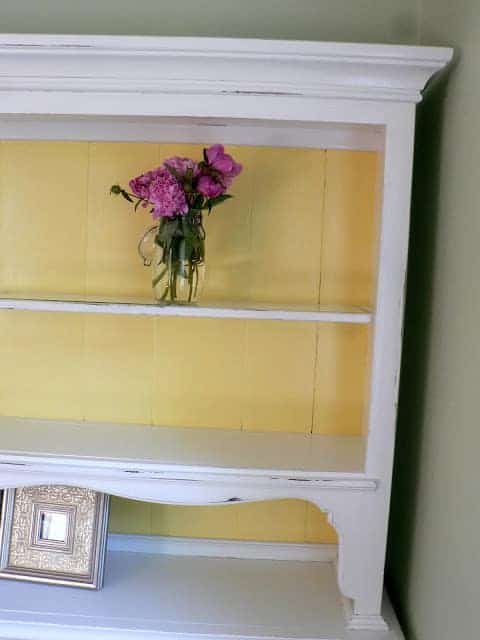 Polyurethane
This is the protective top-coat that you don't want to skip. This will prevent more of your paint from scratching off and really makes the piece last. Minwax and Varathane were the two main brands big-timers use. There are a few types, including a wipe-on paste, that people like. Everyone seems to agree on one point though: do not use an oil based top-coat. The oil-based (and off-brands) will yellow, and on a light piece you definitely don't want that. I did two coats of Minwax water-based Polycrylic that was semi-gloss. This is the final coat and the sheen that you pick will be what you see as the end result. I lightly sanded (with the fine-grit block) and dusted between the coats to remove drips and brush strokes.
If you are finishing a desk or table top that will get lots of wear and tear, 4-6 coats of polyurethane is suggested.
It was recommended that you wait for 24 hours before using the piece. I let the hutch cure over the weekend and now it's ready to use.
Be sure to read labels, wear old clothes, and paint in a well ventilated area.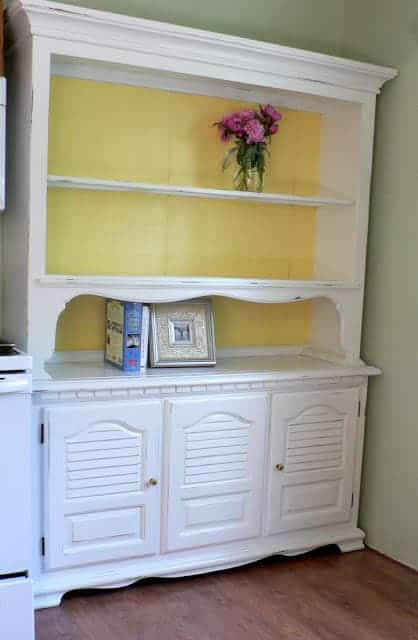 The hutch didn't turn out flawless- it had its share of drips, brush strokes, and dust that I polyurethaned to it, but it was well worth the effort.
I really, really liked doing this and can see myself getting into the business side of this hobby in the future. Most of the ladies who do this to sell their pieces own spray guns which would make the process 10 times faster and make the end result much, much smoother. Purchasing a spray gun is something that I will consider looking into in the future.
Here is a price breakdown if you are interested:
Garage sale Hutch: $50
Zinsser Primer: $20
Sanding blocks: $7
Floetrol: $8
Paint thinner: $4
Minwax Polycrylic: $17
Brush: had
Paint: had
Hardware: used what it came with
Total: $106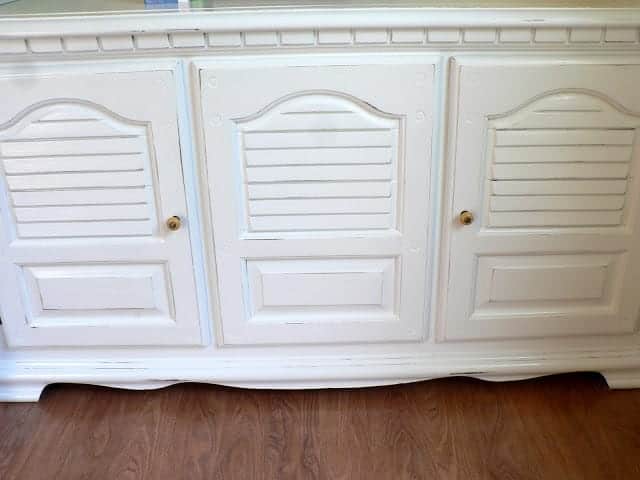 Thanks for reading! I hope you love this piece as much as I do. Has anyone else painted a piece of furniture before?