Have a gardening or farming lover on your list? This homesteader gift guide has ideas perfect for anyone who loves to garden and grow their own food!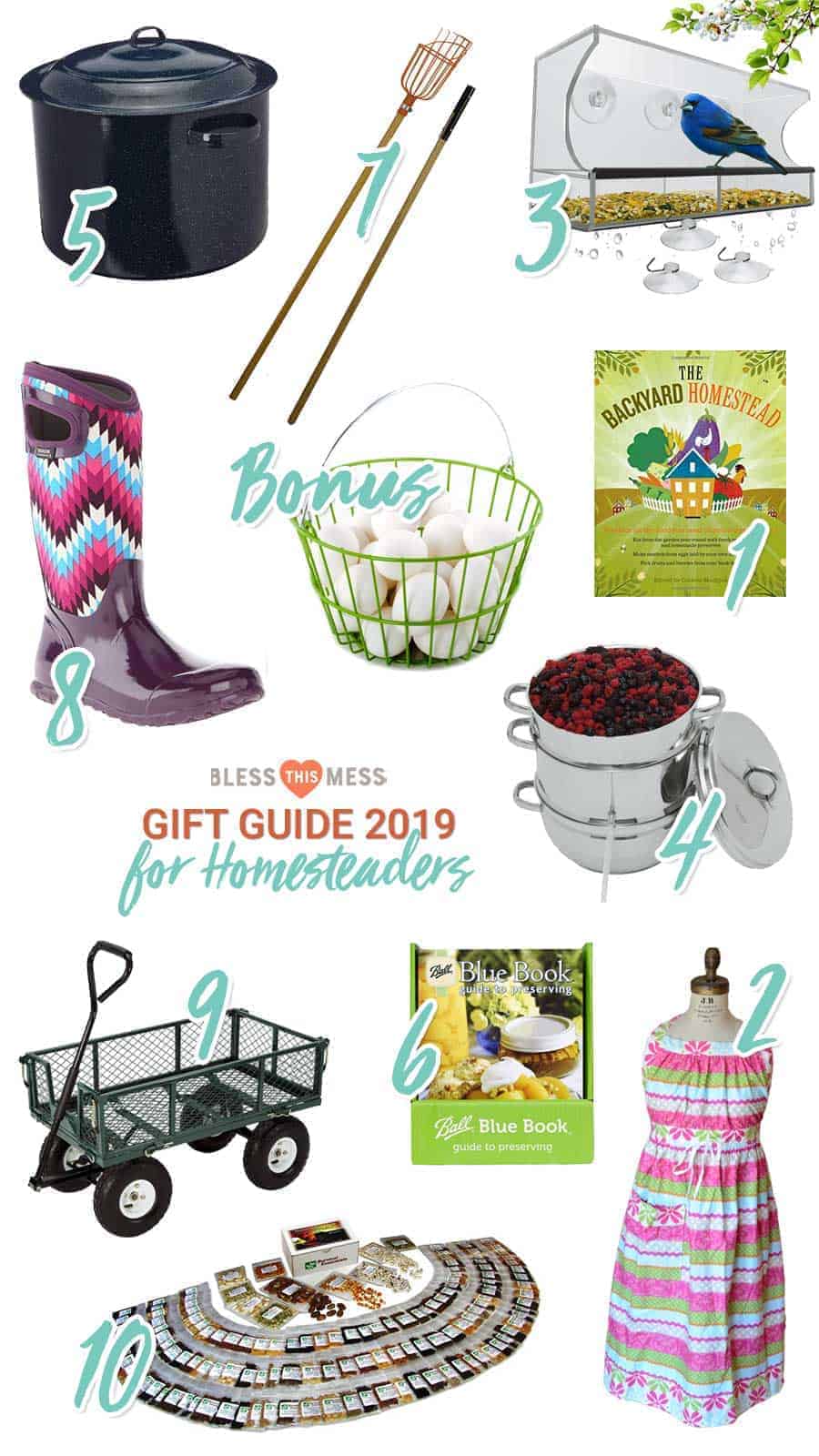 Gift Ideas for Gardeners and Homesteaders
These gifts are perfect for you or anyone in your life who loves farming, gardening, homesteading, preserving, or self-sufficiency. Whether you have a head of cattle on a ranch or a city lot with a backyard garden, these are gifts for the homesteader and the wanna-be homesteader alike.
1. Any of The Backyard Homestead books: The Backyard Homestead: Produce All The Food You Need on Just A Quarter Acre!, The Backyard Homestead Book of Building Projects, and The Backyard Homestead Guide to Raising Farm Animals
These are some of the very first homesteading books that I got, and they are still my all-time favorites. They are detailed, the illustrations are great, and they are practical. Plus, they are really pretty and fun to look at. I love all of these books.
2. Gathering Apron
I sell the coolest gathering aprons in my Etsy shop! These aprons can be gathered from the bottom hem and then tied to turn the apron into a pocket for gathering. I have a full gathering apron as well as a half-basket apron. These are perfect for collecting eggs, garden produce, or working in the yard.
3. Window Bird Feeder
Our favorite adopted Grandma had one of these clear bird feeders on her window at her nursing home. My kids just loved it! This is a fun gift for the young and old alike to bring a little bit of the outdoors close to your living room. There's something pretty magical about watching God's creatures enjoy a meal.
4. Stainless Steel Multi-Use Steam Juicer
Juice all the things! I didn't even know what this was until a few years ago when I made grape juice with one of my favorite people. It's a steam juicer! You toss in whole fruit and it literally steams the juice out. I have steamed grapes, cherries, and even sliced apples. The juice is excellent and perfect for drinking and making jellies. This is a great gift for anyone who loves preserving.
5. Ball Canning Starter Set
When I first got into canning, this is what I bought to get myself going. I didn't know much, but this was just what I needed to jump on the wagon. It's not super expensive and includes all of the essentials.
6. Ball Blue Book Guide to Preserving
If you are going to buy only one book about preserving, this is it. This Ball Blue Book covers water bath canning, pressure canning, freezing, and drying, and it's what I refer to the most when I'm preserving my garden treasures. At less than $10, it's a steal.
7. Long Handled Fruit Picker
We came upon a long handled fruit picker by accident (one got left in our barn), and I'm so glad we did. We use this thing all of the time! When we aren't using it to pick apples, pears, plums, and peaches, we are using it to get toys out of trees.
8. Bogs Waterproof Boots
These are on my wish list for this Christmas! Bog boots are the "it" boots for outdoor-loving ladies, and I'm loving this pair. They come in a million colors and styles, so shop around.
9. Steel Utility Garden Cart with Folding Sides
This yard cart/wagon is the best because it has sides that can fold up and down. I use this cart to haul bales of hay, babies, pumpkins, wood, trash, and everything in between. It's so fun to have and very, very useful.
10. 135 Variety Heirloom Survival Seed Bank
This has been on my list for a while. I think it would be a great thing to own! It has a huge variety of heirloom seeds, which means once you planted them, you could harvest the seeds again and plant in years to come.
Bonus: Wire Egg Basket
How cute would this be in your kitchen?!
This homesteader gift guide will hopefully help you find some ideas for those in your life who love to grow, make, and preserve their own food, whether they live in the country or city!