Take your homemade pizza to new heights with this recipe featuring chicken, bacon, and mushrooms slathered in melted cheese and creamy sauce. This Homemade Pizza with Chicken and Bacon is one of my kid's favorite ways to eat pizza!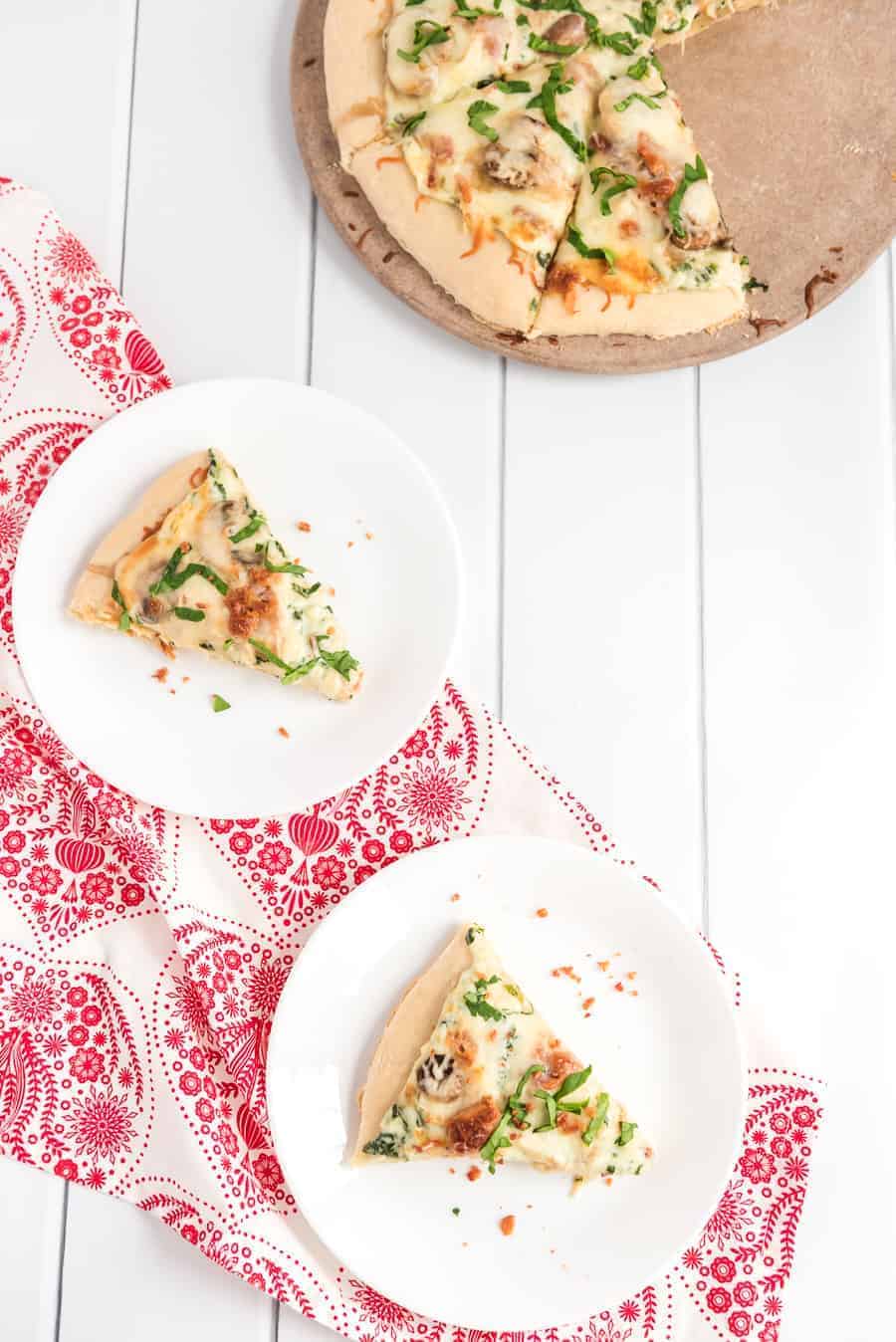 Homemade Pizza with Chicken and Bacon
Holy cow, you haven't lived until you've tried this pizza. We are big lovers of homemade pizza in these parts, and this one might just take the cake. Its savory toppings add so much flavor and texture, while the spinach white sauce adds a creamy base to hold it all together. Even though there are a couple types of protein, the mushrooms and spinach elements keep this a light and bright meal, perfect for casual spring and summer dinners.
I think a lot of people get intimidated by homemade pizza dough, but I'm here to tell you that you can do it! This one is really hard to mess up, and you can sort of play with it until you get it exactly how you like it. It's not like bread where you need it to be just so and expand perfectly in the oven. No matter what you do, this is going to taste delicious. So, roll up your sleeves, get your kids ready to help you roll out some dough, and enjoy this Chicken Bacon Mushroom Pizza with a Creamy Spinach Sauce!


How do I make homemade pizza better?
Here are a few great tips from Bon Appetit magazine that you may find helpful in your homemade pizza endeavor!
Don't do store-bought. Hey, I knew I was onto something... Making your own dough allows for the freshest crust possible, and it'll cook up a lot nicer than the stuff you'll find at the store. The secret to my homemade pizza dough is a little bit of sugar, which creates a crispier crust by activating the yeast.
Hand knead away. Do not -- I repeat, do NOT -- skip the kneading step for your dough! This is the crucial part of prep that gives pizza its amazing texture.
Pre-bake (or "par-bake") the dough. Cooking your crust for a few minutes sans toppings will allow it to hold all of those yummy additions without deflating or staying soft and soggy in the middle.
Don't overdo the toppings. Hey, I love a well-covered pizza as much as anyone else, but TOO many toppings is too much of a good thing. The slices will fall apart when you cut them if everything is piled too high, and your dough may not cook properly.

What temperature do you cook homemade pizza?
I prefer to cook homemade pizza a little lower and longer than some people. I know some folks like to blast it in 400 to 450 degrees F., or even under the broiler, to get a really crunchy exterior on the crust and super soft inside. To me, it's more important that all the flavors and ingredients have time to meld and bake into one another, getting cooked nicely all the way through for a perfectly textured bite every time. I pre-bake my crust at 375 degrees F. for 10 minutes, remove it from the oven to top it with all the things, and then bake it for another 15 to 20 minutes.
When making pizza, what goes on first?
This is totally the fun in making homemade pizza! There are NO rules about toppings and what order to place them. You could do an inside out pizza and put the protein and veggies on first, followed by the cheese and spinach sauce. You could also layer the cheese so it's below AND above the sauce and toppings. (Um, yum.) I did it more the traditional way here, which is: sauce first, toppings second, and cheese last. Sprinkle some herbs on top for a final freshness kick.

Print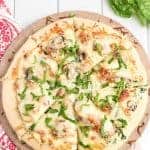 Homemade Chicken Bacon Pizza
---
Author:

Total Time:

1 hour 10 minutes

Yield:

2

Pizzas

1

x
Description
Take your homemade pizza to new heights with this recipe featuring chicken, bacon, and mushrooms slathered in melted cheese and creamy sauce.
---
Dough:
2 ½ cups

warm water

1 tablespoon

yeast

1 tablespoon

sugar

1 teaspoon

salt

¼ cup

olive oil

4

-

6

cups flour
Creamy Spinach Sauce:
¼ cup

butter (you could also use some of the bacon grease from the pizza toppings combined with butter to equal a

¼ cup

of fat)

¼ cup

flour

1

-

2

cloves garlic, minced

1

-

2

cups milk

4 ounces

cream cheese

½ teaspoon

salt

½ teaspoon

pepper

4 ounces

baby spinach, chopped (

half of a

normal 9-ounce bag) or ½ a package of frozen chopped spinach
More salt to taste
Additional Toppings
3 cups

mozzarella cheese, shredded

1 cup

cooked chicken, shredded

1

package mushrooms (9-ounce package), sliced

½

pound bacon, cooked and crumbled
---
Instructions
In a large mixing bowl, add the water, yeast, sugar, salt, and olive oil. Allow mixture to stand for 5 minutes.
Add one cup of flour, and mix to combine. Add another cup of flour, and mix thoroughly.
Mix for 1 to 2 minutes. The dough should be the consistency of cake batter.
Add another cup of flour, and mix well.
Add flour until very thick and you can't mix it by hand very well.
Sprinkle some flour on your table, and turn the dough onto the table. Knead the dough by hand until it is smooth and elastic, adding flour as needed. This should take 6 to 10 minutes of kneading.
Place the dough back in the bowl, cover it with a towel, and let it rise in a warm place for 15 to 60 minutes. (This time varies a lot for me -- I just let it rise according to how long it is until dinner time).
While the dough is rising, make the creamy spinach sauce. Recipe below.
Preheat oven to 375 degrees F.
Divide the dough in half. Roll half of the dough out on a pizza stone. Bake for 10 minutes. Roll out the other half of the dough on another stone while the first is baking.
After the 10 minutes of bake time, switch out the dough. Bake the second dough for 10 minutes, too. After you have pre-baked the crust, top with about a cup of the creamy spinach sauce and half of the cheese, chicken, mushrooms, and bacon.
Bake for another 15 to 20 minutes, until the cheese is bubbly and the edges start to brown. Repeat with the second pizza.
Creamy Spinach Sauce
In a medium saucepan, let the butter melt over medium heat.
When it is all melted, add the flour, and stir to combine.
Allow the mixture to cook for around a minute, stirring occasionally.
Add the minced garlic, and cook until fragrant.
Add 1 cup of the milk a little at a time, while whisking to combine.
Add the cream cheese, salt, pepper, and spinach to the hot milk mixture. Stir frequently. The mixture will thicken as it cooks. If it is too thick, add a splash or two more of milk.
Cook for 5 minutes. At the end of the 5 minutes, the mixture should be the consistency of a typical Alfredo sauce, if not a little thicker. Add milk if it is too thick. Take off the heat, and allow to cool slightly.
Taste for salt, and add more if needed.
Notes
You can make the dough with whole wheat flour or half whole wheat and half all-purpose if you'd like.
The creamy spinach sauce is great as a dip for breadsticks too!
Prep Time:

60 minutes

Cook Time:

10 minutes

Category:

Dinner

Method:

Oven

Cuisine:

Italian
Keywords: homemade pizza recipe, chicken pizza, bacon pizza, mushroom pizza, easy homemade pizza, how to make pizza, best homemade pizza, homemade pizza dough, how to make pizza dough, homemade pizza crust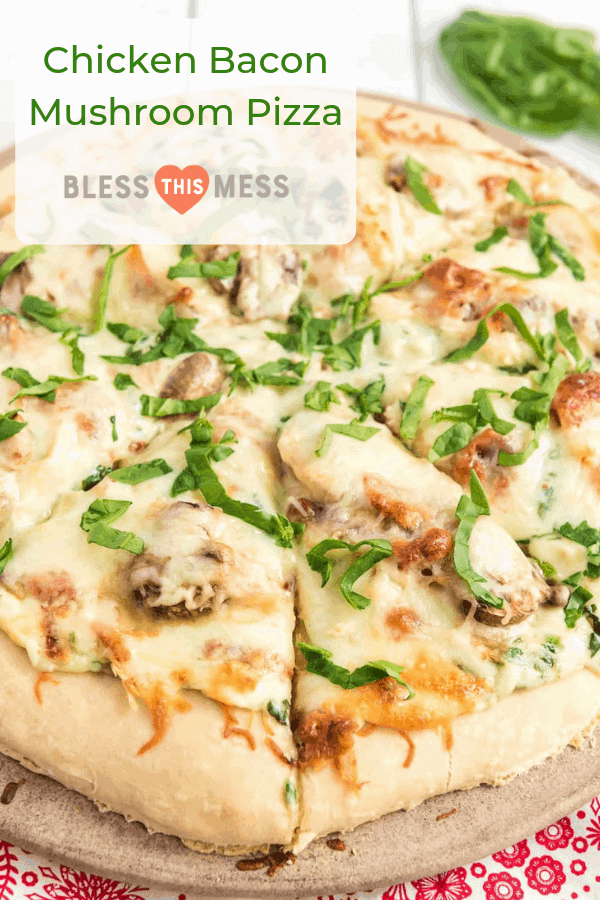 For more pizza recipes, check out:
Other homemade pizza dough recipes:
This post was originally published in 2012 and has been updated and rephotographed in May 2019.