Pizza, oh glorious pizza! Is there anything this scrumptious creation can't do? From its humble origins in Italy to the countless variations enjoyed worldwide, pizza has won over our hearts and taste buds. And if you're ready to take your pizza game to the next level, it's time to indulge in a true masterpiece: Artichoke Pizza.
Artichoke hearts bring a unique taste to the pizza party. Their mild, nutty flavor pairs exquisitely with the cheesy backdrop, offering a delightful contrast that is both indulgent and refreshing.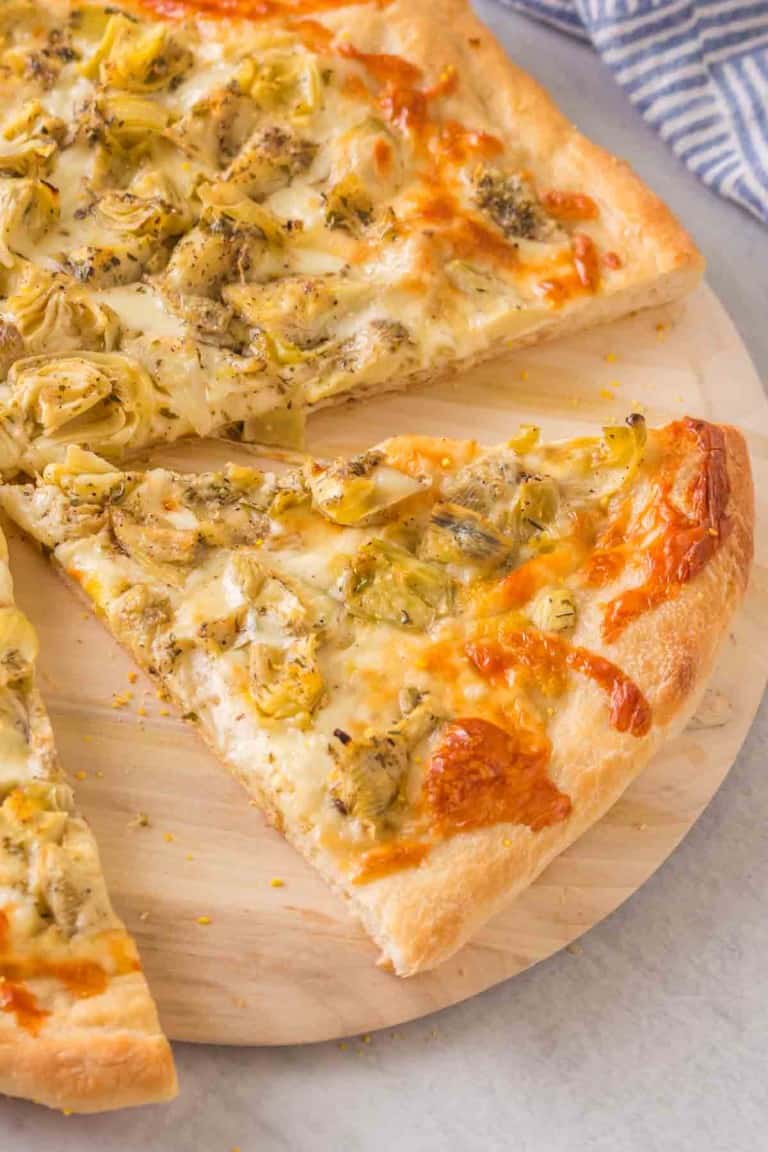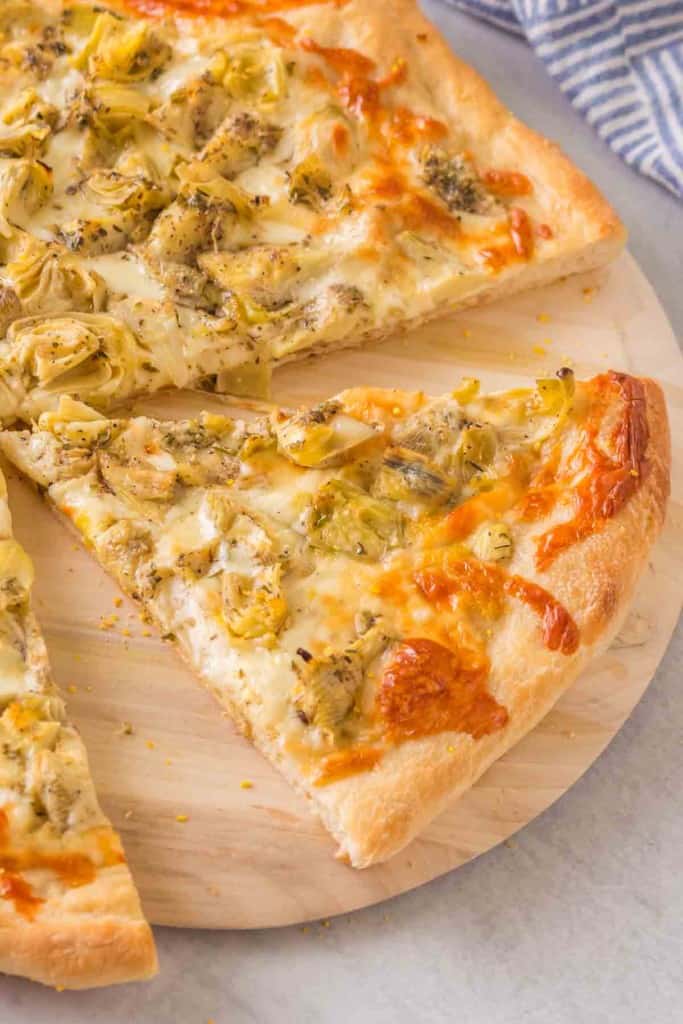 Artichoke Pizza
Artichoke hearts bring a unique taste to the pizza party. Their mild, nutty flavor pairs exquisitely with the cheesy backdrop, offering a delightful contrast that is both indulgent and refreshing. Let's not forget the health benefits. Artichokes are rich in fiber, vitamins, and minerals. So, indulging in artichoke pizza is like giving your taste buds a treat while your body gets a nutritional boost.
Whether you're catching up with friends or enjoying a relaxed family dinner, artichoke pizza adds an element of surprise to your typical pizza night. It's a conversation starter that invites everyone to embrace the unconventional.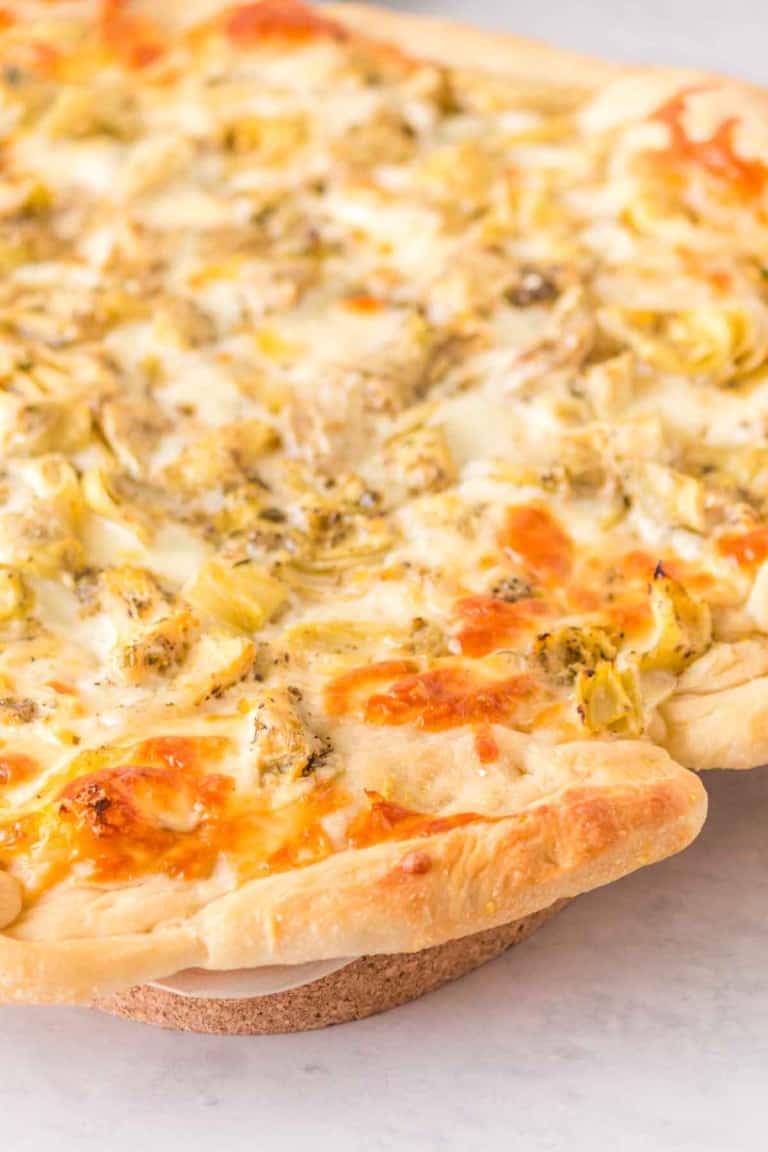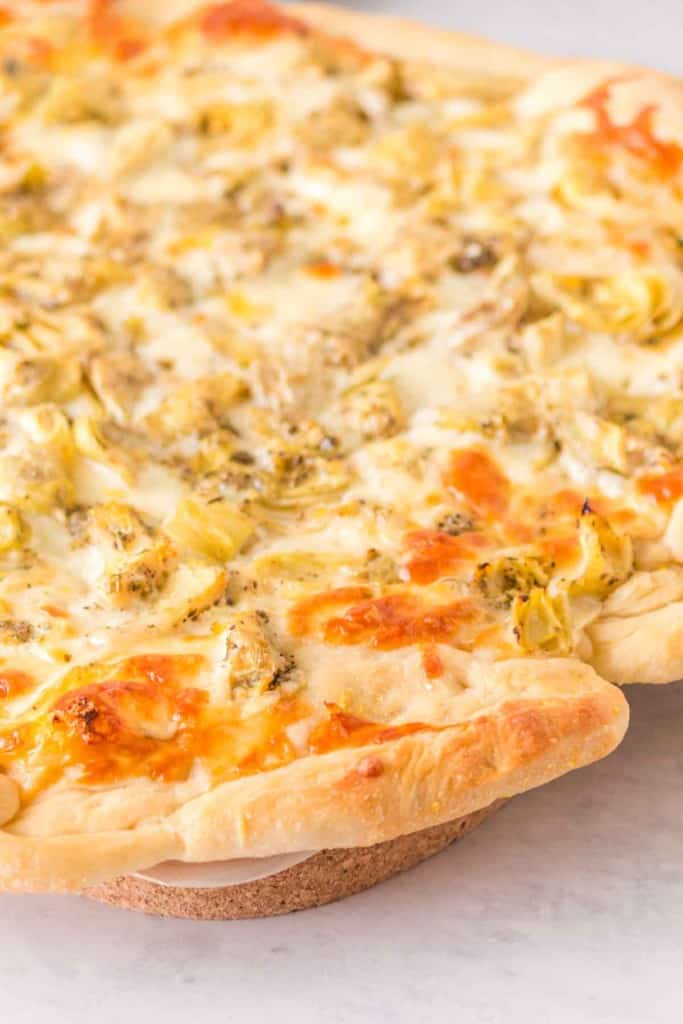 Ingredients
Pizza dough store-bought or homemade
Olive oil
Italian seasoning
Garlic powder
Lemon juice
Lemon zest
Artichoke hearts
Mozzarella
Keep scrolling to find a full, printable recipe with a detailed ingredient list.
Recipe Instructions
Preheat to 425°F. Shape dough into 12-inch circle on pan.
Brush crust with 2 tablespoon olive oil. Mix 3 tablespoon olive oil with seasonings, lemon, and zest.
Toss artichokes in mix to coat.
Sprinkle mozzarella, then place coated artichokes on top.
Bake 17-20 mins until golden. Time to enjoy your creation!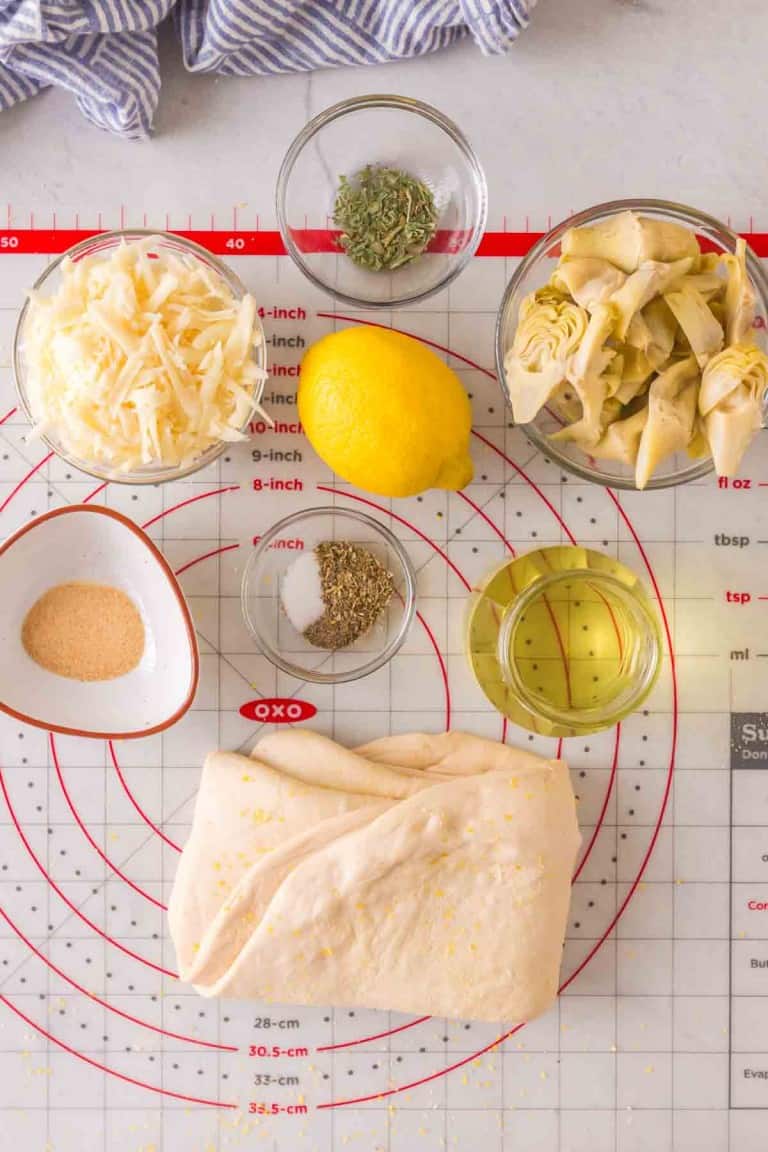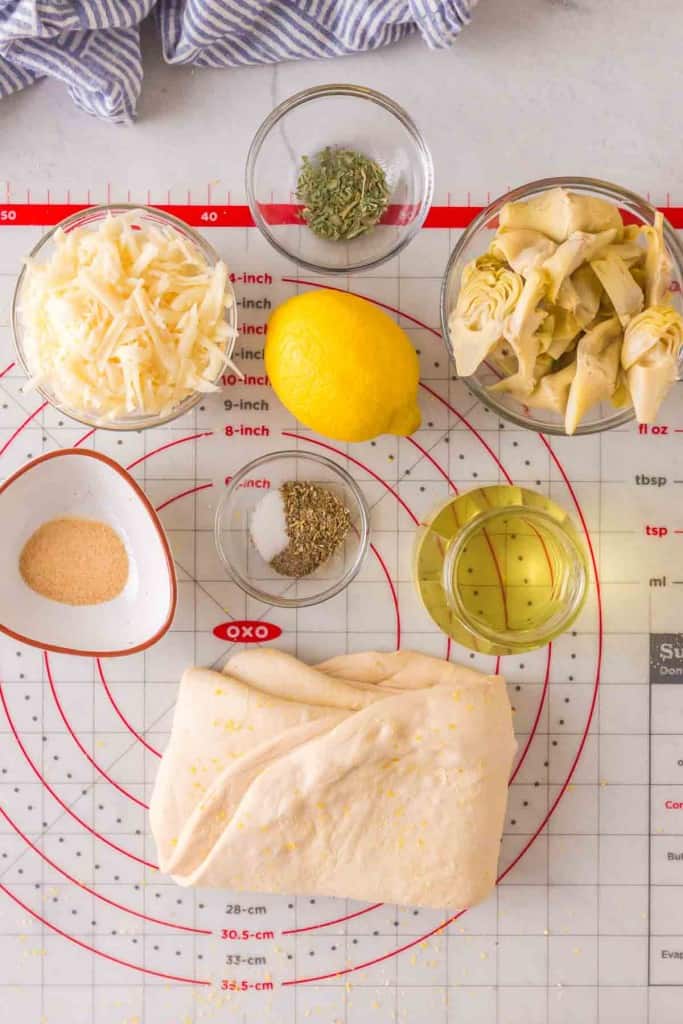 Frequently Asked Questions
What is artichoke pizza?
Artichoke pizza is a type of pizza that features artichoke hearts as one of its main toppings. The artichoke hearts, which have a unique nutty and slightly tangy flavor, add a distinct taste and texture to the traditional pizza experience.
Why is artichoke pizza popular?
Artichoke pizza's popularity can be attributed to its exciting flavor combination. The mild yet distinctive taste of artichokes, when paired with melted cheese and pizza crust, creates a harmonious blend that appeals to those looking for something beyond the usual toppings.
What sauces go well with artichoke pizza?
Artichoke pizza pairs well with a variety of sauces. White sauces, such as Alfredo or garlic cream sauce, complement the artichoke's flavor nicely. Pesto and olive oil-based sauces are also popular choices to enhance the taste of the artichoke hearts.
Can I use store-bought pizza dough to make artichoke pizza?
Yes! Either homemade or store-bought pizza crust will work great.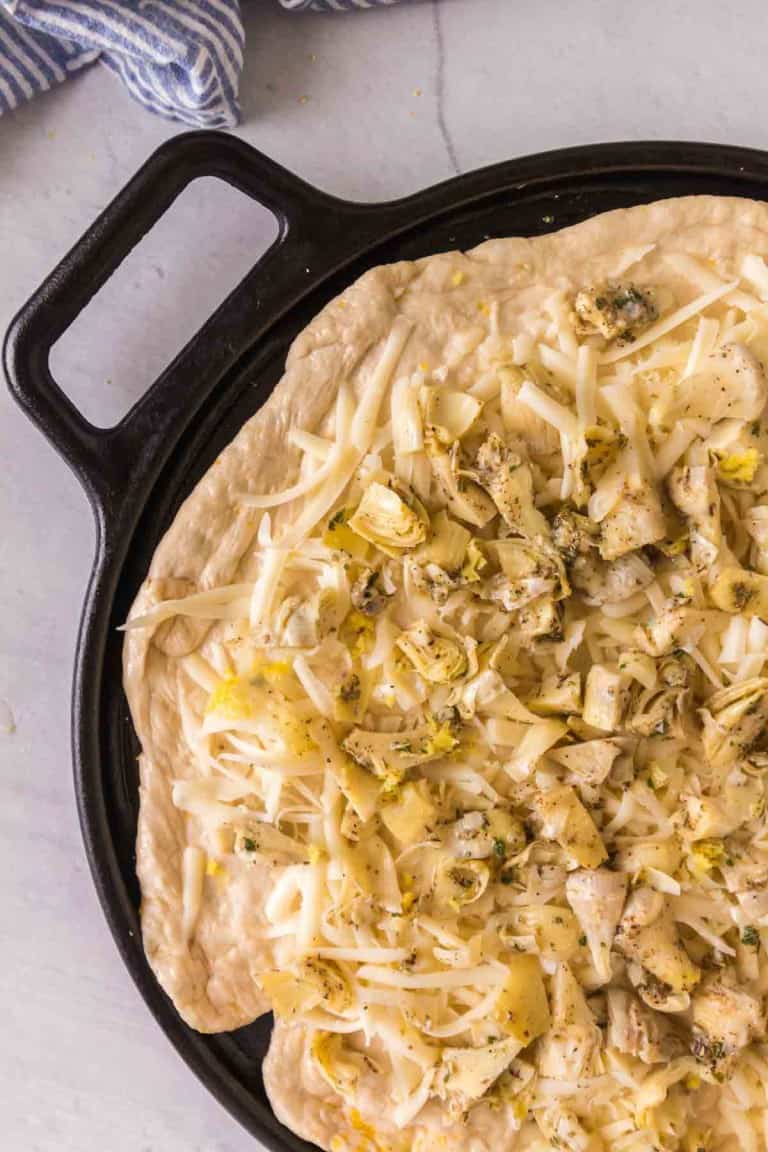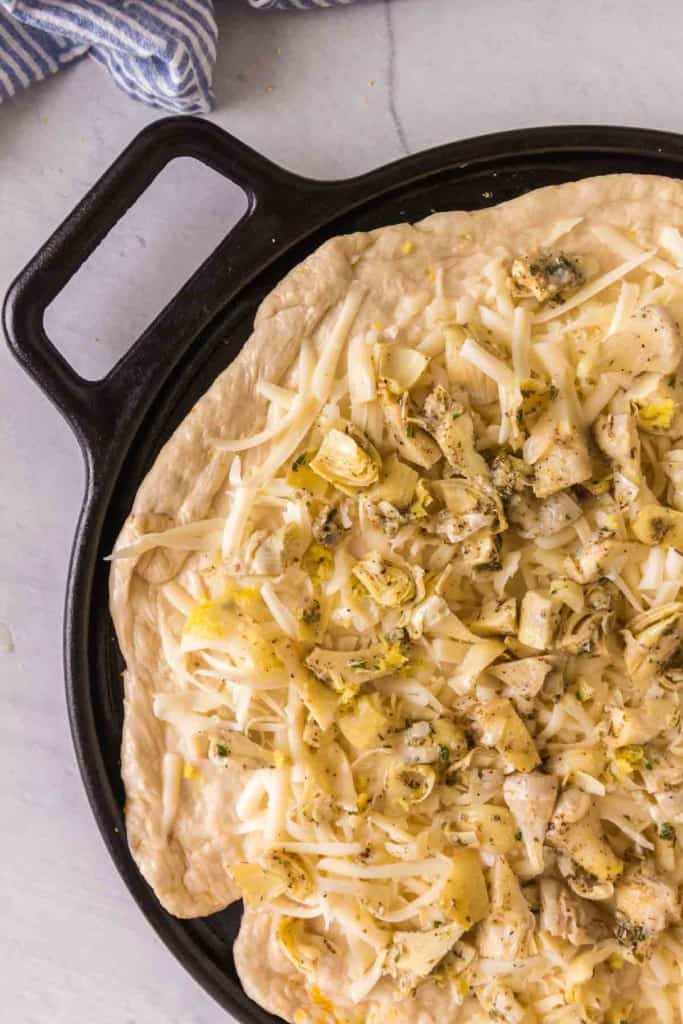 More Recipes
If you've tried this Artichoke Pizza recipe or any other recipe on Bless This Mess, then don't forget to rate the recipe and leave me a comment below! I would love to hear about your experience making it. And if you snapped some pictures of it, share it with me on Instagram so I can repost on my stories.
📖 Recipe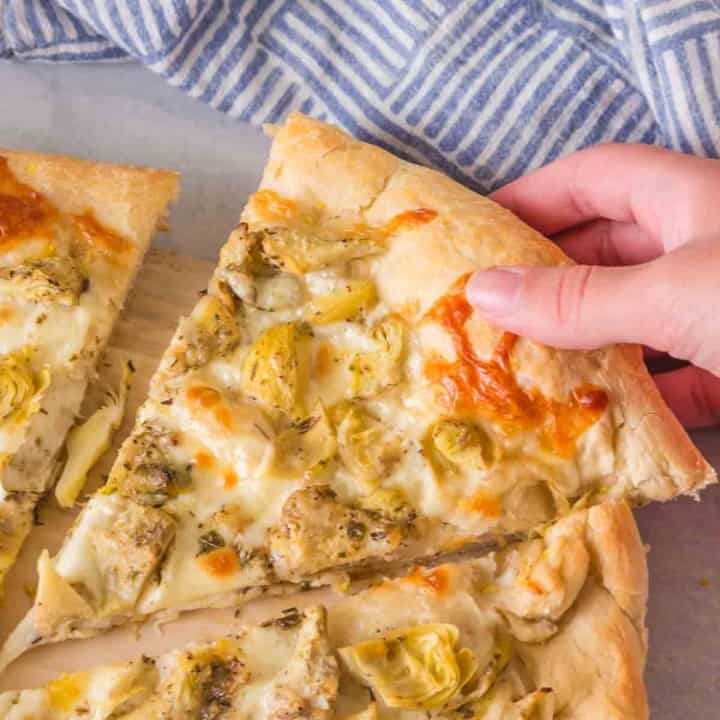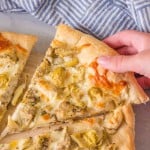 Print Recipe
Artichoke Pizza
Artichoke pizza combines the rich flavors of artichoke hearts with the comfort of pizza.
Ingredients
1

pound

pizza dough

store-bought or homemade

5

tablespoons

olive oil

divided

1

teaspoon

Italian seasoning

1

teaspoon

garlic powder

½

teaspoon

dry basil

¼

teaspoon

salt

¼

teaspoon

ground black pepper

1

tablespoon

lemon juice

1

teaspoon

lemon zest

12

ounces

artichoke hearts

the kind in a jar, drained and quartered

2

cups

shredded Mozzarella
Instructions
Preheat the oven to 425 degrees F

Prepare a pizza pan or cookie sheet. Set aside.

Roll the pizza into a 12-inch circle. Place on a pizza pan. (I used a circle cast iron pan)

*NOTE* If the dough feels sticky when you roll it, I like to add cornmeal instead of flour.

Brush some olive oil, about 2 tablespoons, on the crust/edge. Set aside.

In a medium-size bowl, mix 3 tablespoons olive oil, Italian seasoning, garlic powder, dry basil, salt, ground black pepper, lemon juice, and lemon zest. Whisk until all ingredients are blended.

Add the quartered artichoke to the vinaigrette and mix to coat the artichoke. Set aside

Sprinkle the mozzarella on the pizza dough.

Add the seasoned artichokes on top of the mozzarella.

Bake in the preheated oven for 17-20 minutes or until nice and golden.

Serve and Enjoy!
Notes
Keep the leftovers in the fridge for 2-3 days
Rewarm in the air fryer at 350 degrees F for 3 to 4 minutes
Serve as an appetizer or as a main dish with chicken wings or green salad
Have fun with the recipe: Make it spicy: Add some red pepper flakes after the pizza is cooked
Substitute mozzarella with Smoked Gouda or a Pepper Jack for a hint of spice.
Nutrition
Calories:
626
kcal
|
Carbohydrates:
60
g
|
Protein:
22
g
|
Fat:
34
g
|
Saturated Fat:
11
g
|
Polyunsaturated Fat:
3
g
|
Monounsaturated Fat:
16
g
|
Cholesterol:
44
mg
|
Sodium:
1631
mg
|
Potassium:
64
mg
|
Fiber:
3
g
|
Sugar:
8
g
|
Vitamin A:
388
IU
|
Vitamin C:
2
mg
|
Calcium:
293
mg
|
Iron:
4
mg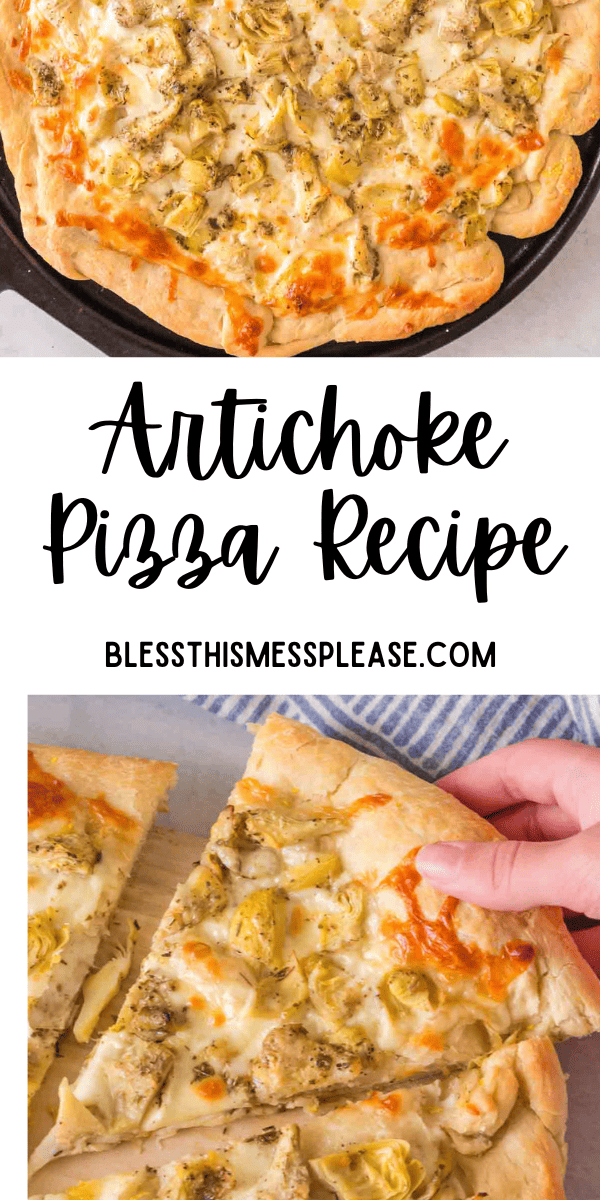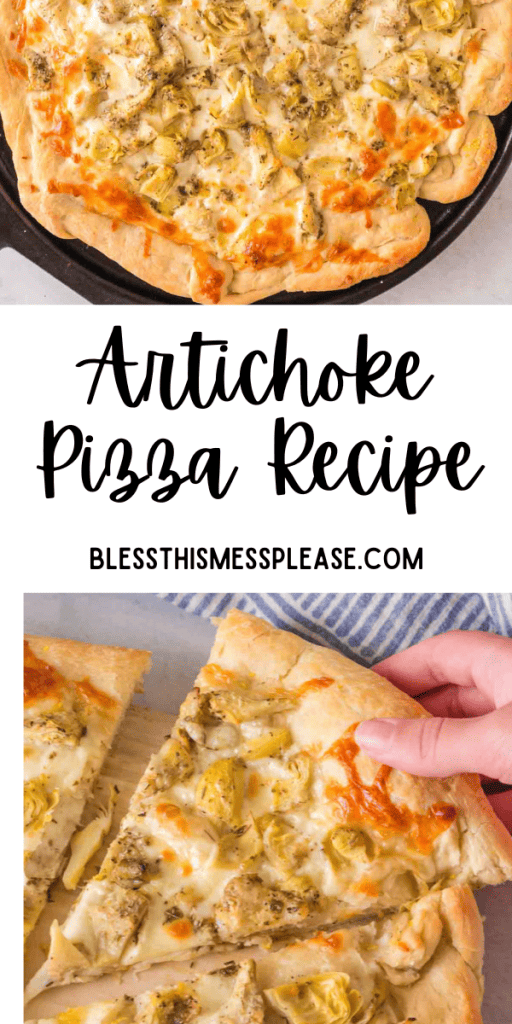 Artichoke pizza isn't just a food; it's a work of culinary art that invites you to step out of your comfort zone and embrace the unexpected. It's a slice that's as bold as it is delicious, as comforting as it is adventurous. After all, life is too short to stick to plain old pepperoni – it's time to embark on a pizza adventure that your taste buds will thank you for!