If you're tired of the same old cooking routine and ready to take your taste buds on a journey to then hop on board the Air Fryer Express! And guess what's riding shotgun? Air Fryer Tofu – that versatile, plant-powered protein that's about to get a turbo-charged, crispy makeover.
If you've been living under a culinary rock, you might be wondering, "What's an air fryer, and why is everyone so obsessed with it?" Well, my fellow foodies, an air fryer is like a mini tornado of hot air that swirls around your food, transforming it into crispy perfection without drowning it in a pool of oil. And what better companion to this crisp revolution than tofu?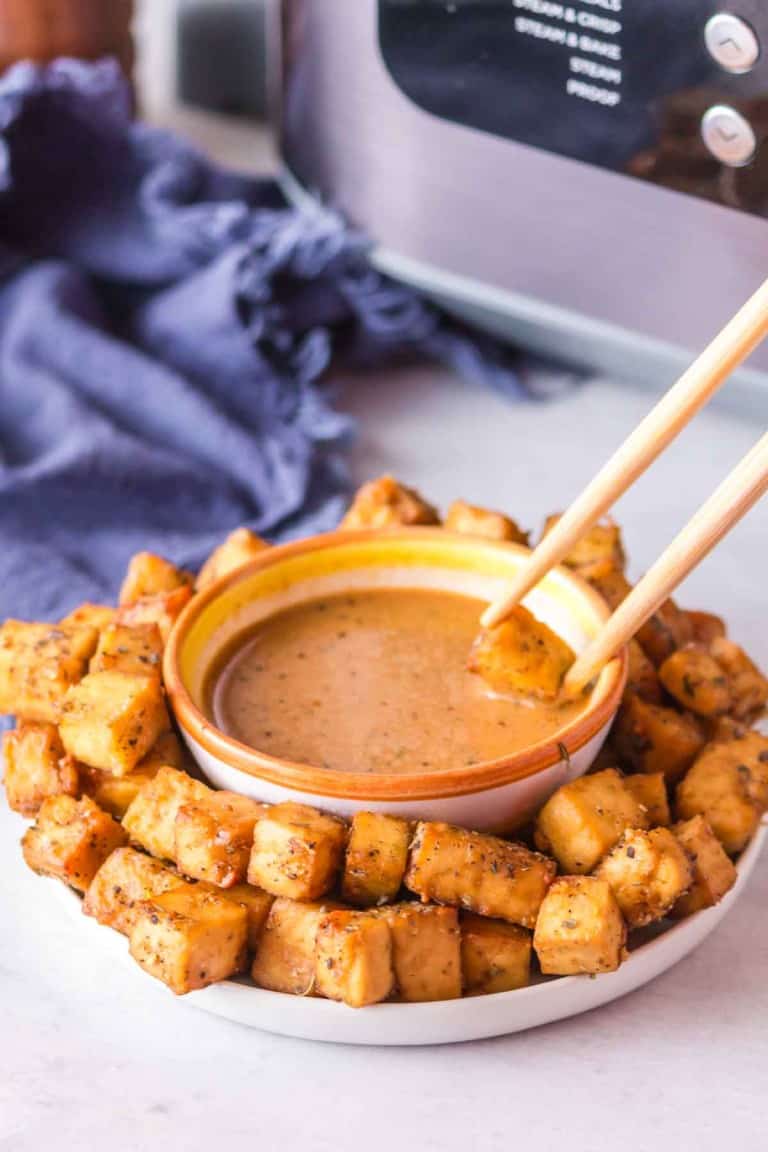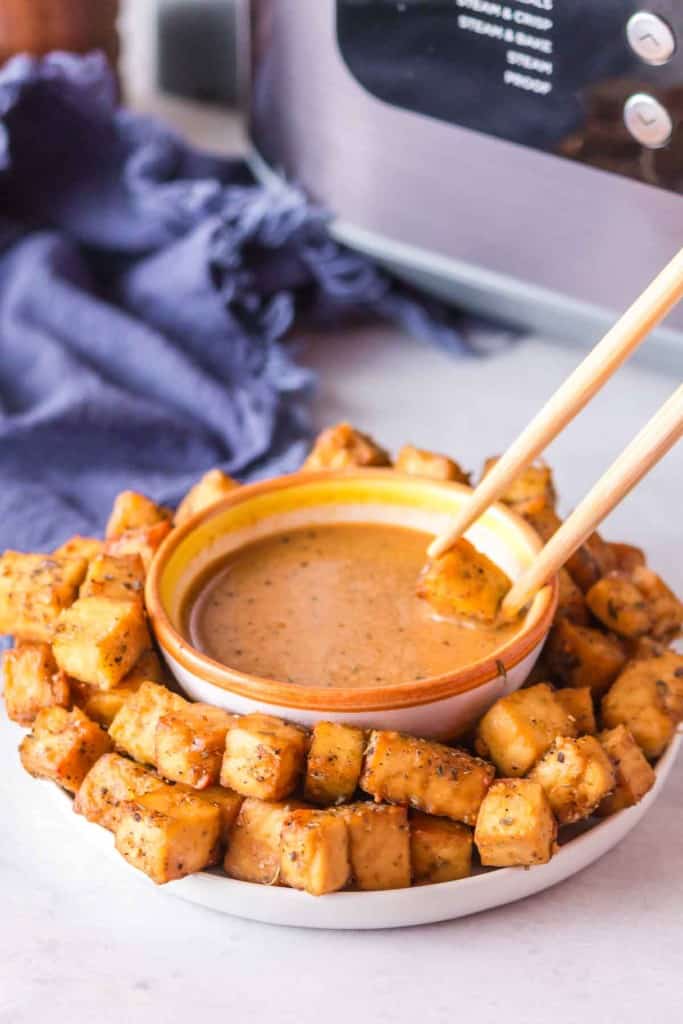 Air Fryer Tofu
So, why is air fryer tofu better? First of all the crisp factor is unreal. Imagine sinking your teeth into a piece of tofu that's crispy on the outside, yet tender on the inside – like a flavor explosion in every bite. Air fryer tofu brings the crunch like a pro, thanks to the hot air circulation that evenly crisps up every nook and cranny. No more sad, soggy tofu – this version is all about that satisfying crisp.
Making air fryer tofu is so speedy! It works its crispy magic in record time, slashing down cooking times compared to conventional methods. Hungry cravings, meet your match!
Let's face it – while we love a good crispy treat, we're not huge fans of drowning our food in oil. Enter the air fryer, the hero of low-oil cooking. With just a spritz or a light brush of oil, your tofu can achieve that glorious golden hue without swimming in a pool of grease. Health-conscious foodies, rejoice!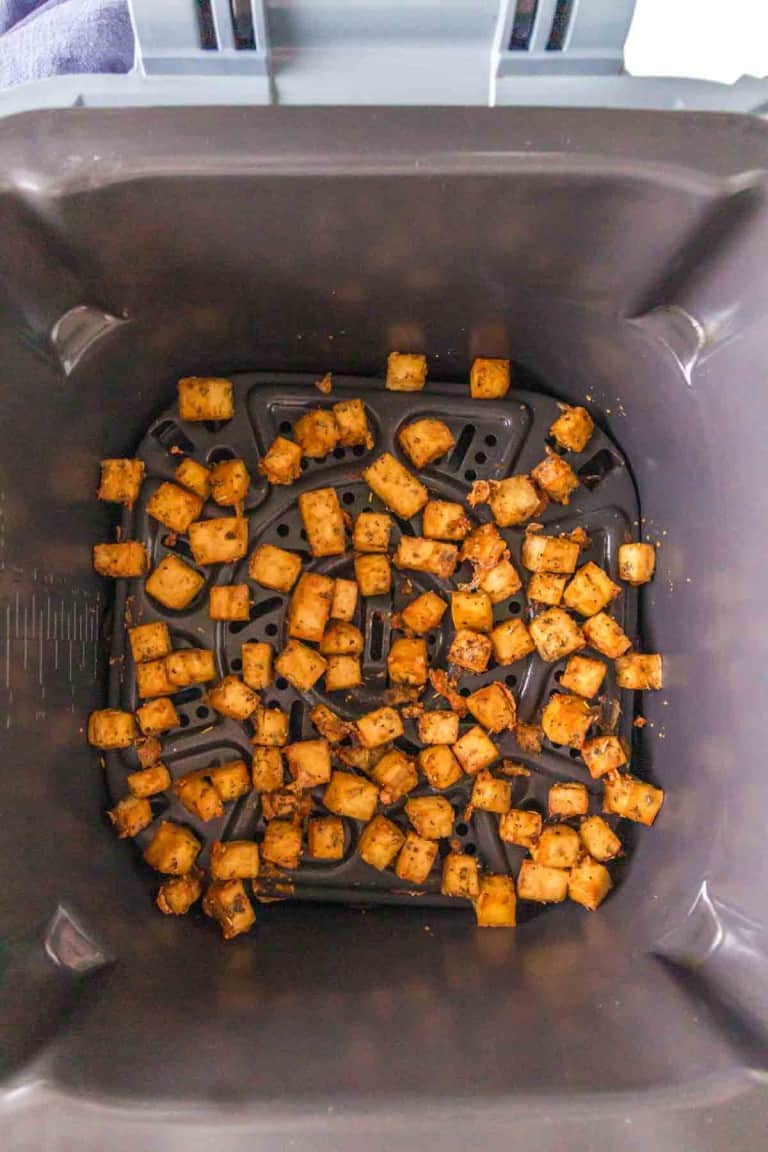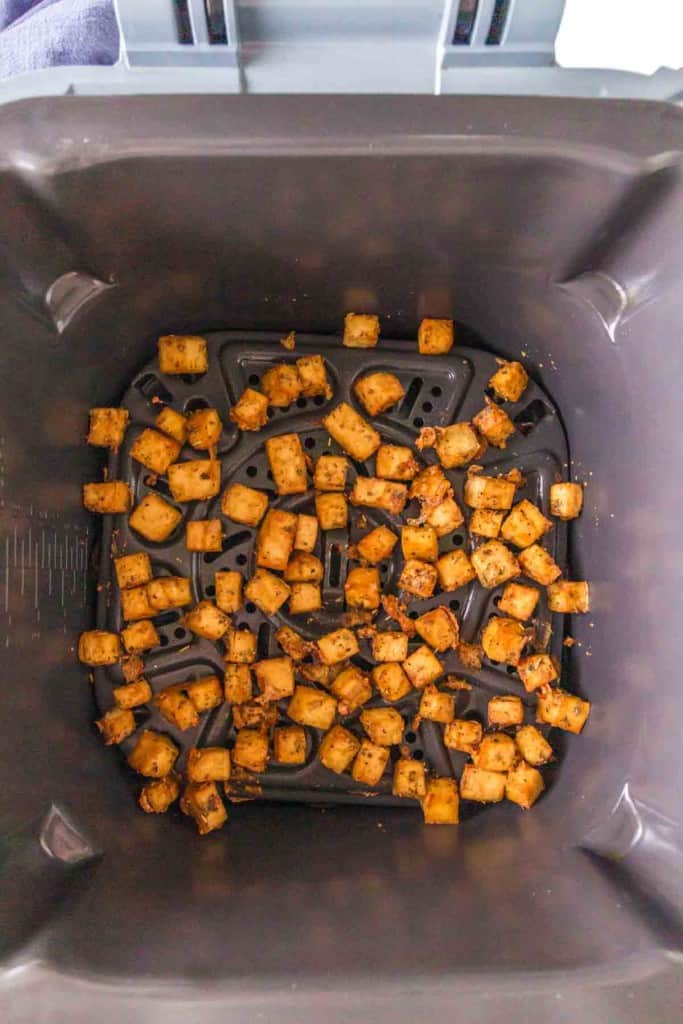 Ingredients
Tofu
Soy sauce
(a little bit) of Oil
Italian seasoning or other seasoning of your choosing
2 tablespoons cornstarch
Recipe Instructions
Prep the Tofu: Cut tofu into small cubes (¼ to ½ inch). Adjust size based on your meal plans. Smaller for snacks, larger for dishes like rice or stir fry.
Create the Flavor Base: Mix soy sauce, olive oil, salt, pepper, and Italian seasoning in a bowl. Whisk until well blended, like a vinaigrette.
Coat Tofu: Add tofu cubes and gently toss them in the spice mixture. Sprinkle cornstarch and mix to coat evenly.
Air Fry Time: Put coated tofu in the air fryer basket. Cook at 375°F for 5 minutes.
Flip and Crunchify: Give the basket a shake or flip the tofu. Air fry for another 5 minutes until bites are crispy.
Serve and Savor: Plate up your crispy tofu bites and enjoy! Perfect for snacking, salads, or adding to your favorite dishes.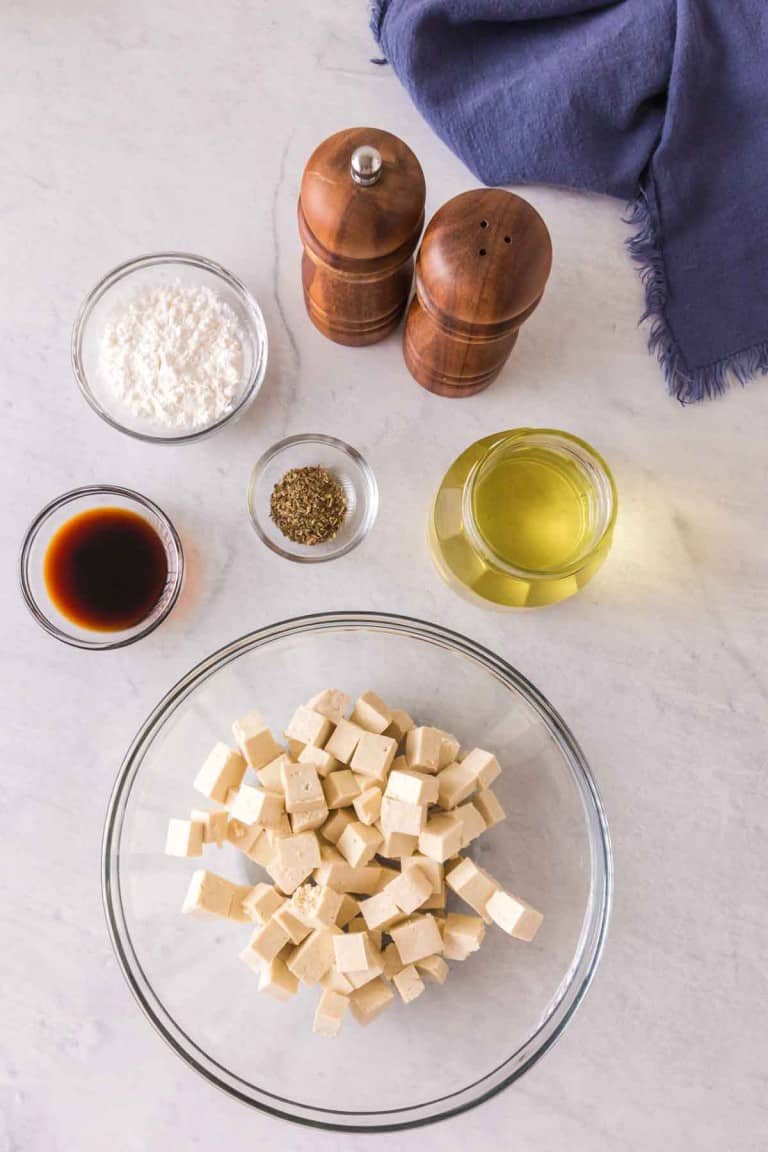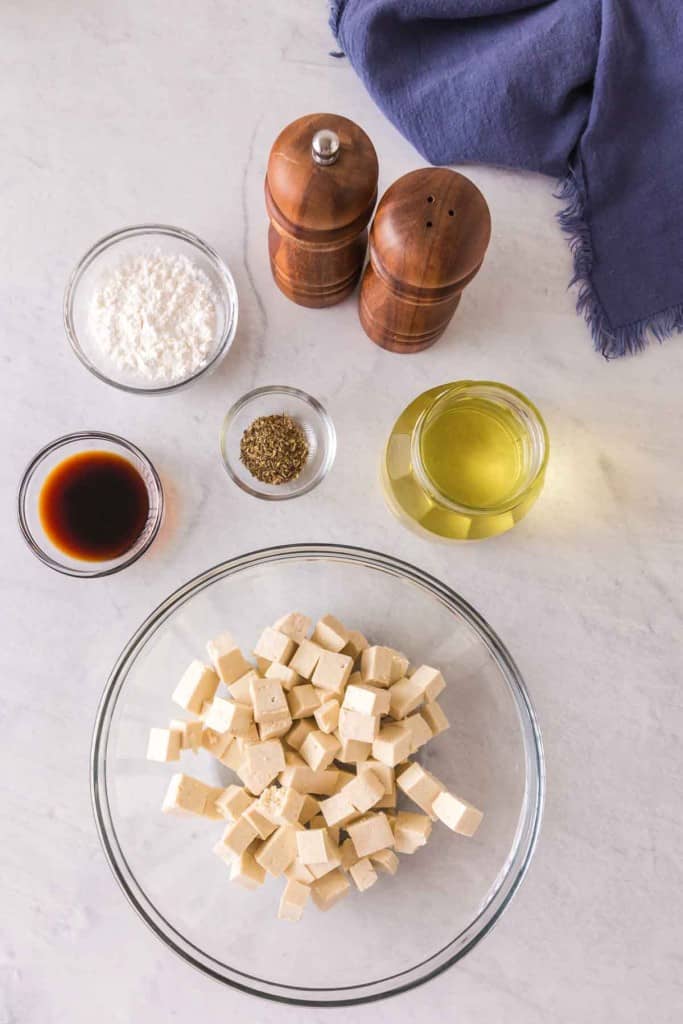 Frequently Asked Questions
What's the best tofu type for air frying?
Opt for extra firm tofu. Its sturdy texture holds up well during cooking, ensuring a crispy exterior and a tender interior.
Can I marinate the tofu longer for more flavor?
Absolutely! Marinating tofu for a few hours or even overnight can intensify the flavors. Just ensure it's stored in the refrigerator.
Do I need to preheat the air fryer?
Preheating isn't necessary for all recipes, but it can help achieve a crispier result. If you choose to preheat, do so for about 3-5 minutes before adding the tofu.
Can I cook frozen tofu directly in the air fryer?
It's recommended to thaw frozen tofu before air frying. This helps achieve a better texture and allows the tofu to absorb flavors.
How do I know when the tofu is done?
The tofu is ready when it's golden brown and has a crispy texture. You can do a taste test to check if it's as crispy as you prefer.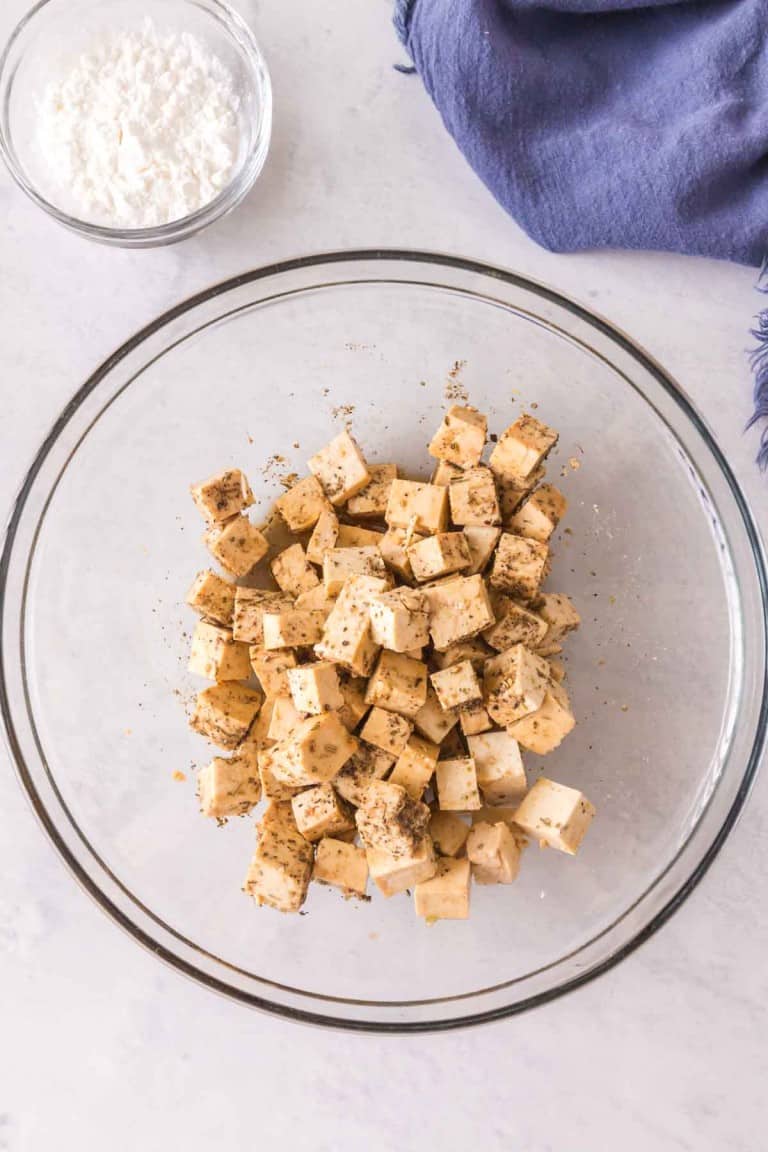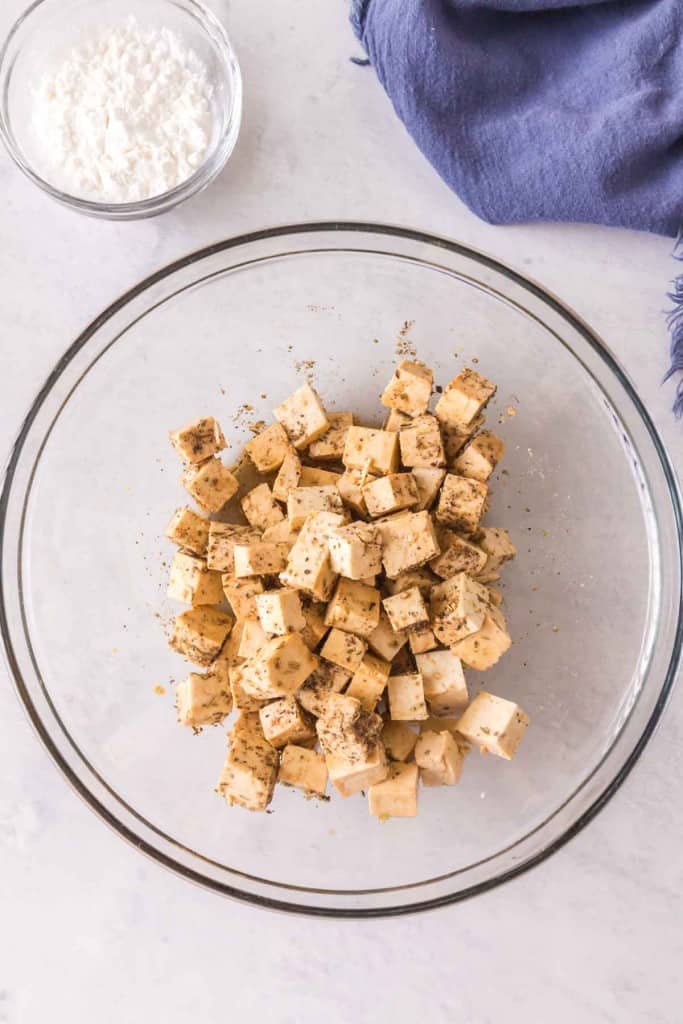 More Recipes
If you've tried this Air Fryer Tofu recipe or any other recipe on Bless This Mess, then don't forget to rate the recipe and leave me a comment below! I would love to hear about your experience making it. And if you snapped some pictures of it, share it with me on Instagram so I can repost on my stories.
📖 Recipe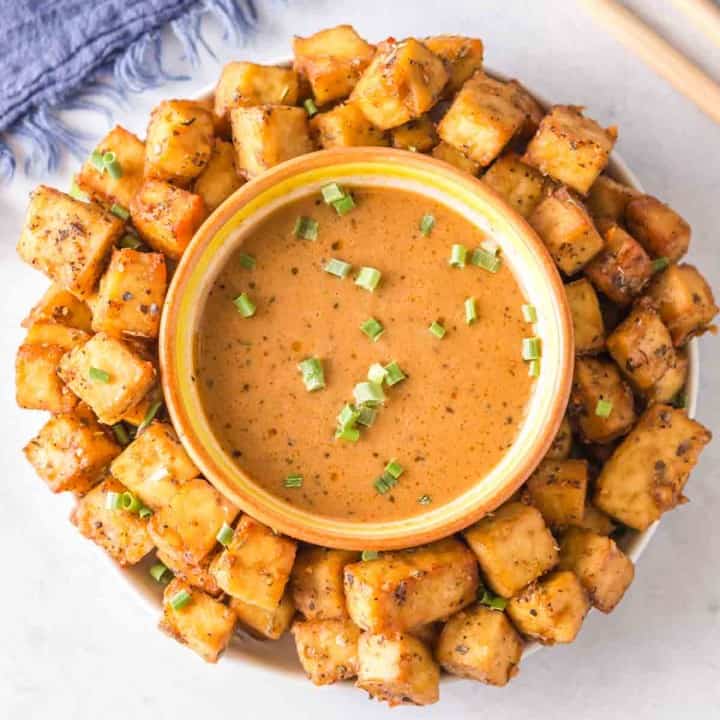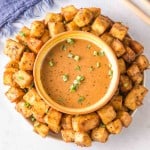 Print Recipe
Air Fryer Tofu
Air fryer tofu transforms bland cubes into crispy, flavorful bites that make for a satisfying snack or versatile addition to various dishes.
Ingredients
1 ½

cups

firm tofu

cubed (about ½ pound)

1

tablespoon

soy sauce

½

tablespoon

oil

1

teaspoon

salt

1

teaspoon

Italian seasoning

or other seasoning of your choosing

¼

teaspoon

pepper

2

tablespoons

cornstarch
Instructions
Cut the tofu into ¼ to ½ inch cubes. Set aside. I cut them into smaller cubes for a fun snack and added some to my salad as a crouton. If you are planning on adding them to rice, stir fry, or chow mein, I would suggest cutting them a bit bigger . You may need to adjust the cooking time.

In a medium size bowl, mix the soy sauce, olive oil, salt, pepper, and Italian seasoning. Whisk together until all spices are blended and make a vinaigrette.

Add the cubed tofu and gently toss to coat with the spices.

Sprinkle the cornstarch and mix to coat the tofu.

Place in the air fryer basket and air fry at 375 degrees F for 5 minutes.

Shake or flip the tofu and air fry for an additional 5 minutes or until the bites are crunchy.

Serve and Enjoy!
Notes
Depending on the air fryer you use, you may need to increase the temperature to 400 degrees F.
The leftovers will last up to 4 days in the fridge.
You can reheat leftover tofu in the air fryer at 350 degrees F for 3-4 minutes
Have fun with the recipe: Make it spicy: Add some red pepper flakes or chopped Jalapenos to the vinaigrette.
Serve with a sprinkle of sesame seeds if you'd like.
Nutrition
Calories:
226
kcal
|
Carbohydrates:
13
g
|
Protein:
18
g
|
Fat:
12
g
|
Saturated Fat:
1
g
|
Polyunsaturated Fat:
6
g
|
Monounsaturated Fat:
4
g
|
Trans Fat:
0.01
g
|
Sodium:
1674
mg
|
Potassium:
35
mg
|
Fiber:
2
g
|
Sugar:
1
g
|
Vitamin A:
18
IU
|
Vitamin C:
0.03
mg
|
Calcium:
252
mg
|
Iron:
3
mg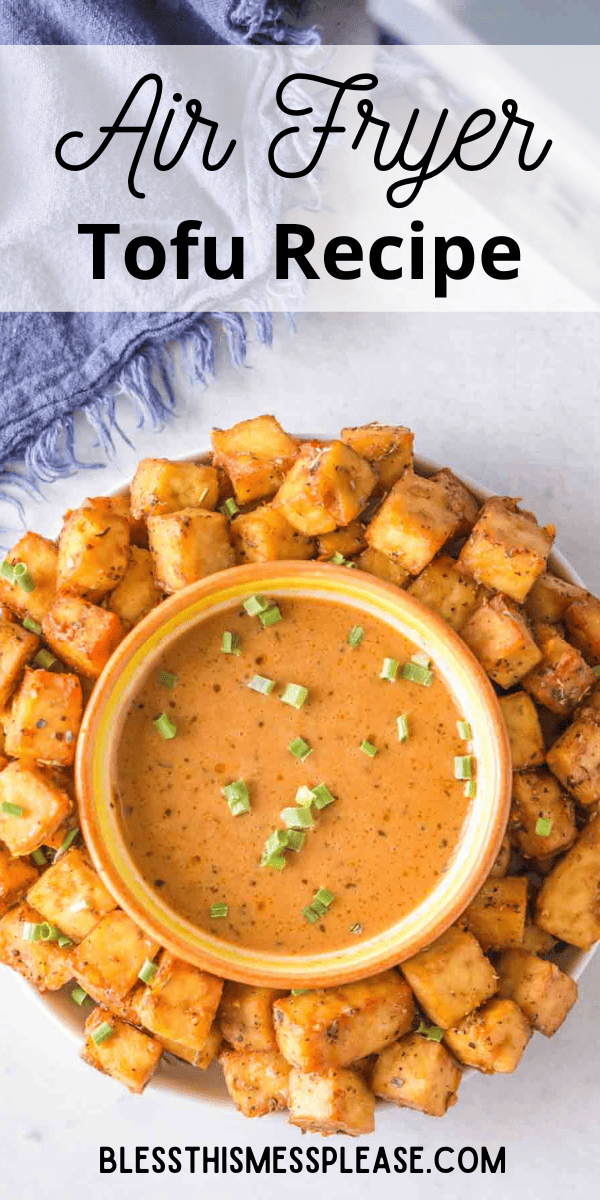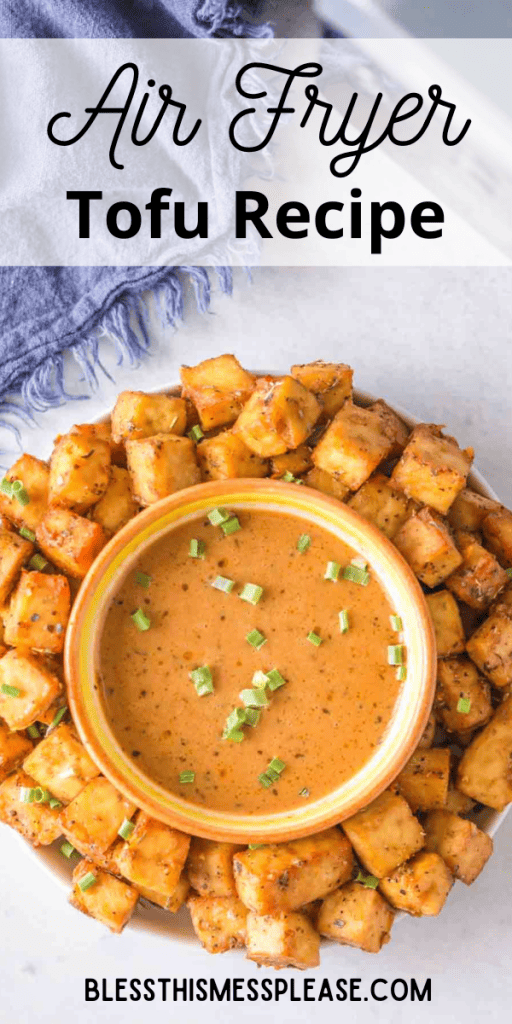 In a world where tofu can often be met with skepticism, the air fryer emerges as a hero, turning it into a delightful, crispy creation that's easy to prepare, versatile, and a surefire crowd-pleaser. Don't hesitate to embark on a crunchy adventure with air fryer tofu – your taste buds will thank you!