There's something satisfying about a bowl of warm, nourishing soup. The way it blankets you in its comforting embrace, it's almost as if it has the power to take away the burdens of a long, tiring day. And among soups, one that holds a special place in my heart is the delicious White Bean Soup.
Our version today showcases a wonderful medley of flavoors - cannellini beans, celery, onion, spinach, and the goodness of parmesan cheese. Using these ingredients, we'll craft a soup that's more than just a dish; it's a comfort-filled bowl of delight.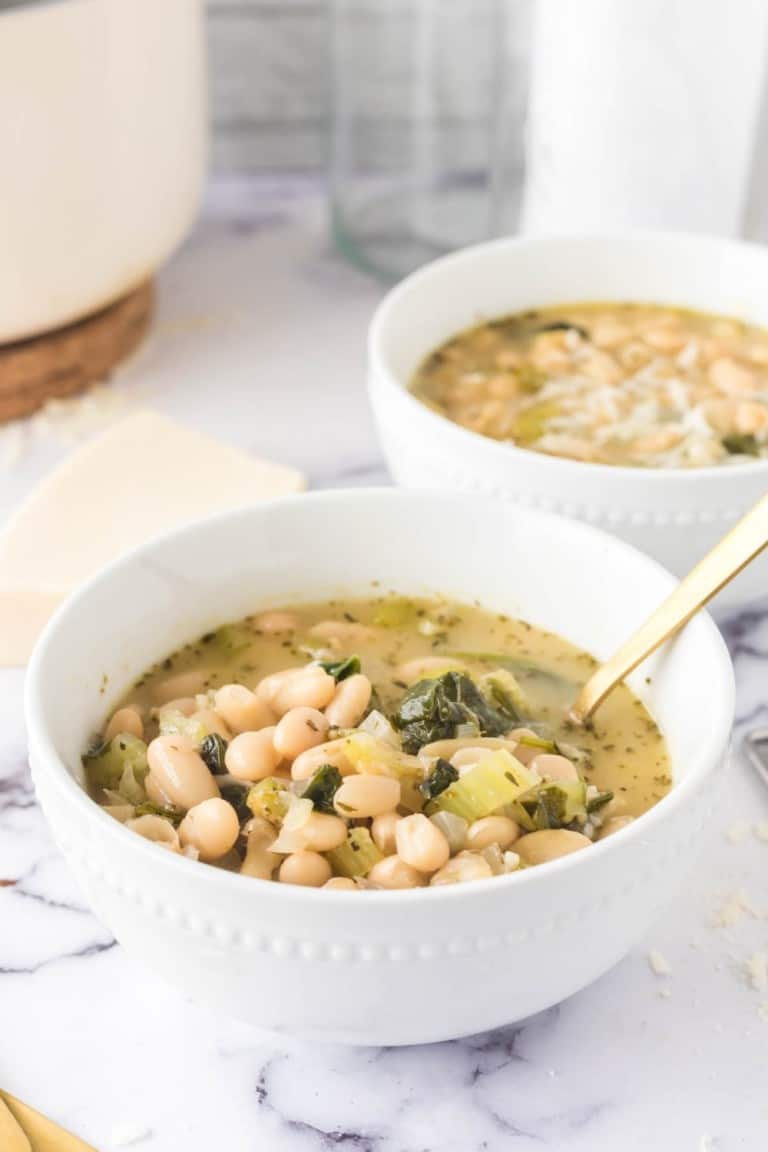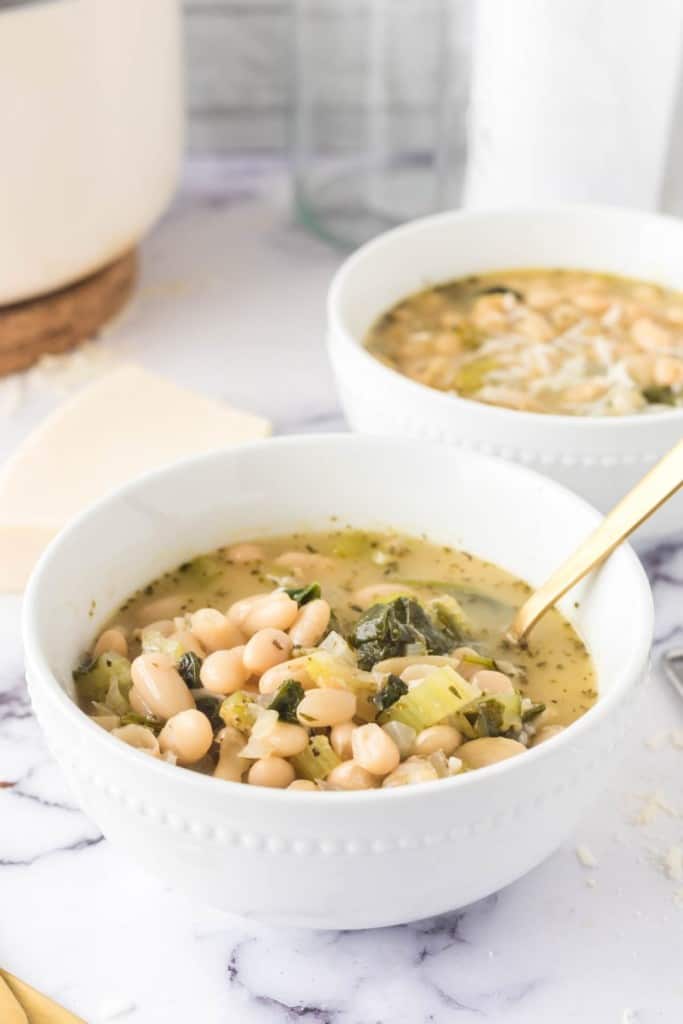 White Bean Soup
This soup is a powerhouse of nutrition. The cannellini beans provide a great source of fiber and protein. They are also packed with essential nutrients like iron, folate, and magnesium.
The addition of spinach, onions, and celery adds a nice crunch to the soup, but it also contributes to the overall nutritional value of the dish. These veggies offer a wide array of vitamins, minerals, and fiber.
White bean soup is a low-calorie and low-fat meal, making it a suitable option for those trying to maintain a healthy diet.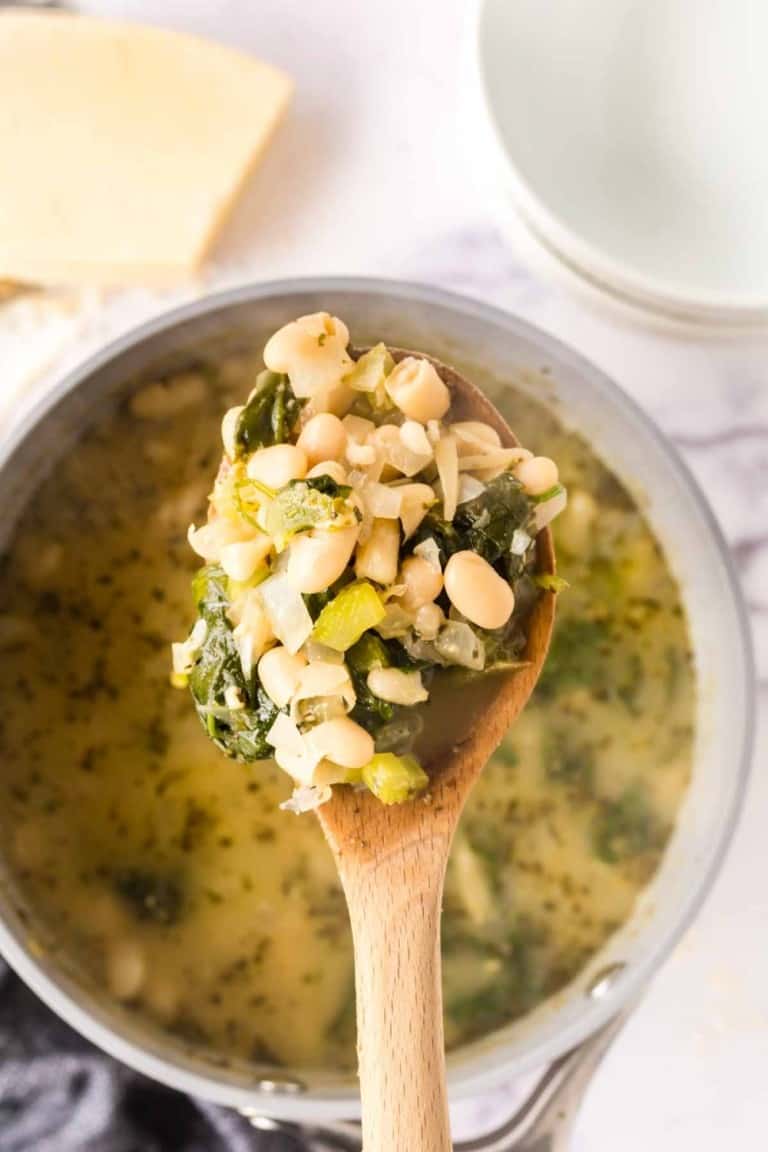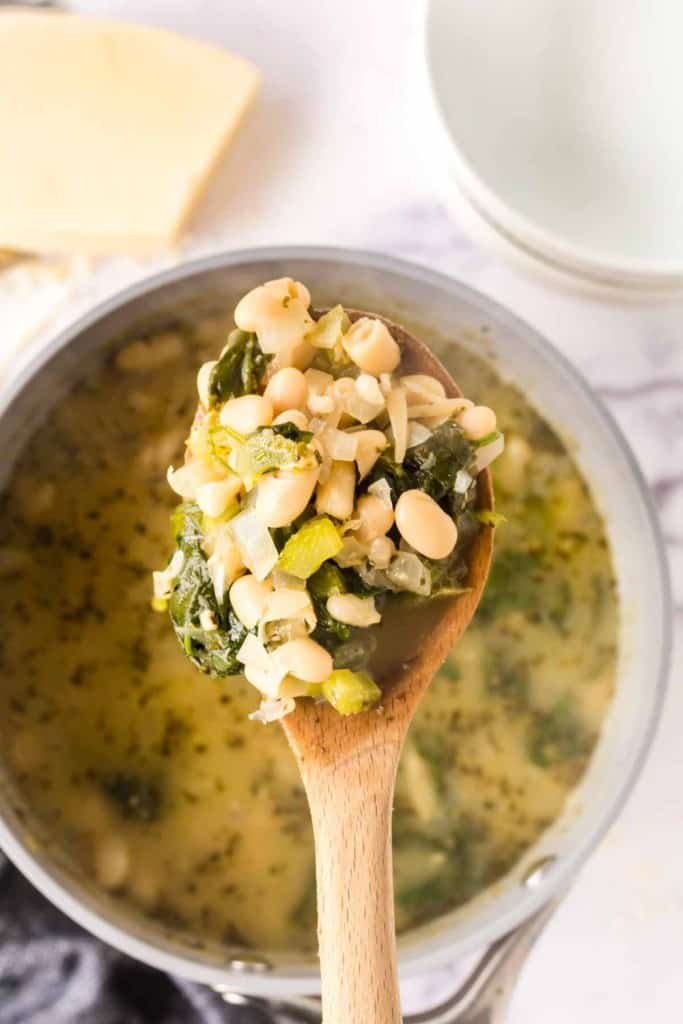 Ingredients
White onion
Celery
Olive oil
Italian seasoning
Garlic powder
Cannellini beans
Vegetable broth
Spinach
Parmesan cheese
Keep scrolling to find a full, printable recipe with a detailed ingredient list.
Recipe Instructions
To start, gather all your ingredients: one diced white onion, diced celery, olive oil, Italian seasoning, garlic powder, cannellini beans, vegetable broth, fresh spinach, and parmesan cheese.
Heat the olive oil in a large soup pot over medium heat. To this, add your diced onion and celery. The sizzle of the olive oil as it meets the onion and celery marks the beginning of our culinary symphony. Saute these until they turn soft and the onion becomes translucent, a process that usually takes about 5-7 minutes.
Now, it's time to bring in the flavour reinforcements - the Italian seasoning and garlic powder. Adding these creates a fragrant blend that fills the kitchen with a savoury aroma that's impossible to resist. Cook for another minute to allow the spices to infuse their essence into the onions and celery.
Next up are our star ingredients, the cannellini beans. These white beans, rich in fibre and protein, not only enhance the nutritional profile of the soup but also contribute a pleasant, creamy texture. Add these to the pot, followed by the vegetable broth, providing the necessary liquidity and depth of flavor.
Bring the soup to a gentle simmer and let it cook for about 15-20 minutes. This step is crucial as it allows the flavors to meld and intensify, creating a complex and satisfying dish.
As the soup simmers, the next addition is the fresh spinach. Wilted spinach provides a delightful contrast to the creamy beans, and its earthy flavour is a beautiful counterpoint to the robustness of the other ingredients.
Finally, it's time for the parmesan cheese. Stir in the cheese until it melts and mixes well into the soup. This lends a rich, savory character to the soup, rounding out the flavours perfectly.
And voila! Your white bean soup is ready to be served. It's a bowl of creamy, heart-warming delight, brimming with the goodness of beans, spinach, and parmesan cheese.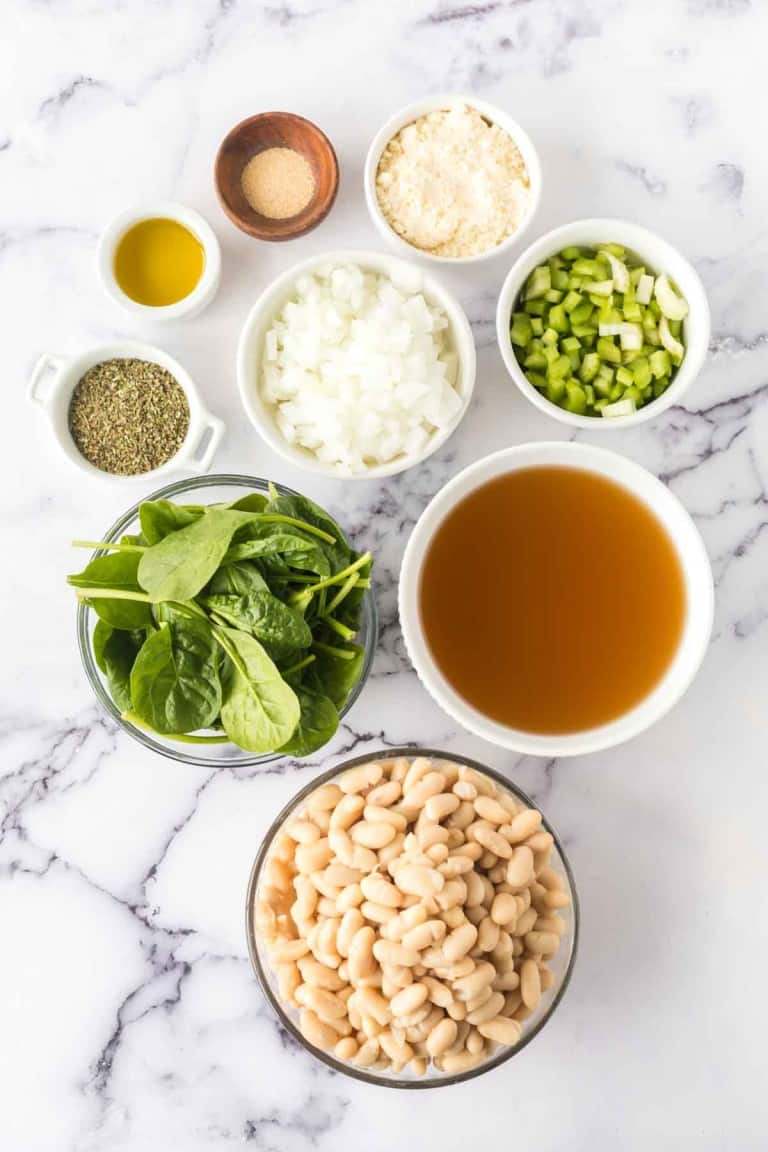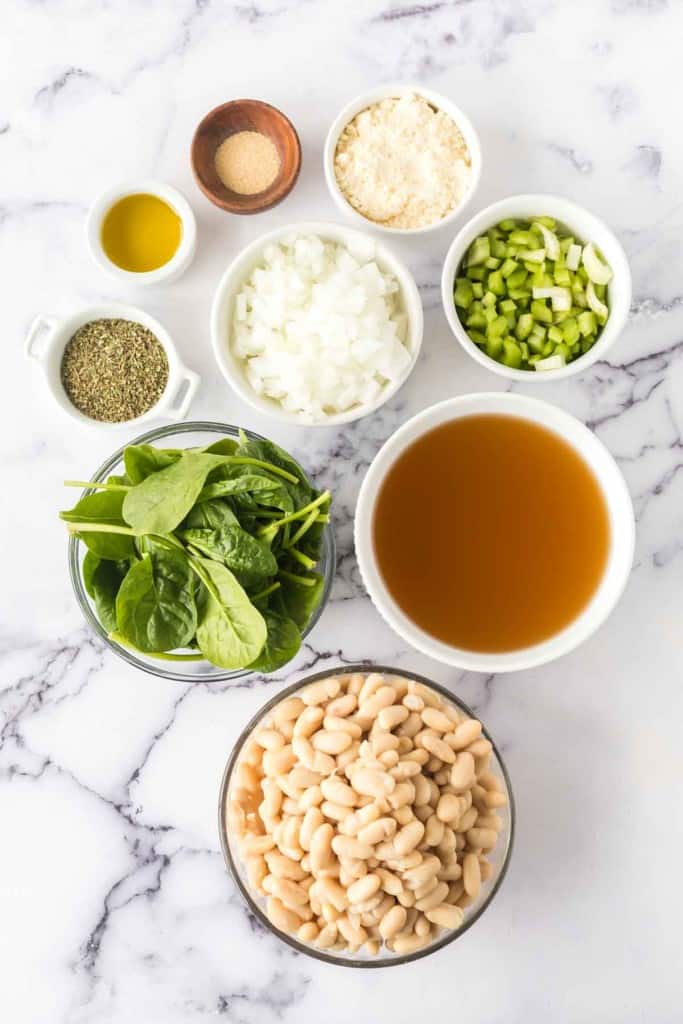 Frequently Asked Questions
What can I serve with this soup?
This soup pairs well with a crusty piece of bread or a side salad. For a heartier meal, you can serve it alongside a sandwich or a slice of quiche.
Can I freeze this white bean soup?
Yes, this soup freezes well. Just be sure to let it cool completely before storing it in an airtight container. It should last up to 3 months in the freezer.
Do I need to drain the beans?
Yes, you should drain and rinse the canned beans before using them in your soup. This is because the liquid in the can often contains a high amount of sodium, which could make your soup too salty. In addition, rinsing the beans can help reduce the amount of certain indigestible sugars that can cause gas.
Can I add meat to this soup?
Sure! If you're not vegetarian, feel free to add cooked chicken, turkey, or even bacon for an extra hit of protein and flavor.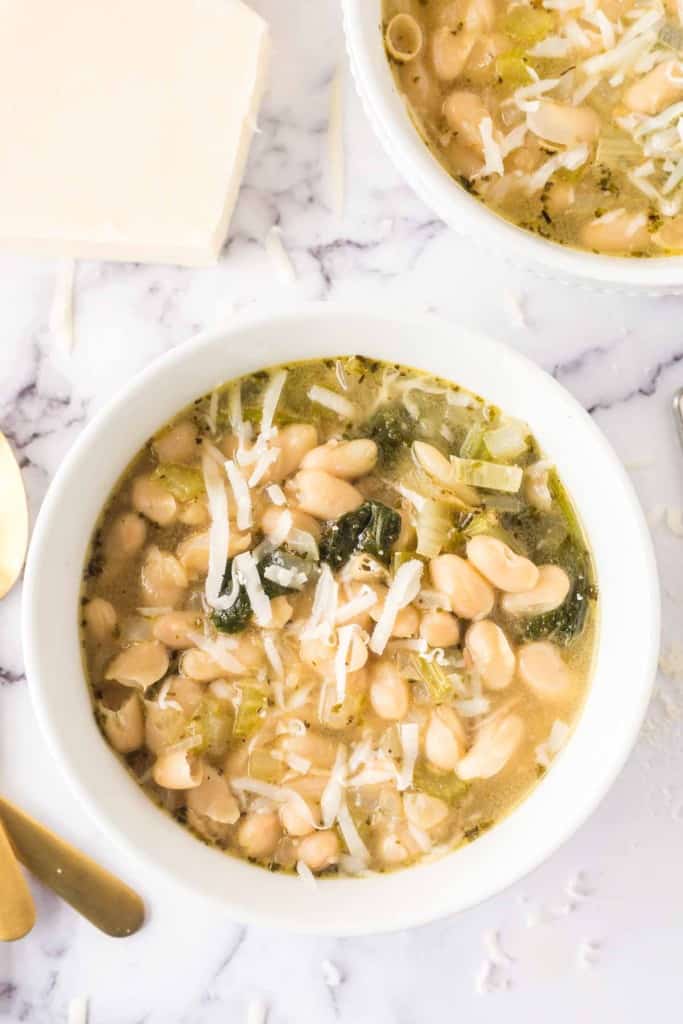 More Recipes
If you've tried this White Bean Soup recipe or any other recipe on Bless This Mess, then don't forget to rate the recipe and leave me a comment below! I would love to hear about your experience making it. And if you snapped some pictures of it, share it with me on Instagram so I can repost on my stories.
📖 Recipe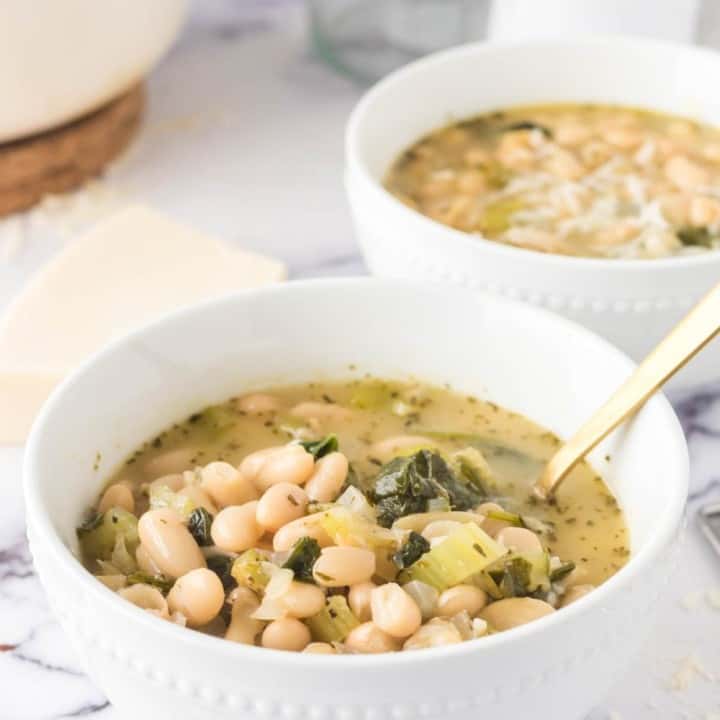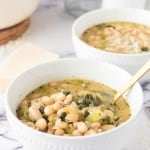 Print Recipe
White Bean Soup
White bean soup is made with simple ingredients that creates a satisfying, flavorful dish. This hearty soup embodies home-cooking at its finest, delivering both comfort and nourishment in every bowl.
Ingredients
1

white onion

diced

½

cup

celery

diced

1 ½

tablespoons

olive oil

2

tablespoons

Italian seasoning

1

teaspoon

garlic powder

3 15.5

ounce

cans cannellini beans

drained and rinsed

4

cups

vegetable broth

2

cups

fresh spinach

½

cup

parmesan cheese
Instructions
In a large pot, combine the onion, celery, olive oil, Italian seasoning, and garlic powder. Cook the veggies over medium heat for 3-5 minutes, or until the veggies are soft.

Once the onions and celery begin to soften, add the cannellini beans and vegetable broth. Bring the soup to a boil before reducing the heat and allowing the soup to simmer for 20 minutes.

After 20 minutes, add the spinach and parmesan cheese. Continue simmering the soup for an additional 10 minutes.

Serve and enjoy!
Notes
If desired, you can top this soup with some freshly grated parmesan cheese.
The baby spinach can be replaced with baby spinach. It will not have a discernible effect on the final product.
It is important to drain and rinse the beans in order to avoid adding too much liquid to the soup.
Store your leftover white bean soup in an airtight container in the fridge for up to 4 days. The leftovers can be reheated in the microwave for about 1 minute.
The garlic powder can be replaced with 1 clove of freshly minced garlic.
Nutrition
Calories:
151
kcal
|
Carbohydrates:
19
g
|
Protein:
9
g
|
Fat:
6
g
|
Saturated Fat:
2
g
|
Polyunsaturated Fat:
0.5
g
|
Monounsaturated Fat:
3
g
|
Cholesterol:
6
mg
|
Sodium:
964
mg
|
Potassium:
139
mg
|
Fiber:
6
g
|
Sugar:
2
g
|
Vitamin A:
1403
IU
|
Vitamin C:
4
mg
|
Calcium:
196
mg
|
Iron:
3
mg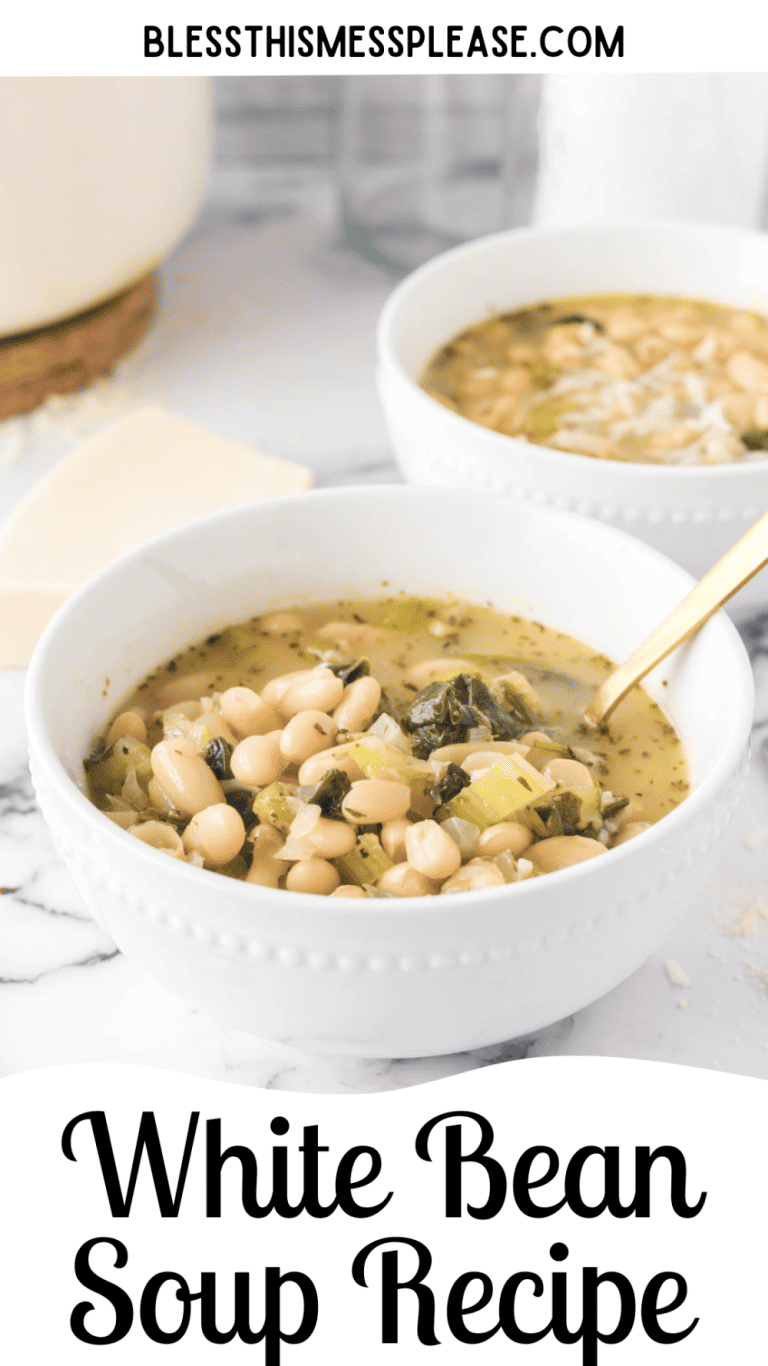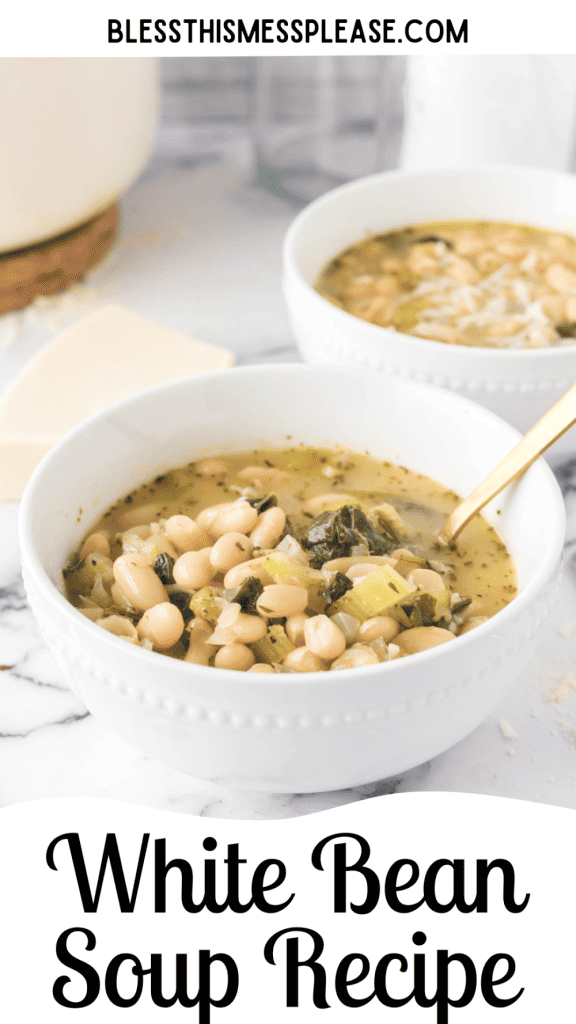 White bean soup is a comforting, nutrient-packed dish that proves simplicity can be deeply satisfying. Its versatility caters to diverse dietary needs, making it a beloved staple in many kitchens.