Making Air Fryer Asparagus is a breeze, and you'll be amazed at how simple it is to achieve crispy perfection in no time.
Air fryer asparagus is known for its simplicity and quick preparation time. With just a few basic steps, you can achieve a crispy exterior while maintaining a tender interior. The air fryer's high heat and circulating air create a delectable texture without the need for excessive oil. Even if you're a beginner in the kitchen, you'll find air fryer asparagus a stress-free recipe to master.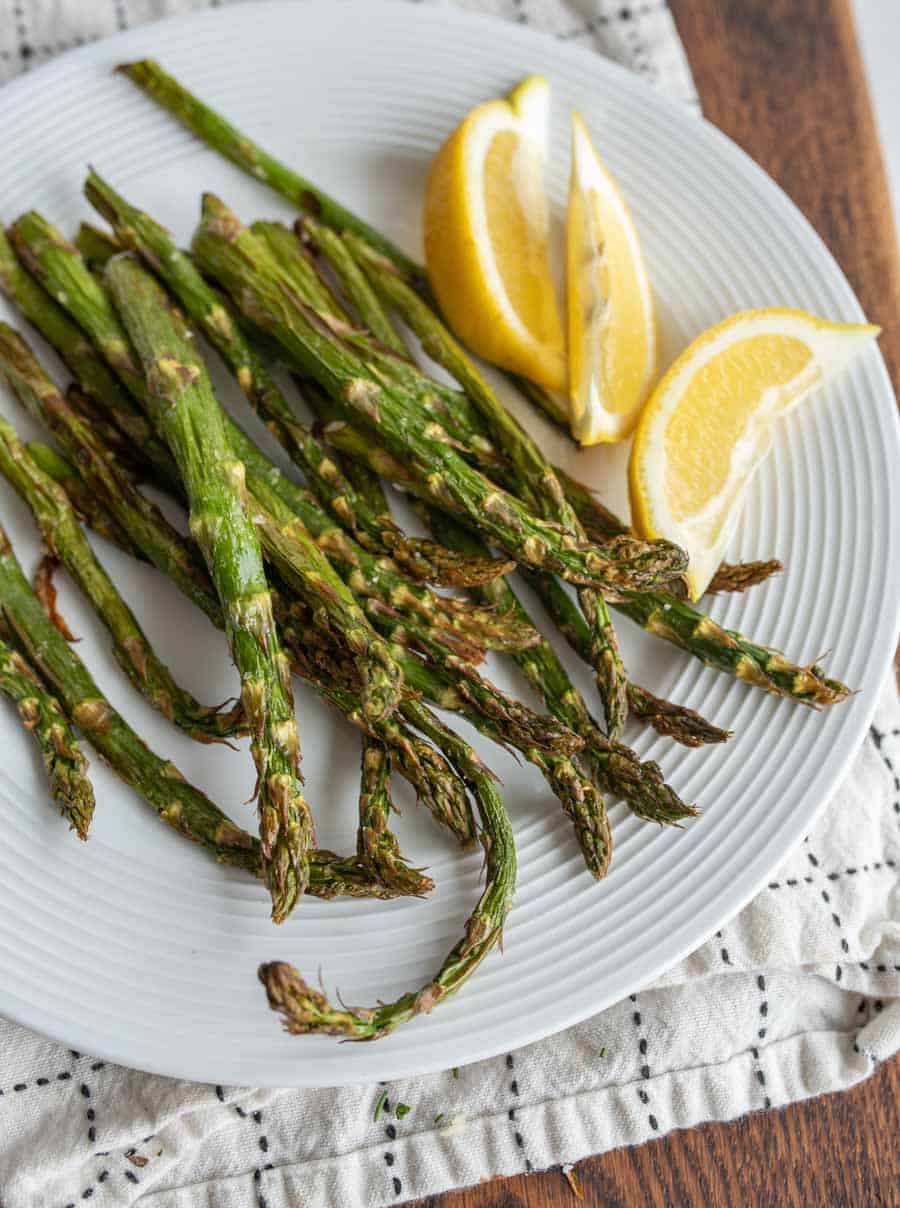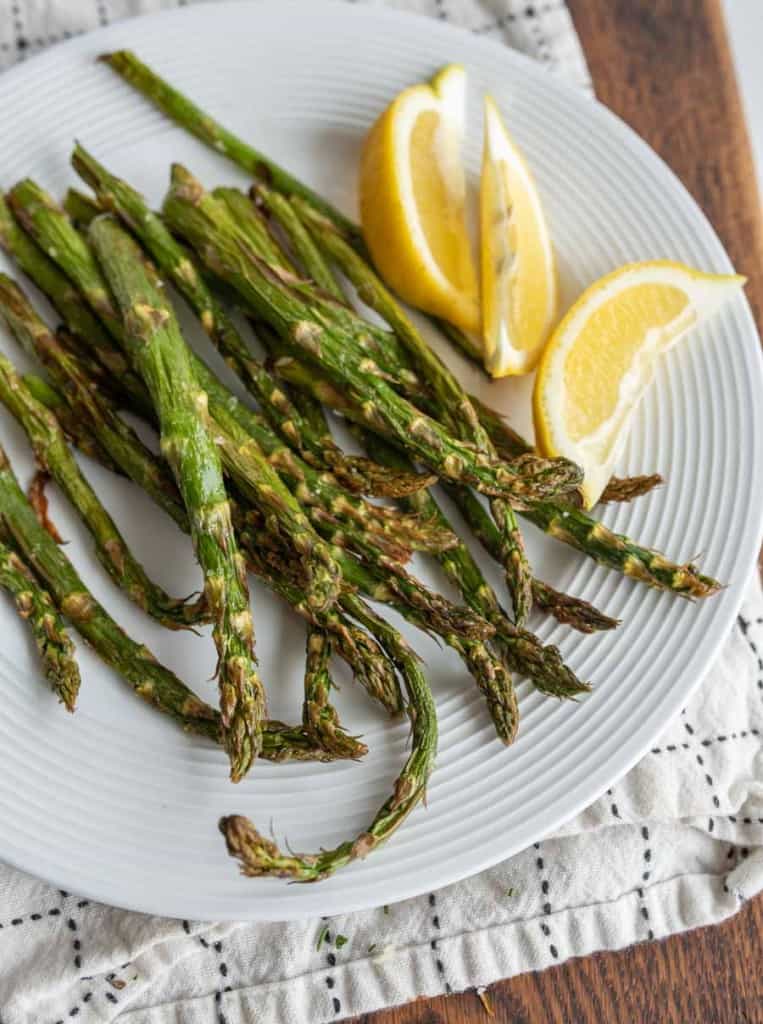 Air Fryer Asparagus
Air fryer asparagus is incredibly versatile and can be served on various occasions. Here are a few ideas to inspire you:
Weeknight Dinners: Air fryer asparagus makes for a fantastic side dish for your everyday meals. Whether you're having roasted chicken, grilled salmon, or a juicy steak, the vibrant green spears will add a refreshing and nutritious element to your plate.
Parties and Gatherings: Planning a get-together with friends or hosting a backyard barbecue? Surprise your guests with a platter of crispy air fryer asparagus as an appetizer or side dish. Its appealing appearance and delightful taste will impress everyone.
Holiday Feasts: Asparagus is a fantastic addition to your holiday menu. From Easter brunches to Thanksgiving dinners, serving air fryer asparagus alongside traditional dishes will introduce a touch of modernity and ensure a crowd-pleasing option for all.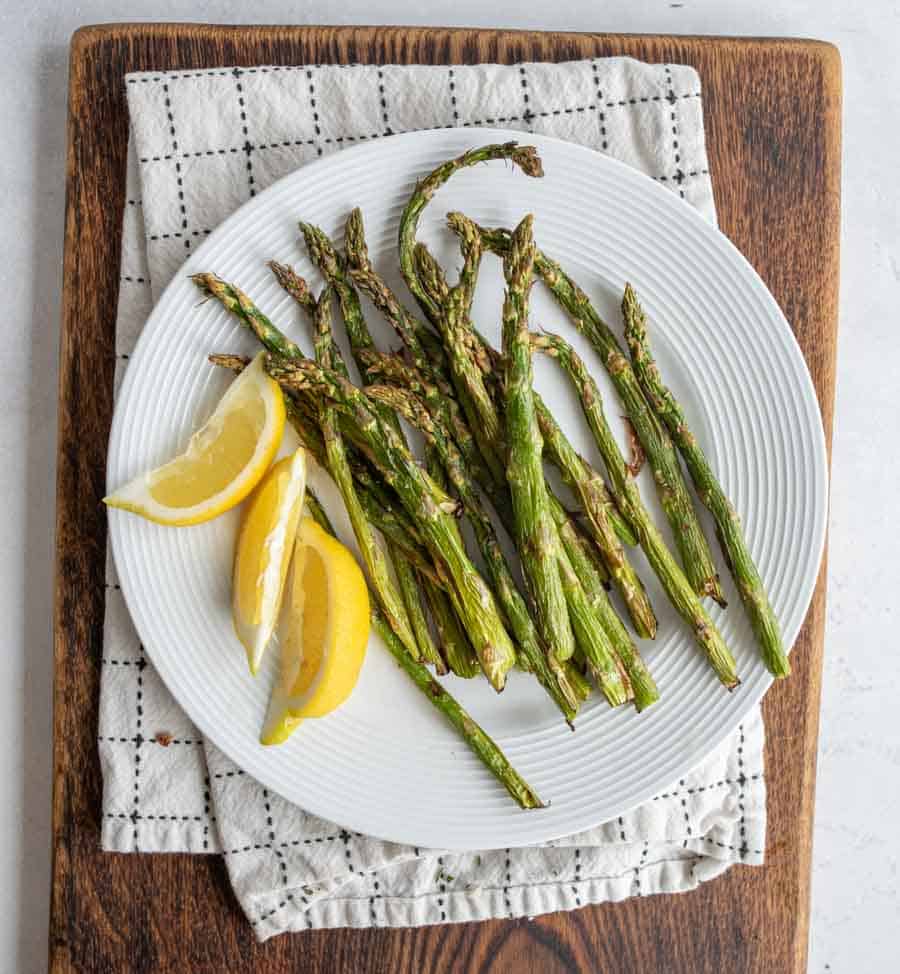 Ingredients
Asparagus
Olive oil
salt to taste
pepper to taste
Lemon
Keep scrolling to find a full, printable recipe with a detailed ingredient list.
Recipe Instructions
To start, preheat your air fryer to 400°F (200°C), ensuring that it's nice and hot for optimal cooking. While the air fryer is heating up, give the asparagus spears a quick rinse and trim off the woody ends.
Toss the trimmed asparagus in a bowl with some olive oil, ensuring that each spear is evenly coated.
Next, season the asparagus with your preferred spices. Whether you opt for a classic combination of salt and pepper or get creative with garlic powder, lemon zest, or parmesan cheese, the choice is yours.
Transfer the seasoned asparagus to the air fryer basket, making sure they are arranged in a single layer to ensure even cooking. Cook for 8 to 10 minutes, shaking the basket halfway through to ensure that all sides of the asparagus are perfectly crisp.
Once cooked to your desired level of crispness, remove the asparagus from the air fryer and serve immediately for the best flavor and texture. It's that easy!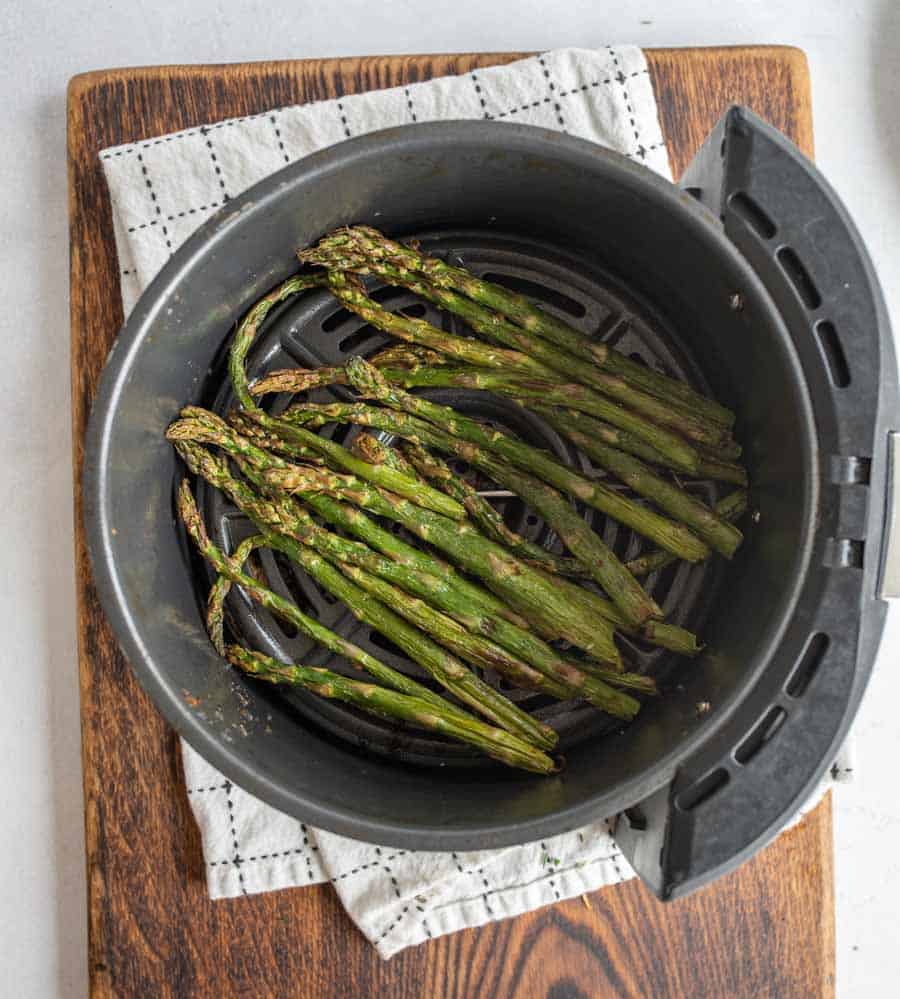 Frequently Asked Questions
Can I adjust the cooking time for thinner or thicker asparagus spears?
Yes, you can adjust the cooking time based on the thickness of the asparagus spears. Thicker spears may require a slightly longer cooking time, while thinner ones may cook faster. Keep an eye on the asparagus as it cooks, and check for doneness by testing the tenderness with a fork.
How do I store leftover air fryer asparagus?
If you have any leftovers, store them in an airtight container in the refrigerator. Air fryer asparagus is best enjoyed fresh and loses some of its crispness when reheated. However, you can reheat the leftovers in the air fryer for a few minutes to revive some of the texture.
Can I use the same method for other vegetables in the air fryer?
The method of cooking asparagus in the air fryer can be applied to various other vegetables. Zucchini, bell peppers, broccoli, and cauliflower are just a few examples of vegetables that can be cooked using a similar technique. Adjust the cooking time based on the vegetable and its thickness.
Can I use frozen asparagus for this recipe?
Fresh asparagus is ideal for air frying, as it tends to yield better results. Frozen asparagus often contains excess moisture, which can affect the texture and crispiness when cooked in the air fryer. However, if you prefer to use frozen asparagus, make sure to thaw and pat them dry before seasoning and cooking.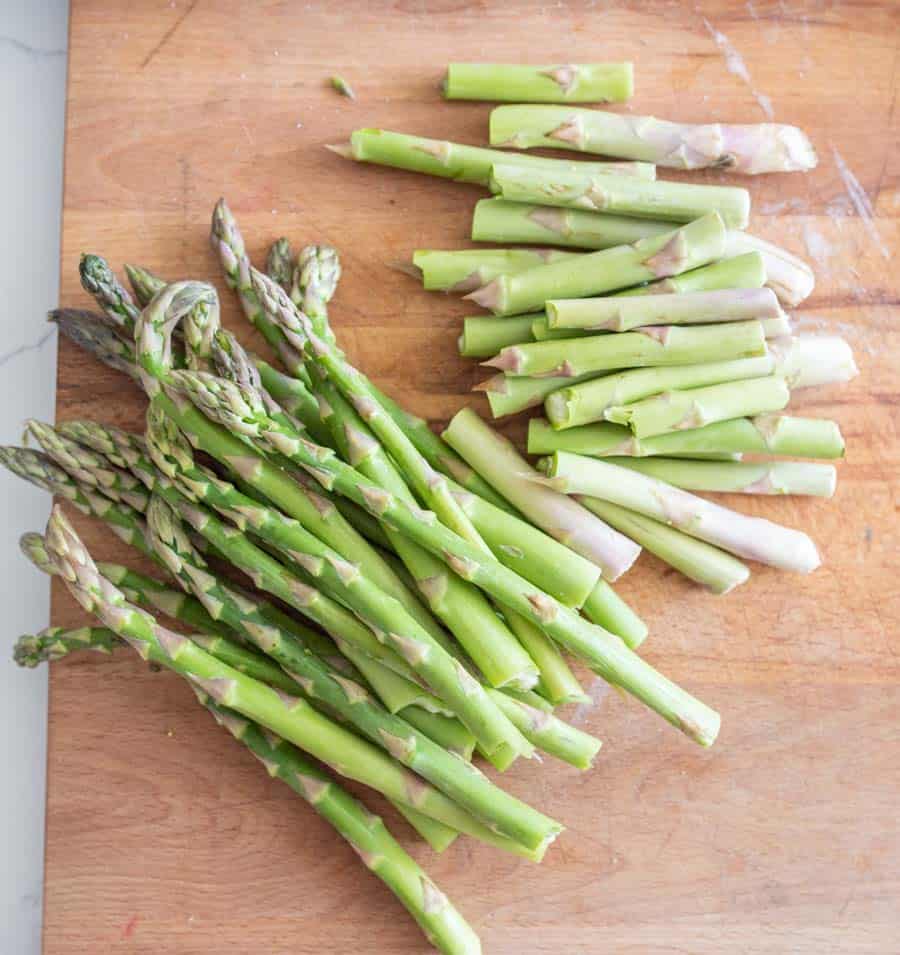 More Recipes
If you've tried this Air Fryer Asparagus recipe or any other recipe on Bless This Mess, then don't forget to rate the recipe and leave me a comment below! I would love to hear about your experience making it. And if you snapped some pictures of it, share it with me on Instagram so I can repost on my stories.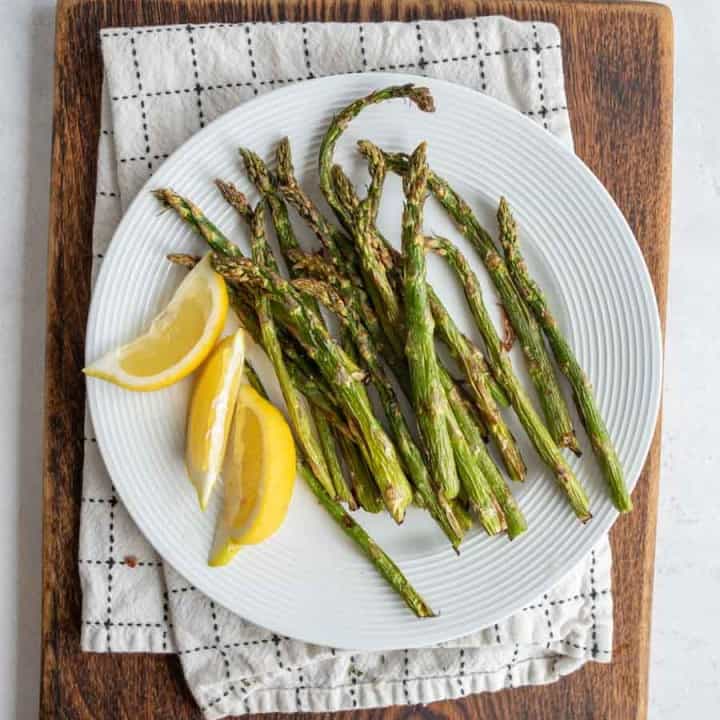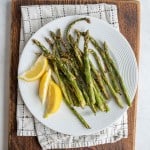 Print Recipe
Air Fryer Asparagus
Making Air Fryer Asparagus is a breeze, and you'll be amazed at how simple it is to achieve crispy perfection in no time.
Ingredients
1

pound

asparagus

about 1 bunch

1-2

tablespoons

olive oil

salt

to taste

pepper

to taste

½

lemon

optional
Instructions
Preheat your air fryer to 400°F (200°C) for about 5 minutes.

Rinse the asparagus spears and pat them dry.

Trim the bottom ends of the asparagus, about 1-2 inches, depending on the toughness.

Place the trimmed asparagus in a bowl. Drizzle with olive oil, then season with salt and pepper. Toss until all the spears are evenly coated.

Arrange the asparagus in the air fryer basket in a single layer. It's okay if they overlap a little, but it's best if air can circulate around them.

Air fry for 7-10 minutes, depending on how thick your asparagus spears are. Shake the basket or turn the asparagus halfway through cooking to ensure even cooking.

Check the asparagus for doneness at around 7 minutes. They should be tender and slightly crisp.

Once done, you can squeeze some fresh lemon juice over the asparagus if you'd like.

Serve immediately for the best taste and texture.
Notes
A good sprinkle of fresh Parmesan over the asparagus while they are still hot is really good too.
The lemon is option but I think it adds a nice brightness to the asparagus. That being said, my kids don't like it at all (but love asparagus without the lemon) so I'll often just drizzle a little on my own serving.
Asparagus is a spring vegetable and will be the best tasting that time of the year.
Nutrition
Calories:
58
kcal
|
Carbohydrates:
6
g
|
Protein:
3
g
|
Fat:
4
g
|
Saturated Fat:
1
g
|
Polyunsaturated Fat:
0.4
g
|
Monounsaturated Fat:
3
g
|
Sodium:
3
mg
|
Potassium:
248
mg
|
Fiber:
3
g
|
Sugar:
2
g
|
Vitamin A:
860
IU
|
Vitamin C:
14
mg
|
Calcium:
31
mg
|
Iron:
3
mg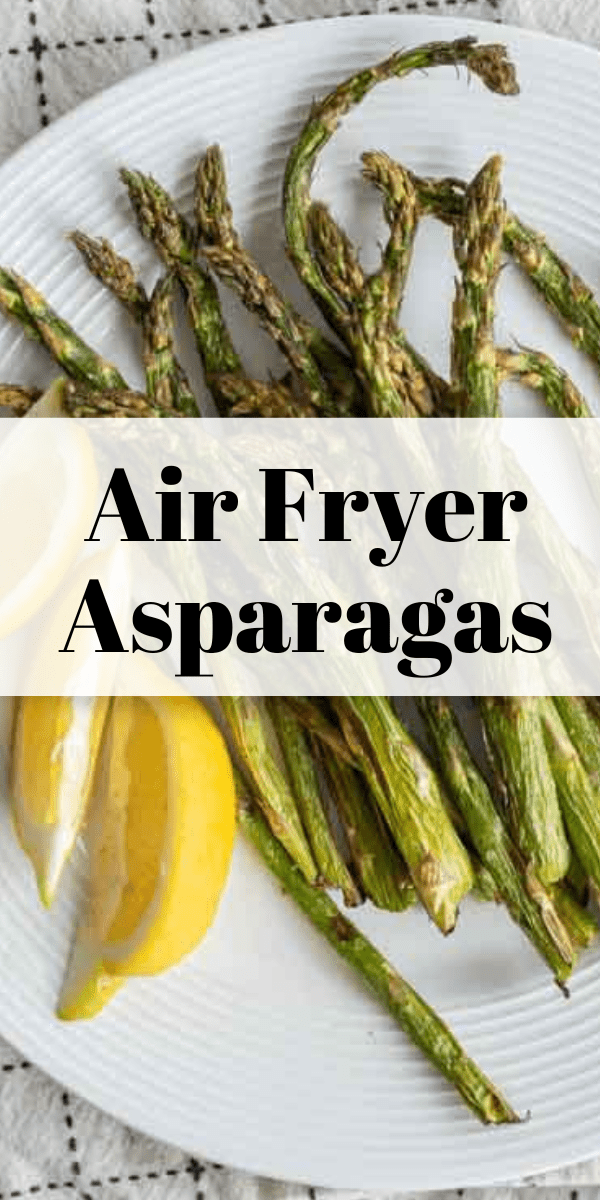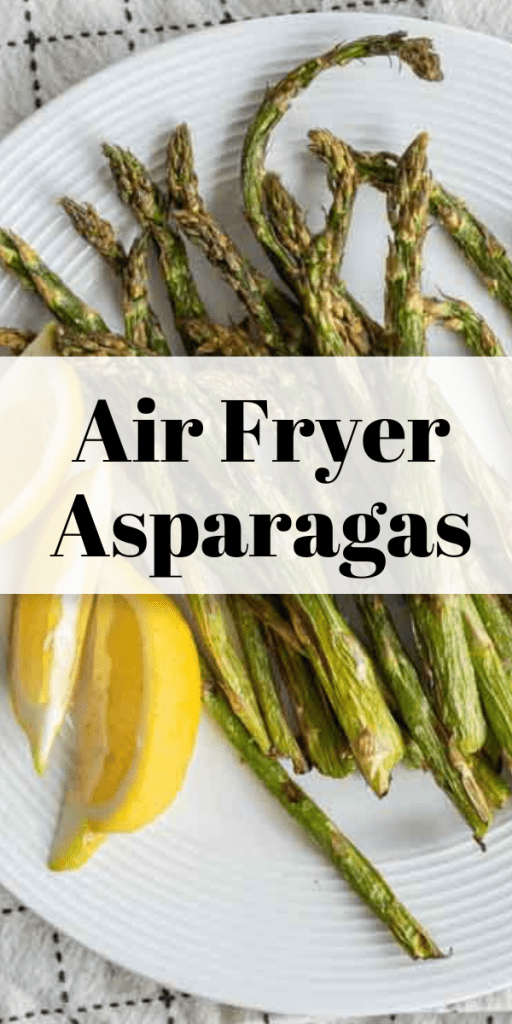 Air fryer asparagus is a versatile and tasty dish that can be enjoyed in various ways. Feel free to get creative and adapt the recipe to suit your preferences!