A simple and fool-proof Wheat Bread Recipe that makes four loaves of bread in one batch. This recipe comes from my mom, and it's certainly a keeper!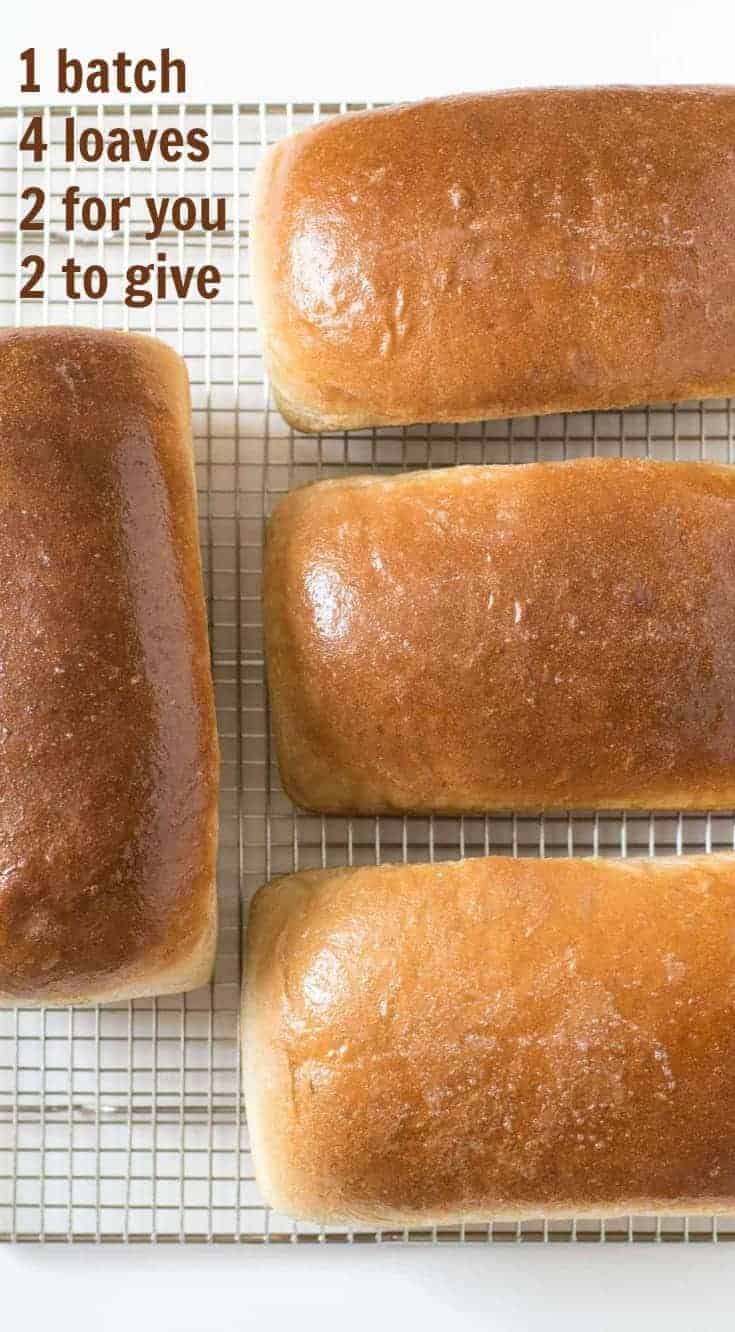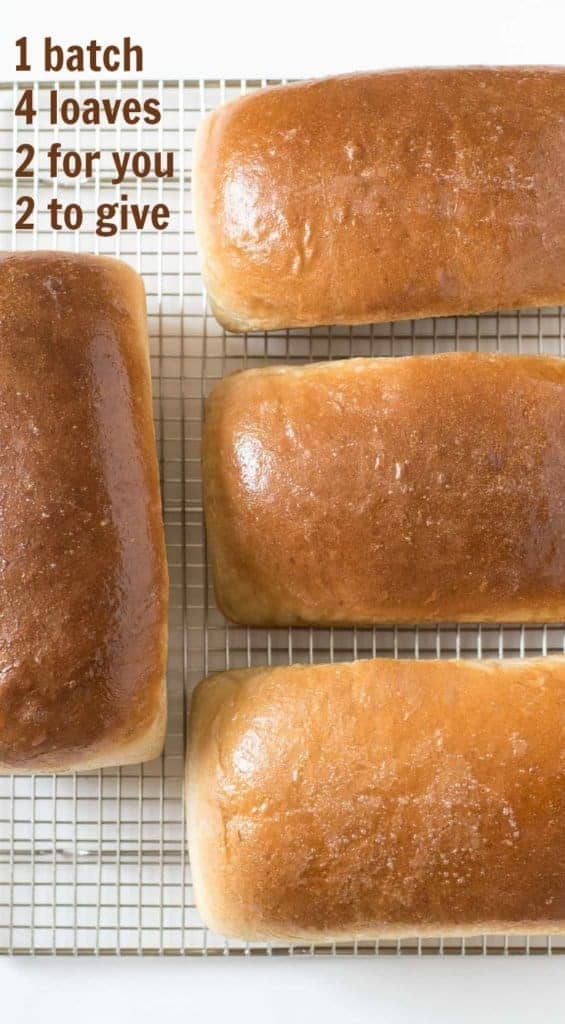 Mom's 4 Loaf Wheat Bread Recipe
I have so many recipes that I make often that I haven't shared on the blog. This year, I've made the goal to get more of my favorite go-to recipes out of my family cookbook and onto the blog so that you can enjoy them as much as I do. This recipe is one of those tried-and-true recipes that I've been making twice a month since my daughter was a baby. Now here we are, 10 years later, and I'm just now telling you about it.
This is my mom's wheat bread recipe. It's not a whole wheat bread, but a mix of white and wheat, which makes for a light and fluffy loaf of bread that is still brown and hearty. It's a great middle for anyone who doesn't eat whole wheat all the time! My mom has been making this recipe for as long as I can remember. It's made with simple ingredients that I always have on hand and it just turns out well each time.
What's unique about this wheat bread recipe is that it makes four loaves of bread in one batch instead of the traditional two loaves. I know that might sound like a whole lot of bread, but that's my favorite part of this recipe. When I make it, I always think of the saying, "one for you, one for me." I make this recipe with the intention of making warm comforting food for my family and also sharing that gift with others. This wheat bread recipes is meant to be shared with your friends and neighbors.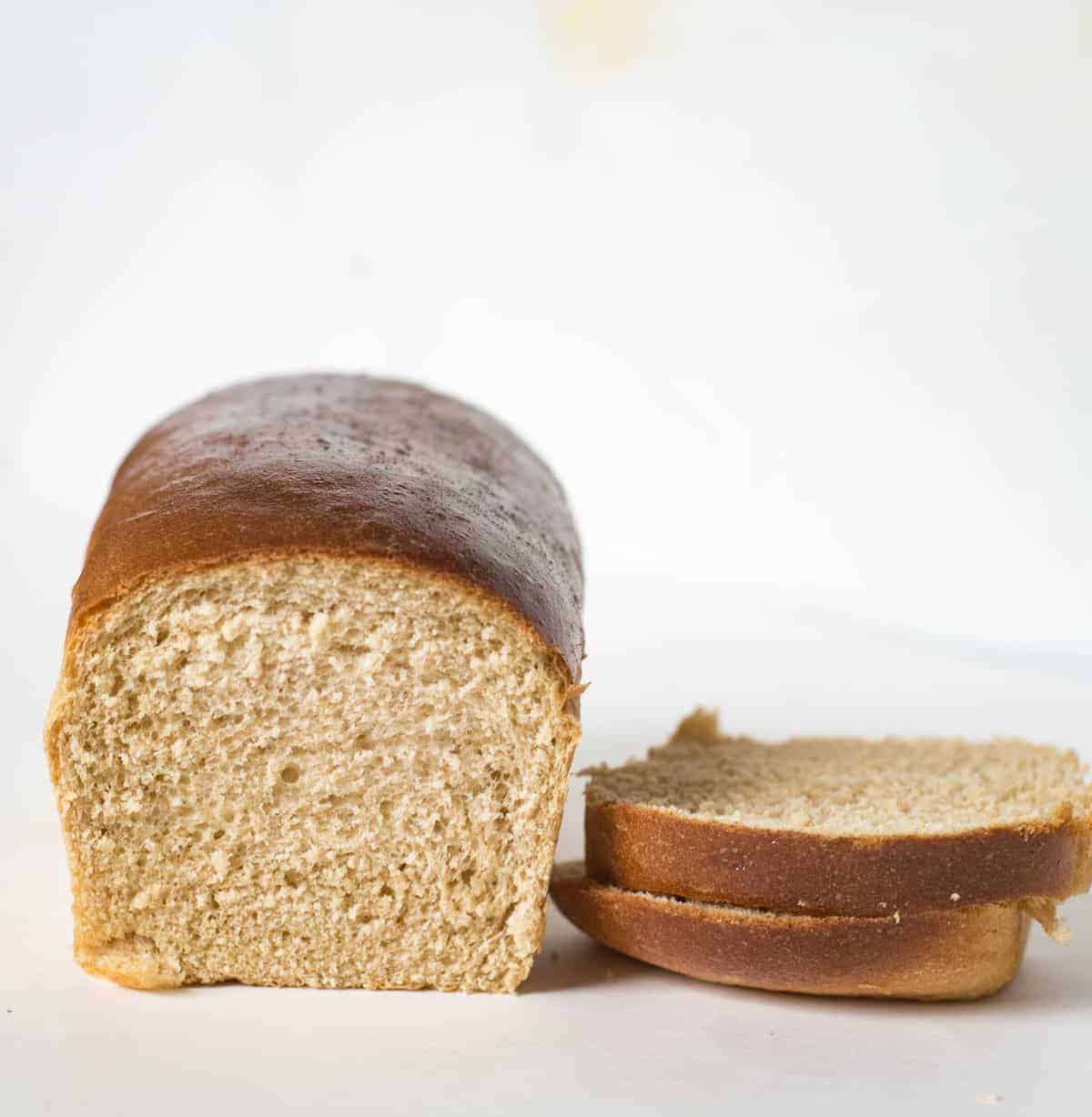 Tips and Tricks for making Homemade Wheat Bread
This recipe is meant to be made with a mix of white and whole wheat flour (it's not a 100% whole wheat flour recipe; I do have a great one of those coming soon). The ratio of white to wheat flour is up to you, but 50/50 is always a good place to start.
Don't skip the buttering of the top, this helps to make the crust soft and it also creates a bit of a "seal" on the crust that helps prevent the inside of the bread from drying out. That being said, out of butter, you can totally skip it 🙂
I feel like you have some flexibility when it comes the loaf pans that you use (these enamel ones are fun). I have a few sizes, and though the shape of the loaf might be slightly different dependent on the size, the rising and cook time remain the same. Loaf pans that are 8-9 inches long generally work the best.
This bread is great by itself with butter or jam on it, it makes great french toast, and it can go on the side of your favorite soup (like Instant Pot Broccoli and Cheese). There's no wrong way to eat this. Plus, it makes a great gift! Who doesn't love fresh baked bread?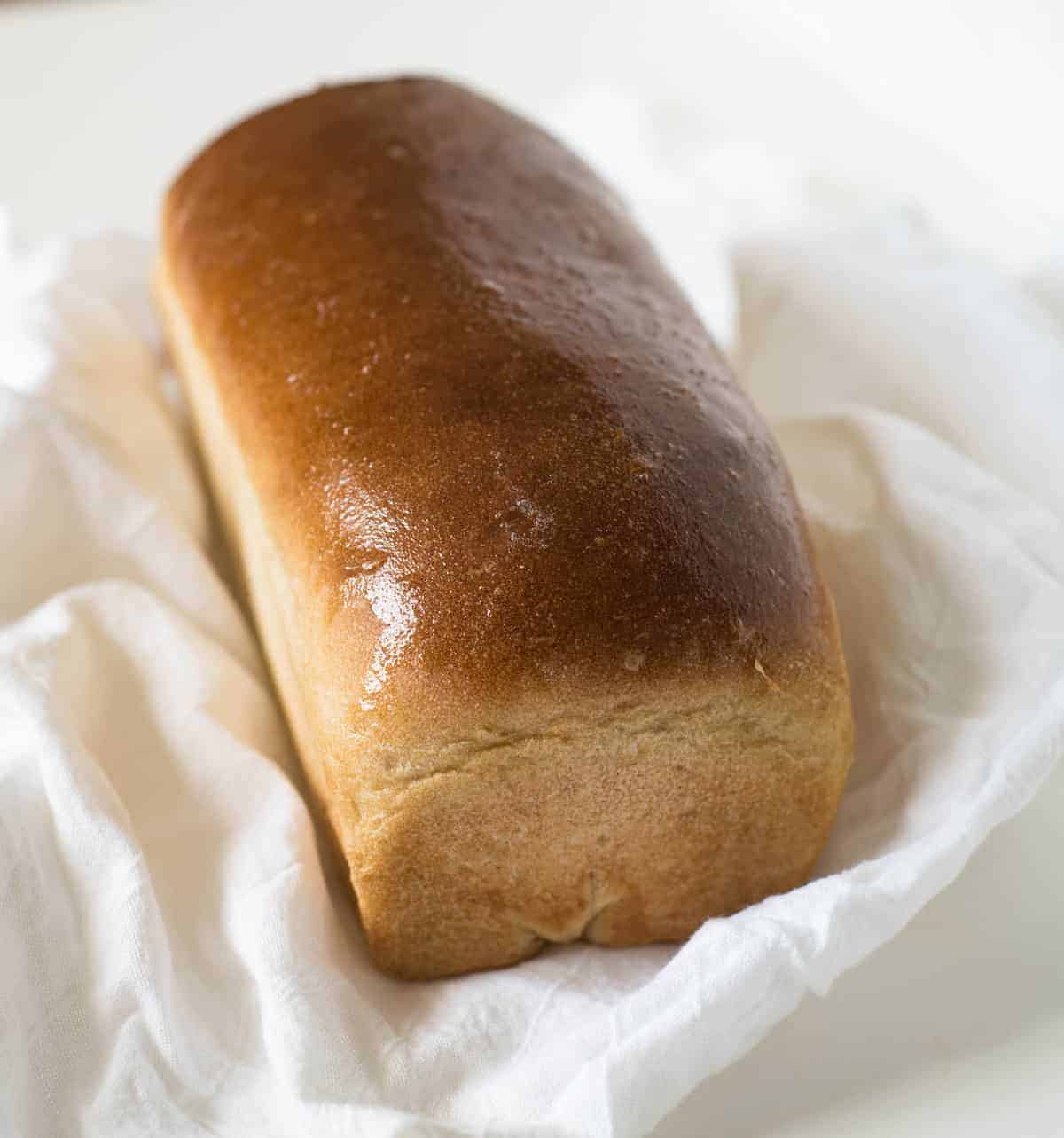 Now all you need is a thick warm slice with a layer of good salted butter on top. That's the stuff after school memories are made of.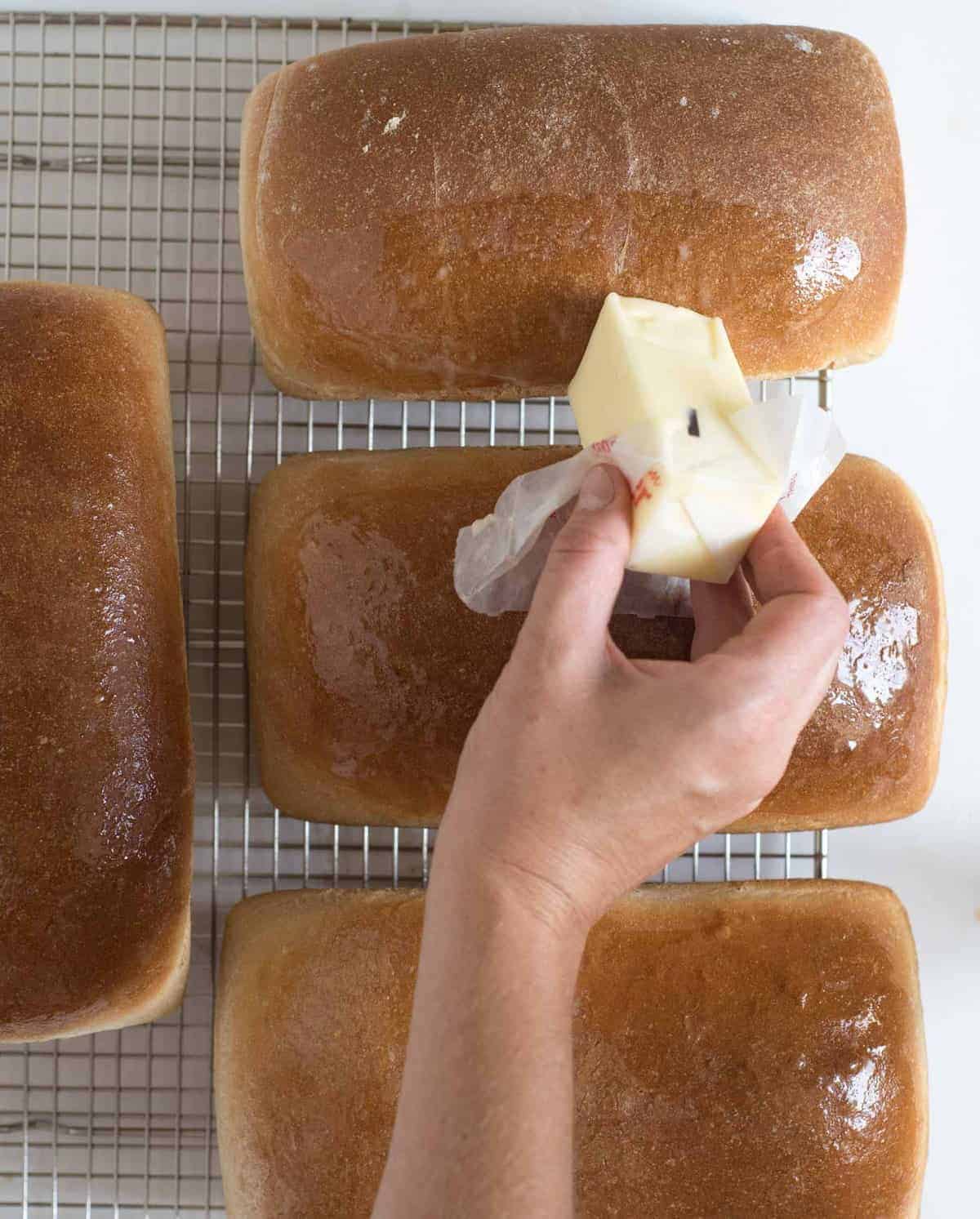 Need help getting excited about making this recipe? I taught it in a free cooking class! You can find the video here:

Print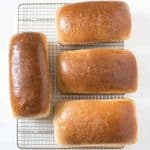 Mom's 4 Loaf Wheat Bread Recipe
---
Author:

Total Time:

2 hours 5 minutes

Yield:

4

loaves of bread

1

x
Description
A simple and fool-proof Wheat Bread Recipe that makes four loaves of bread in one batch. This recipe comes from my mom, and it's certainly a keeper!
---
4 cups

warm water

2 tablespoons

instant yeast

½ cup

honey or

¾ cup

white sugar

½ cup

oil

1 ½ tablespoons

salt

11 cups

flour (a mix of

½

whole wheat flour and

½

all-purpose is best)
---
Instructions
Dissolve the yeast and honey in the warm water. Add the oil and salt and stir to combine.
Add 5 cups of the whole wheat flour to the bowl and stir to combine. Stir for 3 to 5 minutes.
Stir in the white flour, a cup at a time, until a smooth dough starts to form. You can use a stand mixer or your hands.
Knead the dough on a well-floured surface until the dough becomes soft and elastic and doesn't stick to your hands. I like to knead this for 6-8 minutes by hand, it helps the end texture a lot to work the dough well!
Let the dough rise in the bowl until doubled, covered with a heavy towel or plastic wrap.
Once the dough has risen, divide it into four pieces. Shape the dough into loaves and place them in 4 greased loaf pans.
Let the dough rise in the pans until it is an inch above the rim.
Bake the bread at 350 degrees for 35 minutes. The crust will be golden brown and you'll hear a hollow sound when you tap the bread with your fingernail.
Remove the bread from the oven, then remove the bread from the pans and place the hot loaves on wire racks to cool. Rub a stick of butter on the top of the hot loaves.
Allow the loaves to cool slightly or to room temperature before slicing and serving. Store cooled loaves in an air-tight container and use within 5 days.
Notes
So flexible! You can use all whole wheat flour (thought it won't rise as much), half all-purpose and half whole wheat, all all-purpose, and even bread flour! I like to use ⅓ whole wheat and ⅔ all-purpose flour, but really, you can play with the ratios and use what you have on hand.
You can use just about any oil or even melted butter or shortening for this recipe.
Feel free to half this recipe to make 2 loaves instead of 4, it'll work great.
To freeze extra loaves simply let the bread cool completely. Store it in an old bread bag or wrapped well in plastic wrap and freeze. Let it thaw a few hours at room temperature when you'd like to use it. You can also slice it before you put it in the freezer to make thawing a little faster.
No need to proof the yeast, it doesn't need it.
Prep Time:

90 min

Cook Time:

35 min

Category:

Lunch

Method:

Oven

Cuisine:

American
Keywords: wheat bread recipe, homemade bread recipe, homemade bread recipe with yeast, homemade bread, easy homemade bread, how to make homemade bread, how to make bread, best bread recipe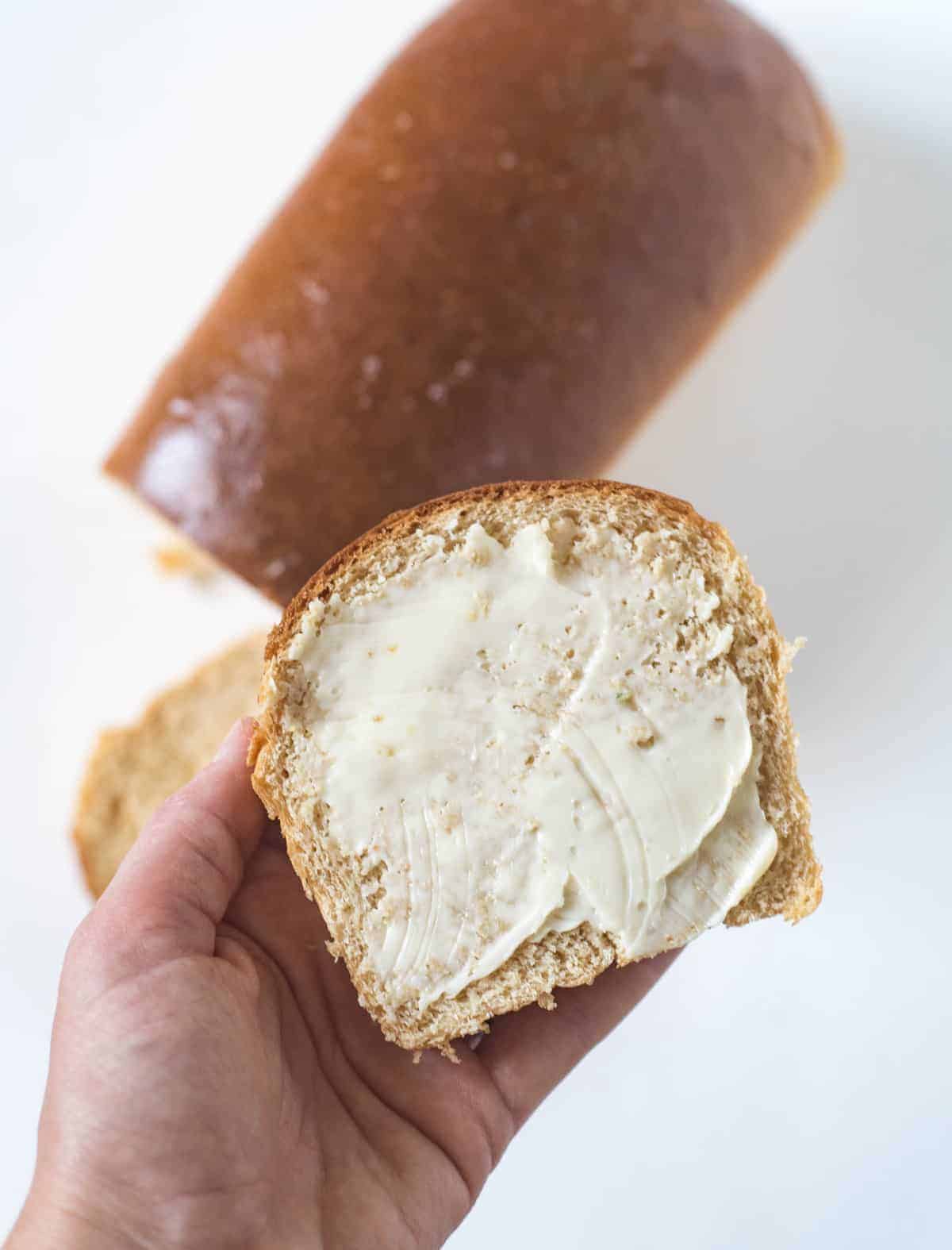 Other great simple recipes you might love:
And there you have it. One of my all-time favorite recipes from childhood comes the blog!