Hey there, BBQ lovers! We're going to dive into the wonderful world of White BBQ Sauce. Now, when we think of BBQ, most of us imagine that classic red sauce slathered over tender ribs or juicy pulled pork. But let's take a little detour and explore the tangy, creamy, and oh-so-delicious realm of white barbecue sauce. Trust me, you're in for a treat!
Originating in Alabama, white barbecue sauce has a unique flavor profile that sets it apart from its red sauce counterparts. It's a mayonnaise-based sauce with a tangy kick that will leave your taste buds dancing. Imagine the creaminess of mayo blended with the tang of vinegar and the slight heat of black pepper—it's a flavor explosion like no other.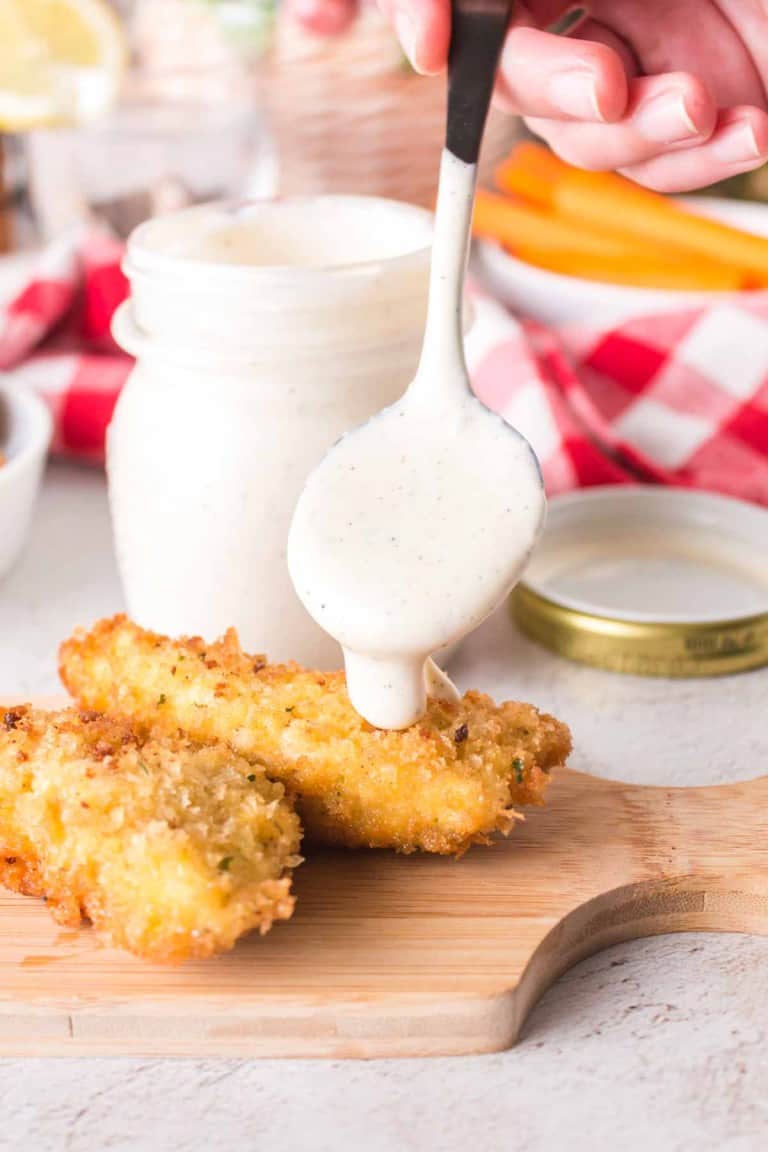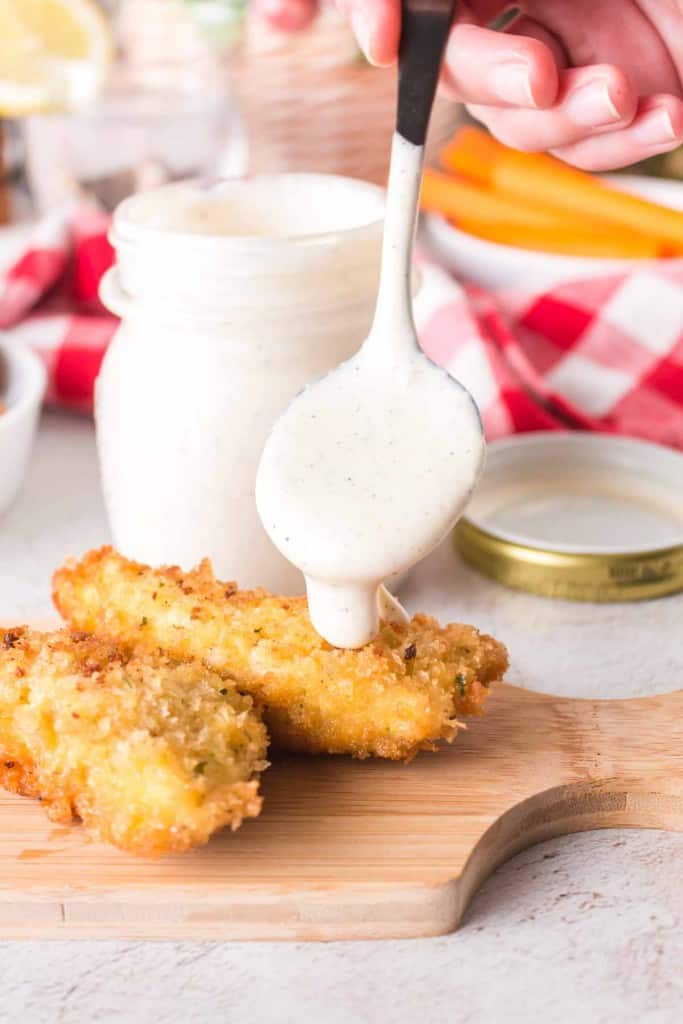 White BBQ Sauce
One of the best things about white BBQ sauce is its versatility. It complements a wide range of meats, from chicken and pork to beef and even seafood. It's the perfect companion for grilled or smoked dishes, adding a cool and refreshing element that balances out the smoky flavors.
This basic recipe is quite simple, and you can customize it to suit your taste preferences. It is fun to mix up sauces every once in a while too.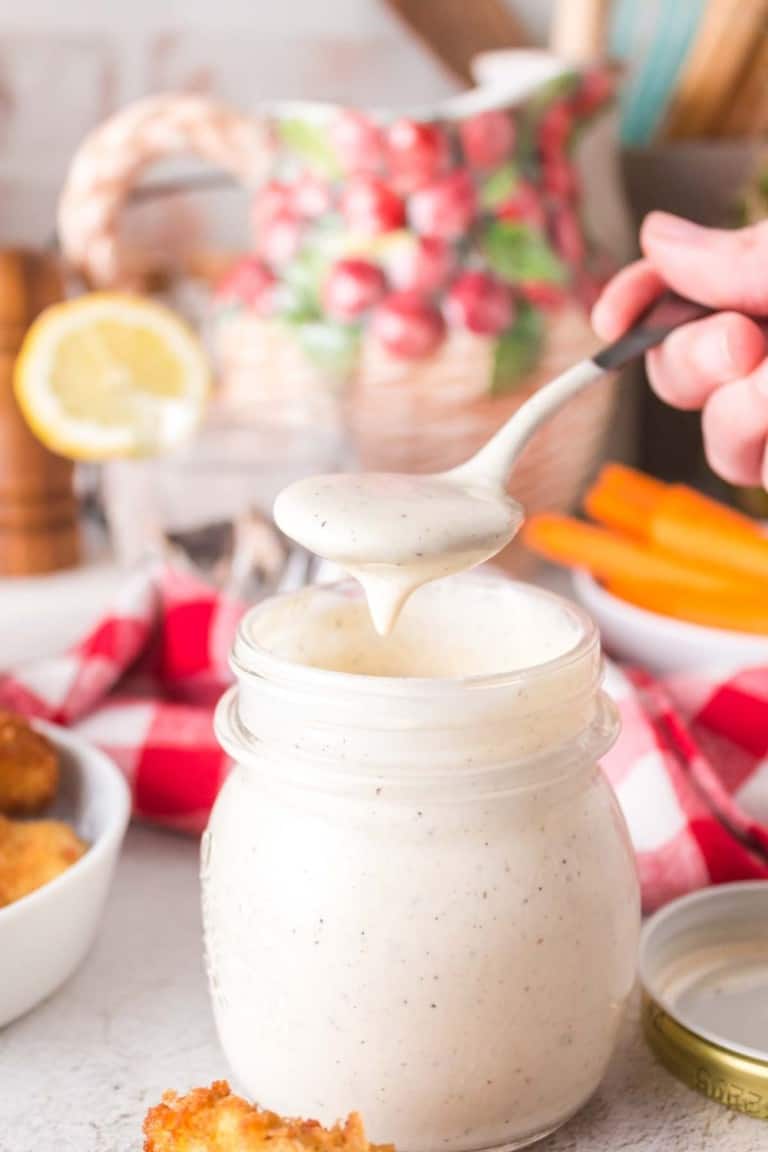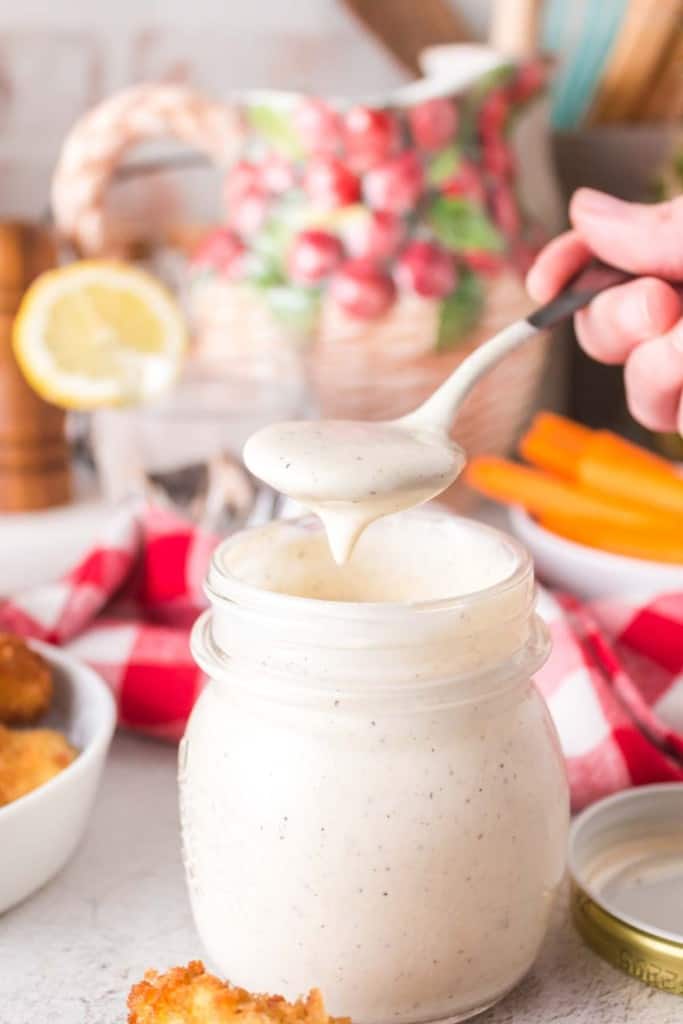 Ingredients
Mayonnaise
Onion powder
Garlic powder
Black pepper
Salt
Honey Dijon mustard
Honey
Creamy horseradish or substitute with Worcestershire sauce
White vinegar
Keep scrolling to find a full, printable recipe with a detailed ingredient list.
Recipe Instructions
In a medium-sized bowl, whisk together mayonnaise, onion powder, garlic powder, black pepper, salt, Dijon mustard, honey, and horseradish until combined.
Add vinegar and whisk until fully incorporated and then transfer the sauce to a jar or cover the bowl with plastic wrap.
Refrigerate for at least 1 hour to let the flavors blend.
Serve and enjoy!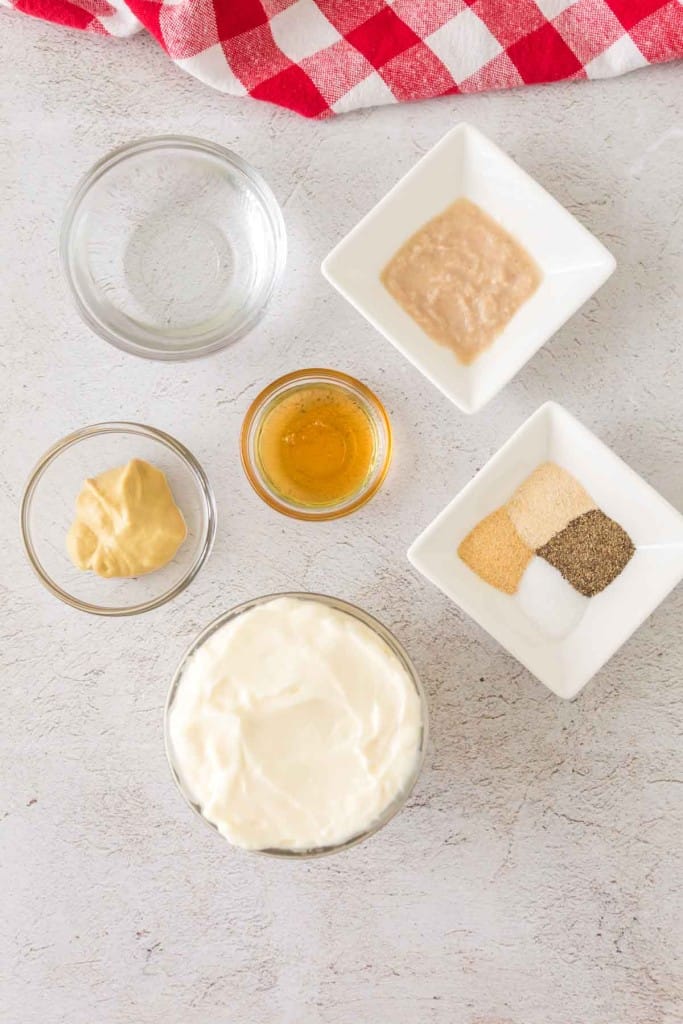 Frequently Asked Questions
What is white BBQ sauce?
White BBQ sauce is a tangy and creamy sauce made with mayonnaise as its base. It has a unique flavor profile that includes vinegar, spices, and sometimes horseradish. It's commonly used as a dipping sauce or marinade for grilled or smoked meats.
What does BBQ white sauce taste like?
BBQ white sauce has a creamy and tangy flavor with a hint of sweetness.
How long does white barbecue sauce last?
BBQ white sauce can typically be stored in the refrigerator for up to a week. It's important to keep it in a tightly sealed container to maintain its freshness.
How can I use BBQ white sauce?
BBQ white sauce is versatile and can be used in various ways. It can be brushed onto grilled meats, used as a dipping sauce for chicken tenders or smoked sausages, or even as a topping for sandwiches. It can also be used as a marinade or a dressing for salads. Get creative and explore different ways to enjoy it!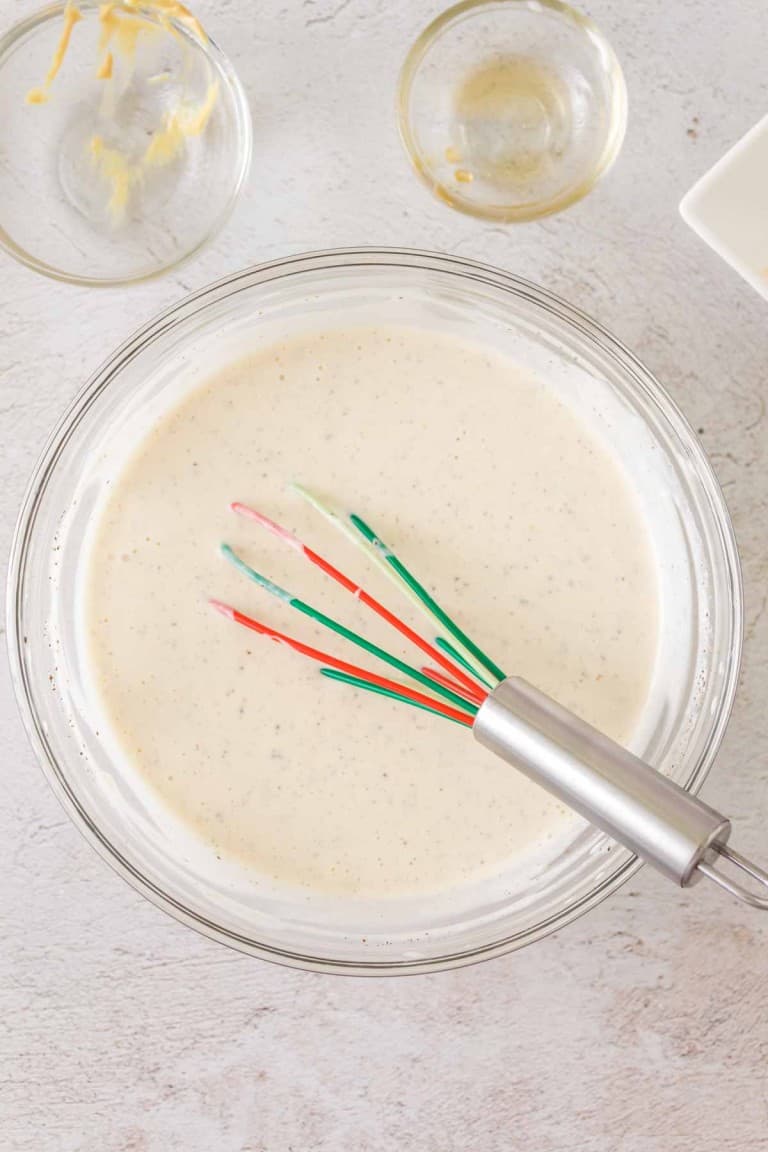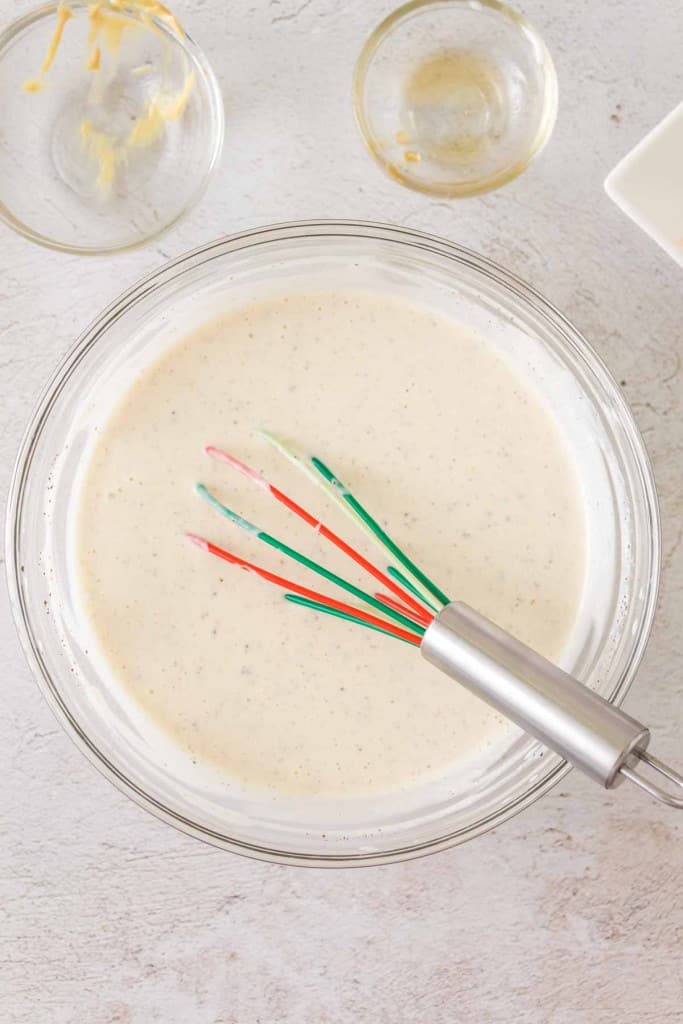 More Recipes
If you've tried this White BBQ Sauce recipe or any other recipe on Bless This Mess, then don't forget to rate the recipe and leave me a comment below! I would love to hear about your experience making it. And if you snapped some pictures of it, share it with me on Instagram so I can repost on my stories.
📖 Recipe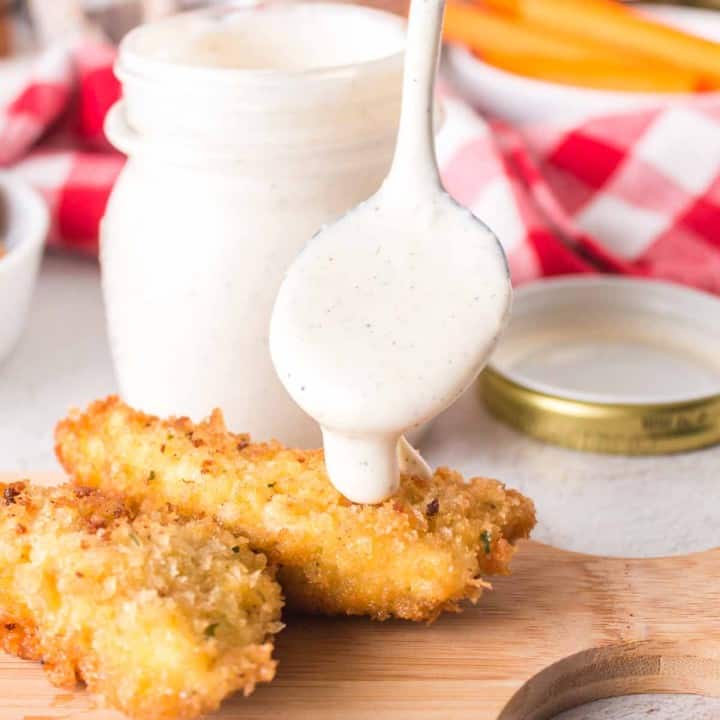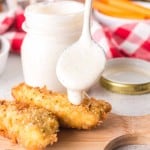 Print Recipe
White Barbeque Sauce
White BBQ sauce is a creamy and tangy mayonnaise-based condiment originating from Alabama, adding a unique and refreshing flavor to grilled and smoked meats.
Ingredients
1

cup

mayonnaise

½

teaspoon

onion powder

½

teaspoon

garlic powder

½

teaspoon

ground black pepper

½

teaspoon

salt

1

tablespoon

honey Dijon mustard

1

tablespoon

honey

2

teaspoons

creamy horseradish

you can substitute with Worcestershire sauce

¼

cup

white vinegar

or you can use apple cider vinegar as well
Instructions
In a medium-sized bowl, whisk together mayonnaise, onion powder, garlic powder, ground black pepper, salt, Dijon mustard, honey, and creamy horseradish. Mix until all ingredients are combined.

Add the vinegar and whisk until it is completely incorporated.

Pour the mixture into a jar or cover the mixing bowl with plastic wrap and refrigerate for 1 hour or until ready to serve. This will allow the flavor to blend together.

Serve and Enjoy!
Notes
I used Honey Dijon as the sweetness helps tamper down the vinegar. If you want a nice and tangy sauce, you can use regular Dijon or even stone ground Dijon mustard

Side dish: Serve as a dip for chicken wings or chicken tenders. Excellent as a dip for a vegetable tray. I also added some to grilled chicken thighs.
This is a mayonnaise base sauce. I would not recommend leaving it out for more than 1 hour or less if it is outside.
Storage: Store in the fridge for up to 1 week. I wouldn't recommend freezing.
Add more honey to help with the tangy taste
Nutrition
Calories:
820
kcal
|
Carbohydrates:
14
g
|
Protein:
1
g
|
Fat:
84
g
|
Saturated Fat:
13
g
|
Polyunsaturated Fat:
50
g
|
Monounsaturated Fat:
19
g
|
Trans Fat:
0.2
g
|
Cholesterol:
47
mg
|
Sodium:
1332
mg
|
Potassium:
49
mg
|
Fiber:
0.3
g
|
Sugar:
11
g
|
Vitamin A:
76
IU
|
Vitamin C:
0.2
mg
|
Calcium:
17
mg
|
Iron:
0.4
mg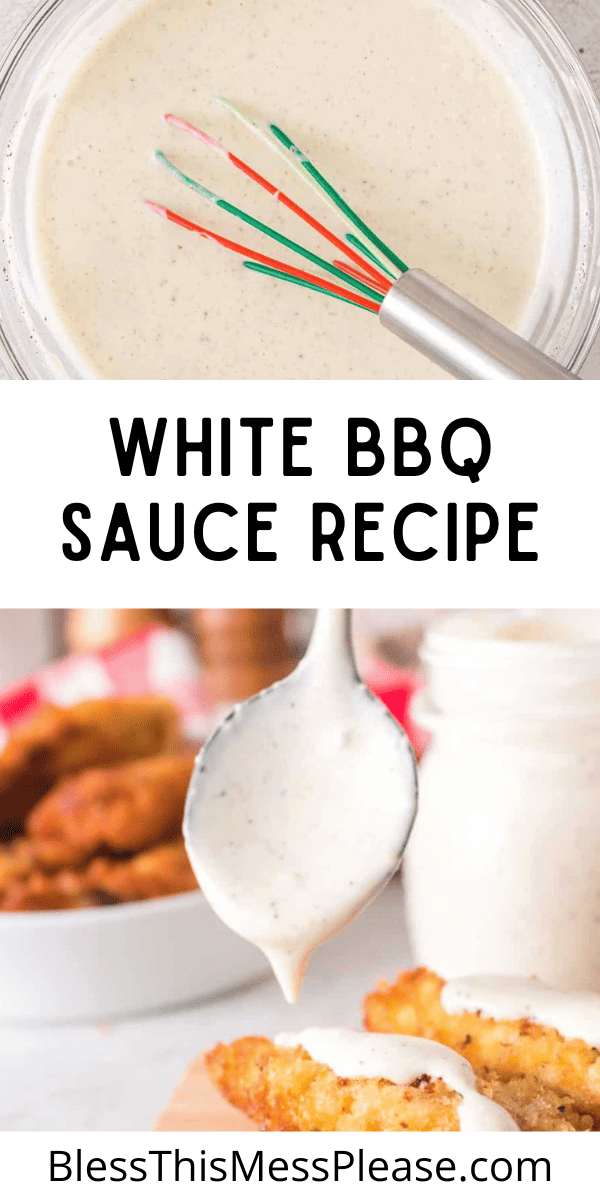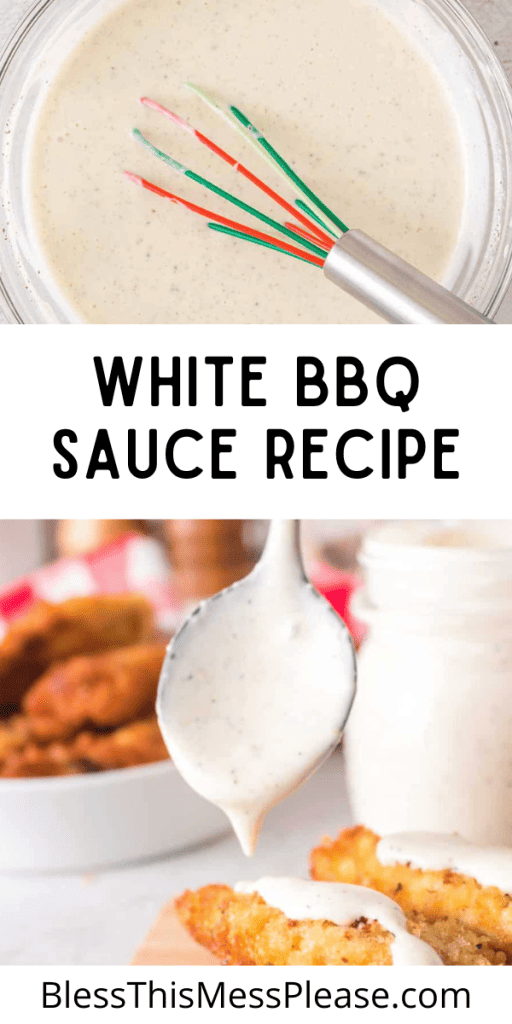 White barbeque sauce is a delicious and versatile condiment that offers a tangy and creamy twist to traditional BBQ flavors. Whether you're grilling chicken, pork, or even veggies, this Alabama-born sauce is sure to elevate your culinary creations and leave you craving more.