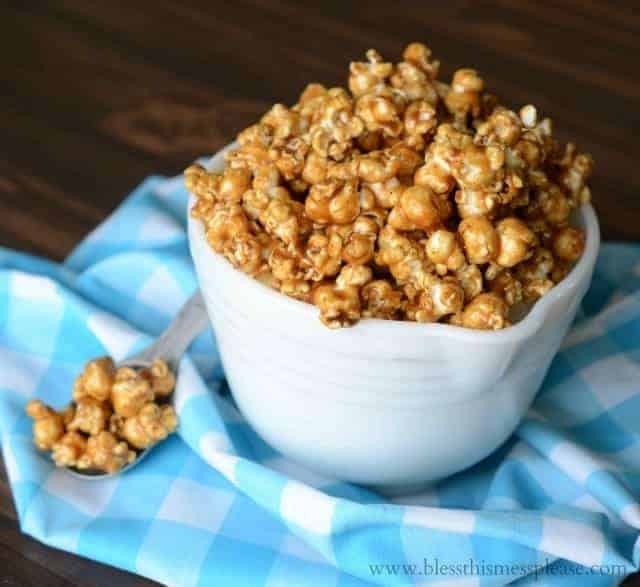 My childhood has some great memories in it. Some of my favorites involved this caramel corn recipe from my mom.
With a large family of our own we didn't have friends over for parties very often. I remember one fall evening though my mom and dad let me have a whole bunch of kids from school come over for a wienie roast and night games. We were probably in seventh or eight grade, right at that age where you want to be out doing things but you are generally too young to be included in much. I remember having a lot of fun sitting around the fire, talking with friends, feeling so fancy and cool because I was having a huge "party". And you know what else I remember… this popcorn! My mom made a big batch or two of it and had it laying out on our kitchen island. I remember the weather getting cool and everyone wondering inside to get handfuls of popcorn and chat with my mom, who was the kitchen attendant for the night, before their own parents came to pick them up.
My friends loved my mom and it was for more than just her caramel corn making skills. She was such a good listener and friend to them too. Now you all will love my mom too and it WILL be for her gooey caramel corn, though you have to make it yourself.
This caramel corn is everything that gooey caramel corn should be. It is sweet, sticky, vanilla enhanced goodness that you'll want a glass of milk with. This is perfect for a crowd because it makes a bunch. Plan on it for a snack for movie night when the cousins are over or for your next teenage gathering. Heck, make it today and just eat tons of it! No matter the time, it's so very good.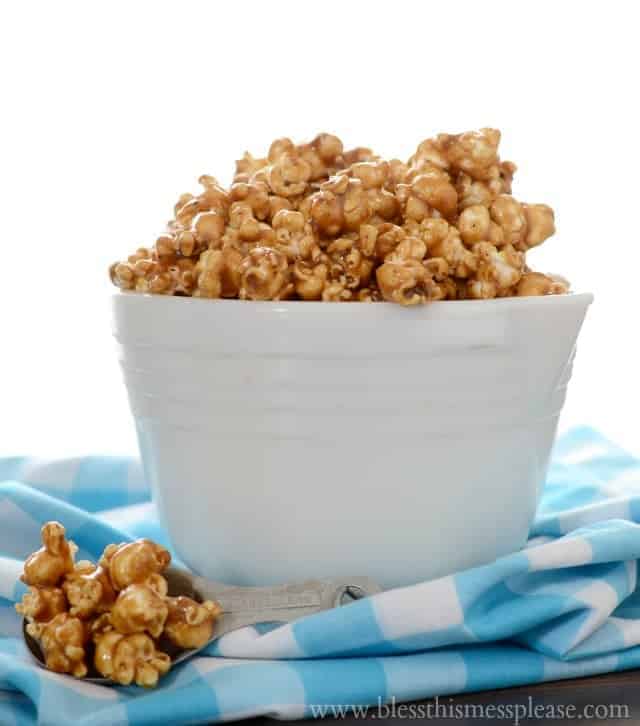 Print
Ingredients
1 cup corn syrup
1 pound brown sugar
1 stick (1/2 cup) butter
1 can sweetened condensed milk
1 T. vanilla extract
Large brown paper bag 1/2 to 2/3 fill with popped popcorn (5 to 6 quarts)
---
Instructions
Combine the corn syrup and the brown sugar in a medium sauce pan and heat over medium heat and bring to a boil. Add the butter and stir until melted. Add the sweetened condensed milk, stir to combine, and bring to a boil, stirring occasionally. Once the mixture comes to a boil, remove from the heat and stir in the vanilla.
Remove unpopped kernels from the popcorn and place all of the popcorn in a large bowl. Pour the caramel over the popcorn and stir to combine well. Pour the caramel corn onto a piece or two of waxed paper on the counter to cool. It will be sticky but get less sticky as it cools.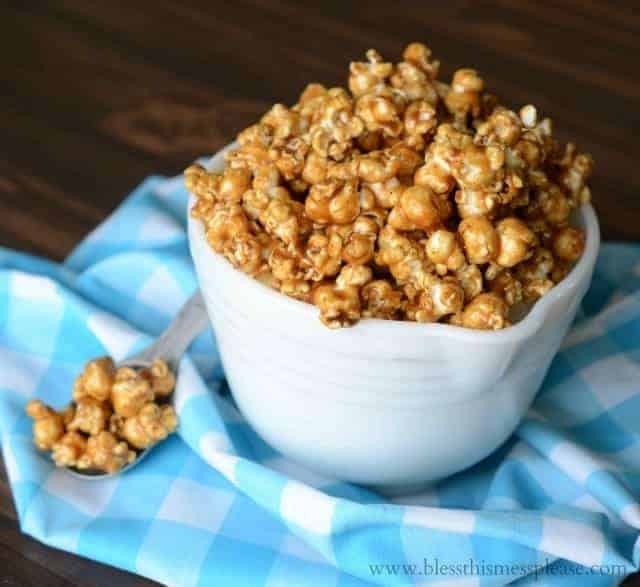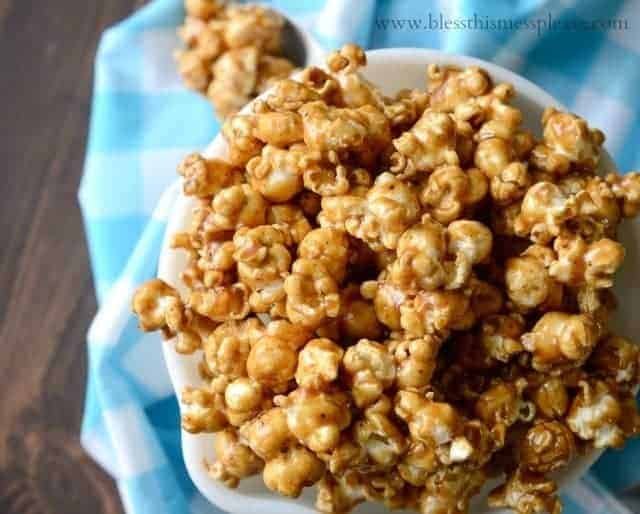 Can you see the dark little speckles?! Those shouldn't be there (oops). I walked away from the caramel on the stove top, got distracted (blasted facebook!), and scorched the bottom. I just pored the caramel through a fine mesh sieve to get the biggest chunks of nasty burnt sugar out and it worked ok. If I would have burnt it a bit more the whole batch would have been ruined because that burnt flavor can really settle into the whole pan. Lesson learned – don't walk away from your caramel while cooking!
I came across a recipe for some gooey caramel popcorn yesterday on pinterest. I clicked over and found the most adorable site ever: Kristen Duke Photography. Have you been there before?! I have tons of blogs that I like, but only a few that I'm just completely enamored by. Her site is so beautiful and happy! I've been trying to decide on a new direction for my own blog and I got a ton of inspiration from being on her site. My newest goal is to keep working on my photo skills… they really sell a blog post don't they?!
While I was reading her recipe it reminded me of Mom's so I had to get out Mom's recipe, and then I had to make it. The ingredients are just the same, but the method is a bit different. She uses microwave popcorn too and I think all that salt and butter under the caramel sounds pretty good too.
I'm so grateful that even though my photos aren't perfect and my grammar isn't that of a perfectly edited book, you all still come around and read what I have to share. I have the best readers ever! Thanks guys.