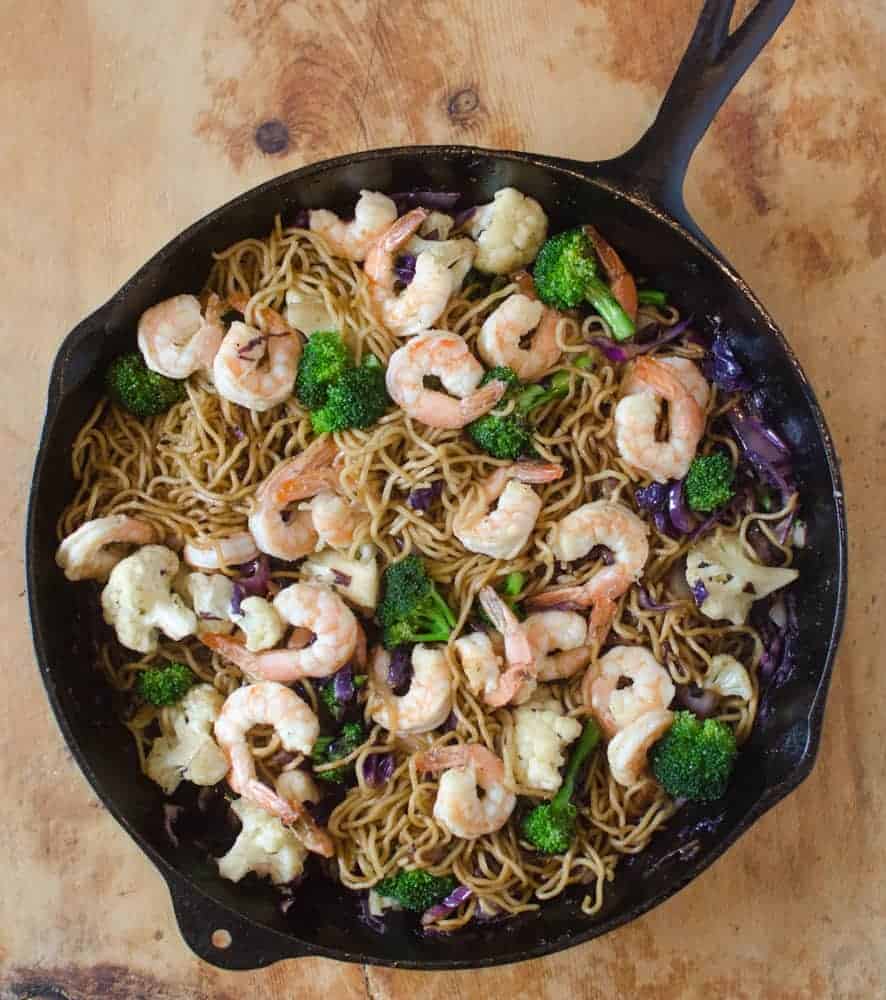 This Shrimp Noodle Stir Fry is full of veggies and done in under 30 minutes making it a perfect weeknight meal!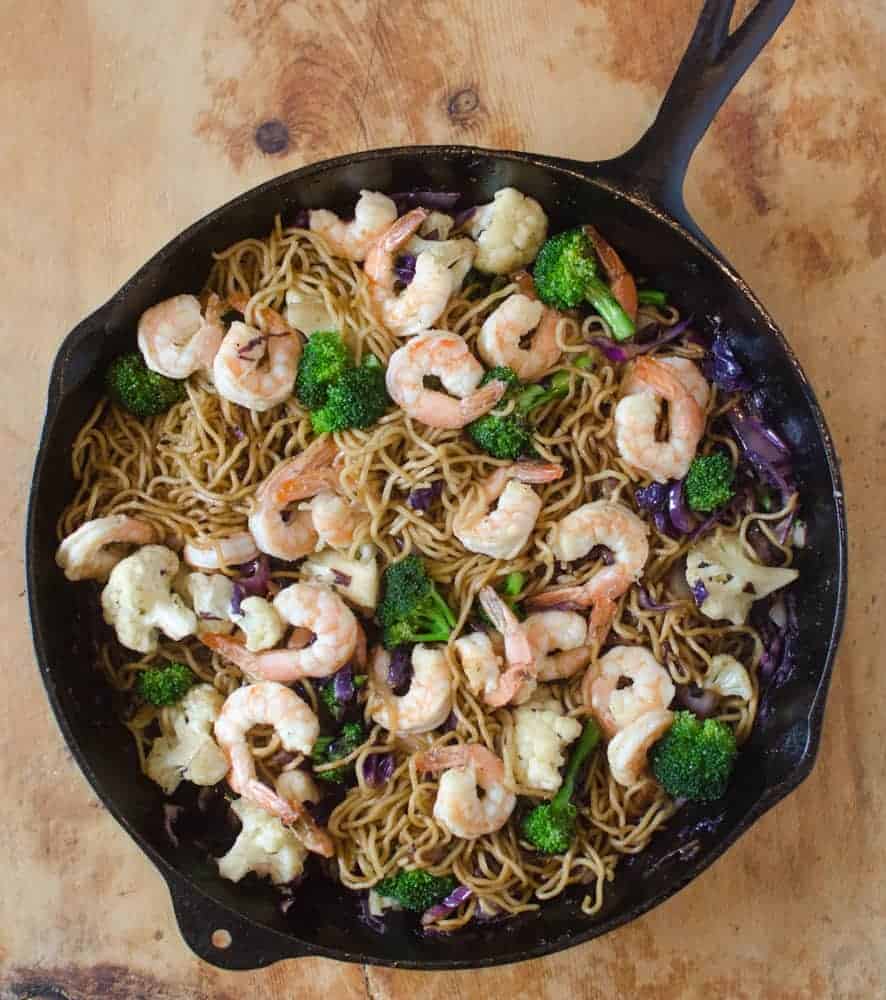 For the past few months, my kids have had a major bee in their bonnets about ramen noodles. On different occasions they tried them at friends' houses and decided that they need those simple little noodles in their life. Ramen is something that I stopped buying years ago when we stopped eating things with MSG in them. When it came to cleaning up our diet, I would generally replace a store-bought item with ingredients I didn't want with a homemade version. That never really happened with ramen though – I just stopped buying it and never made it at home.
When my kids started taking a liking to it, I thought it high time to figure out a simple way for them to get some of those delicious noodles in their lives. A few weeks ago, I was shopping at a larger grocery store in another town and noticed some noodles in the refrigerated section that looked a whole lot like ramen. The noodles were called "yakisoba" noodles and were located near wonton wrappers and salad dressings in the produce section. I grabbed two packages and thought I'd make the kids "ramen" at home. We ended up really liking the simple dish, so I made it a few more times and decided to share it with you all today.
I'm sure that you can buy uncooked Asian noodles, but I don't know much about them. This precooked refrigerated noodle option was nice because it was easy to find and cost less than $2 per package. Plus, it makes this dish very quick and easy to prepare. I didn't use the seasoning package that came with them though because I wasn't sure how it would taste and it had more sugar in it than I wanted. I made this dish with shrimp, but you can substitute just about any protein that you like (chicken, steak, or crispy tofu would all be great). It's seasoned with some simple ginger, garlic, and soy sauce and I added lots of vegetables for good measure. It was delicious and I know your family is going to love it too.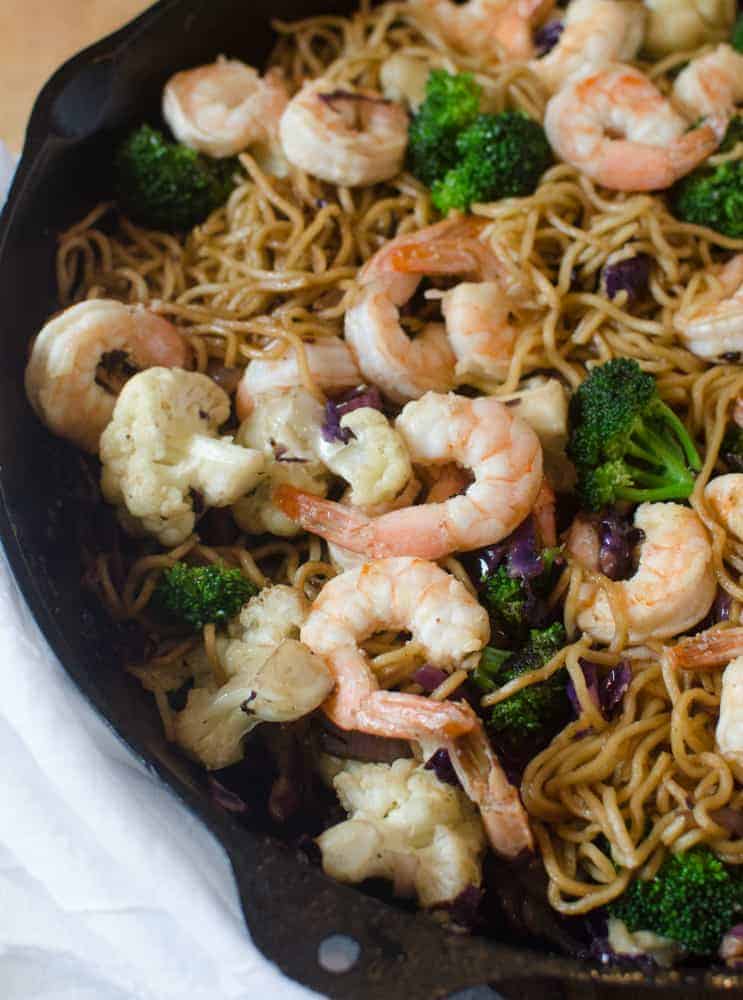 Craving more? Subscribe to Bless this Mess to get new recipes, meal plans, and a newsletter delivered straight to your inbox! If you try this shrimp noodle stir fry, let me know what you think! Leave a comment, pin it, and don't forget to tag a picture #blessthismesseat on Instagram. I love to see your kitchen skills in action!
Print
Shrimp Noodle Stir Fry
---
Author:

Prep Time:

10 mins

Cook Time:

15 mins

Total Time:

25 minutes

Yield:

4-6
Description
This Shrimp Noodle Stir Fry tastes just like the little packets of ramen you get at the grocery store, but without all the artificial ingredients!
---
Ingredients
4 tablespoon olive oil, divided
1 pound shrimp (peeled and deveined)
1 cup broccoli florets
1 cup cauliflower florets
1 cup thinly sliced red cabbage
3-5 cloves garlic, minced
1 tablespoon minced fresh ginger
2 packages refrigerated yakisoba noodles (about a pound total)
1/4 to 1/2 cup soy sauce
---
Instructions
Remove the yakisoba noodles from the package, discard any seasoning packets, and loosen the noodles according to package directions (you can run them under warm water or microwave them).
In a large cast iron skillet or wok, heat 2 tablespoons of the olive oil over medium high heat. Add the shrimp and cook, stirring often, until the shrimp is pink and cooked through, 3-4 minutes. Remove the shrimp from the pan.
Add the rest of the olive oil (2 more tablespoons) to the pan. Add the broccoli and cauliflower and cook until the vegetables are tender crisp, about 5 minutes. Add the red cabbage and cook for 1 minute. Add the garlic and fresh ginger and cook until the garlic is fragrant, about 30 seconds. Add the noodles and 1/4 cup of soy sauce and stir to combine. Add the shrimp. Cook until the shrimp is reheated, about 2 minutes. Add more soy sauce to taste. Serve hot.
I used Fortune Yakisoba Stir Fry Noodles without the flavoring package (in the refrigerated produce section), but I do think you could cook and drain some dry ramen noodles for this dish. Feel free to use any vegetables that you like/have/are in season.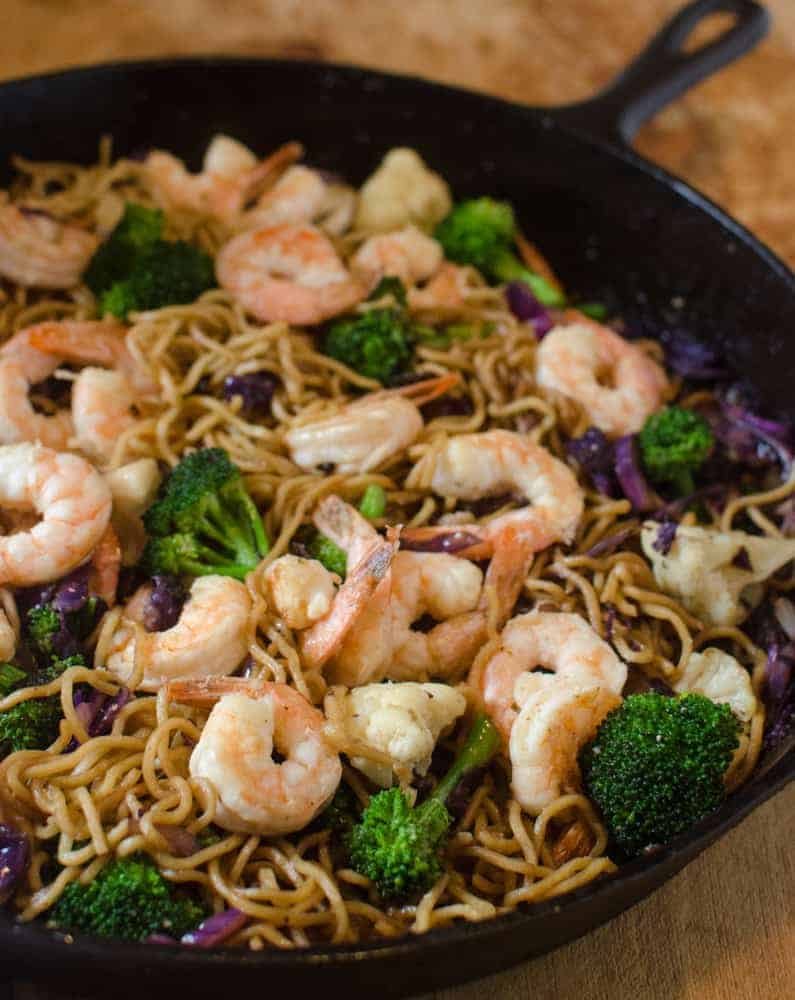 My kids loved the shrimp and they thought the addition of vegetables to their beloved ramen was an abomination. I used the noodles and shrimp as leverage though. I gave them a serving of dinner (all mixed together) and they picked out the noodles and shrimp and then asked for more. I told them that they had to eat what was on their plates before they could have another serving. Feeding little people is no joke, but this little trick has really helped on lots of occasions. If they really want more of what they like, they'll eat what is remaining on their plate (the vegetables in this case). If they really don't want to eat their vegetables, they don't, but forfeit getting more of the things they do want to eat.
This was a simple, quick, one pot meal that came together in less than 30 minutes, which makes it a keeper in this house. If you are on the hunt for other simple fast meals the whole family will love, I'll recommend stove top macaroni and cheese, stove top chicken and rice, and our favorite taco quinoa skillet.
Enjoy this noodle stir fry recipe, from my home to yours. If you have any tips/thoughts on making ramen or other Asian-y noodles at home, I'd love to hear!