The end of the school year is nearing and it's about to get crazy in many households. For this crazy season you need meals that won't take a lot of time to make. Try this super simple Sesame Chicken recipe that is a quick and easy weeknight skillet meal that you will love.
Sesame chicken comes together fast and tastes as good as your favorite Asian take-out restaurant. This skillet meal uses chopped chicken and a simple sauce that is served over rice. This is the perfect recipe for those busy school nights or when you are being a taxi service for your kids.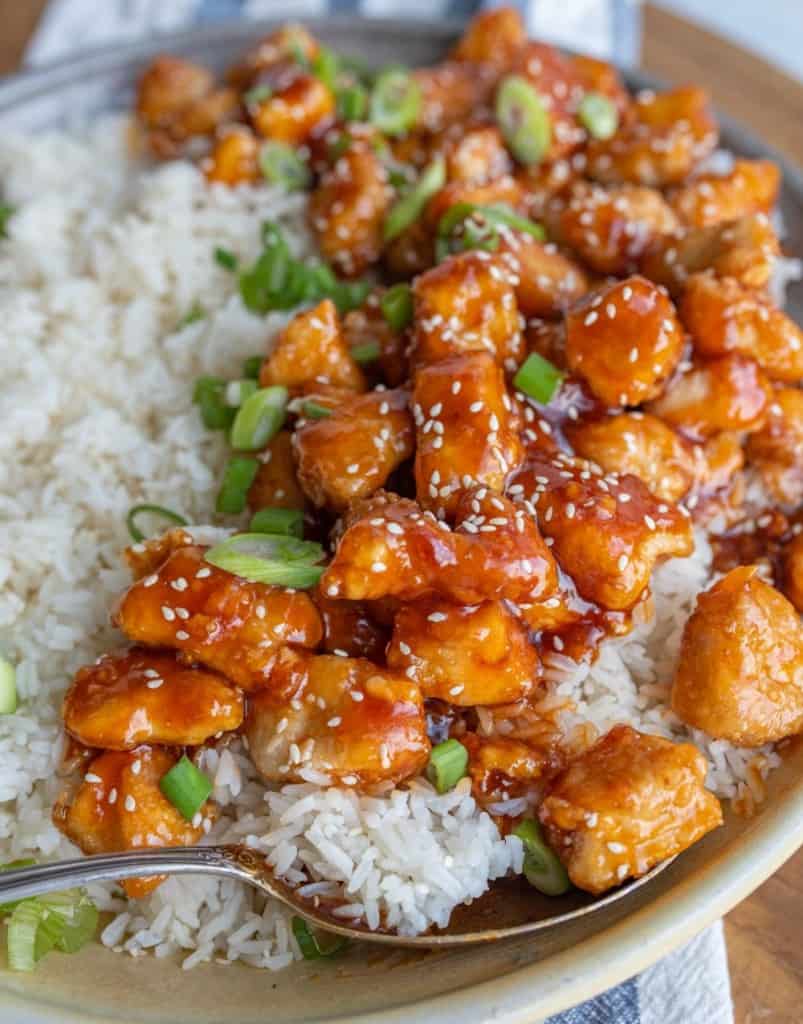 Sesame Chicken
Sesame chicken is a very popular dish that is served in most Asian restaurants. It traditionally uses small pieces of tender chicken and has a sweet, tangy taste that is accompanied with toasted sesame seeds. This homemade version of a classic dish is so tasty and incredibly easy to throw together.
This recipe uses only a few ingredients and can be done in 25 minutes. Clean up is a piece of cake as well because this all comes together in a skillet. Once you make sesame chicken, it will be one of your family's favorites.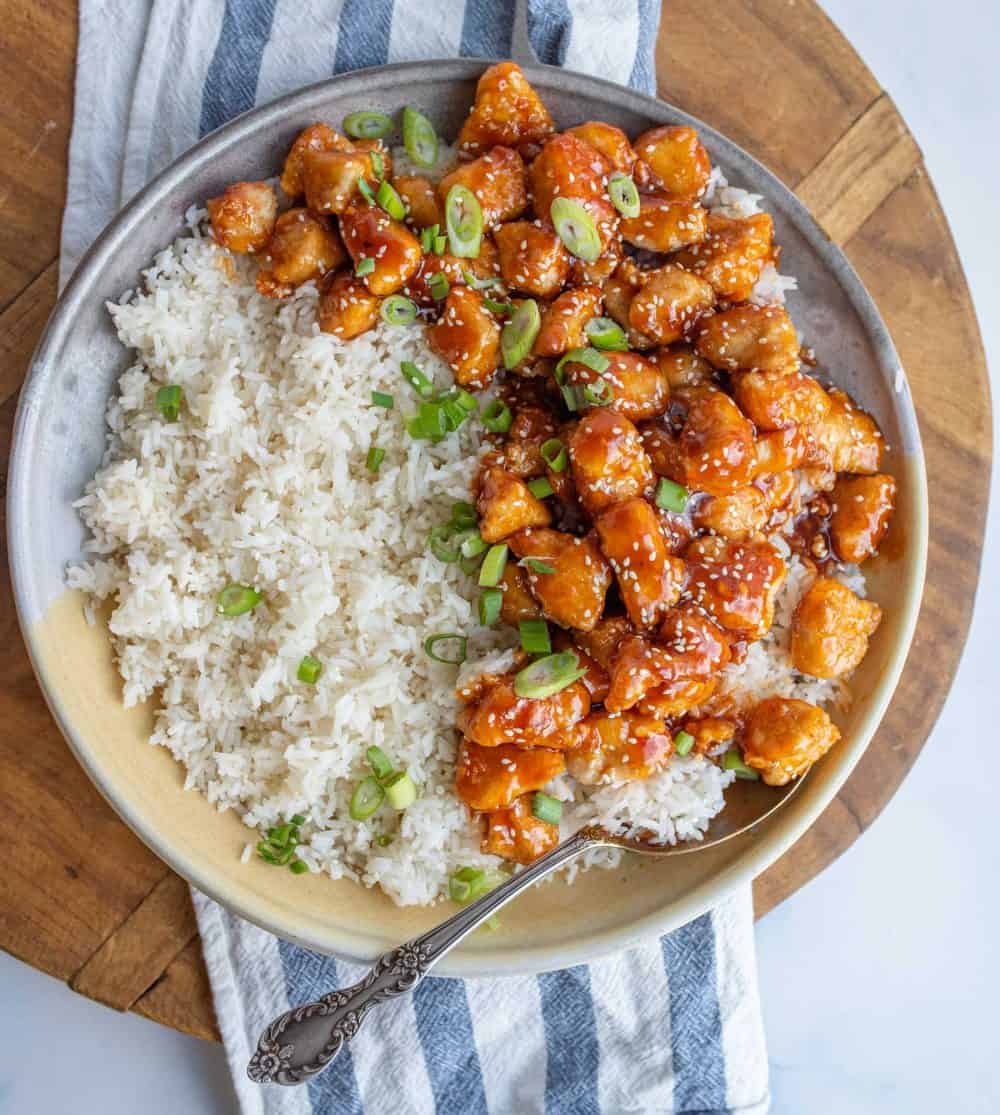 How to Make Sesame Chicken
This simple recipe starts with coating pieces of chicken with cornstarch, pan frying the chicken until it is a crispy golden brown, and then combining with a delicious, sweet and tangy sesame chicken sauce. Sesame chicken is often served with steamed rice or noodles. Some sesame chicken recipes call for dredging the chicken in egg before coating with cornstarch. This recipe saves you time and mess by eliminating the egg coating on the chicken - with no sacrifice to flavor or crispiness! The step-by-step instructions are as follows:
Cut the chicken into 1 to 1 ½ inch bite sized pieces and place them in a large bowl.
Season the chicken with salt and then add cornstarch to the bowl.
Stir the chicken and cornstarch together until the chicken is fully coated.
Heat a large skillet over medium high heat.
Add the oil to the skillet and allow to heat up.
Place the chicken in the skillet, ensuring it's evenly spread out.
Allow the chicken to cook well on one side before turning the pieces or stirring gently. Let the chicken brown before stirring it further.
While the chicken is cooking, combine honey, ketchup, vinegar, soy sauce, toasted sesame oil, and garlic powder in a small bowl, mixing well with a fork.
Once the chicken is fully cooked and browned on all sides, pour the sauce into the skillet.
Lower the heat to medium and let the mixture cook and bubble for a full minute, stirring occasionally.
Remove the skillet from heat.
Serve the chicken over white rice, garnished with sesame seeds and sliced green onions. Enjoy!
Recipe Tips
Making Sesame Chicken at home can be easy and fun if you follow some tips and tricks to achieve that perfect restaurant-quality dish. Here are a few to help you master the art of preparing Sesame Chicken:
Marinate the chicken: For an added depth of flavor, marinate the chicken in a simple mixture of soy sauce, rice vinegar, and a pinch of salt for 15-30 minutes before coating with the cornstarch. This step will tenderize the chicken, enhance its taste, and provide moisture for the cornstarch to adhere to.
Ensure even coating: When coating the chicken pieces, make sure they are well covered with the cornstarch. This will result in a crispy exterior and help the sauce adhere better to the chicken.
Pan fry in batches: Avoid overcrowding the pan while cooking the chicken pieces. If your frying pan/wok is crowding the chicken, cook in smaller batches to maintain the oil temperature and to ensure even cooking.
Customize the sesame chicken sauce: Adjust the sweetness and tanginess of the sauce according to your preference by altering the amounts of honey and vinegar. Substituting rice vinegar for the white vinegar will result in more sweetness and less tanginess. Substituting low sodium soy sauce will reduce the saltiness of the dish. You can also add a pinch of red pepper flakes or a splash of hot sauce for some heat.
Thicken the sauce: If you prefer a little thicker sauce, or you have added extra liquid to your sauce you can thicken the sauce by allowing it to cook a little longer with the chicken until it reaches your desired consistency, but remember that it will thicken further as it cools.
Add vegetables: Boost the nutritional value and color of your Sesame Chicken by adding vegetables like bell peppers, broccoli, or snow peas. You can either stir-fry them separately and serve them alongside the chicken, or add them to the saucepan in the last few minutes of cooking the sauce to ensure they remain crisp and vibrant.
Toast the sesame seeds: Enhance the nutty flavor of sesame seeds by toasting them lightly in a dry skillet over medium-low heat before garnishing the dish. Keep a close eye on them and stir frequently, as they can burn quickly.
Serve immediately: For the best taste and texture, serve Sesame Chicken immediately after cooking. The crispy coating tends to soften over time, especially when mixed with the sauce.
Reheating leftovers: If you have leftovers, reheat them in an oven or air fryer to restore some of the crispiness. Microwaving is less ideal, as it may result in a soggier texture.
What cut of chicken should I use for sesame chicken?
You can either use chicken breasts or chicken thighs. Chicken thighs give the dish a little more flavor in my opinion but either will turn out terrific.
Is sesame chicken spicy?
This recipe for sesame chicken has a sweeter more tangy taste than spicy. It's actually not spicy at all so if you'd like to add a little heat try adding a tablespoon or 2 or Sriracha hot sauce to the sauce.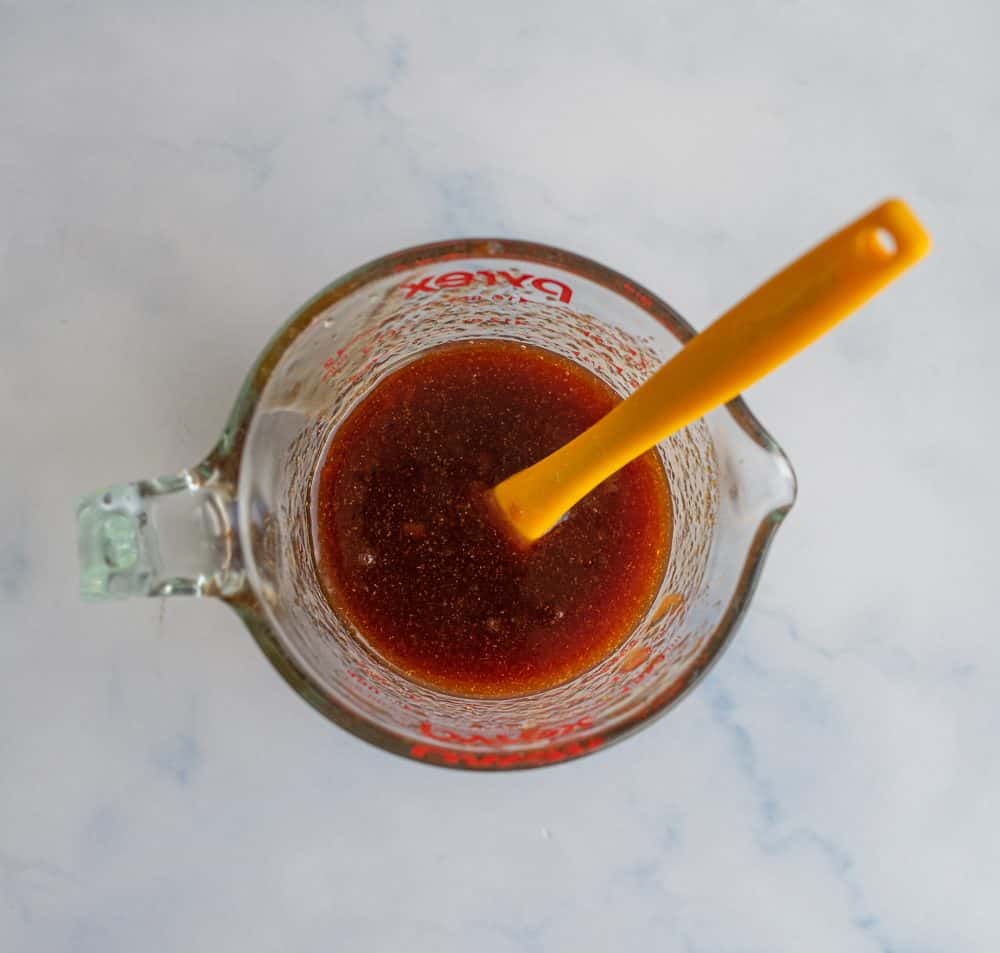 What should I serve with sesame chicken?
The most popular way to serve sesame chicken is over rice. It would also be good served over zucchini noodles. I like to add a steamed vegetable as a side too. Steamed broccoli with sesame chicken is a really yummy combination.
Can I make the sauce ahead of time?
Yes! Making the sauce ahead of time would make this meal go even quicker-if that's possible! I suggest only making the sauce only 2-3 days in advance of the day you plan on serving it.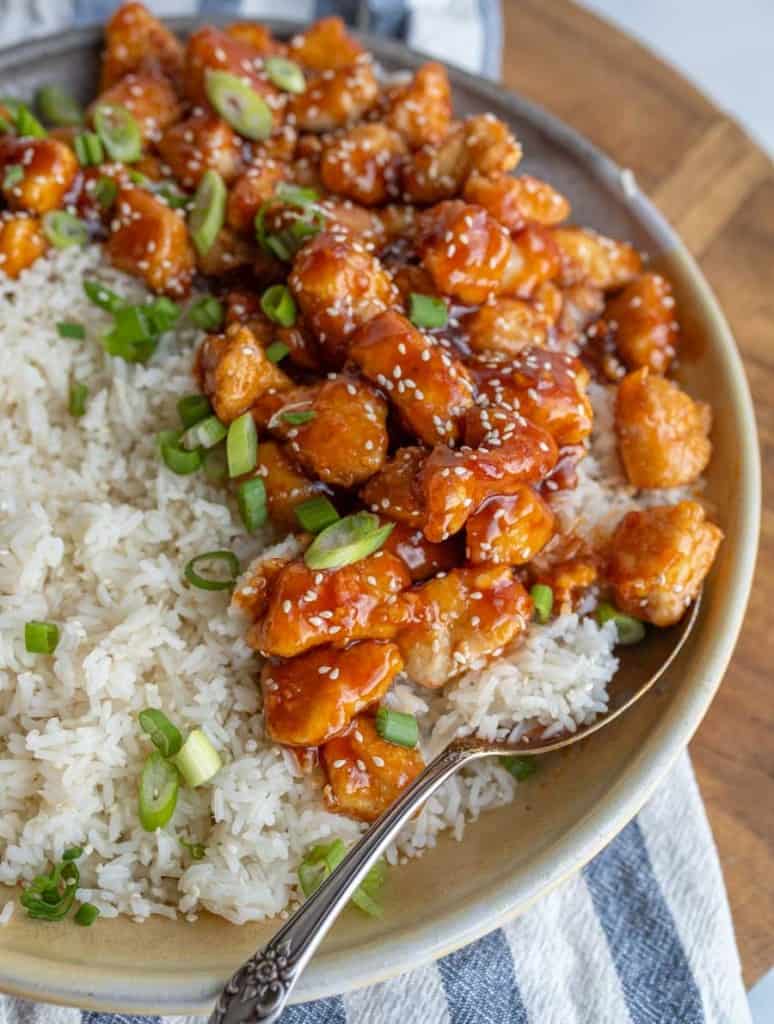 More easy chicken dinner recipes:
If you've tried this easy homemade sesame chicken recipe or any other recipe on Bless this Mess, then don't forget to rate the recipe and leave me a comment below! I would love to hear about your experience making it. And if you snapped some pictures of it, share it with me on Instagram so I can repost on my stories AND add your photo to your comment so that other can see your creation.
📖 Recipe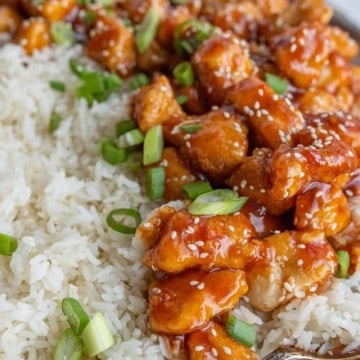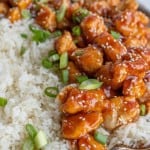 Print Recipe
Easy Sesame Chicken
This quick and easy sesame chicken recipe is chicken pieces cooked in cornstarch and a simple sauce made out of ketchup, honey, and a few other simple ingredients over the chicken. My whole family loves this meal.
Ingredients
2

lb

boneless skinless chicken breast

1

teaspoon

salt

½

cup

cornstarch

4

tablespoon

oil

such as avacado or canola

½

cup

honey

4

tablespoon

ketchup

2

tablespoon

white vinegar

4

tablespoon

soy sauce

1

tablespoon

sesame oil

1

teaspoon

garlic powder

3-4

cup

cooked white rice

for serving

2

tablespoon

sliced green onions
Instructions
Cut the chicken into 1 to 1 ½ inch pieces and place in a large bowl.

Sprinkle the salt over the chicken and then add the cornstarch to the bowl.

Use a spoon to stir the chicken into the cornstarch and stir until the chicken is completely coated.

Heat a large skillet over medium to medium-high heat.

Add the oil to the skillet and let it heat a few minutes.

Add the chicken to the skillet and adjust it so that it's in an even layer.

Let the chicken cook well on one side before turning the pieces over or by lightly stirring it. It's ok to let it brown up though before stirring, so don't mess with it too much.

While the chicken is cooking add the honey, ketchup, vinegar, soy sauce, toasted sesame oil, and garlic powder to a small bowl, stir with a fork to combine well.

When the chicken is fully cooked and browned on all sides, pour the sauce into the pan.

Reduce the heat to medium and allow the mixture to cook and bubble for 1 full minute, stirring occasionally.

Serve the chicken over the white rice and garnish with the sesame seeds and the green onion. Serve right away.
Notes
We totally love this recipe! You can serve it over brown rice if you prefer.
You can use a soy sauce substitute if you'd like to make this gluten free, no issue there (though you might need to add a little more salt, to taste, to accommodate).
Nutrition
Calories:
525
kcal
|
Carbohydrates:
59
g
|
Protein:
36
g
|
Fat:
16
g
|
Saturated Fat:
2
g
|
Polyunsaturated Fat:
4
g
|
Monounsaturated Fat:
8
g
|
Trans Fat:
0.1
g
|
Cholesterol:
97
mg
|
Sodium:
1328
mg
|
Potassium:
667
mg
|
Fiber:
1
g
|
Sugar:
26
g
|
Vitamin A:
117
IU
|
Vitamin C:
3
mg
|
Calcium:
24
mg
|
Iron:
1
mg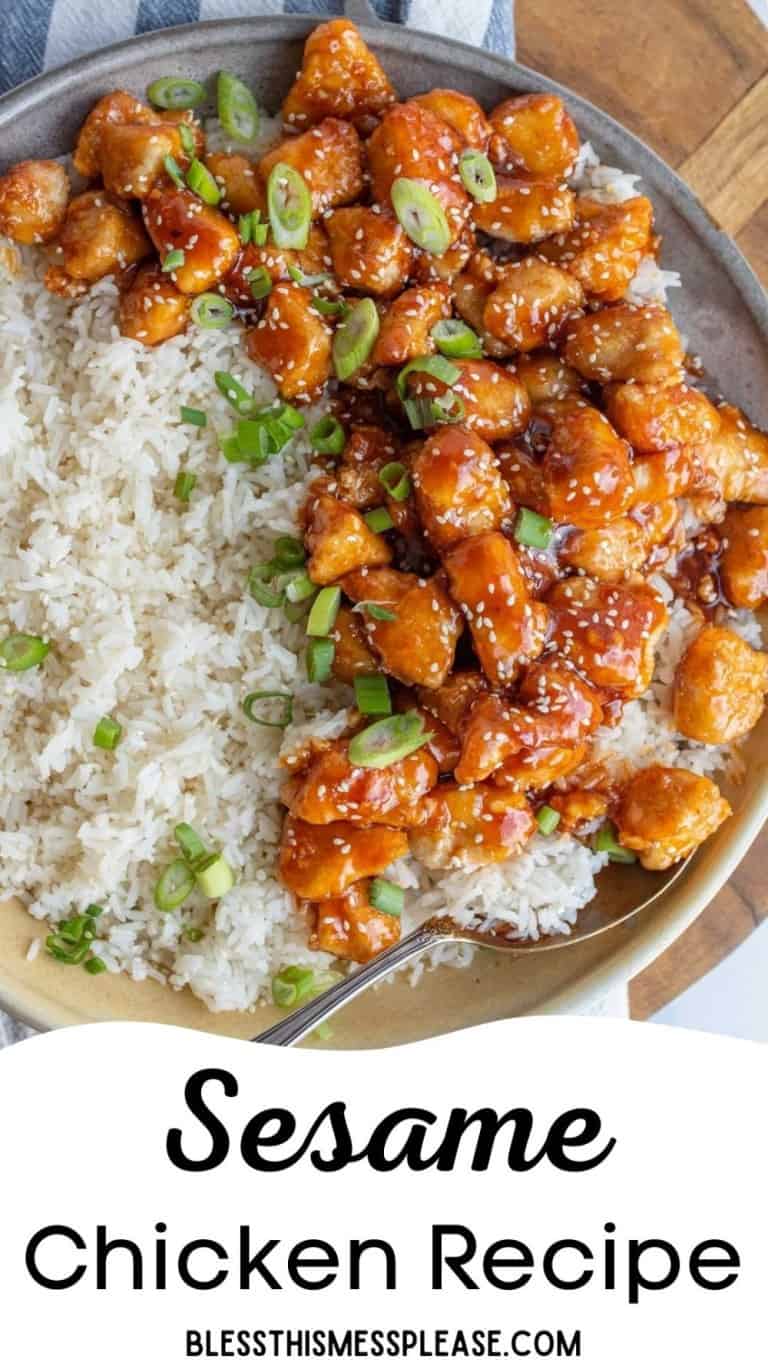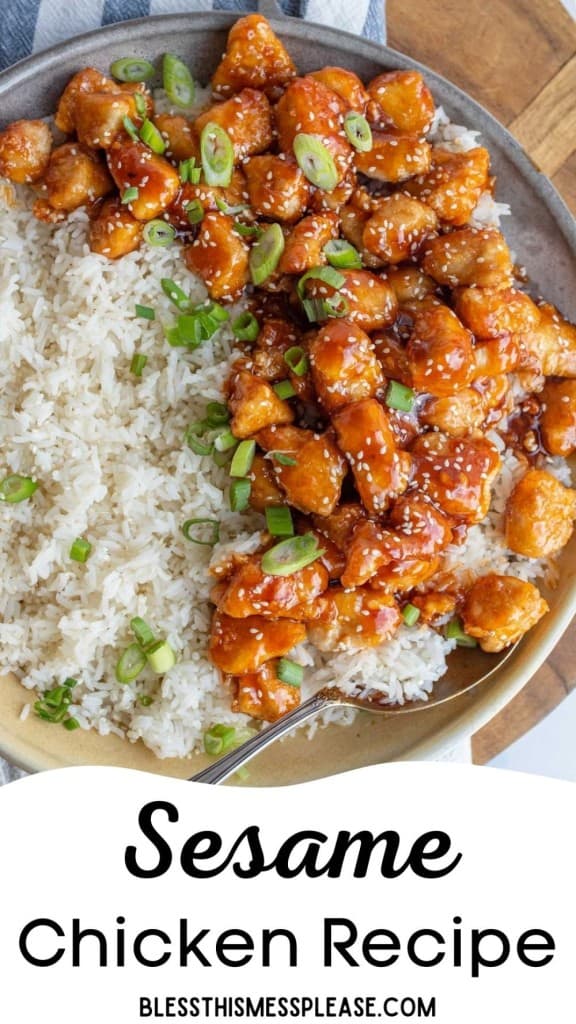 Sesame chicken will rival your favorite Asian restaurant but this homemade version will be less expensive and without a delivery fee. I know you will enjoy this quick and easy weeknight meal that is full of flavor.