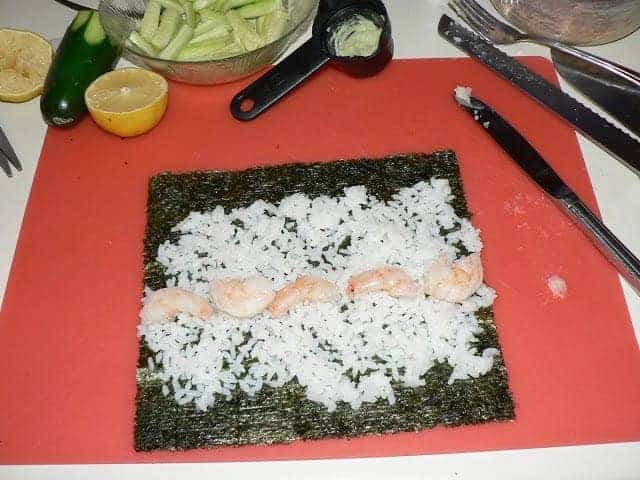 I've been craving Asian cuisine like you wouldn't believe. I thought I would try my hand at sushi because it sounded so very good to me.  I've only had sushi twice, so I feel like I don't have much of an opinion on what is good sushi and what isn't.  That being said, there were plain jane California rolls with shrimp instead of crab, and I really liked them. Try making it sometime, it was a lot easier than I thought it would be and they turned out just like any other sushi I've had.  Plus, the seaweed is super good for you and how else are you going to eat it? 
Shrimp "California" Roll Sushi
1 cup uncooked sushi rice (bulk bin at Sunflower market)
8 raw shrimp, shelled and deveined
1 T. butter
1 clove garlic, crushed
1 cucumber, cut into strips
1 avocado, sliced thin
5 sheets roasted seaweed papers (Asian sections of Sunflower market)
soy sauce and wasabi for dipping
Place uncooked rice and 2 cups of water in rice cooker to cook.  Sushi rice is a short grain, very sticky rice.  While rice is cooking place the butter and garlic in small sauce pan over medium heat.  Add the shrimp when the garlic starts to smell.  Cook the shrimp until they are pink.  Remove from heat and cut all of the shrimp in half.  Place a seaweed sheet on you working area, spread 1/5 the rice on the sheet, add shrimp, avocado, and cucumber in a row.  Roll everything up and cut into bit size pieces.  Repeat with remaining ingredients.  Serve with soy sauce and wasabi.