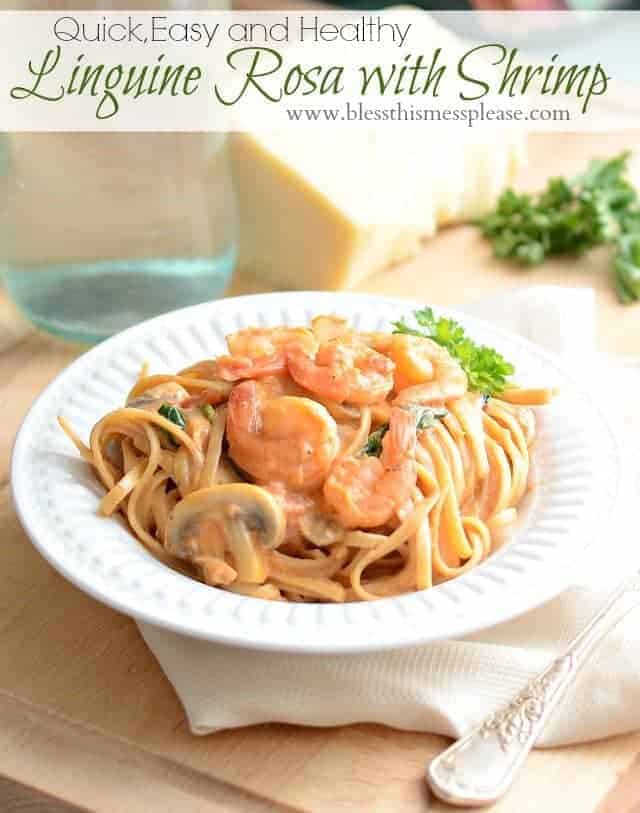 Make. This. Recipe.
Is that enough text for this post because it's all that really needs to be said…
This recipe's origins come from Cooking with Greek Yogurt
 by Cassie Johnston (Wholefully). I started with the idea in the book (which is fabulous by the way) and made it into my own.
Linguine Rosa with Shrimp was a huge hit at my house! This recipe is healthy (full of protein, whole grains, veggies, and the creaminess is from Greek yogurt), it comes together in about 30 minutes, and it tastes amazing. My husband was so sad when the leftovers were gone the next day at lunch. Fast, healthy, and amazingly tasty, now you just can't beat that!
If you are trying to eat a little more healthy and clean then this is a great place to start because it's just an all around great recipe. And it's fancy enough that you could even serve this on a special occasion or to guests. Valentine's Day is just around the corner.
Hey, it's Thursday! That's a good enough reason in my book to make this recipe. Enjoy!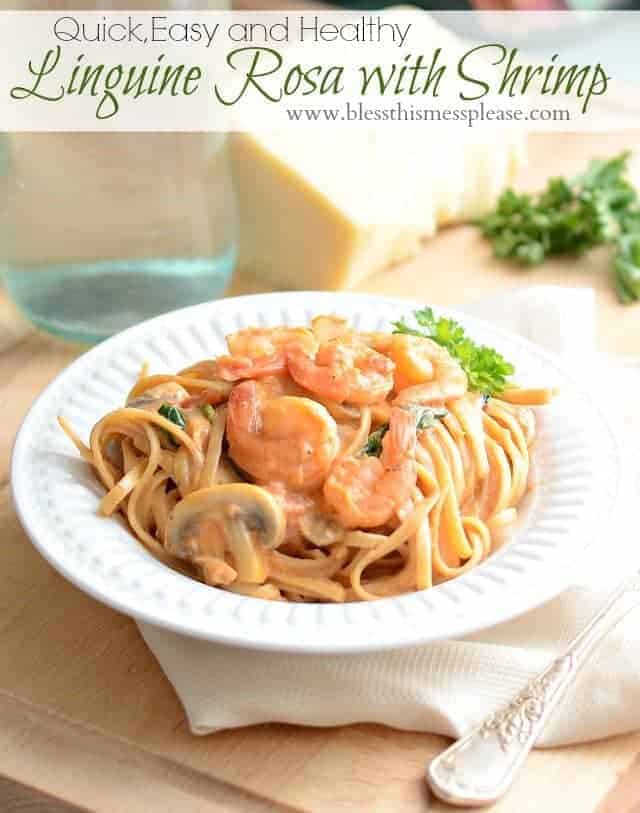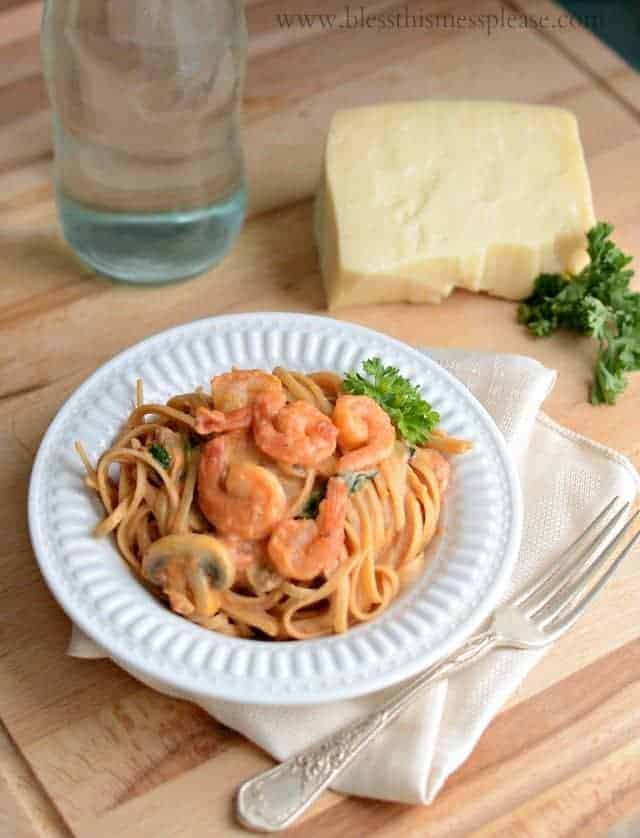 Print
Linguine Rosa with Shrimp
---
Yield:

Serves 6
Ingredients
12 ounces whole wheat Linguine
1 tablespoon olive oil
4 cloves garlic, minced
1 pinch crushed red pepper flakes
8 ounces button mushrooms, sliced
1 15-ounce can petite diced tomatoes, with the juice
4 cups fresh baby spinach
10 ounces medium raw shrimp, peeled and deveined
1/2 cup marinara sauce
2/3 cup plain Greek yogurt
1/4 cup grated parmesan cheese
---
Instructions
Cook the pasta according to package directions, cooking it for the least amount of time recommended. You want it to be al'dente. When the pasta is done cooking drain it and set it aside.
Heat a large skillet over medium heat. Add the olive oil and the garlic and cook until the garlic starts to smell good, about 1 minutes.
Add the red pepper flakes, mushrooms, and diced tomatoes to the skillet. Cook until the mushrooms start to release their moisture, about 5 minutes. Add the baby spinach and stir to combine. Bring the mixture to a light simmer and add the shrimp. Cooke for 3-4 minutes, stirring often, until the shrimp is cooked through. It'll turn a creamy whitish pink when cooked.
Remove the pan from the heat and and add the marinara and then the Greek yogurt, stir to combine. Add the cooked pasta and stir to combine. The hot sauce will reheat the pasta, but if you need to put it back on the burner, over medium-low heat, for a minute or two to reheat the pasta then you can.
Serve the dish right away with the additional Parmesan on top.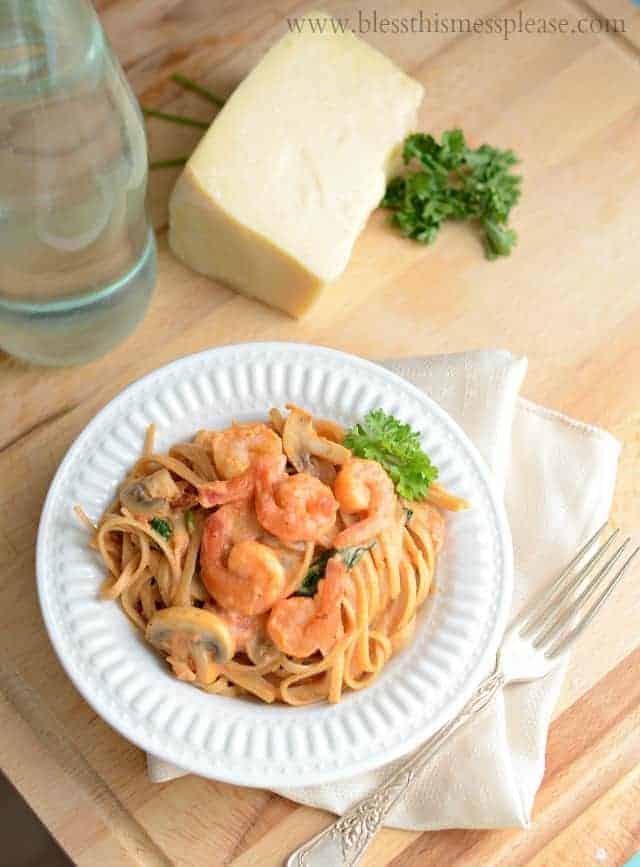 And if you are looking for more delicious pasta recipes, I recommend these:
Double Pea Double Cream Pasta with Bacon
Garden Vegetable Pasta
Butternut Squash Ravioli Lasagna with Leeks and Baby Portabello Mushrooms from Cafe Johnsonia