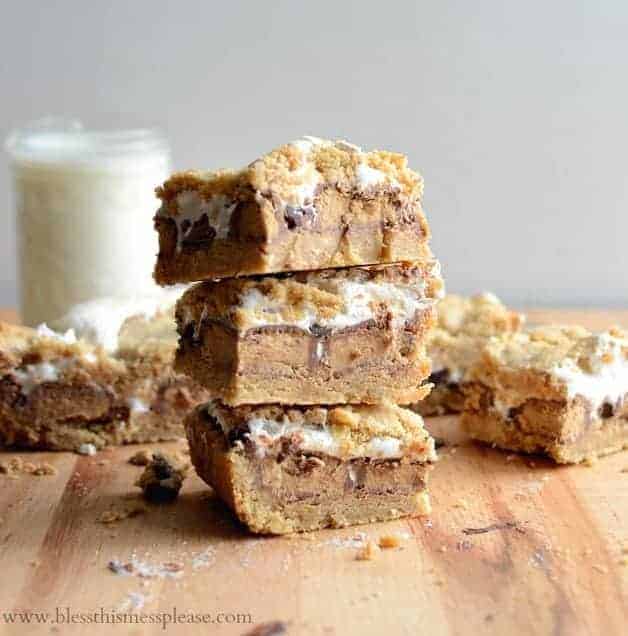 You guys!
Today I have two really awesome things for you. The first is a recipe for Reese's Stuffed Peanut Butter S'mores Bars and the second is a chance to win $500 CASH (paid to you via PayPal)!!!
This recipe is everything you've ever wanted from a cookie bar and more. I was dreaming of s'mores and peanut butter the other day and then I found this s'mores bar recipes from Pinch of Yum. After a little adapting and tweaking I dare say I invented the most delicious dessert ever. You seriously can't go wrong with a peanut buttery graham cracker infused cookie-like crust, Reese's cups, chocolate, and marshmallow all melted together into one incredible dessert. Make this today!
And for the cash… just enter below.
I really REALLY like to host giveaways for you all. It's something that I can do to say thank you and to share some of my blogging perks with you. This giveaway is one that I paid to participate in (and so did the other bloggers) and the money was pooled into one big prize. I don't know they other blogger participating because I used a giveaway coordinating website/person to do this. I like to idea of a big prize but I'm not sure how I feel about not knowing who's participating. So let's give it a try together and see how it goes this time around. If it works out great then I may do it again, and if we don't like it I won't. You let me know!
So have a glorious Monday filled with one rich and gooey dessert and hopefully a whole lot of cash!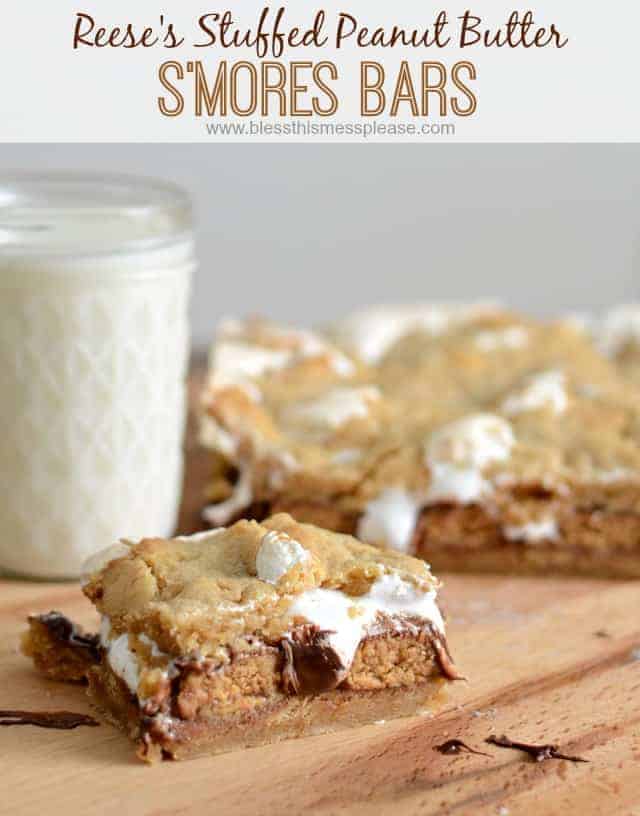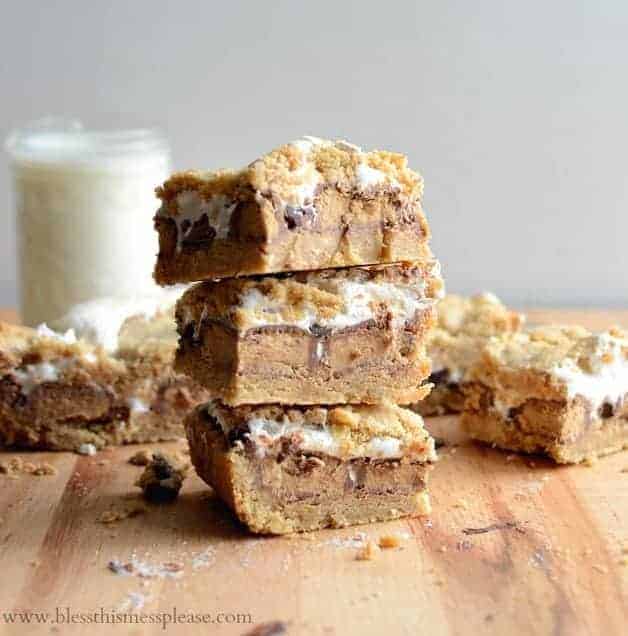 Print
Reese's Stuffed Peanut Butter Smore's Bars
---
Yield:

16 bars
Description
I actually used Reese's eggs and they were fabulous and very full of peanut butter. I think just about any type of Reese's cup would work for this recipe!
---
Ingredients
For the Crust
1/2 cup butter, softened
1/4 cup packed brown sugar
1/2 cup sugar
1 egg
1 teaspoon vanilla
11/4 cups flour
1 teaspoon baking powder
1/4 teaspoon salt
6 graham crackers, crushed into crumbs
9-12 regular sized Reese's Cups (or the equivalent if using fun size)
2/3 cup chocolate chips (semi-sweet or milk)
1 7-ounce container Marshmallow Creme
---
Instructions
Preheat the oven to 350 degrees. Line an 9-inch square baking pan with foil (let the foil hang over all the edges so that you can use it to pull the bars out of the pan later) and grease the foil well.
To make the dough combine the butter and sugar in a large bowl and beat until light in color and fluffy, about 3 minutes. Add the egg and vanilla and beat to combine. Add the flour and stir until well combined. Stir in the graham cracker crumbs.
Press 2/3 of the dough into the bottom of the baking dish. unwrap and place Reese's Cups evenly over the dough, sprinkle the chocolate chips evenly over the Reese's (letting them fall into the cracks), and then carefully spread the whole container of marshmallow creme over the chocolate. Then gently press the remaining dough evenly over the marshmallow creme.
Bake for 25 minutes until the crust starts to turn golden brown. Remove from the oven and allow the bars to cook for an hour in the pan. After an hour use the edges of the foil to remove the bars from the pan. Let the bars cool on a wire rack (in the foil) out of the pan until set (this will take a couple of hours).
To cut the bars use a sharp knife and clean it in between each cut. These are sticky! I had to stick my bars in the fridge for an hour before cutting.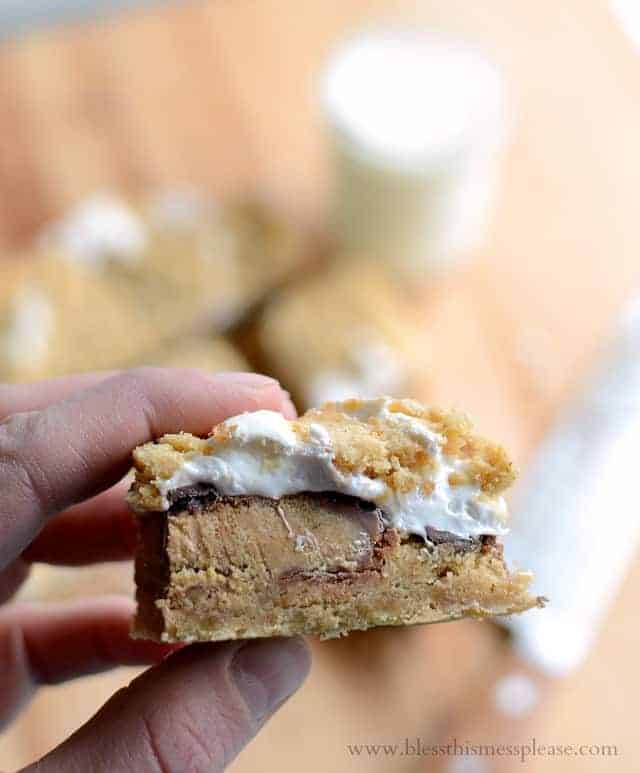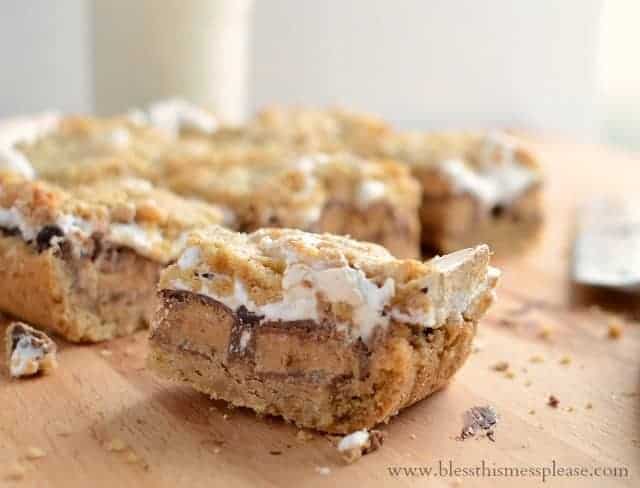 And here are the details on the cash giveaway. Good luck!
Enter to win $500 cash via PayPal.
Complete the tasks below to earn entries into this giveaway.
Refer your friends using your unique link to earn even more chances to win.
Open Worldwide.
Ends at 11:59pm EDT on March 23rd, 2014.
This giveaway was coordinated by Giveaway Promote.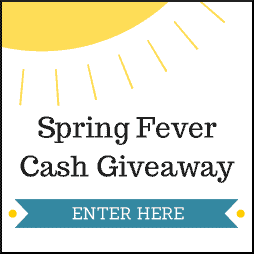 Thanks so much for stopping in. You all are the best.