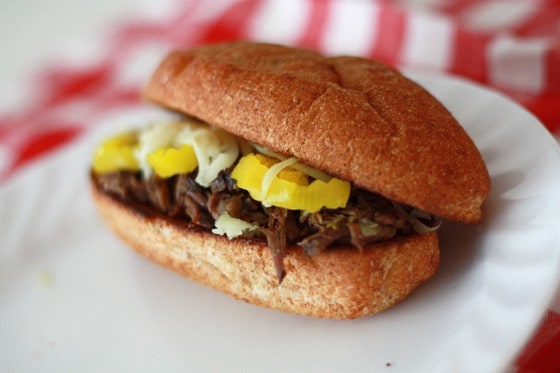 Emily from One Lovely Life is here sharing a perfect summer sandwich today. I love that this is made in the crockpot! No need to turn on the oven and it practically makes itself. Summer sides are easy too… corn on the cob, quick refrigerator pickles, or watermelon are perfect for this quick and easy meal.
Take it away Emily!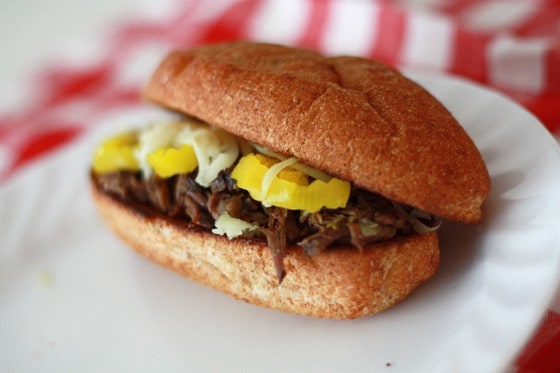 Summer is here and for some reason, even though school is out, I find that there's so much life to live that the last thing I want to do some days is think about dinner, or heat up my kitchen. Enter: my slow cooker.
Am I the only one who usually associates my slow cooker with fall and winter? I love the hearty roasts and stews that my slow cooker can turn out when the weather gets colder. But I LOVE using my slow cooker in the summer. It doesn't heat up my kitchen, and I can forget about being in the kitchen when I'm too busy swimming, playing outside, and soaking up the summer.
These peperoncini beef sandwiches are one of our most favorite slow cooker meals. Just a very few ingredients, minimal time and effort, and perfectly tender beef that makes for some scrumptious summer sandwiches. The BEST way to eat them is to split your bun open, pile half with all that delicious tender beef and a few slices or shreds of a good white cheese (aged white cheddar is divine, but provolone or mozzarella are also mouth-watering).
One last note: Be careful when buying the peperoncinis. You are not looking for Vlassic pickled banana peppers. I typically buy Mezzetta brand (which I've been able to find in almost every grocery store I've ever been in). Just look for the word peperoncini, and check the package to see if there's a heat gauge. I saw some listed as "extra hot" and some listed as "mild" that looked identical. Make sure you get what you are looking for, whatever your heat tolerance.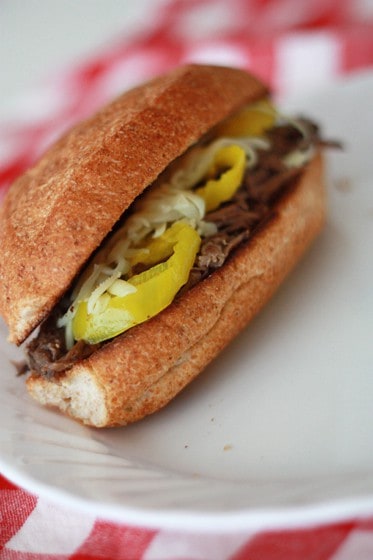 Print
Peperoncini Beef Sandwiches
---
Scale
Ingredients
2.5

lbs. beef roast (buy whatever's on sale–chuck, rump roast, etc)

1/2

(or more) of a 16oz peperoncinis (deli sliced or whole)

1 cup

beef broth
salt and pepper, to taste
Sandwich Buns
Your favorite white cheese–mozzarella, provolone, swiss, or white cheddar
optional: extra peperoncinis for serving
---
Instructions
Trim any visible fat from your roast. Place in the bottom of your slow cooker. Sprinkle with salt and pepper. Place in half a jar worth of peppers (don't include all the juice, just pick out the peppers). If you want a bit more heat, add a few tablespoons of the pepper juice to the crock pot. Pour in beef broth. Cook on low 7-8 hours.
Shred beef, removing any fatty bits. Slice peppers and mix into beef.
For best serving results, toast buns, fill with beef/pepper mixture, and top with cheese and a few extra peperoncinis. If necessary, pop the sandwiches in the oven for a minute or two to melt the cheese. Savor the goodness.
---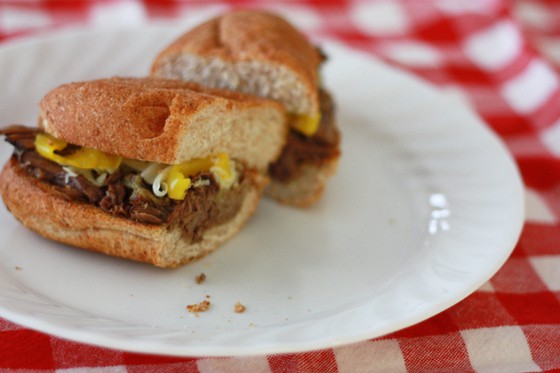 Doesn't that look great! Thanks for sharing Emily.
If you are new to her blog, you should check it out. My favorite posts from One Lovely Life lately are Emily's Summer Reading Recommendations (for both Mom and Toddler!), an amazing looking Berry Salad with honey, lime, and mint, and her Island Rice Bowls with Coconut-Ginger Rice are on my meal plan for next week.
Have a great week friends!