After a wonderful blogcation I'm back! We had a fun and family filled weekend that was just what I needed. I spent time with the kids walking everywhere, exploring spring flowers, digging tunnels at White Sands (the natural sand box that is practically in my mother-in-law's backyard), and reading a few good books. April is full of traveling, packing, and moving and this was just the calm I needed before the crazy.
Since I'm still feeling a bit like I'm on vacation I thought I'd keep things simple and light with my favorite peanut butter cookie recipe today. It's a keeper. These cookies turn out soft and chewy with just the right amount of peanut butter flavor. The secret to soft and chewy peanut butter cookies is just a bit of corn syrup. I know corn syrup isn't a super natural product, but I have it on hand to make our very favorite white cloud icing. Just a little goes a long ways in the texture department for this recipe, so it's worth using a bit in my opinion.
Hope you all can take a slow day, bake some cookies, listen to the spring bird chirps, and enjoy this perfect weather! Thanks so much for stopping in!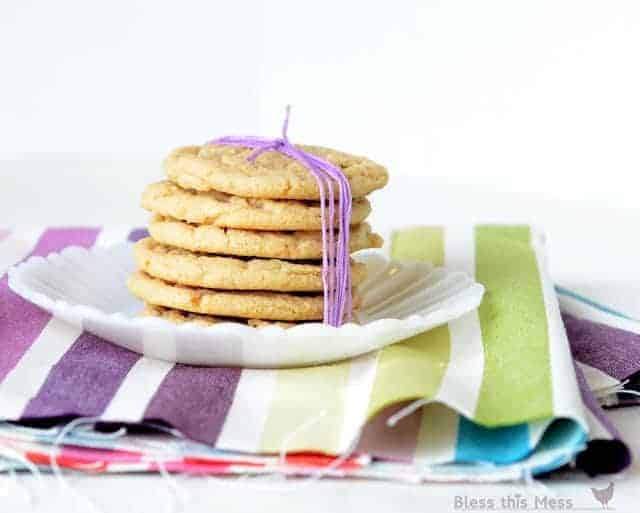 Print
Soft and Chewy Peanut Butter Cookies
---
Ingredients
1/2 cup butter, softened
1 cup peanut butter
1 cup packed brown sugar
1/2 cup white sugar
2 eggs
2 T. light corn syrup
2 T. milk
2 t. vanilla
3 to 3 1/4 cups whitey, white flour (all-purpose)
1 t. baking soda
1/2 t. salt
---
Instructions
Preheat oven to 350 degrees. Using a Kitchen Aid with the cookie paddle attached cream the butter, peanut butter, and sugar together until light and fluffy, about 3 minutes. Add the eggs one at a time and beat to incorporate after each one. Add the corn syrup, milk and vanilla and mix until light and fluffy, around 30 seconds. Add the flour, soda, and salt and mix until well combined. You will know the cookies have enough flour when you can touch the dough and roll it in your hands without it sticking to you. It shouldn't be sticky.
Roll a small ping-pong sized ball of cookie dough in your hands. Place on ungreased cookie sheet and lightly press with a fork twice, making a criss-cross shape on the top. Don't be tempted to flatten them too much, they will spread nicely since you used butter and not margarine. The flattened cookie should be about a half inch thick. Bake for 9-11 minutes (I baked them 10 minutes even). Allow to cool on the pan for a minute or two before moving them to a wire rack to cool.
Store in an air-tight container once cooled so that you don't stare at them all day and eat one every time you walk by.
And if you are in the mood, here are a few other peanut butter cookies recipes that I thought looked amazing:
Peanut Butter Chocolate Chip Cookies from Completely Delicious
Peanut Butter Bliss Bars from In Katrina's Kitchen
PB&J Oatmeal Cookies from Barbara Bakes
Have a great Monday.