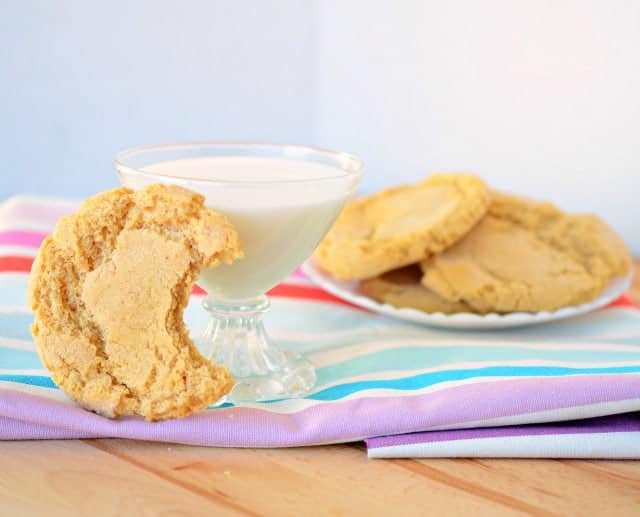 Ahhh, Monday. My house is totally trashed this morning and I'm just not in the mood to clean it again. I take a little break from my usual cleaning on Sunday and I always seem to pay for it the next day. So while I ignore the mess why don't we talk cookies.
Gluten and grain free eating are getting more and more common everyday. I would dare say it's starting to become trendy even. Whether you are eating grain or gluten free for medical reason, general health, or you have no idea what I'm talking about, this recipe is for you. I discovered flourless peanut butter cookies a few years ago and would often make them for my friend Chelise who can't eat gluten. My father-in-law is on the gluten-free bandwagon too and so now I make these for him. The great thing about this recipe is that they don't taste "gluten free". I'll make a batch and everyone can enjoy them. You really can't go wrong with peanut butter and sugar and the texture is just what a cookie should be.
You might switch to this flourless peanut butter cookie recipe full time once you try them. It's a keeper.
Print
Flourless Peanut Butter Cookies
---
Yield:

Make 18 cookies
Ingredients
1 cup creamy peanut butter
3/4 cup sugar
1 large egg
1/2 teaspoon baking soda
1/4 teaspoon salt
1 teaspoon vanilla
Coarse sugar for rolling
---
Instructions
Preheat the oven to 350 degrees and line a baking sheet with parchment paper or a silicon baking mat.
In a medium bowl mix the peanut butter and the sugar together until the mixture is smooth and lightly fluffy, about 2 minutes. Add the egg and mix to combine. Add the baking soda, salt, and vanilla and mix to combine.
Roll 1 tablespoon of dough in your hand to make a ball and then roll the ball in coarse sugar before placing the ball of dough on a baking sheet.
If you want a chewier cookie bake for 10 minutes and let the cookies cool on the baking sheet for 5 minutes before removing. If you'd like a crunchier cookie bake for 12 to 13 minutes.
Recipe adapted from Martha Stewart.com
Thanks for stopping in!
With Valentine's Day coming up you may be looking for some other gluten free or flourless dessert ideas- these are a good place to start:
Flourless Chocolate Cake from Martha Stewart
Gluten free Red Velvet Cake from King Arthur Flour
Gluten free brownies from Beloved Green (no fancy flours here, just corn starch!)
Chocolate covered strawberries from The Wanna Be Chef