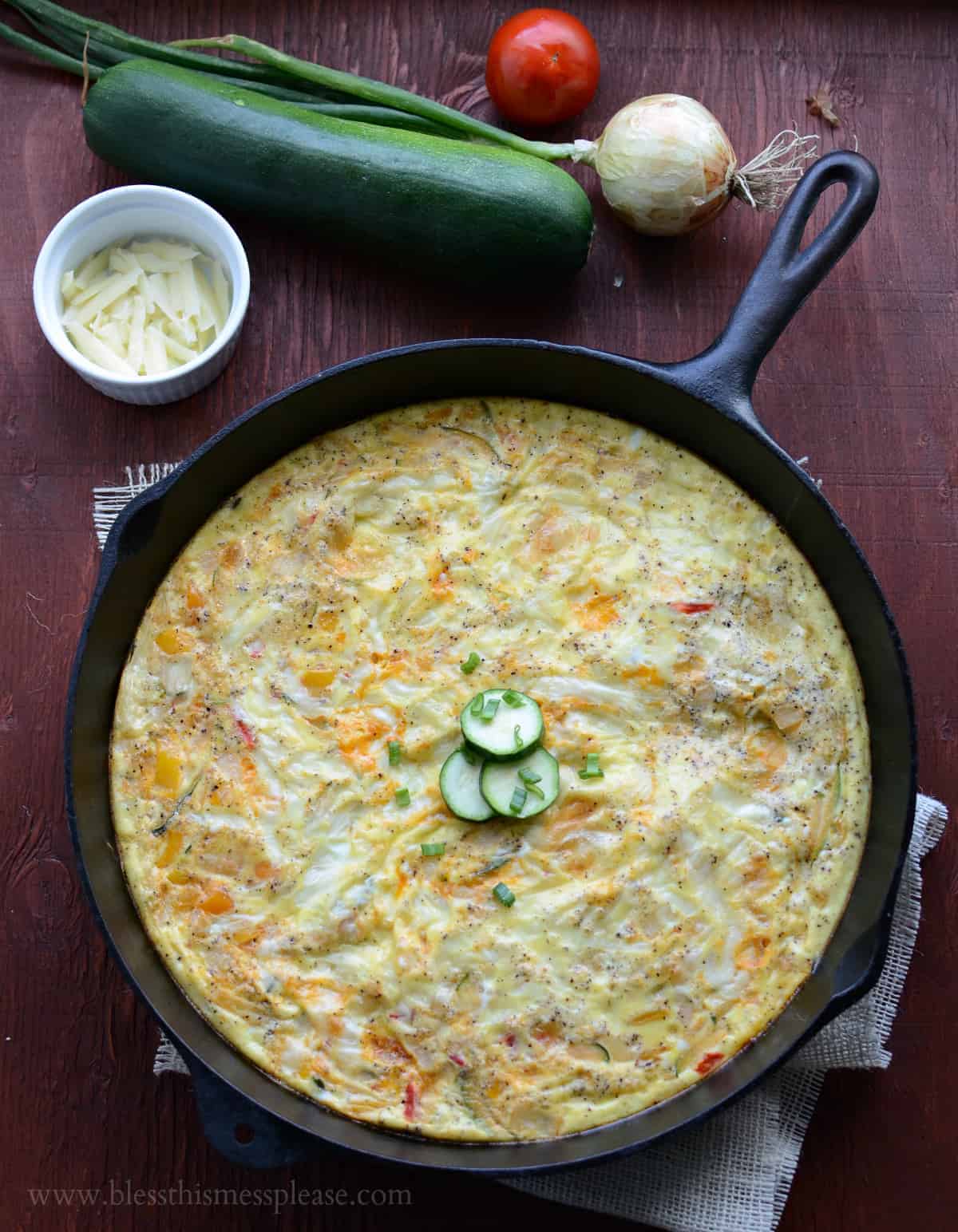 Sometimes I sit at my dinner, take a look at the meal, and try to determine what percentage of the meal I produced. It always varies but I get so excited when the percentage is really high. I'll look over the meal and then I'll announce to the family all of the things we grew. I love knowing where our food comes from and I want my kids to enjoy the literal fruits of our labors.
Pork or lamb roast (animals we raised and processed), green beans and sweet corn (from the garden), and some canned peaches or applesauce (also from the garden and canned by me) are really typical for us during the winter. Tacos with ground lamb and vegetables from the garden, fajitas with lamb steak and garden onions, peppers, and tomatoes, or stir-fry with garden veggies are other common meals. We don't produce all of our own food, but I like the personal challenge of producing and using as much as I can.
This dish is one of my favorites to make in the summer because I can produce a large percentage of the ingredients. If you aren't able to have your own hobby farm, garden, or chickens, this is an easy (and very affordable) dish to buy local ingredients for. You could stop and get all of the vegetables and eggs from a roadside stand or farmer's market. I'm always looking for great ways to use garden vegetables and this is one of my favorites. Plus, it only takes about 30 minutes to get this on the table. The best part? The vegetables are hiding in eggs and topped with cheese. Even more, fussy three-year-old eats this without complaint. They don't even know it's full of vegetables.
Enjoy!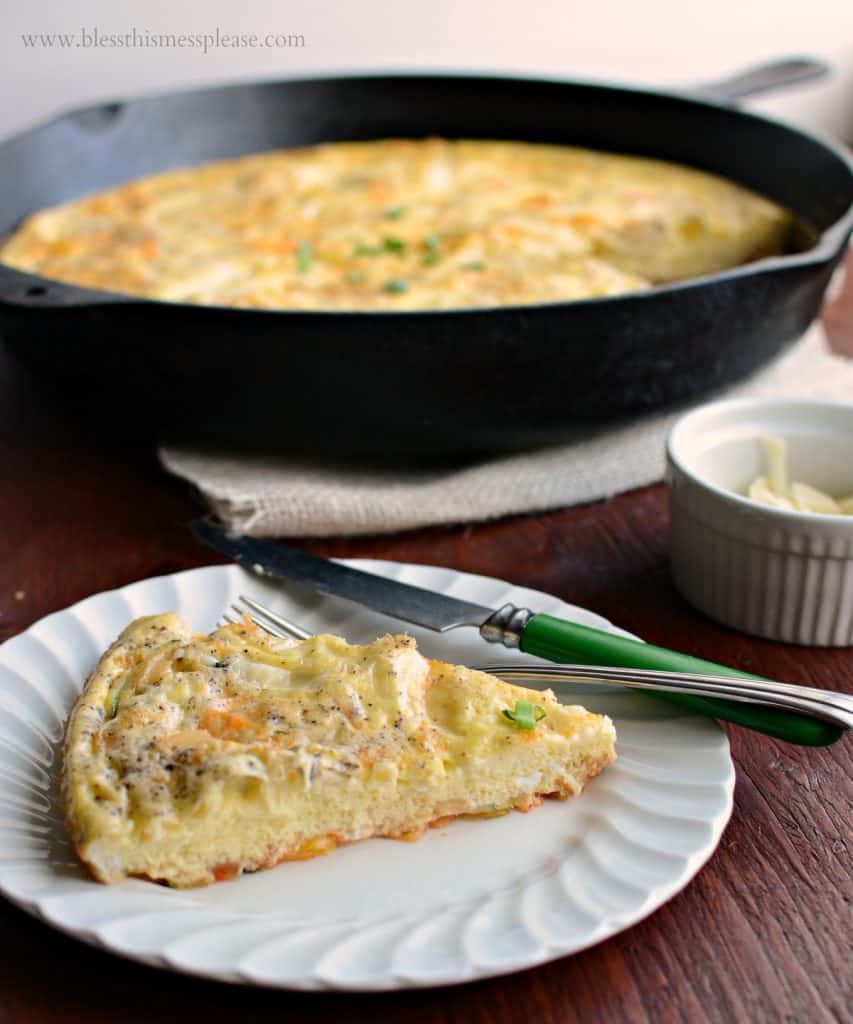 Print
Scale
Ingredients
2 tablespoon

s olive oil or bacon grease

1

medium zucchini grated, around 2 cups

1

medium onion, chopped

1

bell pepper, chopped

1

ripe tomato, chopped

12

eggs

1/2 cup

milk

1/2 teaspoon

salt

1/4 teaspoon

pepper

4 ounce

Cabot Farmhouse Reserve Cheddar, grated
---
Instructions
Preheat the oven to 375 degrees.
Heat a large cast iron skillet over medium high heat (10 or 12 inch skillet). Add the oil or grease and all of the chopped veggies. Cook until the veggies are soften and any extra liquid has cooked off, about 6 minutes. Remove from the heat.
In a medium bowl combine all of the eggs, milk, and salt and pepper, Whisk until well combine. Pour the egg mixture over the cooked vegetables and sprinkle with the grated cheese. Place the skillet in the oven and bake for 15 to 20 minutes until the eggs are cooked through. Remove from the oven and let cool for 3-4 minutes before serving.
---
Notes
If you don't have a cast iron skillet, a heavy bottomed oven-safe skillet will work. If you don't have any oven-safe skillets you can spray a 9 by 13 inch baking dish with cooking spray. Add the cooked vegetables in an even layer in the bottom of the dish and then pour the egg mixture over the top, cook as directed.
If you can't find Cabot Farmhouse Reserve, sharp cheddar can be substituted.
One more great recipe to use that zucchini! Here's a good list of more zucchini recipes.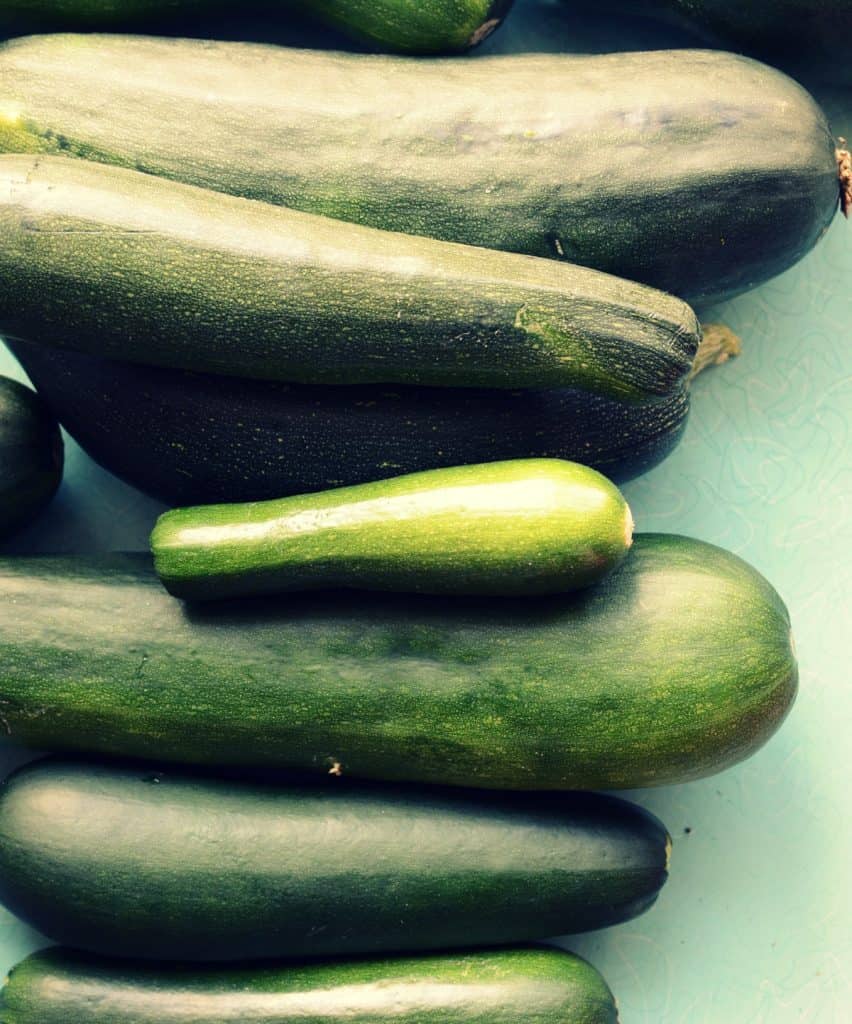 I'm entering this Farmhouse Egg Bake recipe in Cabot' Legacy recipe contest. The cheese was one of the few ingredients that I didn't make myself in the recipe, so if I'm going to buy a product, I really enjoy when it comes from a great farmer own company. YOU can enter recipes too! And if you win I'll take all the credit for letting you know. This isn't a sponsored post, I'm just excited about the contest and that cheese is divine!
You can get more info here: