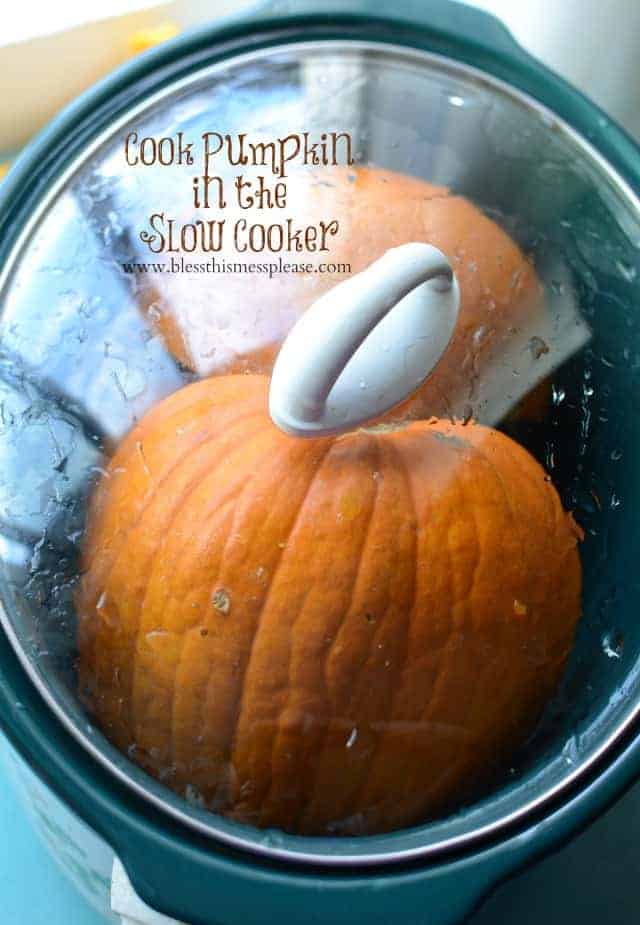 Have you ever tried to cook a pumpkin to use in a recipe instead of buying canned pumpkin from the store? I always think that it sounds like a fun idea but I rarely do it. A few years ago I cooked a small pumpkin in the oven and what didn't stick to the pan tasted too roasted to enjoy in sweet dishes. My quest for a better option started early this year when I decided to plant sugar pumpkins in my garden. They grew well and now I have about a dozen sitting on my porch!
Sugar, sweet, or pie pumpkins are general terms for the smaller 3 to 5 pound pumpkins that are typically grown to be eaten. They'll be labeled at the store as a pumpkin that is good for baking (generally with a sticker or label attached to them). Their flesh is firmer and sweeter than other varieties, which makes them a great choice for cooking. The insides are a lot less slimy, stringy, and wet than typical jack-o-lantern pumpkins, so prepping them is pretty painless.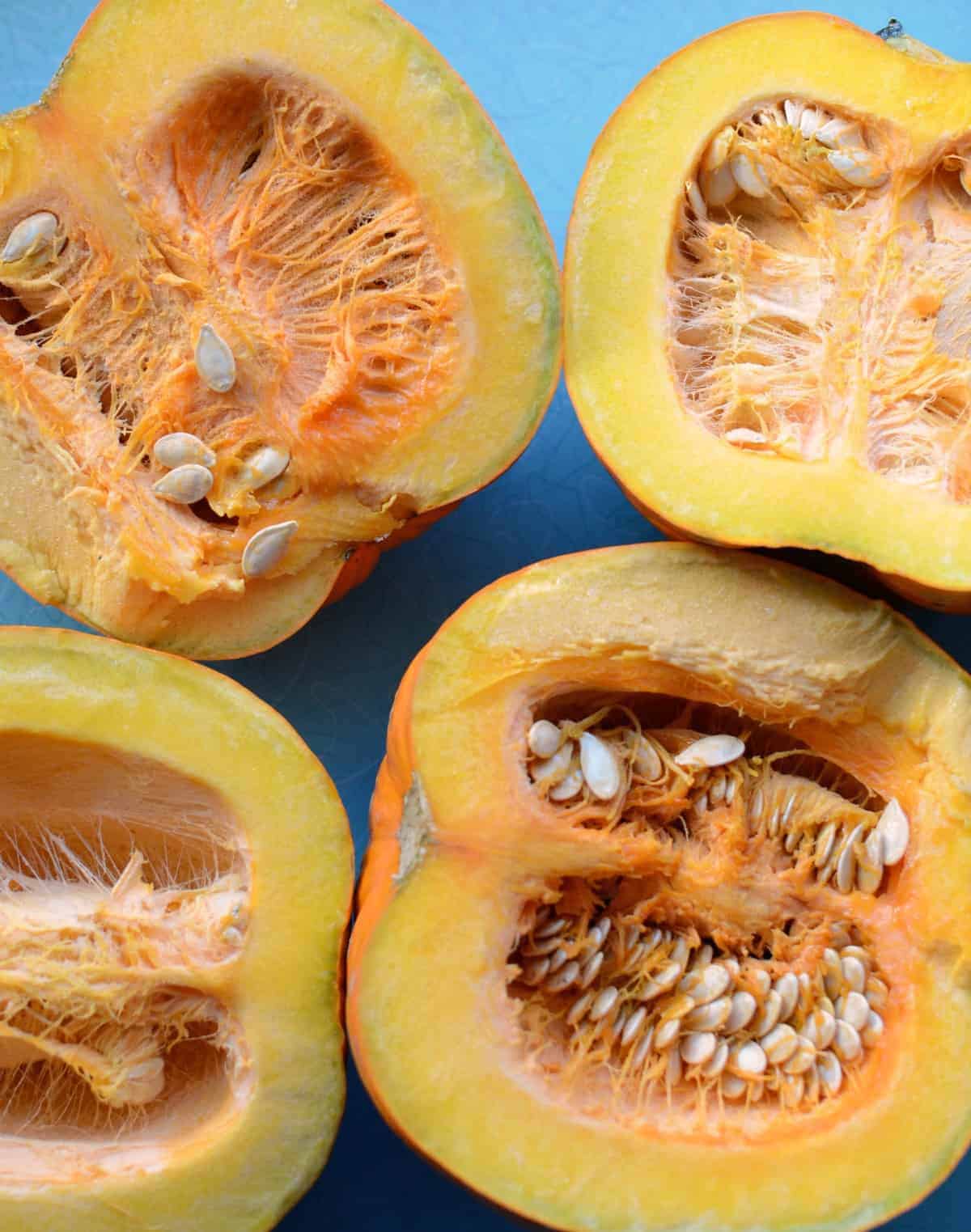 After a bit of research I decided to try to cook a pumpkin in the slow cooker. My friends, this method is perfect. The pumpkin stays moist, it scoops out easily, there's little clean up, and it practically cooks itself. Plus, they don't get any charred or burnt spots, which I feel affects the flavor of the pumpkin. The day that I was in the kitchen trying out this method, I planned on cooking 2 of my pumpkins in my large slow cooker at once. When they were finished cooking and my warm slow cooker was still on the counter I grabbed 2 more pumpkins to cook just because it was so easy. I love this method!
Aren't the pumpkins pretty?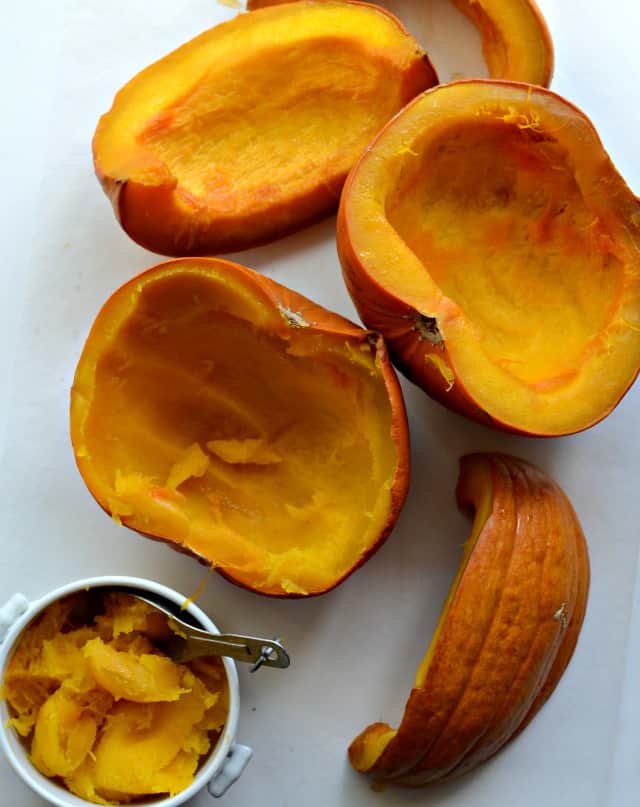 Print
The Best and Easiest Way to Cook A Pumpkin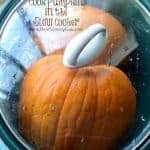 Author:

Melissa Griffiths

Yield:

1 pumpkin makes about 1 1/2 cups
Ingredients
1 or 2 sugar pumpkins (3 to 5 pounds each)
Instructions
Wash the outside of the pumpkin with warm water taking care to scrub off any dirt if necessary. Remove the stem and cut the pumpkin in half. Remove the seeds (you can save them to roast) and the stringy parts of the inside of the pumpkin with a spoon or an ice cream scoop.
Place the pumpkin halves skin side up in your slow cooker and cook on high for 2-3 hours or until a fork pierces through the skin of the pumpkin easily. Allow the pumpkin to cool enough to handle and then scrape the flesh from the shell with a spoon.
Use the fresh pumpkin as you would canned pumpkin. Mash the insides with a fork to remove lumps or you may choose to puree it in a food processor or blender before using to get a very smooth texture.
Store pumpkin flesh in the fridge for up to a week or in the freezer for up to 6 months. .
Notes
If the pumpkin isn't fitting well in your slow cooker feel free to cut it into a few more pieces.
I felt like I invented this method and then Carrie over at Bakeaholic Mama posted pretty much exactly what I thought! I'm going to give her credit for this recipe since she posted it first!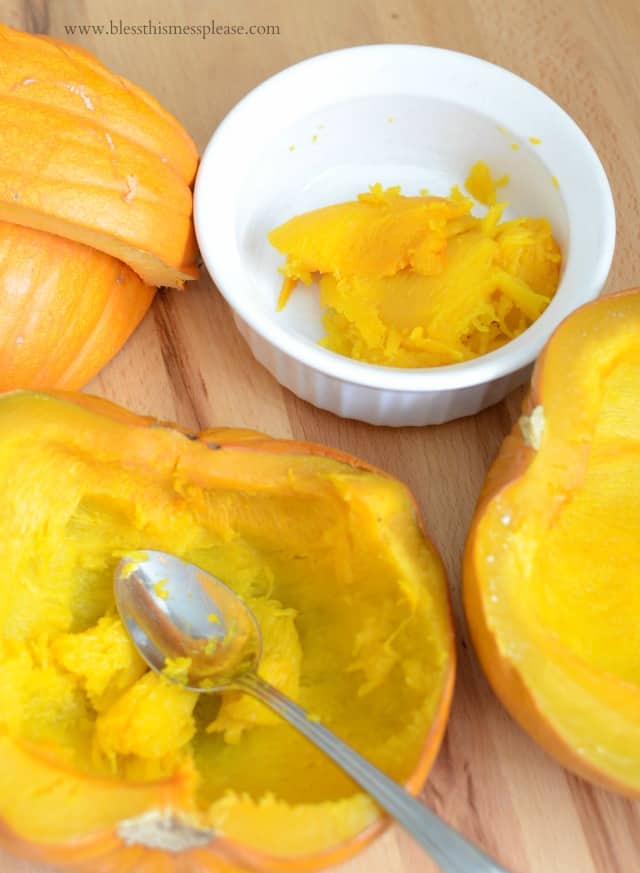 This is for sure the easiest way to cook a pumpkin! Here are a few other recipes that I thought you would like today.
How to cook butternut squash in the slow cooker from Foodie with Family (great minds think alike, she just posted this yesterday!)
Pumpkin Challah from Bakeaholic Mama
Pumpkin Butter Cake (I grew up eating this and still love it. It starts with a cake mix too, which makes it extra easy!) from Bless this Mess
Pumpkin Cupcakes with a whipped cinnamon icing from Bless this Mess