Simple Homemade Pumpkin Noodles that are fun to make and fun to eat. The pumpkin flavor is subtle, and you can freeze these yummy noodle alternatives to make them last for months!
Pumpkin is such a great ingredient added to a variety of recipes. A few recipes I love are: Quick and Easy Pumpkin Macaroni and Cheese, Sausage Black Bean and Pumpkin Soup and Sausage and Pumpkin Pasta.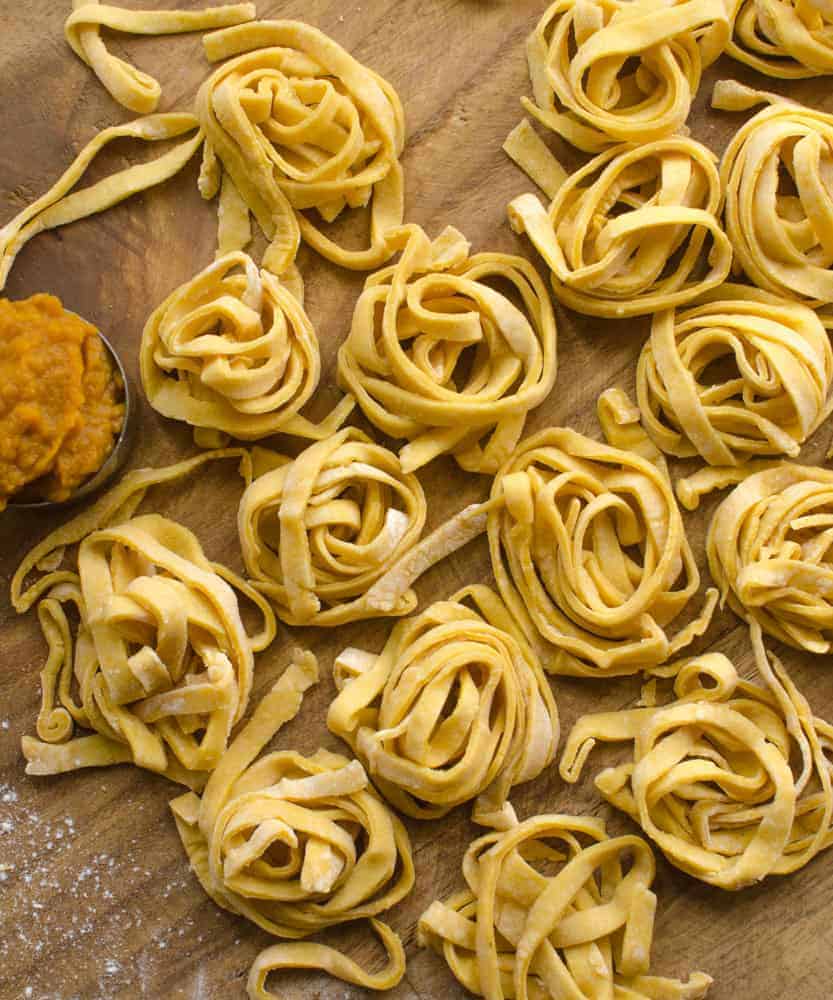 Homemade Pumpkin Noodles
Few things are more comforting to me than homemade egg noodles. When you grow up eating something simple, filling, and delicious, I think you crave that food whenever you need a little piece of childhood in your life. Egg noodles are one such recipe for me (I also am very sentimental over my mom's dinner rolls, and my grandma's cobbler and her chocolate sheet cake). My grandma lives on a gorgeous old farm in Southern Indiana (I wrote about it once if you'd like to see a few pictures). She lives in a tall red brick house that has the original homestead log cabin behind it. You walk up the front sidewalk right into her kitchen, and I've always liked that. You step straight into the hustle and bustle and the heart of her home. I remember times walking in and seeing a newspaper-lined table loaded with drying egg noodles. My grandma would make them in large batches and then keep them in the freezer for later use. We had egg noodles cooked in chicken broth with a little shredded meat in them for every family holiday meal. They were a staple.
My own mom was in Utah a few weeks ago and she helped me with a few recipes. One recipe we wanted to make together was egg noodles! We decided to add a little pumpkin to it to better celebrate the season. The color of the pumpkin noodles is beautiful! They have a warm orangey glow, but truth be told, they don't really taste much like pumpkin. I thought that was ok, though; they taste like normal noodles but look pretty.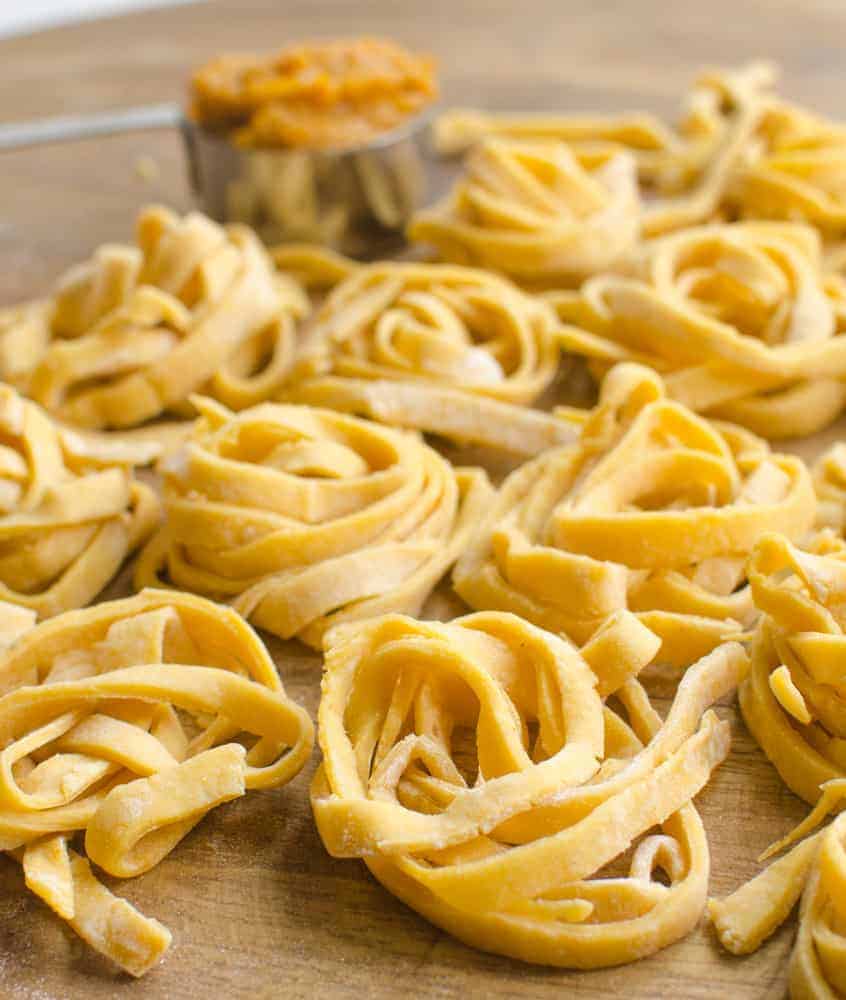 Tips and Tricks for making pumpkin noodles?
My grandma likes to bring a little bit of chicken broth with some chunks of chicken in it to a boil and then cook her noodles right in it. The extra flour from the noodles thickens the broth a bit and makes a sauce while cooking. You don't pour off the chicken stock, so you don't want to use too much liquid. She said she used a few cups of stock for a few cups of noodles (I need to nail this recipe down, but she just told me how she does it over the phone!).
Sometimes when my kids are home, we'll make pasta together. I'll make my normal noodles, and I'll let each of them have a bit of pasta dough to work with. I'll get out my littlest cookie cutters and let them make noodles that are stars, hearts, or even their names (this cookie cutter set is a lot of fun and we use it all the time). Then for dinner I'll make chicken noodle soup and we'll toss their noodles in. They cook up more like dumplings because they are big and thick, but my kids love this activity. It's a great way to pass time in the winter when we aren't outside as much.
My grandma has been to my house and made egg noodles with my kids before (it's such a fun activity for kids!), and she is the one who taught me how to cut them. Some people will roll the dough out thin and then use a pizza cutter or a knife to cut long pieces. My grandma taught me to divide the dough into smaller parts (4 in this case), roll it out thin, and then roll the dough up (like you would cinnamon rolls) and slice through the whole pin wheel with a sharp knife. This yields very consistent pasta width. Grandma said her mom taught her to cut them like this. You can also use a pasta roller if you have one.
What texture should the noodles be?
The texture of the dough is important. It needs to be neither sticky nor dry. If it's sticky, you'll have a mess to work with when rolling them out, and if it's too dry, you'll have a hard time rolling the dough thin. Your goal is to have a nice soft but non-sticky dough. Play with it a bit and adjust your flour as needed. If your dough is too hard to roll out or if it keeps shrinking back when you do roll it, let it rest, covered, for about 10 minutes.
Can I leave the pumpkin out of this recipe?
This recipe is super flexible and you can adjust it to your needs. If you want to leave the pumpkin out and just make egg noodles, add another egg.
Do homemade noodles freeze well?
You can eat the pumpkin noodles the day you make them or freeze them for later (or make a few batches and do both!)To freeze the noodles, I like to let these dry on the countertop for a few hours. Then I'll dust them with just a bit more flour so they won't stick together and I'll pop them in a freezer zipper-topped baggie. They can be frozen for a few months. I just dump the frozen noodles in my water or chicken stock to cook them.
What is the best technique to cook and serve homemade noodles?
If you are going to eat them the day of, bring a big pot of water up to a boil and cook the noodles until they are tender. 3 minutes will normally do it for you (it will depend on the thickness of your noodles as well as how much they dried in the afternoon). You can strain them and then serve them with a simple sauce. A lot of the time I like to just do a garlic butter with a little bit of good cheese on top. You don't have to cover fresh pasta in too much, it's so good on it's own.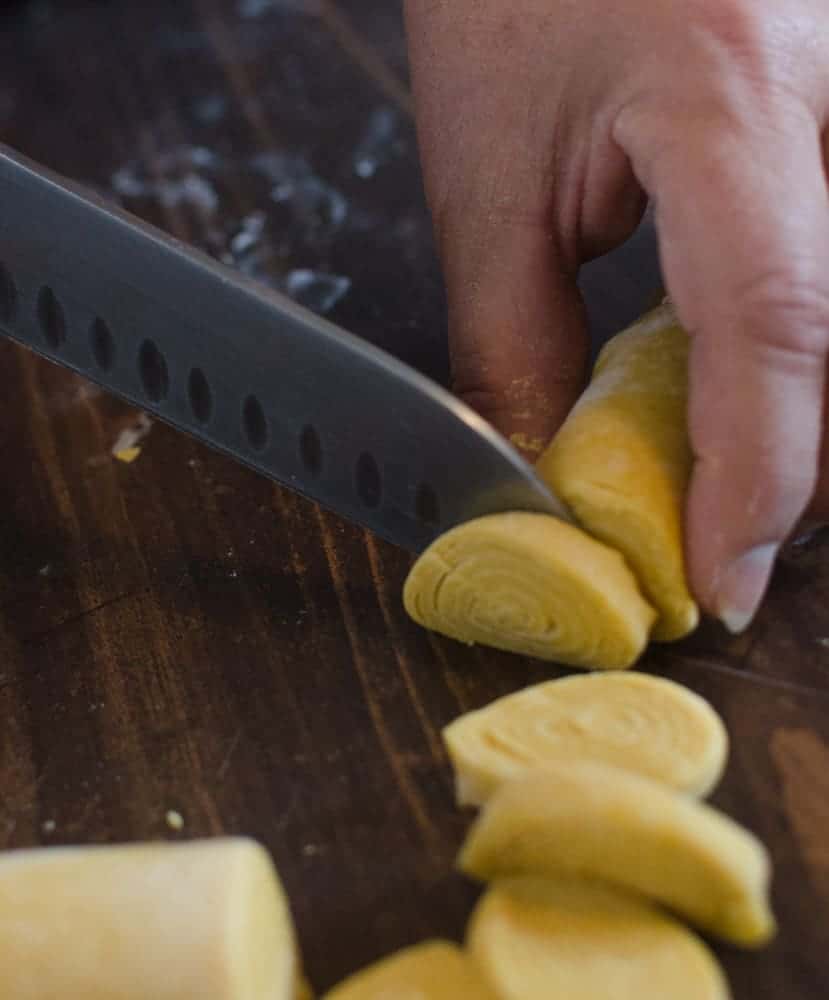 Aren't these pumpkin noodles pretty?! You are going to love how much fun they are to make. Noodle making just might become a fun tradition in your own home if you are willing to give them a go.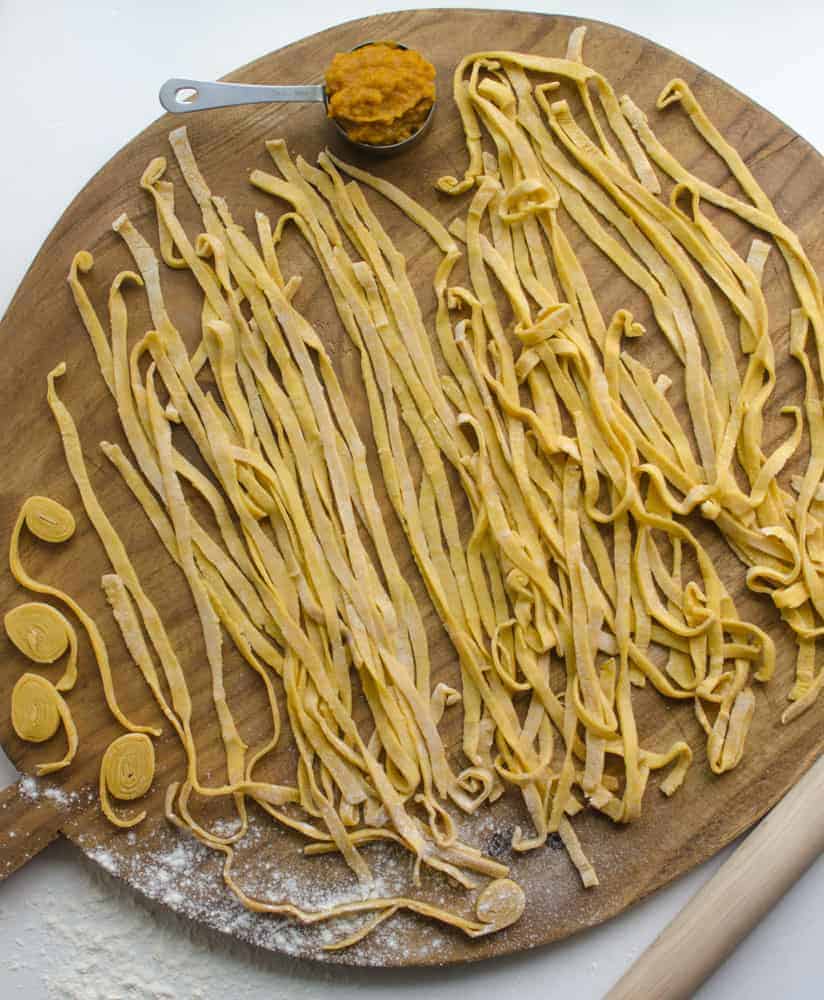 Print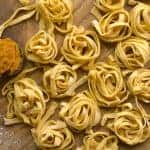 Homemade Pumpkin Noodles
---
Author:

Total Time:

4 hours 5 minutes

Yield:

3

-

4

cups

1

x
Description
Simple Homemade Pumpkin Noodles that are fun to make and fun to eat. The pumpkin flavor is subtle, and you can freeze these yummy noodle alternatives to make them last for months!
---
2 cups

all-purpose flour

¼ teaspoon

salt

2

eggs

⅓ cup

pumpkin puree

¼ teaspoon

salt
---
Instructions
In a large bowl add the flour and salt and mix to combine. Add the eggs and pumpkin to a well in the center of the flour and then mix together well with a wooden spoon. Turn the dough out onto a lightly floured surface and knead lightly until the dough comes together and is soft but not sticky. Divide the dough into 4 pieces. Roll the dough out thinly with a rolling pin and then roll it up like a cinnamon roll. use a sharp knife to cut ¼ inch pieces from the roll. Unroll each piece let the noodles dry on a lightly floured surface for a few hours. Prepare them to eat or freeze for later (details on both of those things in the post).
Prep Time:

4 hours

Cook Time:

5 minutes

Category:

Dinner

Method:

Bowl

Cuisine:

American
Nutrition
Calories:

270

Sugar:

0.9g

Sodium:

183.1mg

Fat:

3g

Carbohydrates:

49.5g

Protein:

9.8g

Cholesterol:

93mg
Keywords: homemade noodles, homemade noodles recipe, noodles recipe, easy noodles recipe, homemade pasta recipe, homemade pasta, how to make homemade pasta, how to make homemade noodles, egg noodles recipe, homemade egg noodles
Check out these pasta recipes too:

You are going to love how much fun Homemade Pumpkin Noodles are to make. Noodle making just might become a fun tradition in your own home if you are willing to give them a go.