Do you know the best way to save tomatoes at the peak of the season?
Can them! I'm going to teach you how to can tomatoes so you can
have a taste of summer all winter long.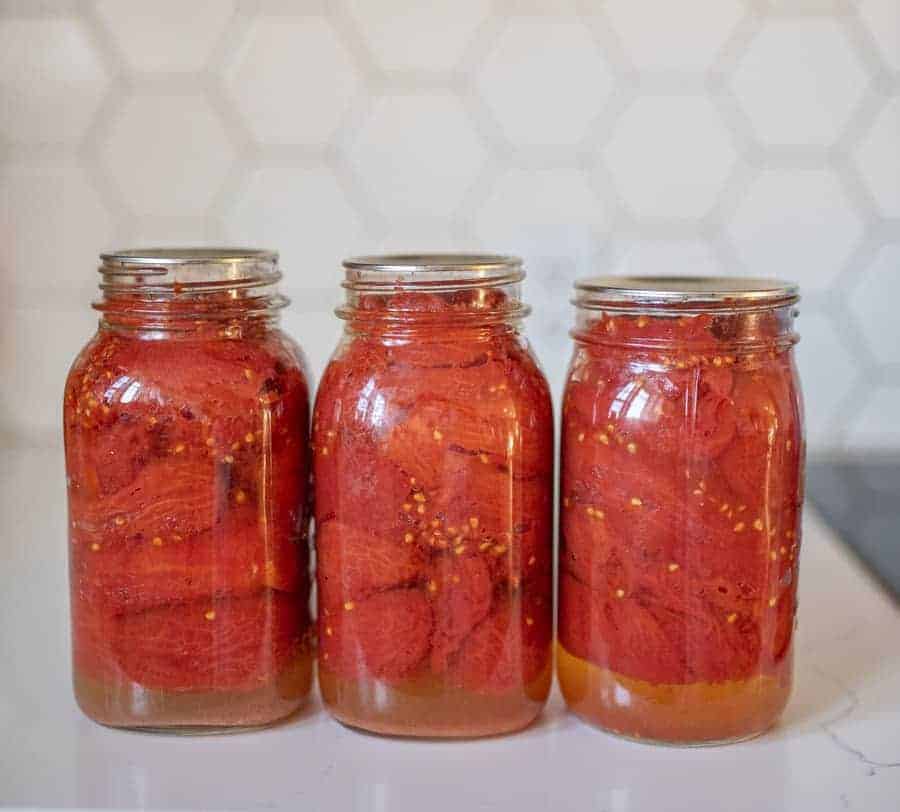 How to Can Tomatoes
Canning tomatoes might seem like a lot of work, but I promise once you do it a time or two, you'll get into a rhythm and it doesn't really take that long.
Canning tomatoes is a great way to make the summer bounty shelf-stable. And canned tomatoes are one of the easiest things to use later in the winter because they are a stand alone ingredient. You can use canned tomatoes to make salsa, make pasta sauce, add them to soups, stews, and chili, and more! I love how versatile they are.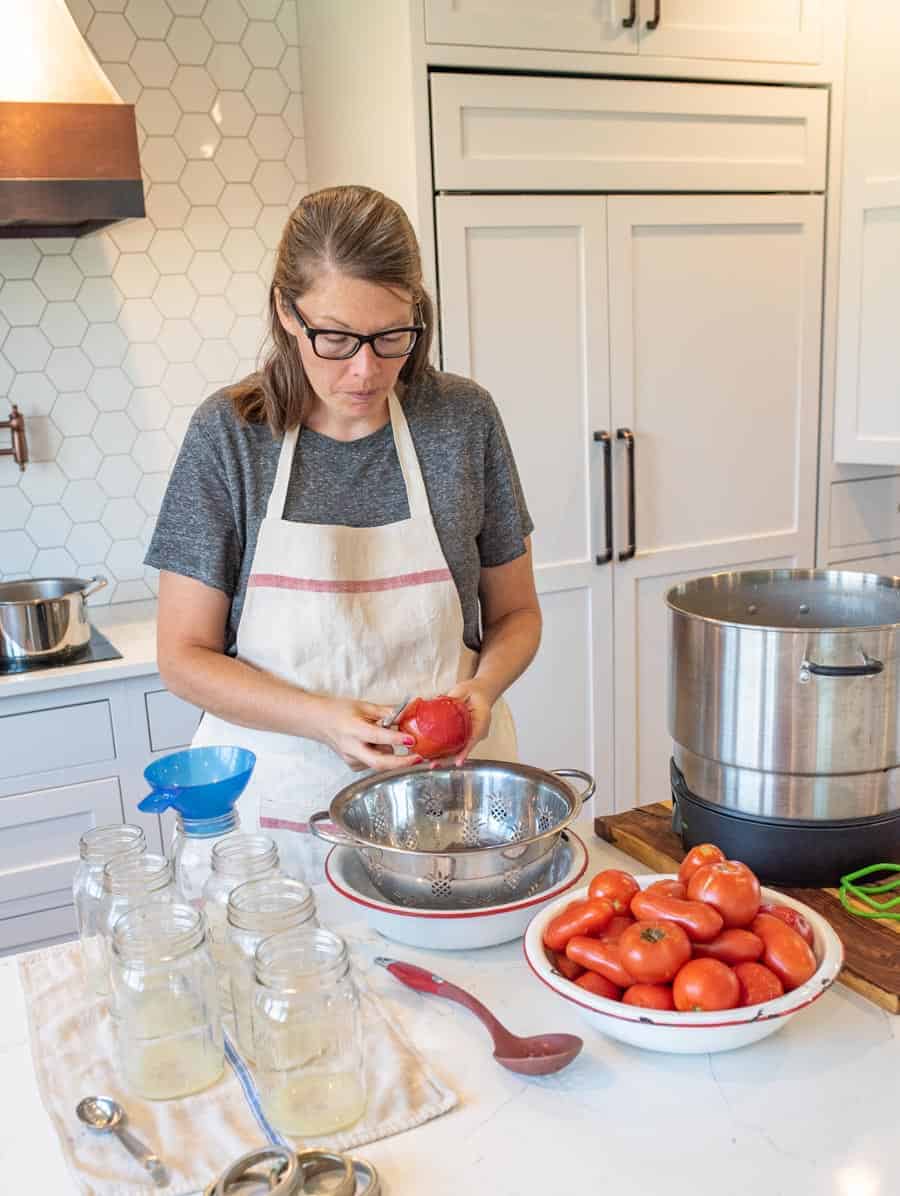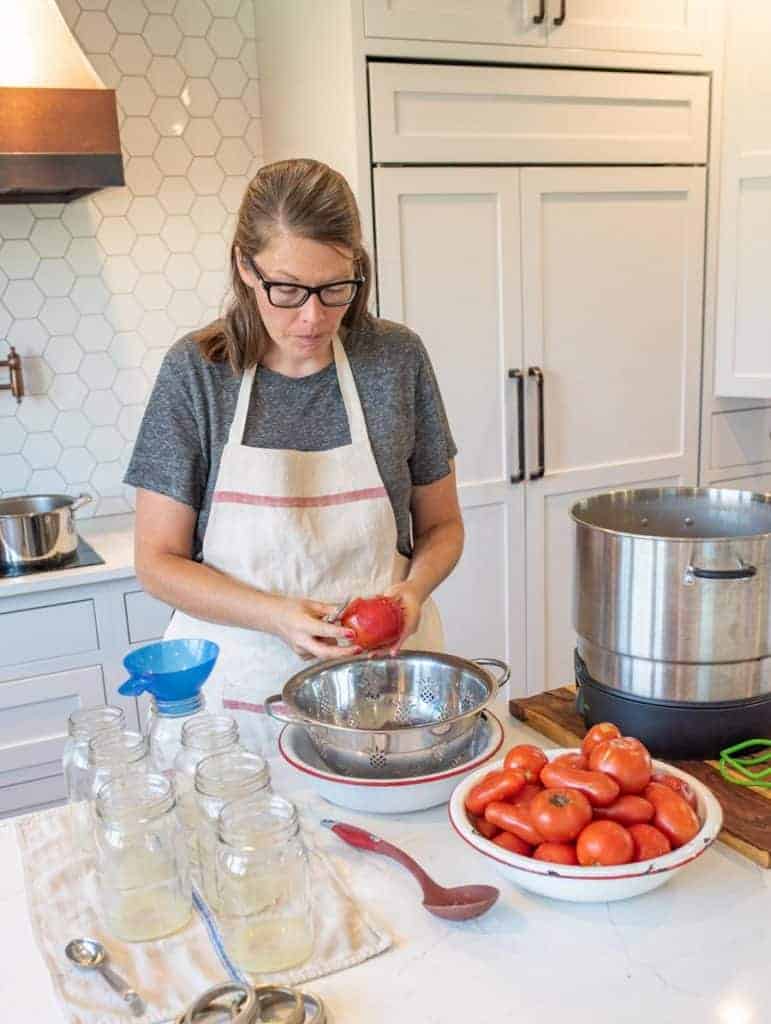 Before we get into all the details, let's talk food safety. When canning
tomatoes you need to be aware of the acidity. Tomatoes are considered
a high acid food but newer reports are finding the PH to be borderline.
To combat this and prevent food borne illnesses, like botulism, add 2
tablespoons of bottled lemon juice per quart of tomatoes.
Small steps like that and following directions fully are best practices for home canning to keep your family safe.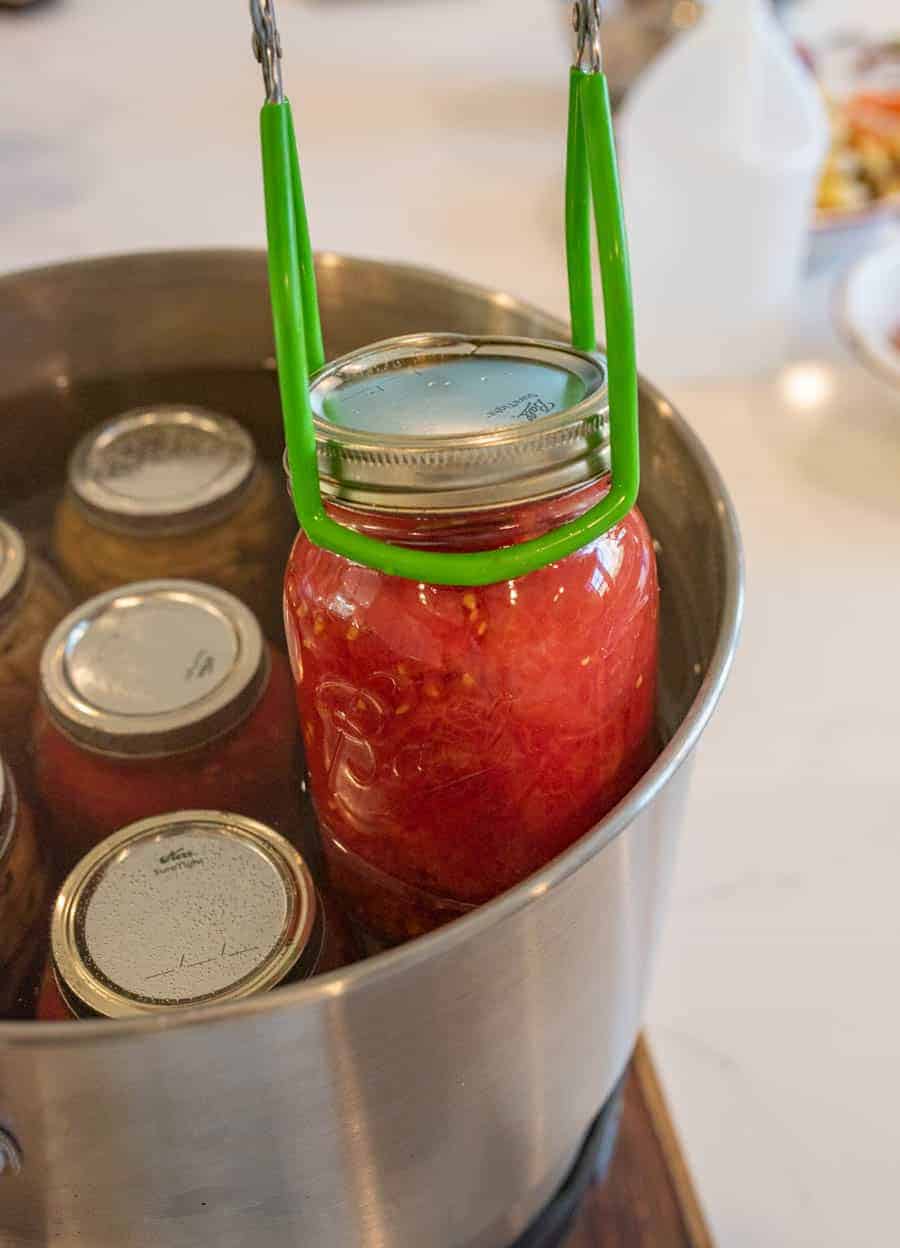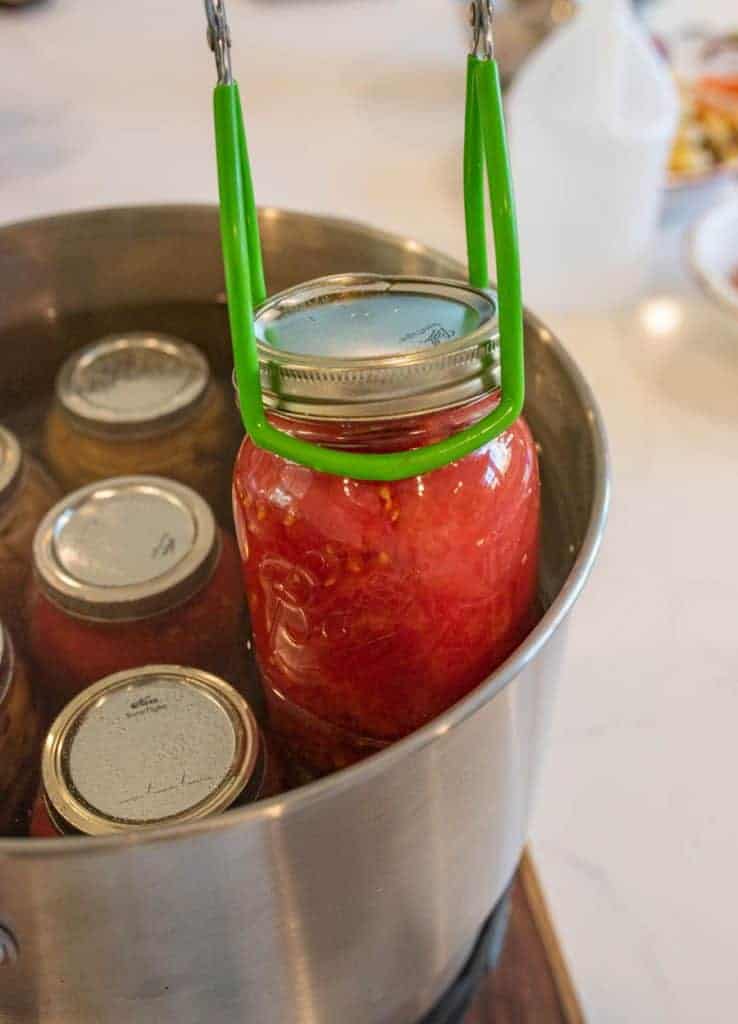 How do I know if I canned correctly?
After you have boiled the tomatoes and removed the hot jars from the canner, let them sit a few hours. During this time you'll often here a ping or popping sound, that's the lids adhering to the jar as they cool. After a few hours of cooling, lightly tap the lid with your finger. The flat lid will feel firm and won't spring back or pop up and down when touched. Think of it like a safety seal on other jars from the store. It won't move when sealed and it'll pop up and down if it didn't seal properly.
You can reprocess (boil) jars that didn't seal the first time. Be sure to check the top lip of the jar for any chips in the glass and wipe the top well to clean it. Chips and chunks of food will prevent the jar from sealing. Process with a new clean flat lid the second time. It will still need to boil the full amount of time the second time around.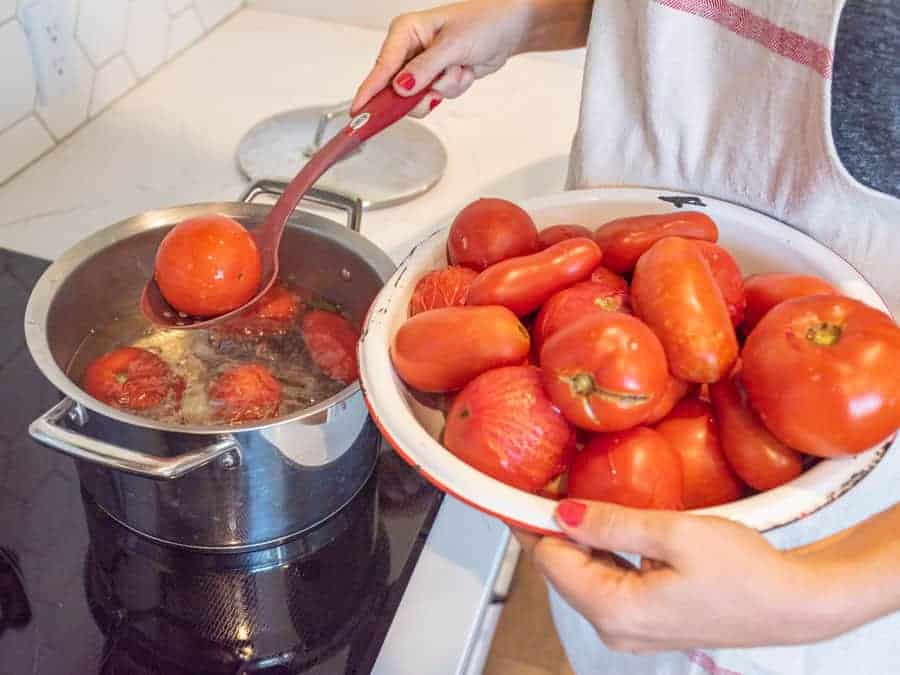 How long does home canned food last?
I try to use my canned food within 1 year of canning it. It's generally fine longer than that, but the goal should be to use them within a year for best flavor and texture.
What kind of salt do you use when canning?
There are a couple of options for salt. You can use pickling salt which is basically just pure salt (it doesn't have anti-caking agents or iodine). If you don't happen to have that on hand, use kosher salt and they will turn out great still, it's a very plain salt too.
What type of tomatoes can I use and how many do I need?
The type of tomatoes doesn't matter a lot, you can use traditional round tomatoes or oblong Roma or San Marzano. I have canned lots and lots of kinds of tomatoes. The meatier oblong tomatoes make for meatier canned tomatoes, but I still like traditional tomatoes for canning too. I just mix whatever tomatoes I have ripe together in the jars.
You'll need about 21 pounds of fresh ripe tomatoes to do 7 quarts of whole tomatoes in their own juice, 7 quarts is considered a full canner load. You'll need about 13 pounds to do a full canner load of pints which is 9 pint jars. A bushel weighs 53 pounds and yields 15 to 21 quarts (an average of 3 pounds per quart).
Following the recipe is a full picture tutorial on how to can tomatoes AND recipes to use them in.
Print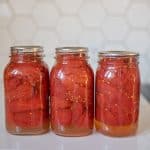 How to Can Tomatoes
---
Author:

Total Time:

2 hours 5 minutes

Yield:

7 quarts

1

x

Diet:

Gluten Free
Description
Full guide on how to safely can tomatoes at home with step by step pictures, printable instructions, and more!
---
tomatoes*

bottled lemon juice

salt, optional

7 quart

jars

7

two part lids (flats and rings)
water bath canner
---
Instructions
Prepare your tomatoes by removing any stems that might be left on them (this helps prevent them from poking each other which increases rot, it's best practice to do this as your take them from the plant). Sort through the tomatoes and remove any that have bad spots, signs of rot, or mold.
Wash the tomatoes gently in cold water to remove any dirt.
Bring a large stock pot, half filled with water, to a full boil.
When the water is boiling gently add tomatoes to fill the pot.
Let the tomatoes boil for about 3 minutes or until the skins start to split.
Use a slotted spoon to remove the tomatoes to a large bowl.
Repeat with remaining tomatoes.
While the tomatoes cool a bit prepare your jars and lids by washing and sanitizing them.
Place the clean jars on a towel on your work surface and prepare them by measuring out 2 tablespoons of bottled lemon juice per quart jar. Measure out 1 teaspoon of salt per quart jar (salt is optional and can be omitted, lemon juice is not optional).
Place a colander inside of a bowl.
When the tomatoes have cooled enough to handle, work over the colander to catch any extra juice.
Slip off the tomato skin (it will come off very easily) and then use a small knife to remove the core of the tomato (where the stem attaches).
Place a funnel on top of one of the jars and fill the jar with the peeled and cored tomatoes. If they are very large, cut them into a few pieces so that they fit more evenly into the jar.
Fill the jar with tomatoes until there is only ½ inch of empty space remaining at the top of the jar. It's fine to really squish the tomatoes in there to fill the jar and cut them into pieces as needed so that the right amount is in the jar.
Repeat with remaining tomatoes until 7 jars are filled (7 quarts is how many fit in a standard water bath canner and is considered a full canner load).
Use a butter knife and poke it into the jar randomly through the tomatoes. This will help any air bubbles come up. If the tomatoes settle a lot after you do this, fill the jar up with a little of the juice that is in the bottom of your bowl beneath the colander so that there is once again only ½ inch remaining at the top of the jar.
Wipe the tip edge of the jar with a clean damp cloth to remove any pieces of tomatoes, if there's stuff there the jars won't seal.
Add the flat lids to the jars.
Screw on the round bands to each jar. Just tighten them naturally and don't over tighten them. You don't have to be too aggressive with screwing them on.
Place the jar in your canner, making sure there is a rack on the bottom of the canner.
Fill the canner with warm tap water so that it covers the top of the jars by 1-2 inches. The canner is very heavy, I use a pot filler or a pitcher to move water into my canner. I don't recommend trying to fill the canner up in the sink, it gets too heavy and the jars clink against each other.
When the canner is full of water turn on the heat to high and put on a lid.
When the water is fully boiling you can start your cooking timer.
Boil quarts OR pints for 85 minutes (SEE NOTES for time based on your elevation).
When the correct boiling time has elapsed, turn the heat for the canner off and let it rest there.
When the canner has stopped boiling (I wait 5 or so minutes after I turn off the heat). Open the lid.
Using tongs (they make canning tongs just for removing hot jars, you'll want to get some) remove the hot jars and let them rest on a thick towel or on a cutting board lined with a dish towel. Be sure not to tap or touch the jars together when setting them down.
Let the jars cool.
Test to see that the jars are properly sealed by pressing on the top of the jar (it will feel firm and not pop up and down).
Remove the screw on band from the jars, label the tops with the date and contents of the jar, and store for up to 1 year.
Notes
*the type and amount of tomatoes doesn't matter a lot. I have canned lots and lots of kinds of tomatoes. You'll need about 21 pounds of fresh ripe tomatoes to do 7 quarts of whole tomatoes in their own juice, 7 quarts is considered a full canner load. You'll need about 13 pounds do a full canner load of pints which is 9 pint jars. A bushel weighs 53 pounds and yields 15 to 21 quarts-an average of 3 pounds per quart.
This recipe is an official canning recipe from the National Center of Home Food Preservation. Do not change or alter the recipe. Changing the recipe or not following the direction can make the end product unsafe to store and eat.
Use store-bought bottled lemon juice for this recipe. The acidity of bottled lemon juice is more consistent than fresh lemons.
*BOILING TIMES: If you live at an elevation of 1000 feet above see level or lower, boil your tomatoes for 85 minutes. If you live at 1001-3000 feet elevation boil for 90 minutes. If you live at 3001-6000 feet elevation boil for 95 minutes and if you live above 6001 feet elevation boil for 100 minutes.
Prep Time:

40 min

Cook Time:

85 min

Category:

preserving

Method:

canning

Cuisine:

American
Keywords: how to can tomatoes, how to can tomatoes at home, canning tomatoes, canned tomato recipe, canning at home, whole tomatoes canned, canning whole tomatoes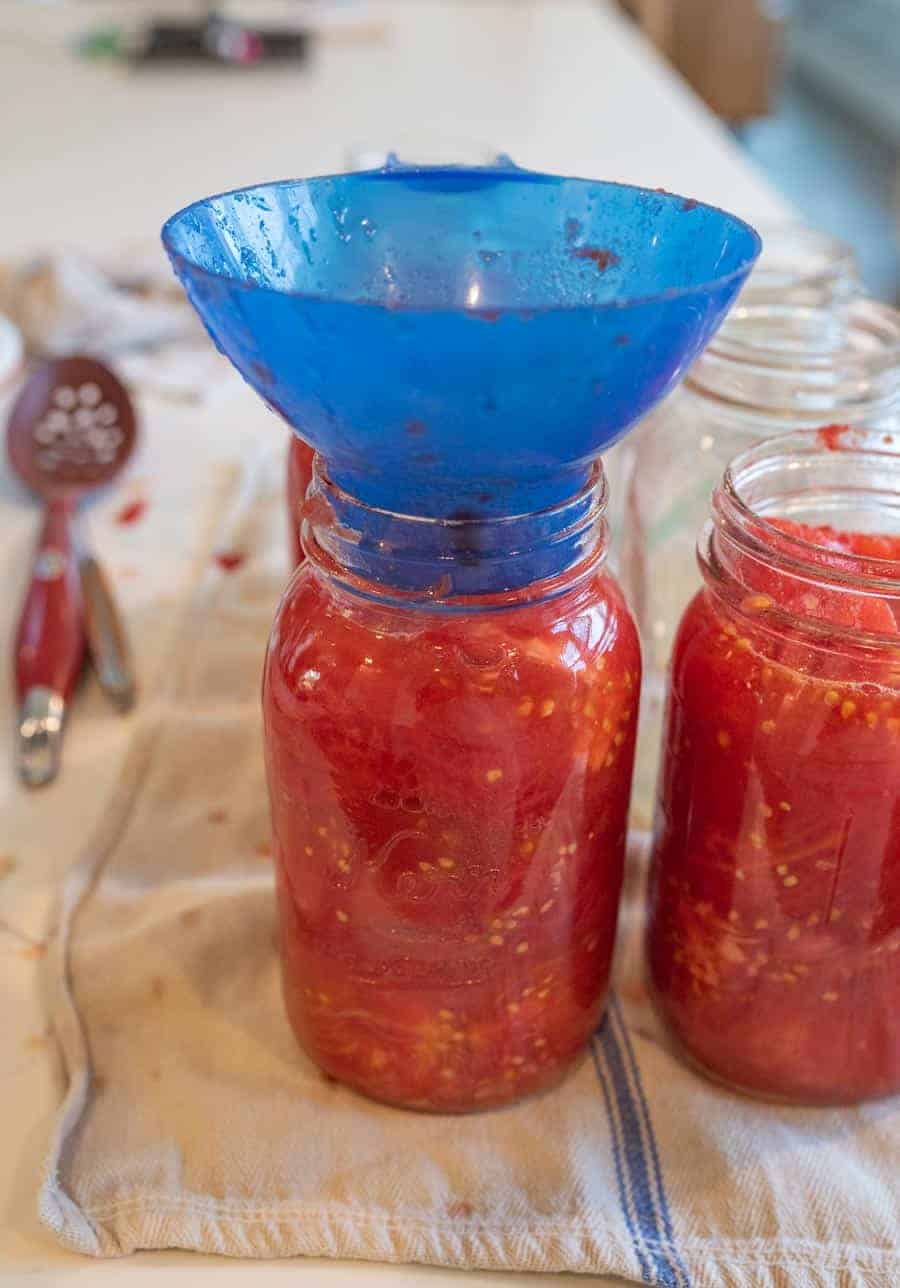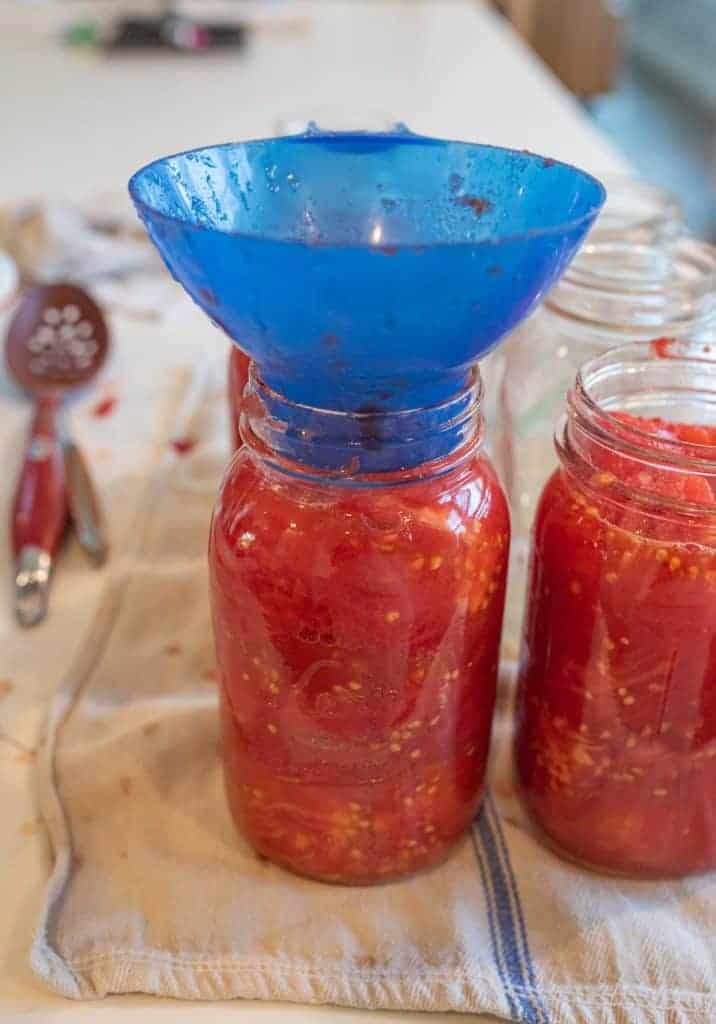 Supplies Needed to Can Tomatoes:
Large saucepan
Oven, broiler or stovetop
Quart mason jars with lids (7 for a full canner load)
Funnel, jar lifter, butter knife, kitchen towels and clothes
If you are new to canning, you can always ask around to see if anyone you know has a water bath canner they aren't using. I also have great luck finding things like that used at thrift stores.
When I moved into my house with a glass-top stove (you're not supposed to can on glass top ranges), I bought a Ball Fresh Tech Electric Canner. This is my third canning season using it and I really like it! That might be a good option for you if you are in the market.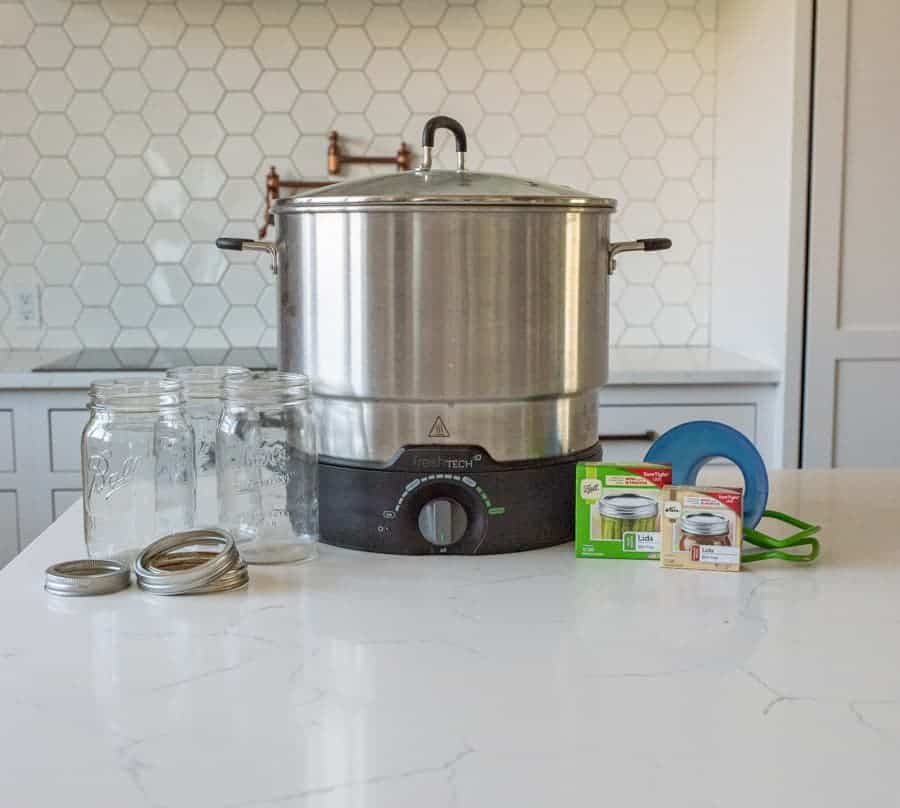 Step by Step Instructions:
The actual process of canning tomatoes is pretty simple.
First, you need to wash the tomatoes. Next put them in boiling water until the skins split, about 3 minutes, depending on your tomatoes.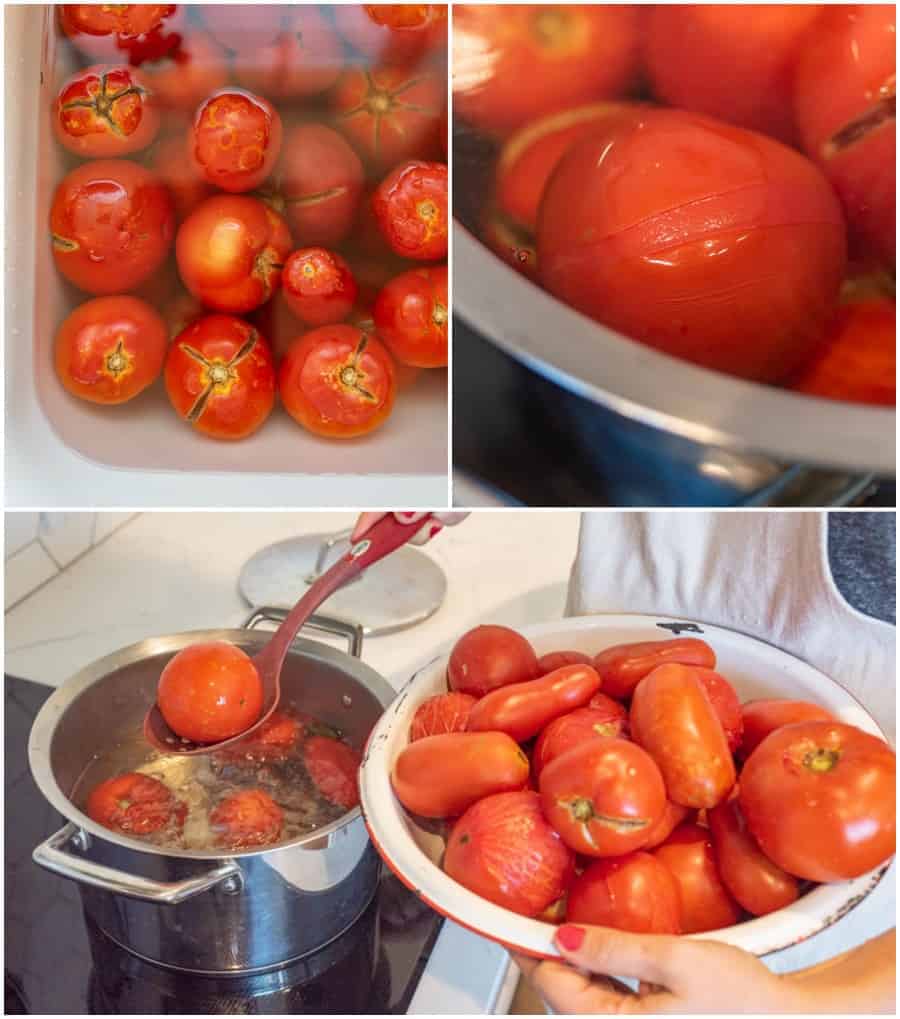 Second, prepare your clean jars by adding 2 tablespoons of lemon juice to the jars to prevent food borne illnesses. I like to add about 1 teaspoon of salt too.
Slip the skins of the tomatoes off and remove the core.
Use a funnel to fill up the jars with the prepared tomatoes, cutting them into pieces to better fit the jars.
Fill each jar with tomatoes and their juices. Leave ½ inch head-space from the top.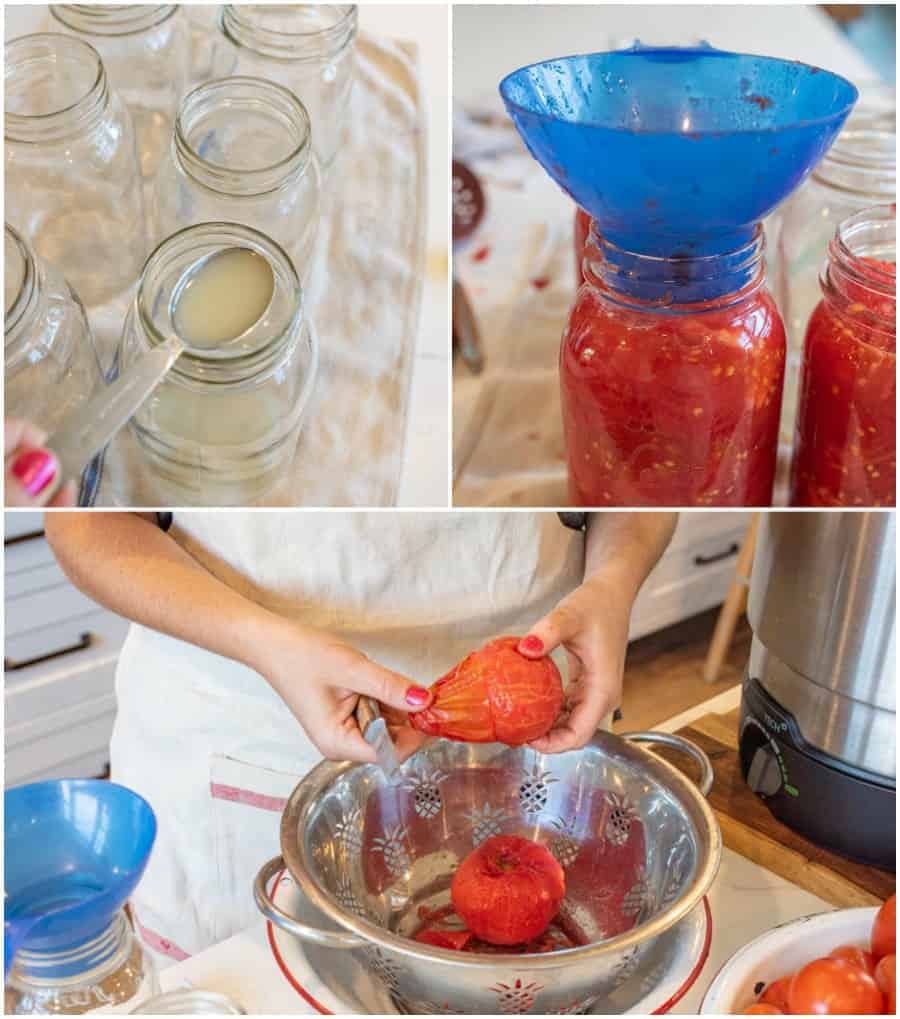 Third, Remove any air bubbles by running a knife along the side of the jar.
Wipe the rims of the jars clean, add the flat lids, and screw on the rings.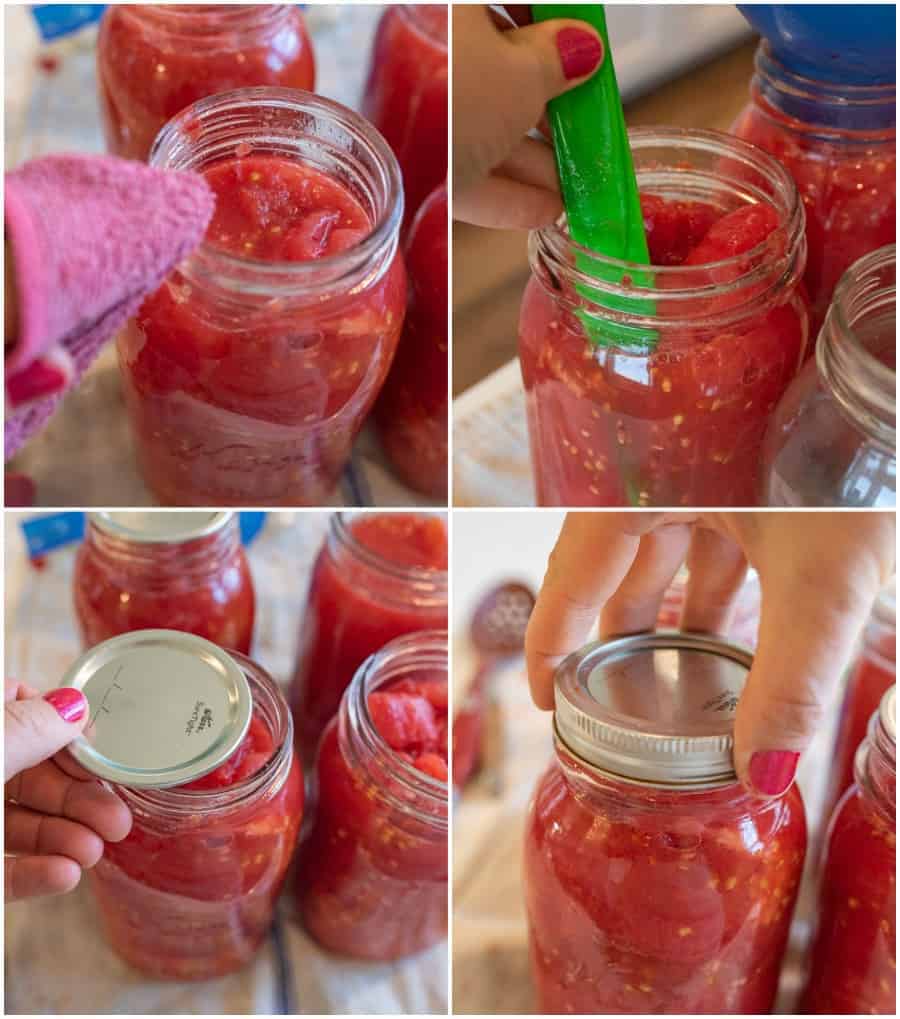 Fourth, this next step is called water bath canning. You've made it to the actual canning part! Place the jars in a lukewarm water bath making sure that there is water a couple of inches above the jars.
Bring the water to a boil and start the timer. Processing time will depend of altitude. See recipe card for more details.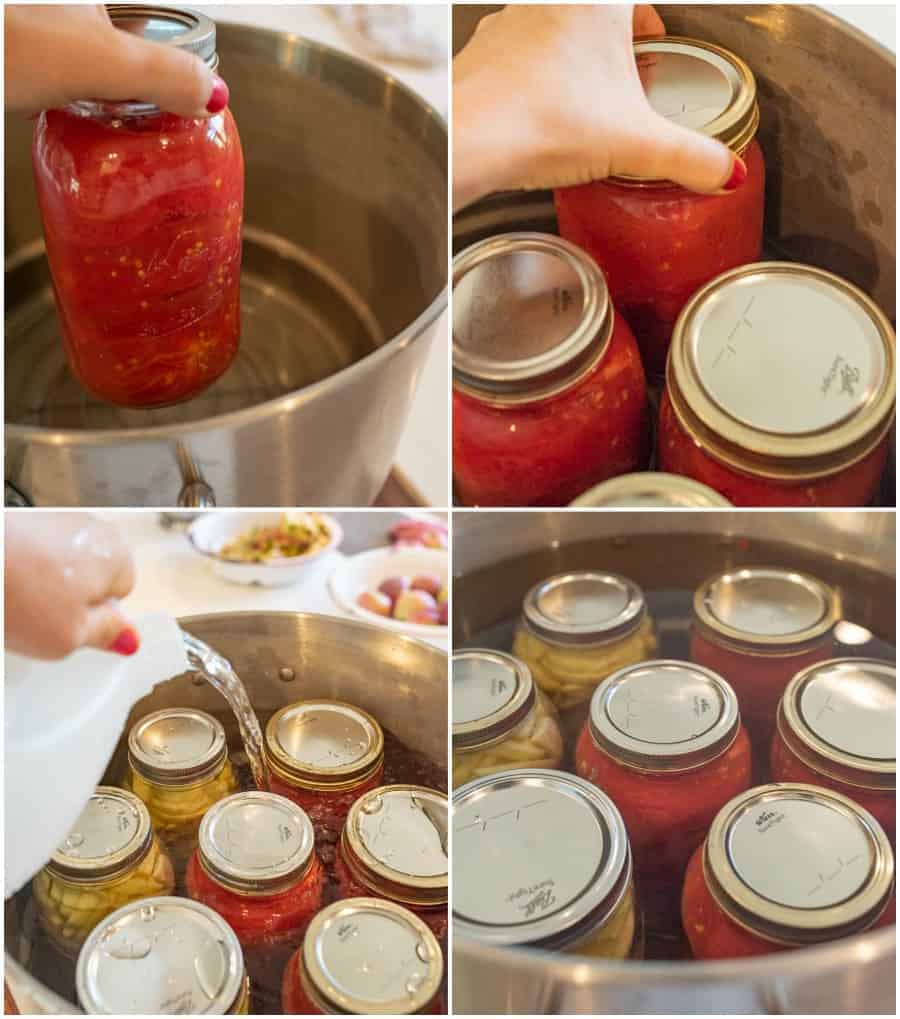 Finally, after the processing time is up, remove the jars and cool before storing.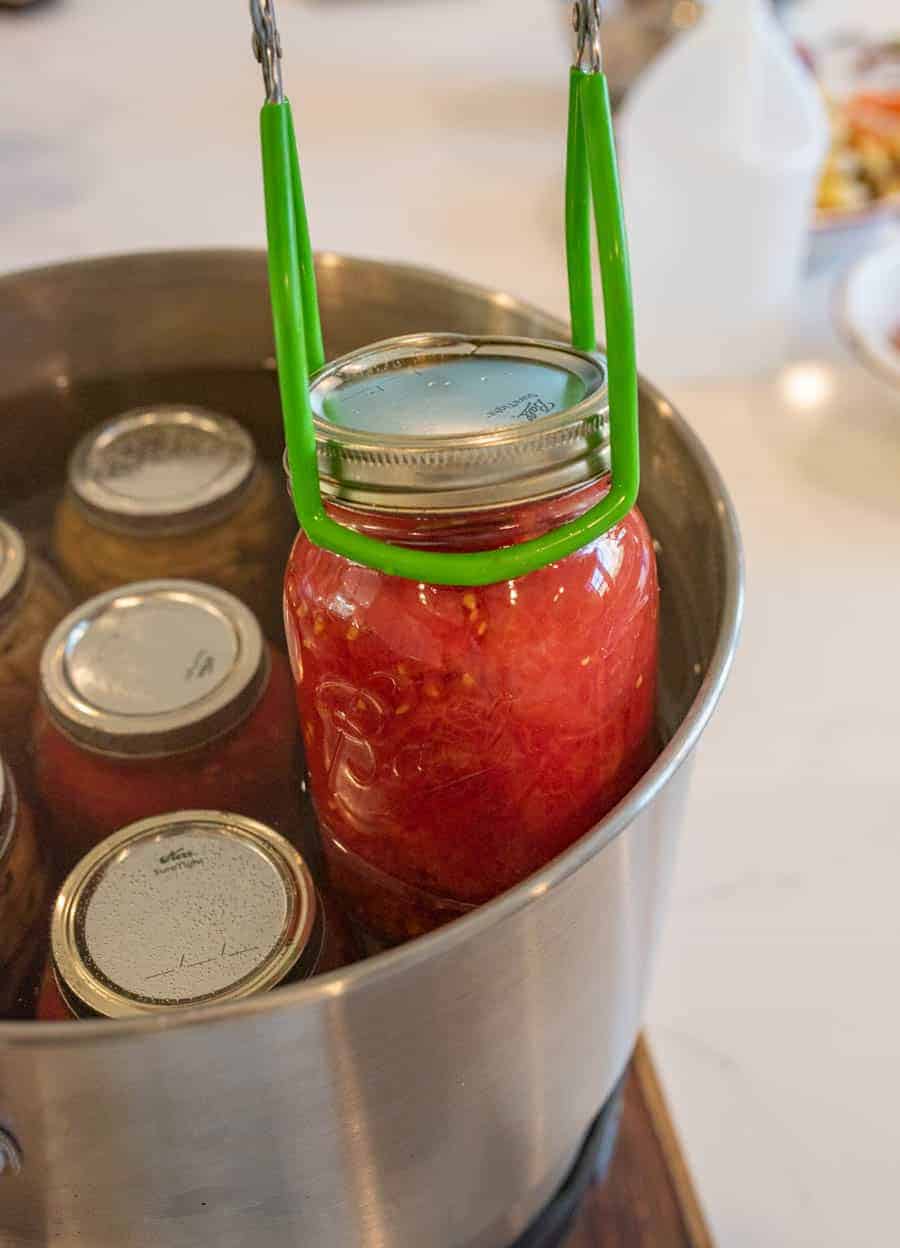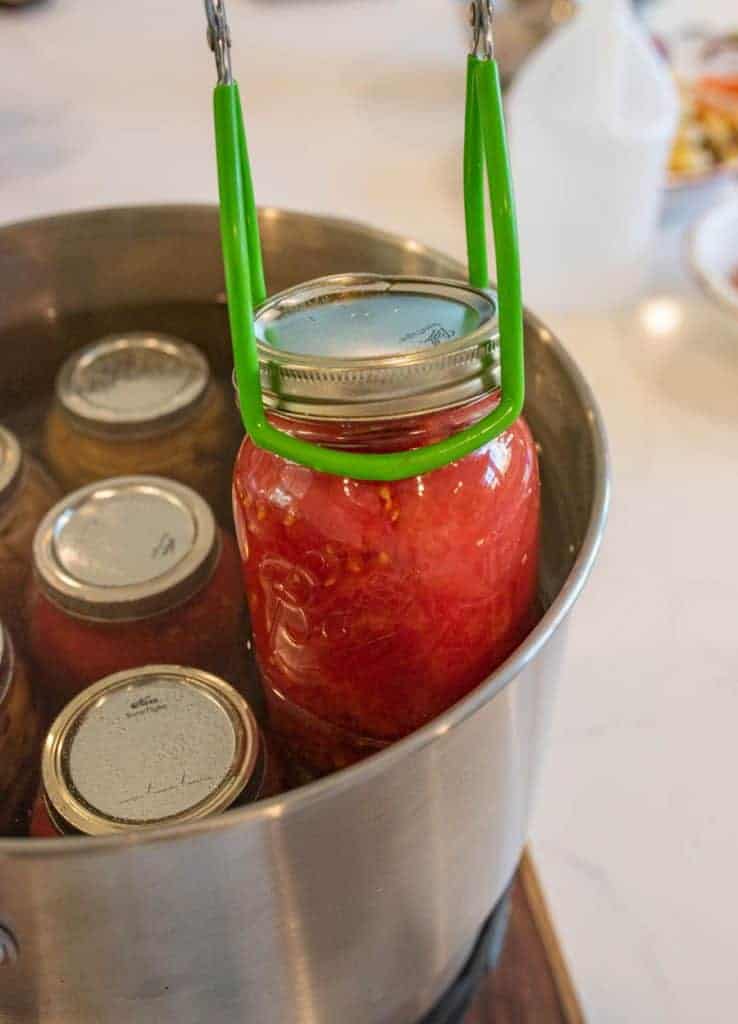 Recipes to use home canned tomatoes:
I use home canned tomatoes like I do store bought! Note that they do have more liquid than a can from the store, so if you need to drain some off for a recipe do that.
Because the tomatoes have not been diced when I open a can I'll often just use my clean hands to squish the tomatoes into smaller pieces as I pour them out of the jar. They have been cooked so they are very soft and fall apart when you squish them very easily.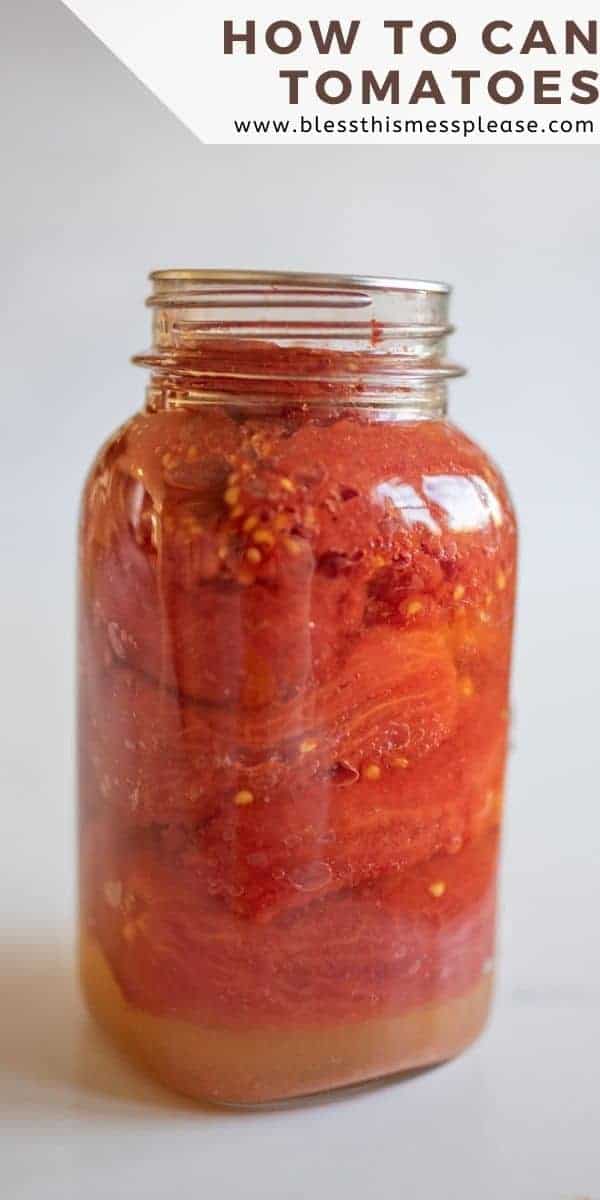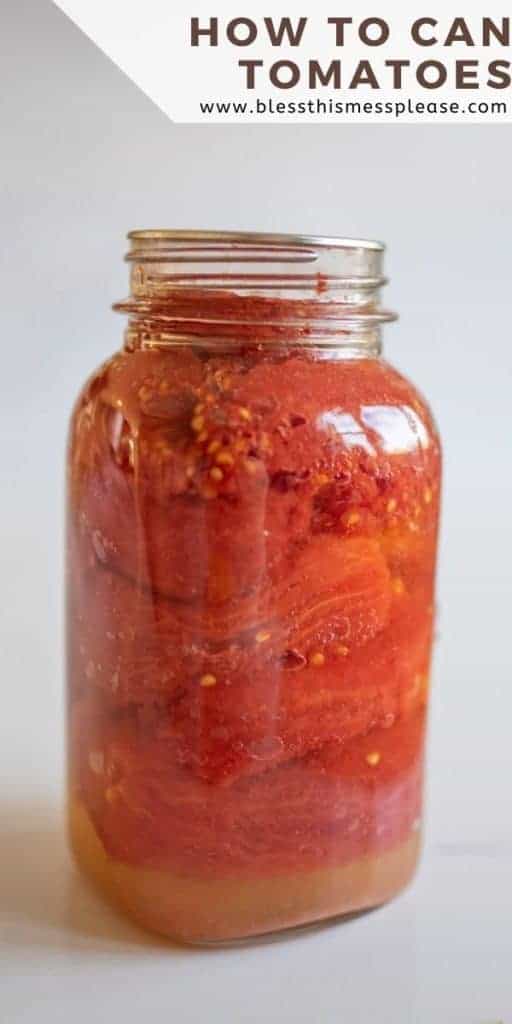 With just a little bit of effort you can enjoy tasty tomatoes in all of your favorite soups, sauces and dishes. Learning how to can tomatoes has been a huge blessing to our family. Give it a try!