Quick and easy tutorial on how to make Homemade Cherry Juice with a steam juicer. We love this healthy cherry juice recipe, made from real cherries, and use it all winter long. Plus, it's a great way to use up the excess harvest!
I love cherries and they are great in a variety of dishes. Check these out: Homemade Cherry Crumble Recipe, Healthy Cherry Energy Balls (Homemade Cherry Pie Larabars) and Sweet Cherry Waffles
What is a Steam Juicer?
As I mentioned before we had a bumper crop of cherries this year. I dried some, made preserves and jelly with others, but still had gallons and gallons left. An easy way to use all the cherries was to juice them. There is very little work involved with steam juicing; you don't even have to remove the pit! The juicer is totally worth the monetary investment if you own a cherry tree or grape vines. We love making homemade cherry juice and homemade grape juice with out steam juicer each year.
I first used a steam juicer a few years ago when I borrowed one from a friend to make grape juice. I've used hers for years and now that we've moved hours from her, it was time to buy one of my own.
If you've never seen or used one, then I'll enlighten you. They are amazing things that are easy to use, clean, and a great way to use lots of fruit.>We bought a Victoria steam juicer for around $70 from Ace Hardware (I know IFA and other places that sell canning supplies have them). You can also buy them on Amazon. The stainless steel juicers have really come down in price and you can buy a stainless steel version for not much more. I'd get the stainless steel if you can, it's supposed to last a lot longer and there's some interesting reading on how the use of aluminum in cooking might affect your health. That's my two cents, but I have used both aluminum and stainless steel and they both work great.
Here is what it looks like:
And this explains how it works. Boiling water on the bottom comes up through a hole and then goes through lots of little holes in the basket the fruit sits in. The steam releases the juice that collects (where #3 is pointed) and it runs out a tube.

Grandma's Bing (red) and Queen Anne (pink) cherries ready to juice.
Where is the best place to start if I'm a canning novice?
Canning is so fun, rewarding, cost savvy, and messy! If you are new to it, get a book! I recommend the Ball Blue Book; it is an all-inclusive master on the topic and only costs about $6. It's not hard to learn and most older folks that you know will be more than willing to let you borrow some of their supplies if you want to try it out. This post isn't all you need to can the juice (if you have never done a hot water bath), but the library will have all that info, so go find it!
Can you freeze homemade cherry juice?
If you don't want to can/bottle your juice, it freezes well too.
When you are ready to use your juice, sugar can be added to the juice to make it sweeter; just add to taste. Sometimes we like to mix the juice with lemon-lime soda pop for a fun (and pretty) punch for parties or
popcorn
and movie nights.
What else can I use cherries for?
I used the juice to make cherry jelly and cherry syrup! Both are delicious. I made a tart cherry juice a few times too using tart cherries and it's also great for all of the above recipes/ideas.
Are cherries healthy?
Yes! I like to use it in my smoothies in the morning too as it has great anti-inflammatory properties among other healthy nutrients.
Fresh hot cherry juice collecting in a pot.
Check these posts out for more recipes to use those cherries up:
Print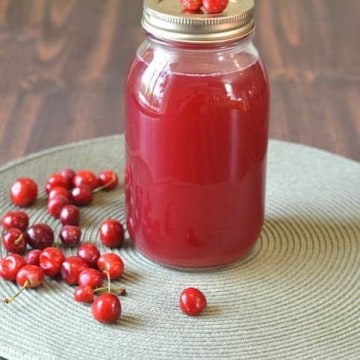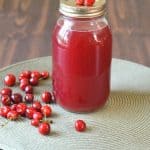 Homemade Cherry Juice Recipe
---
Author:

Total Time:

1 hr 25 mins

Yield:

11 Quarts
Description
Quick and easy tutorial on how to make Homemade Cherry Juice with a steam juicer. We love this healthy cherry juice recipe, made from real cherries, and use it all winter long. Plus, it's a great way to use up the excess harvest!
---
Lots of cherries, at least 1 gallon
Steam juicer
---
Instructions
Wash and sort your cherries, no need to pit or remove stems. I do like to pick out the ones that are rotten and any leaves that might get mixed in.
Get the steam juicer washed and set up according to instructions. Fill the hopper with your cherries. If you are using more than one type, mix them as you add them to get a more consistent juice flavor.
Let them steam for an hour, making sure the bottom of the steamer doesn't run out of water. The hopper full of cherries produces about four quarts of juice. If you have more cherries to do, throw out (compost or feed it to your chickens) the steamed cherries before doing your next batch.
Process the juice in a hot water bath for 15 minutes (for quarts) for us high elevations and 10 minutes for you low-lyers.
Notes
Sugar can be added to the juice to make it sweeter; just do that to taste.
I used the juice for jelly and cherry syrup! Recipes to come.
This juice is so good with lemon-lime pop (just when we are splurging)
Prep Time:

10 mins

Cook Time:

1 hr 15 mins

Category:

Drinks

Method:

Steam Juicer

Cuisine:

American
Keywords: how to use a steam juicer, how to make cherry juice, juice recipes, easy juice recipes, cherry juice, homemade juice recipes, homemade cherry juice, healthy juice recipes
See! It's not hard to make Homemade Cherry Juice in your own kitchen. With a load of cherries, the right supplies, and a little time, you'll have more than enough cherry juice to last all winter long. Nothing tastes better than opening a bottle of summer in the cold of winter!
The recipe was originally published in July 2012. It was updated, rewritten, and republished for your enjoyment in July 2017.