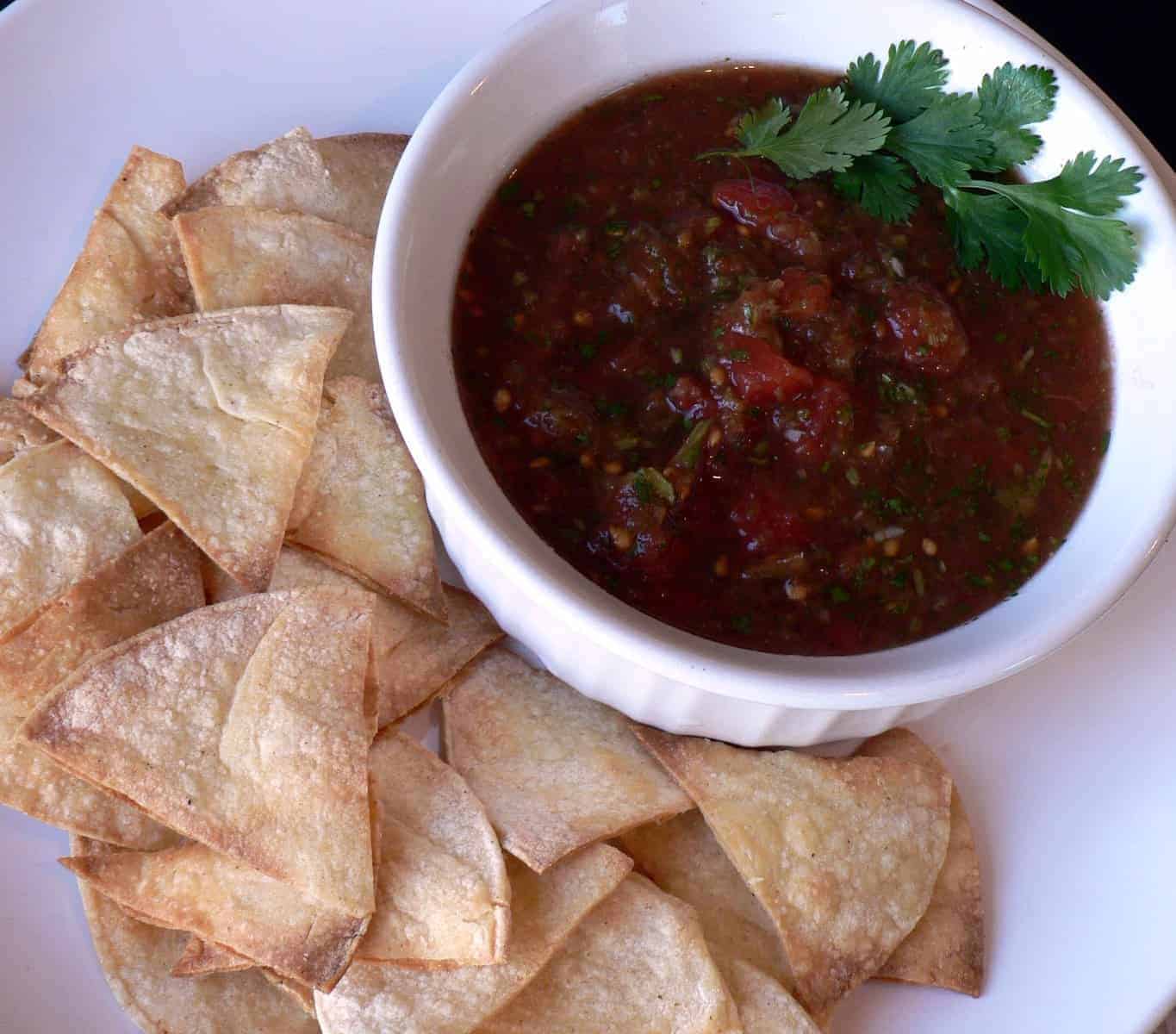 After a weekend of indulgence I'm always ready to get back to our normal eating. I normally plan on veggie-heavy meals for at least 3 days after we come home from Grandma's. The In-laws own a grocery store which is fun and awful at the same time. I can make whatever I want, but at the same time the house is always loaded with junk, junk, and more junk (we aren't the only ones bringing things home from the store!) Mexican is one of our favorite types of food and an easy one to get lots of vegetables in. So tonight I am planning on black bean and brown rice burritos with all the fixings. This salsa is a must have with any kind of Mexican meal.
I love this recipe. I have been making this salsa for over a year now and it is one of my favorite things to eat. It makes a large batch, which is great. I just keep it in a mason jar in the fridge like any other store bought salsa. This is a great recipe for the winter months when store-bought tomatoes are expensive and flavorless.
Restaurant Style Salsa
Adapted from the Pioneer Woman
Yields about 5 cups of salsa
1/2 cup cilantro (more to taste)
1/4 onion (about 1/2 cup)
1 clove garlic, outer skin removed
1 whole jalapeno, halved (I take the seeds out)
1 can whole tomatoes (28 ounce) or 1 quart home-canned whole tomatoes, undrained
1/2 tsp sugar
1/2 tsp salt
1/2 tsp ground cumin
1/2 lime, juiced
1 can diced tomatoes with green chilies (10 ounce)
Combine cilantro, onion, garlic, and jalapeno in a food processor. Process until all of the veggies are chopped, about 30 seconds. Add the whole undrained tomatoes, sugar, salt, cumin, and lime juice and pulse a few time until you get the salsa consistency that you like (10-15 pulses). Add the diced tomatoes and pulse one or two times to combine. Test the seasonings on a tortilla chip and adjust accordingly. The salsa is much better when it has time to sit. Let it rest for at least an hour before serving with warm tortilla chips or any other Mexican dish.
And if you missed it, this is amazing with homemade baked tortilla chips!