Brioche Bread (pronounced bree-ohsh, though it sounds fancier if you go full French and say bree-osh) is a type of bread that hails from France. But it's not your everyday baguette or boule. No, brioche is the decadent star of the bread world, thanks to its high butter and egg content. Yes, you read that right—butter and eggs, the dynamic duo of flavor and richness.
The magic of brioche lies in its soft, slightly sweet, and incredibly tender crumb. It's like a pillow you can eat. The dough's high fat content gives it a tender texture that practically melts in your mouth. You'll often find it shaped into loaves, buns, or even fancy braids, all of which look as good as they taste.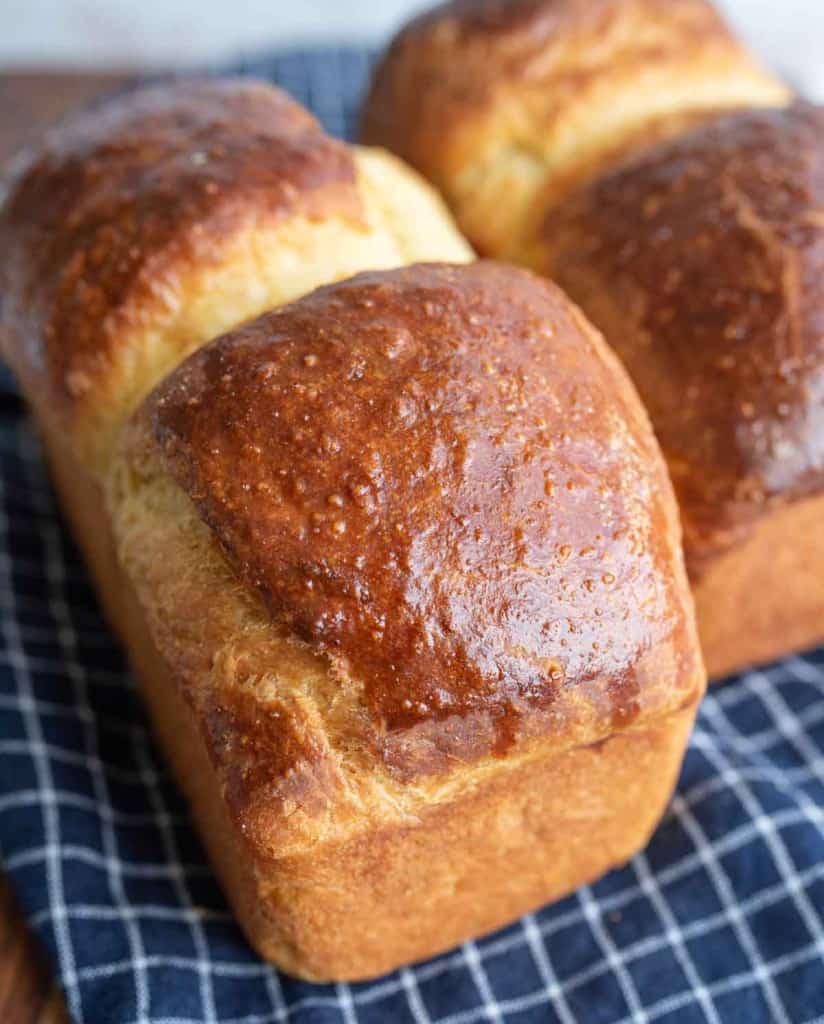 Brioche Bread
Brioche isn't just for plain old sandwiches (though it can do those quite fabulously). It's a versatile canvas for both sweet and savory creations. Toast it up and slather it with jam for breakfast, or use it to make a killer French toast that'll make brunch your new favorite meal.
Turn brioche slices into a decadent French toast. Dip them in a mixture of beaten eggs, milk, vanilla, and a pinch of cinnamon, then cook them on a griddle until they're golden brown. Serve with a dusting of powdered sugar, a drizzle of maple syrup, and fresh berries for a brunch-worthy indulgence.
Whether you're enjoying brioche as part of a sweet breakfast, a savory lunch, or a dessert, its buttery and tender qualities are sure to make each bite a memorable experience. Get creative and explore the various ways you can savor this indulgent bread.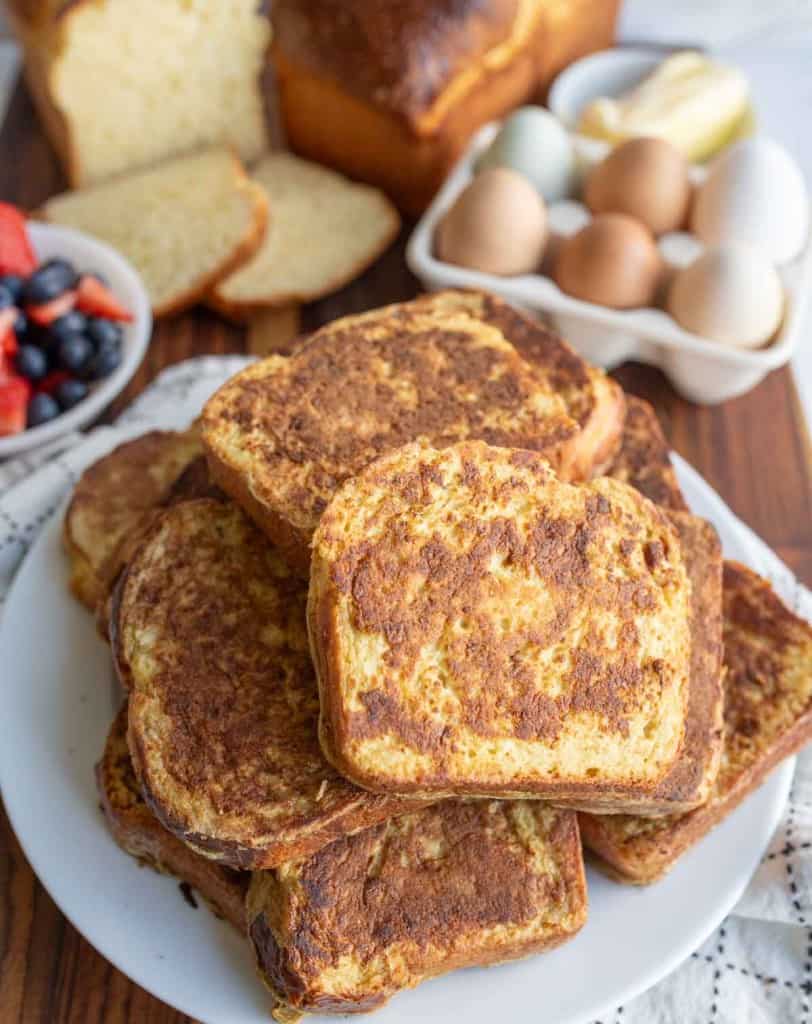 Ingredients
Bread flour
Active dry yeast
Eggs
Sugar
Butter
Keep scrolling to find a full, printable recipe with a detailed ingredient list.
Recipe Instructions
Mix & Initial Rise: Combine flour, yeast, salt, eggs, lukewarm water, sugar, and melted butter. Cover and let rest for 10 minutes.
Folding & Rising: Fold the dough 8 times, allowing it to rise for 30 minutes after each fold.
Chill: Refrigerate the dough for 16 hours.
Shape & Rest: Divide into 4, shape rounds, and rest for 5 minutes.
Prepare Pans: Grease 2 loaf pans.
Final Shaping & Rise: Shape dough and place rounds in pans. Cover and let rise for 1 ½ - 2 hours.
Preheat & Glaze: Preheat oven to 350°F with baking stone. Brush loaves with beaten egg.
Bake: Bake 35-45 minutes until golden and hollow sounding.
Cool & Slice: Allow loaves to cool on wire rack before slicing and serving.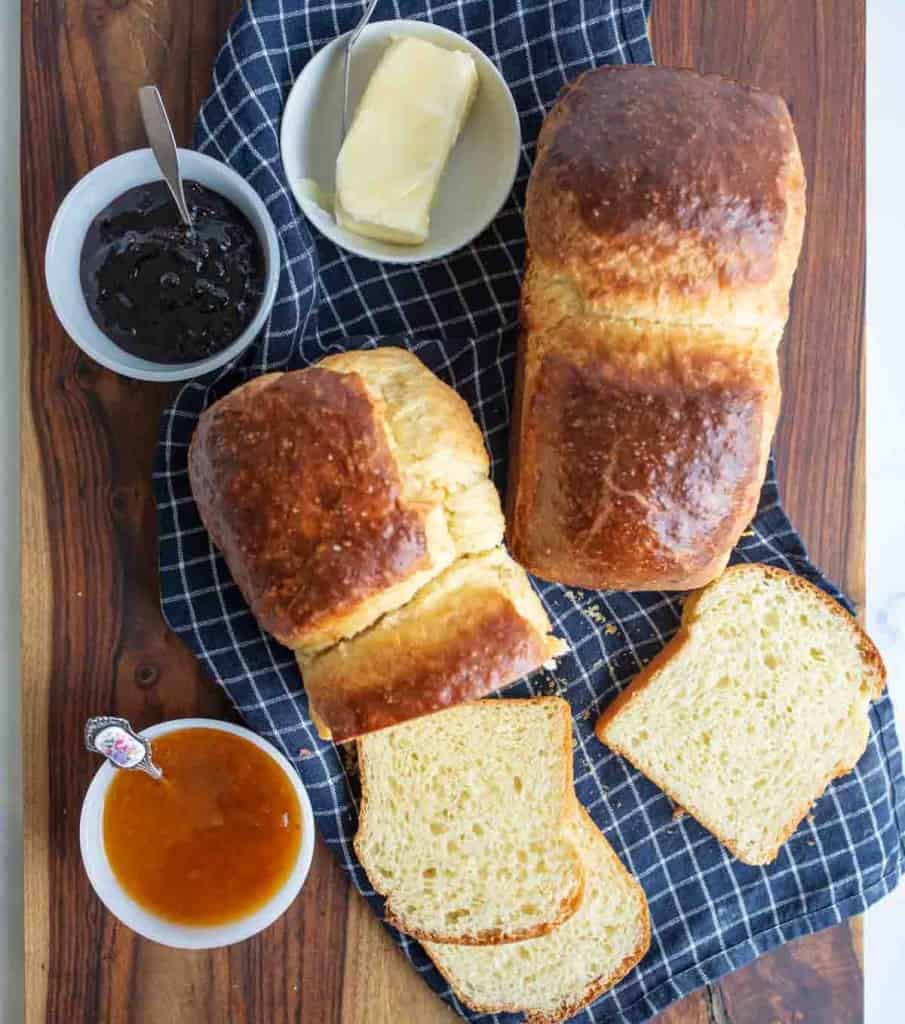 Frequently Asked Questions
Can I use all-purpose flour instead of bread flour?
Yes, you can substitute all-purpose flour for bread flour, but keep in mind that bread flour has higher protein content, which can result in a slightly chewier texture. All-purpose flour will still work well for making brioche.
Can I use instant yeast instead of active dry yeast?
Yes, you can use instant yeast instead of active dry yeast. However, instant yeast can be mixed directly into the dry ingredients without proofing in water first. Adjust the quantities according to the yeast conversion instructions provided by the manufacturer.
Can I freeze brioche dough for later use?
Absolutely! After the initial rise and shaping steps, you can freeze the dough. When you're ready to bake, thaw the dough in the refrigerator overnight and let it come to room temperature before continuing with the baking process.
How do I store leftover brioche?
Store cooled brioche in an airtight container or plastic bag at room temperature for up to 2 days. For longer storage, you can freeze the bread in a freezer-safe bag for up to a few months.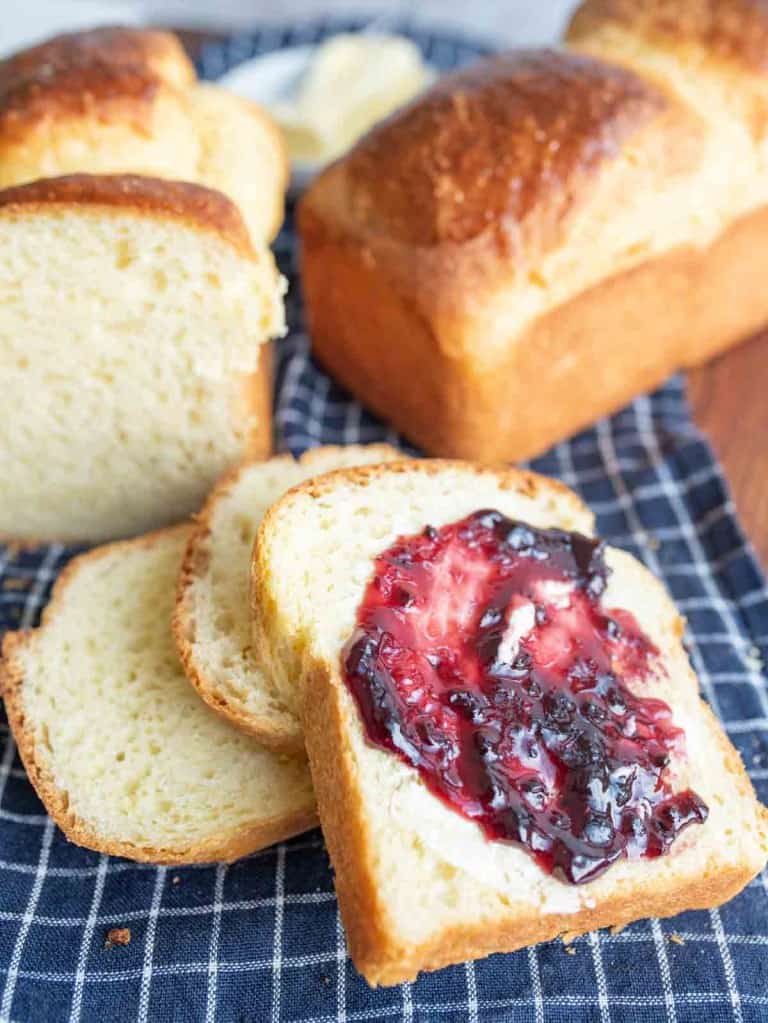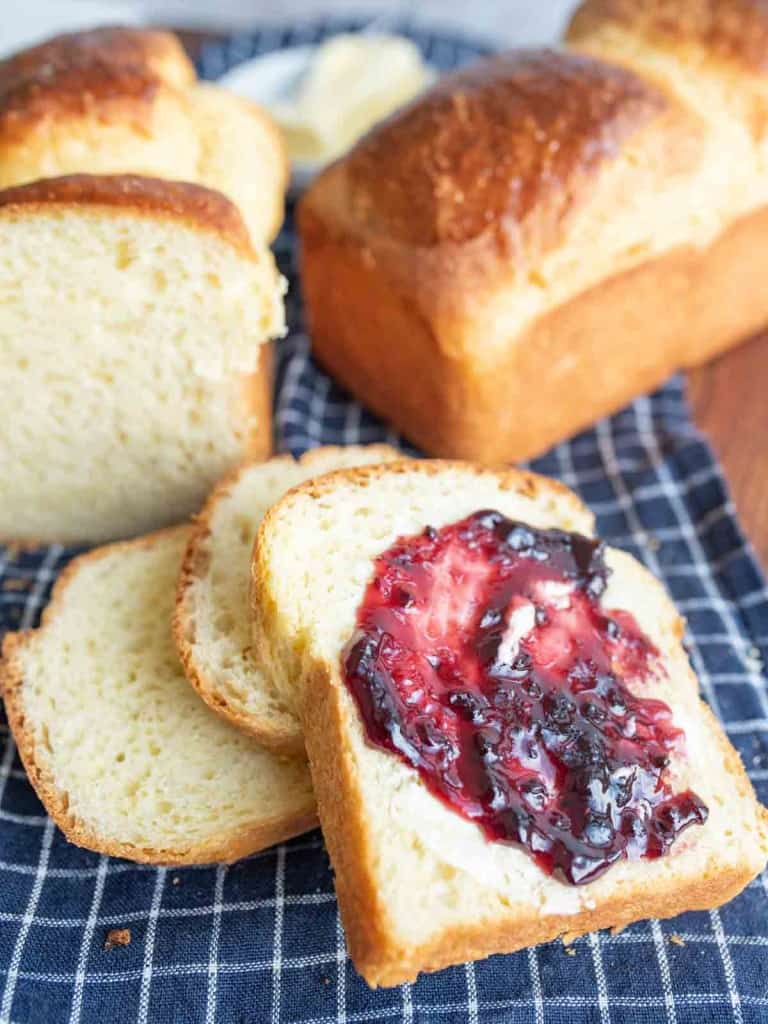 More Recipes
If you've tried this Brioche Bread recipe or any other recipe on Bless This Mess, then don't forget to rate the recipe and leave me a comment below! I would love to hear about your experience making it. And if you snapped some pictures of it, share it with me on Instagram so I can repost on my stories.
📖 Recipe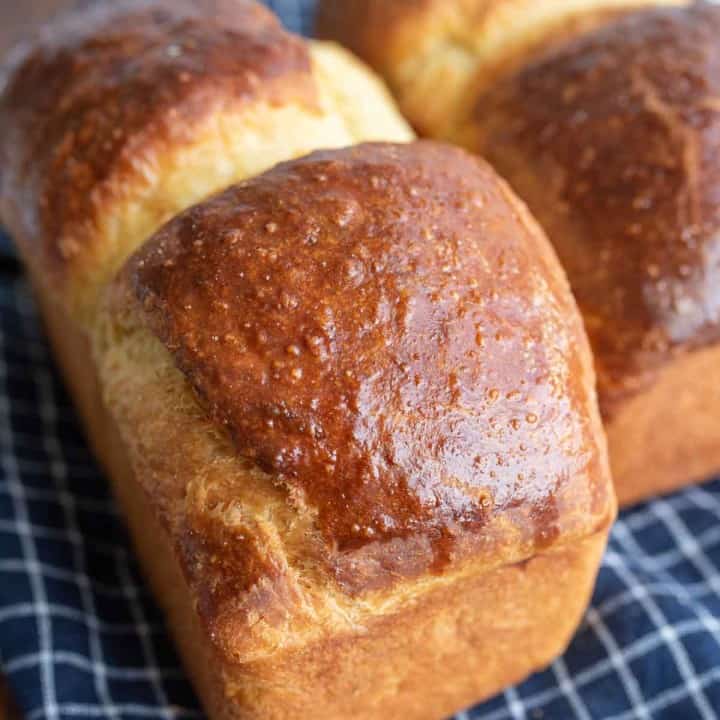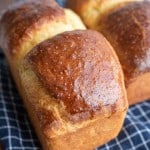 Print Recipe
Brioche Bread
Brioche bread, with its rich buttery flavor and tender texture, is a delectable French treat enjoyed in various sweet and savory forms.
Ingredients
3 ¼

cups

bread flour

2 ¼

teaspoon

active dry yeast

1 ½

teaspoon

salt

6

large eggs

at room temperature

½

cup

lukewarm water

⅓

cup

granulated sugar

16

tablespoons

unsalted butter

melted and cooled to lukewarm

1

beaten egg for egg wash
Instructions
In a large mixing bowl, whisk together bread flour, yeast, and salt until well combined.

In a separate medium-sized bowl, whisk together the 6 eggs, lukewarm water, and sugar. Continue whisking until the sugar is completely dissolved.

Slowly whisk in the melted and slightly cooled butter into the egg mixture until you achieve a smooth consistency.

Pour the wet mixture into the dry ingredients. Using a wooden spoon, stir vigorously until no traces of flour remain.

Cover the bowl with plastic wrap and let the dough sit undisturbed for 10 minutes.

Using your fingertips, gently fold the edge of the dough towards the center. Rotate the bowl slightly and fold again. Continue this process for a total of 8 times.

Once all folds are done, cover the bowl with plastic wrap again and let the dough rise for 30 minutes.

Repeat the folding and rising process (as steps 6 and 7) three more times, at 30-minute intervals.

After the last fold, seal the bowl tightly with plastic wrap and place it in the refrigerator for at least 16 hours.

Remove the dough from the refrigerator and transfer it onto a well-floured surface. Divide the dough into 4 equal pieces. Take one piece, pat it into a 4-inch disk, then fold the edges toward the center until a ball forms. Flip the dough over and, using a cupped hand, make small circular motions to form a smooth, taut round. Repeat with the remaining dough pieces.

Cover the shaped dough rounds loosely with plastic wrap and let them rest for 5 minutes.

Prepare two 8 ½ x 4 ½ inch loaf pans by greasing them thoroughly.

After the short rest, flip each dough ball over and repeat the folding and rounding step. Then, place two rounds, seam side down, into each prepared loaf pan, ensuring they fit snugly into the corners.

Cover the loaf pans loosely with plastic wrap. Allow the dough to rise in a warm location until it has doubled in size, roughly 1 ½ - 2 hours.

While the dough is rising, position a baking stone in the oven and preheat to 350°F.

Once the dough has risen, brush the top of each loaf gently with the beaten egg.

Place the loaf pans on the baking stone in the preheated oven. Bake for 35-45 minutes, or until the top is golden brown and the bread sounds hollow when tapped.

Remove the loaves from the oven and allow them to cool completely on a wire rack before slicing and serving.
Notes
This recipe is adapted from America's Test Kitchen.
Brioche can be stored in an airtight container for up to 3 days. It can also be frozen for longer storage.
For an added touch, you can sprinkle some coarse sugar on the egg-washed top before baking for a sweet crust.
Nutrition
Calories:
207
kcal
|
Carbohydrates:
20
g
|
Protein:
5
g
|
Fat:
12
g
|
Saturated Fat:
7
g
|
Polyunsaturated Fat:
1
g
|
Monounsaturated Fat:
3
g
|
Trans Fat:
0.4
g
|
Cholesterol:
81
mg
|
Sodium:
217
mg
|
Potassium:
50
mg
|
Fiber:
1
g
|
Sugar:
4
g
|
Vitamin A:
391
IU
|
Vitamin C:
0.001
mg
|
Calcium:
15
mg
|
Iron:
0.5
mg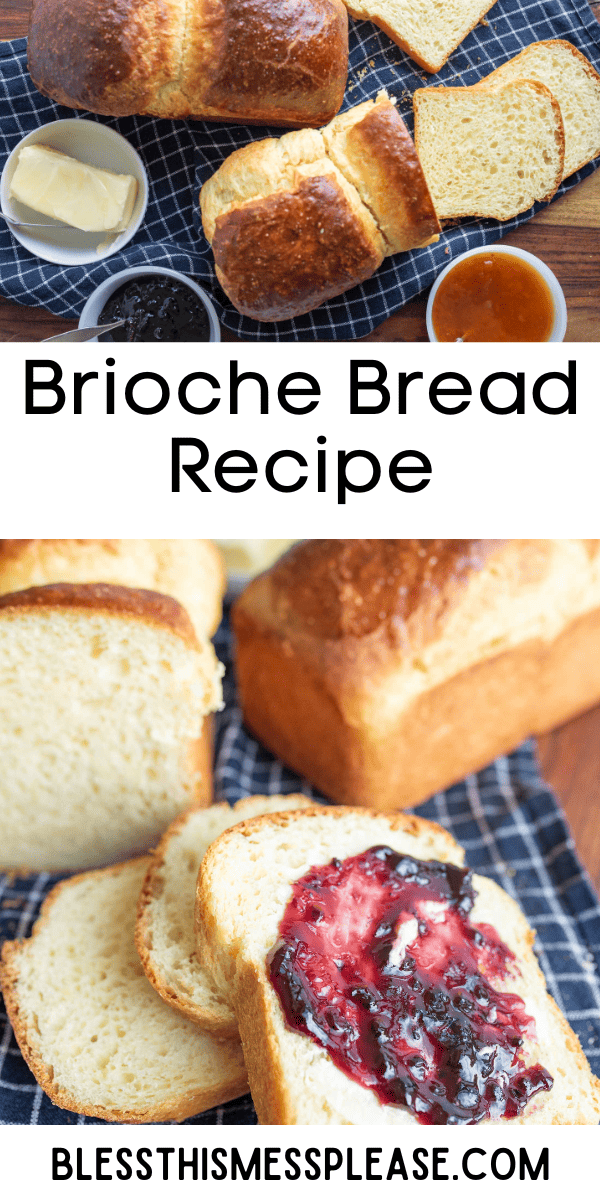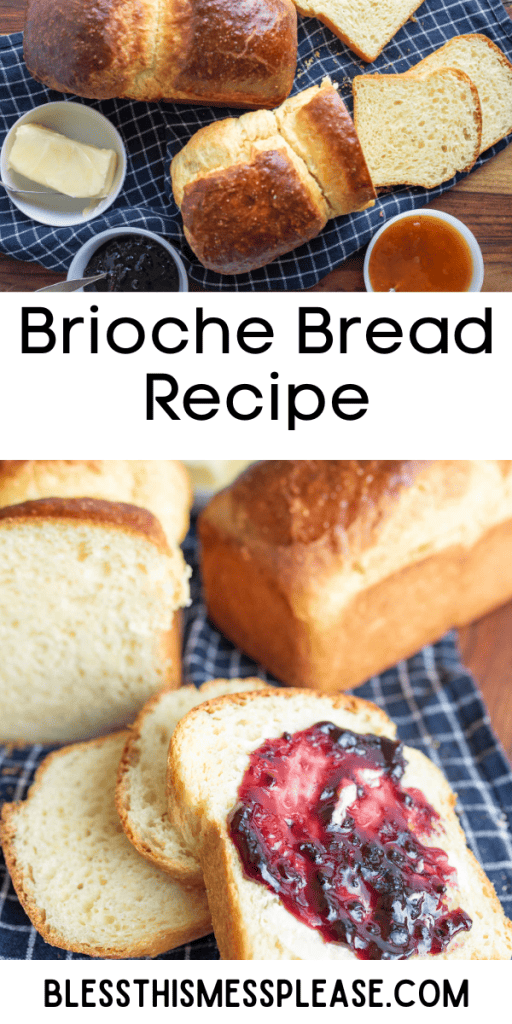 Brioche bread is like a warm hug for your taste buds. Its buttery, slightly sweet flavor and pillow-soft texture make it a carb-lover's paradise. Whether you're indulging in a simple slice with jam or taking your sandwich game to the next level, brioche has got your back. So, the next time you want to treat yourself or impress your brunch guests, consider embracing the butter-drenched delight that is brioche. Your taste buds will thank you.