I posted these last year because they were divine and I didn't even have a picture! I've been waiting for an excuse to make them again and I think I've found it! Here are this years pictures.
These are amazing. I'm not ginger crazy. I like it, don't love it. These will convert you to ginger in a heart beat. Be sure to find the crystallized ginger; it makes all of the difference! I found it in my small town in the spice section and it was SUPER expensive! If you are up North you can get it in the bulk bins at Sunflower Market. I bought 2 cups of the stuff there for the same price as 1/4 cup here.
Check out the comments on tips for turning these little beauties into cookies!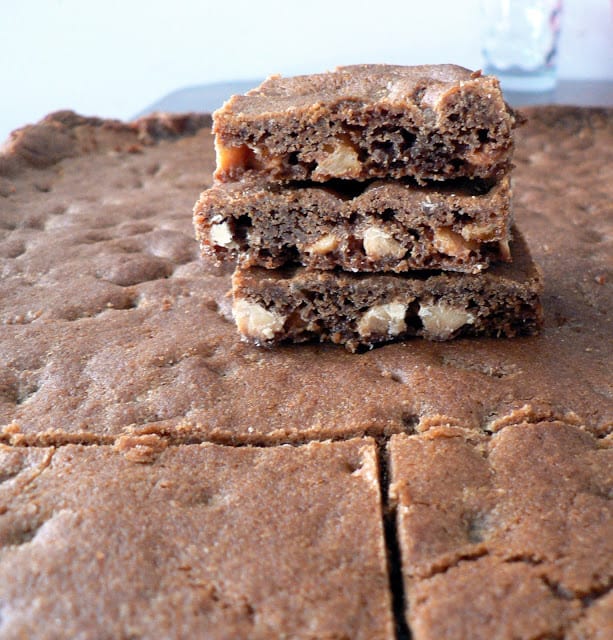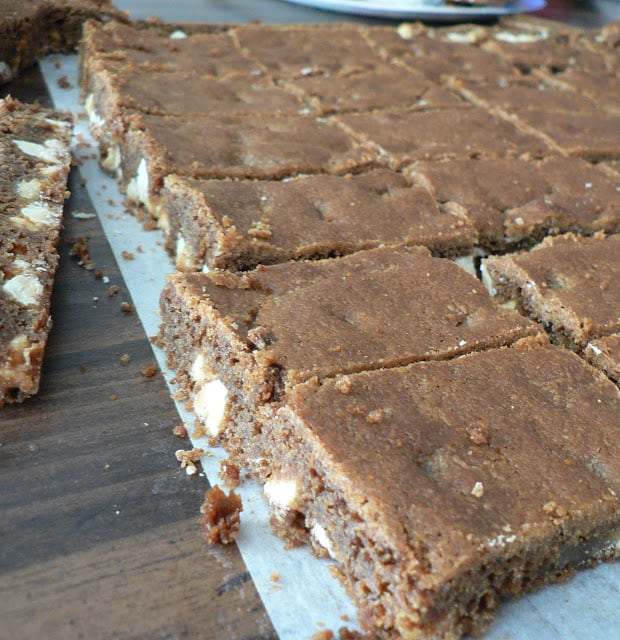 Gingerbread White Chocolate Blondies
Adapted from Martha Stewart
Printable Recipe
2 ¾ c. plus 1 Tbs. all-purpose flour
1 ¼ tsp baking soda
1 ¼ tsp salt
1 ¼ tsp ground cinnamon
1 tsp ginger
1 tsp cloves
1 ¼ c. (2 ½ sticks) unsalted butter, at room temperature
1 ¼ c. packed light brown sugar
½ c. plus 2 Tbs. granulated sugar
2 large eggs plus 1 egg yolk
1 ¼ tsp pure vanilla extract
1/3 c. unsulfured molasses
1 ¾ c. coarsely chopped white chocolate (think big chunks here, not dust)
¼ c. crystallized ginger finely chopped
Preheat the oven to 350 F. Coat a 12 x 17" inch, rimmed baking sheet with nonstick spray and line the bottom with parchment. Set aside.
Whisk together the flour, soda salt, and spices in a bowl and set aside.
In the bowl of an electric mixer fitted with the paddle attachment, beat the butter and sugars on medium-high speed until creamy and pale, about 3 minutes. Add eggs and yolk one at a time, scraping down as needed. Add vanilla and molasses and mix on medium speed until combined. Add flour mixture on low speed until combined. By hand, stir in white chocolate and chopped ginger.
Spread batter evenly into prepared baking sheet and bake until golden on edges, about 25 minutes. Let cool completely in pan; cut into squares. Blondies can be stored in an airtight container at room temperature for up to 1 week. Makes 4 dozen.