Italian Wedding Cookies are bite-sized delights that have long been a favorite for holidays and festive occasions.
Italian Wedding Cookies, often known as "Italian Butter Balls," "Mexican Wedding Cakes," or "Russian Tea Cakes," are bite-sized delights that have long been a favorite at Italian weddings and festive occasions. These tender and crumbly treats, often dusted with powdered sugar, melt in your mouth and deliver a nutty flavor, making them a universal favorite.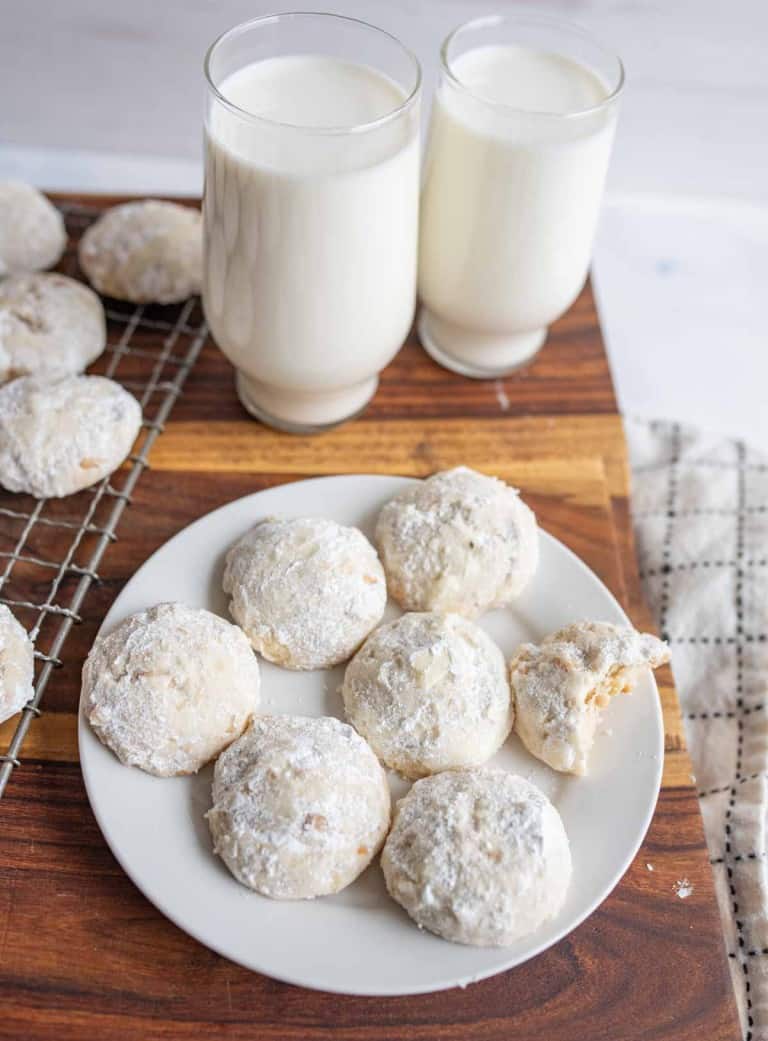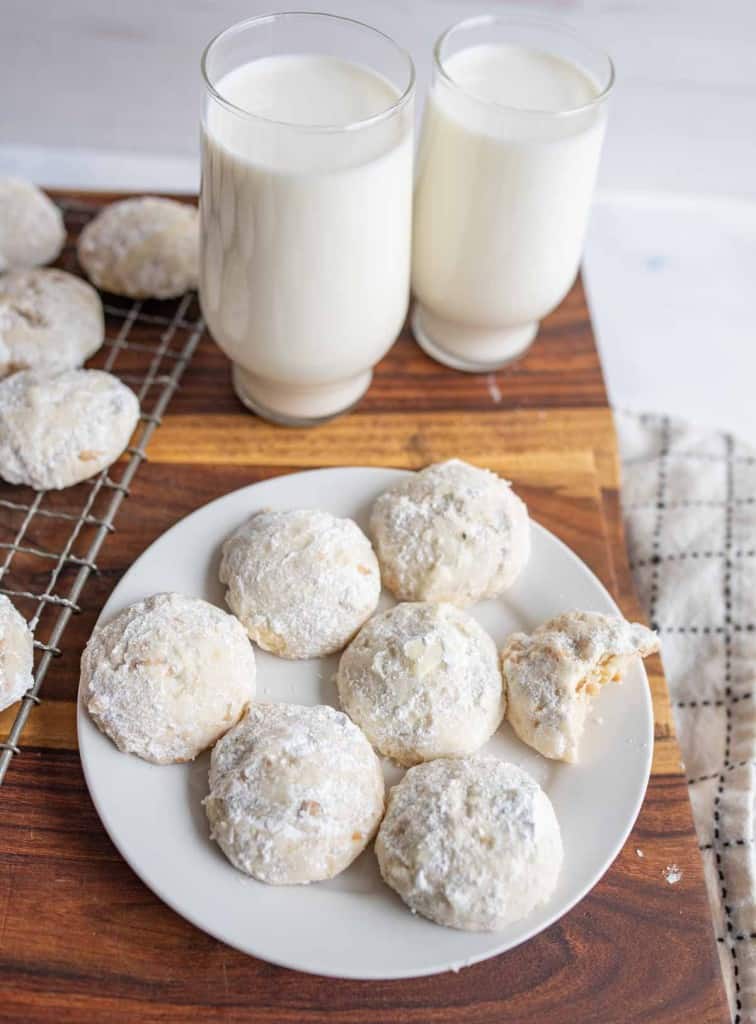 The charm of Italian Wedding Cookies lies in their simplicity and tradition. Whether you're celebrating a special occasion or just indulging in a mid-afternoon snack, these cookies are sure to win hearts and satisfy palates.
Table Of Contents
Why You'll Love This Recipe
Simple Ingredients: Most of the ingredients are pantry staples.
Perfect for Celebrations: A traditional choice for weddings and festive occasions.
Delectably Tender: The melt-in-your-mouth texture is irresistible.
Easy to Make: Suitable for bakers of all skill levels.
Recipe Ingredients
Almonds: Nutty and rich, almonds add both flavor and crunch to recipes.
Powdered sugar: This fine sugar lends a delicate sweetness without the grittiness of granulated sugar.
Butter: Providing moisture and richness, room temperature butter ensures a smooth and creamy texture when mixed.
Salt: A pinch of salt enhances other flavors and balances the overall sweetness.
Vanilla extract: Adds a fragrant aroma and classic flavor that complements most baked goods.
Flour: The backbone of many baked items, it gives structure and body to the recipe.
Popular Substitutions and Variations
Almonds:
Substitution: Hazelnuts, pecans, or walnuts can be used as an alternative for a different nutty profile.
Variation: For an extra layer of flavor, try roasting the nuts before incorporating them into the recipe.
Powdered sugar:
Substitution: Granulated sugar can be pulsed in a blender to achieve a powdered consistency if you're out of powdered sugar.
Variation: For a hint of caramel flavor, consider using brown sugar.
Vanilla extract:
Substitution: Almond extract, if you want to amplify the almond flavor, or maple syrup for a hint of maple sweetness.
Variation: For a deeper flavor profile, consider using vanilla bean paste.
Additional powdered sugar for coating:
Substitution: Cocoa powder can be used for a chocolatey finish.
Variation: A mix of powdered sugar and ground cinnamon can add a warm and spicy touch to the coating.
How To Make Italian Wedding Cookies
Preheat & Toast: Preheat the oven to 350°F (175°C). Toast almonds on a baking sheet for 5 minutes until golden. Allow to cool, then blend into a coarse flour using a food processor.
Cream Butter & Sugar: In a large bowl, cream together ½ cup powdered sugar and 1 cup butter until light and fluffy. Mix in ¼ teaspoon salt and 1 teaspoon vanilla extract.
Add Flour & Almonds: Gradually blend in 1 cup flour to form a soft dough. Fold in the ground toasted almonds.
Shape & Bake: Roll dough into tablespoon-sized balls and place on a cookie sheet. Bake for about 10 minutes until bottoms are slightly browned.
Coat with Sugar: Once slightly cooled, coat cookies in sifted powdered sugar and let them cool completely on a wire rack.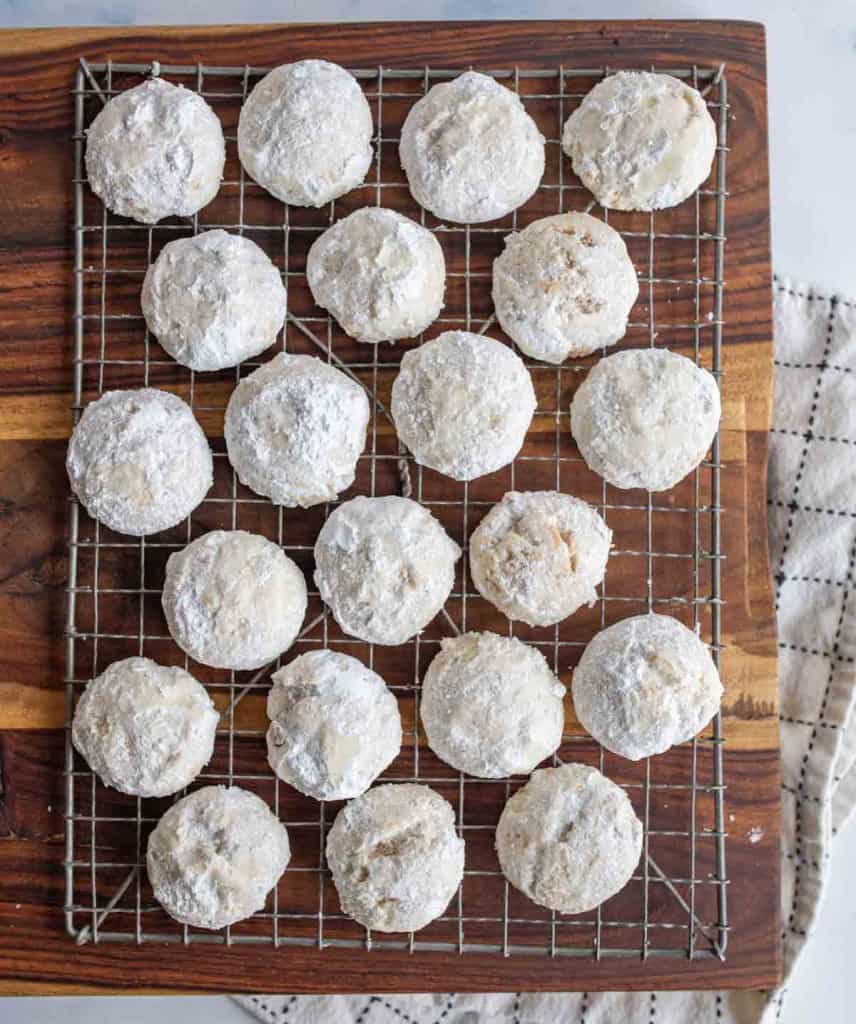 Frequently Asked Questions
Can I use other types of nuts?
Absolutely! While traditional recipes might use walnuts, feel free to experiment with pecans, almonds, or even hazelnuts.
How long do these cookies last?
Stored in an airtight container, they can last up to a week.
Can Italian wedding cookies be frozen?
Yes, these cookies freeze well. Simply store in a freezer-safe bag or container for up to three months. Thaw and dust with additional powdered sugar before serving.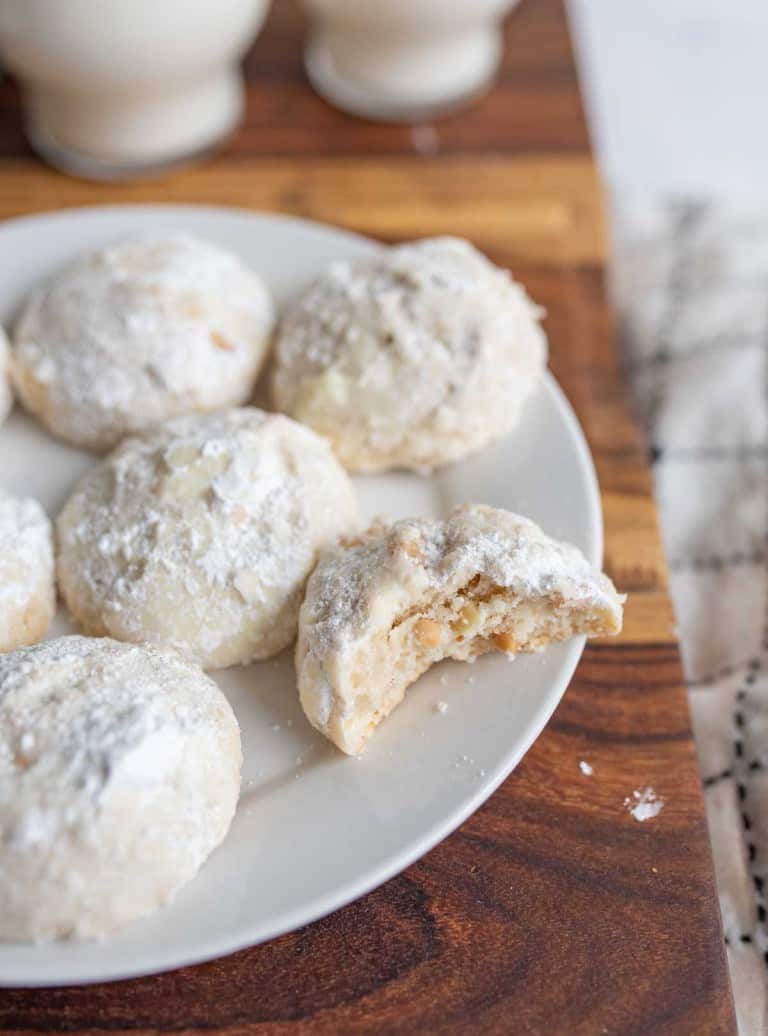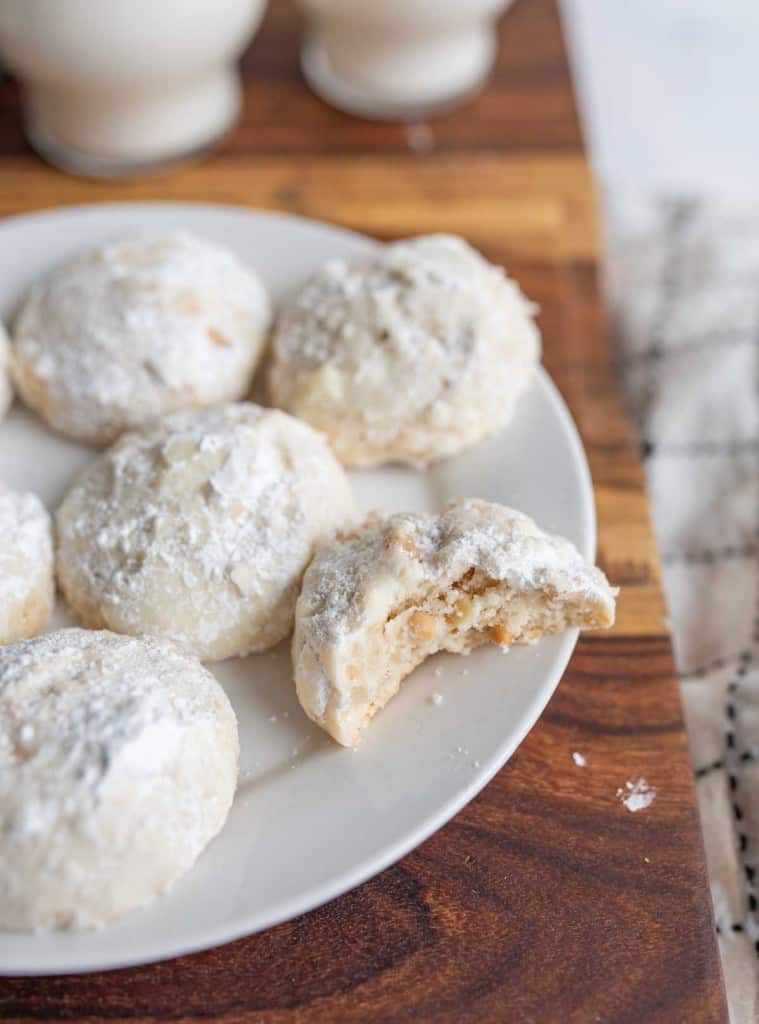 Expert Tips
Nut Roasting: Consider toasting the nuts before adding them to the dough. It can elevate the nutty flavor.
Size Consistency: Ensure all dough balls are of the same size for even baking.
Double Coating: Always coat the cookies twice with powdered sugar for that perfect snowy appearance.
Storage: These cookies tend to soften over time. To maintain their crumbly texture, store in a cool, dry place.
Gifting: These cookies make a wonderful gift. Simply place in a decorative tin, and they're ready to be shared!
When To Serve Italian Wedding Cookies
Italian Wedding Cookies, despite their name, are versatile treats that can be served on a variety of occasions. As their name suggests, these cookies are traditionally associated with Italian weddings. They make for delightful additions to dessert tables or can be offered as favors for guests.
These cookies are a popular choice during the Christmas season, but they are also suitable for Easter, Valentine's Day, and other festive occasions.
Their delicate, crumbly nature and bite-sized form make them perfect companions to a cup of tea or coffee.
Serve these cookies at bridal or baby Showers. Their dainty size and elegant appearance make them a favorite for shower events.
Did you try this recipe? Leave a ⭐️ rating below and share it on Instagram, Facebook, and Pinterest!
📖 Recipe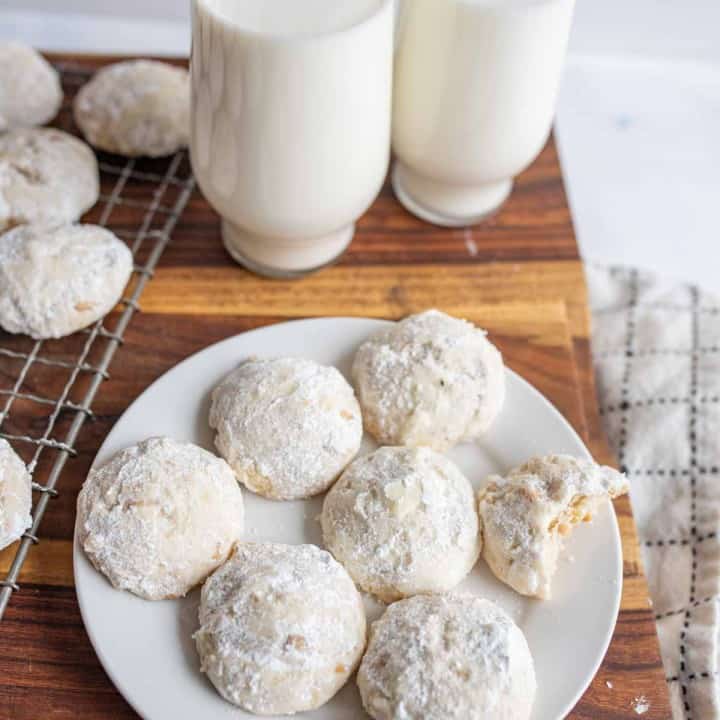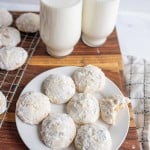 Print Recipe
Italian Wedding Cookies
Italian Wedding Cookies are bite-sized delights that have long been a favorite for holidays and festive occasions.
Ingredients
1

cup

raw almonds

½

cup

powdered sugar

1

cup

butter

at room temperature

¼

teaspoon

salt

1

teaspoon

vanilla extract

1

cup

all-purpose flour

Additional powdered sugar for coating
Instructions
Preheat your oven to 350°F (175°C).

Spread the almonds evenly on a baking sheet and toast for about 5 minutes, or until they're lightly golden and aromatic. Be sure to keep an eye on them to avoid burning.

Once toasted, allow the almonds to cool completely.

Once the almonds are cooled add them to a food processor or high powered blender and blend to a coarse flour. It should look uniform in size and color. Stir the mixture often and scrape down the sides as needed. Just don't over blend or you'll start to make almond butter.

In a large mixing bowl, combine ½ cup powdered sugar and 1 cup butter. Use a mixer with the paddle attachment to cream them together until the mixture becomes light and fluffy.

Add ¼ teaspoon salt and 1 teaspoon vanilla extract. Continue mixing until these ingredients are well incorporated.

Gradually add 1 cup flour to the butter mixture, continue to mix until it's smoothly blended into a soft dough.

Fold in the coarsely ground toasted almonds, ensuring they are evenly distributed throughout the cookie dough.

Use a cookie scoop or two spoons to scoop out portions of dough (a generous tablespoons). Roll them into balls and place them onto a cookie sheet, spaced adequately apart to allow for slight spreading.

Bake the cookies in the preheated oven for about 10 minutes. Keep an eye on them - they should be just starting to show a hint of brown at the bottom.

Allow the cookies to cool slightly, then roll them in sifted powdered sugar until they are well-coated. Allow them to cool completely on a wire rack.
Notes
Make sure the butter is at room temperature before mixing to achieve a smooth and well-incorporated dough.
Be consistent with the size of each cookie to ensure even baking. Adjust the baking time if you make your cookies larger or smaller.
These Italian Wedding Cookies can be stored in an airtight container at room temperature for up to a week. They can also be frozen; just allow them to thaw at room temperature before serving.
If you'd like to experiment with different flavors, try substituting the almonds with other nuts like pecans or hazelnuts, following the same toasting and grinding steps.
If you are making these ahead of time, the cookies kind of absorb the powdered sugar. So I like to reroll them in powdered sugar before I serve them the next day so that they look nice and fresh.
Nutrition
Calories:
88
kcal
|
Carbohydrates:
5
g
|
Protein:
1
g
|
Fat:
7
g
|
Saturated Fat:
3
g
|
Polyunsaturated Fat:
1
g
|
Monounsaturated Fat:
3
g
|
Trans Fat:
0.2
g
|
Cholesterol:
14
mg
|
Sodium:
57
mg
|
Potassium:
35
mg
|
Fiber:
1
g
|
Sugar:
2
g
|
Vitamin A:
158
IU
|
Calcium:
13
mg
|
Iron:
0.3
mg