This easy pumpkin dog treat recipe contains four simple ingredients that are good for your pup and that he or she will love to chow down!
This is my very first dog treat recipe, but if you're in search of simple, human pumpkin treats, look no further than my Perfect Pumpkin Bread, One Bowl Pumpkin Spice Muffins, or Pumpkin Date Balls 3 Ways!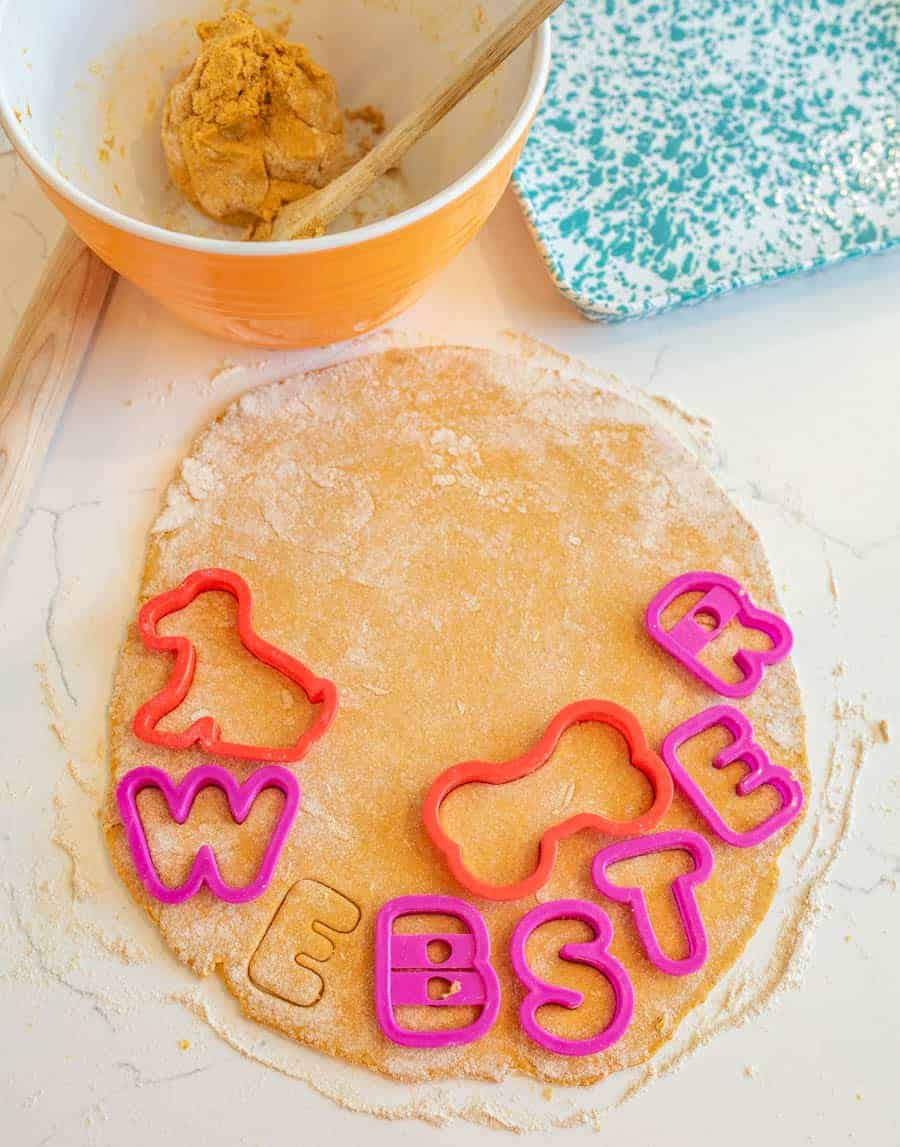 Easy Pumpkin Dog Treat Recipe
We welcomed our fluffy Aussie-doodle Webster to our fam a few months ago, and it's been a whirlwind of potty training, chasing him around, and lots of little bodies loving on him all day long. He's been such a joyful addition to our already full house, and to say he's brought a lot of laughter and memories already would be an understatement! So I figured, the guy could use a little lovin' on my blog, too...
Enter: these simple pumpkin dog treats! With just pumpkin puree, creamy peanut butter, eggs, and whole wheat flour, these pup snacks are tasty and healthy for your furry friends to enjoy! Pumpkin is great for doggies' digestion, and it's even good for dogs with sensitive tummies. In fact, raw pumpkin puree is recommended to give to dogs who are experiencing stomach problems because it's calming and soothing to their systems. Based on Webster's review (aka, him scarfing them down), I'd say these treats are a hit.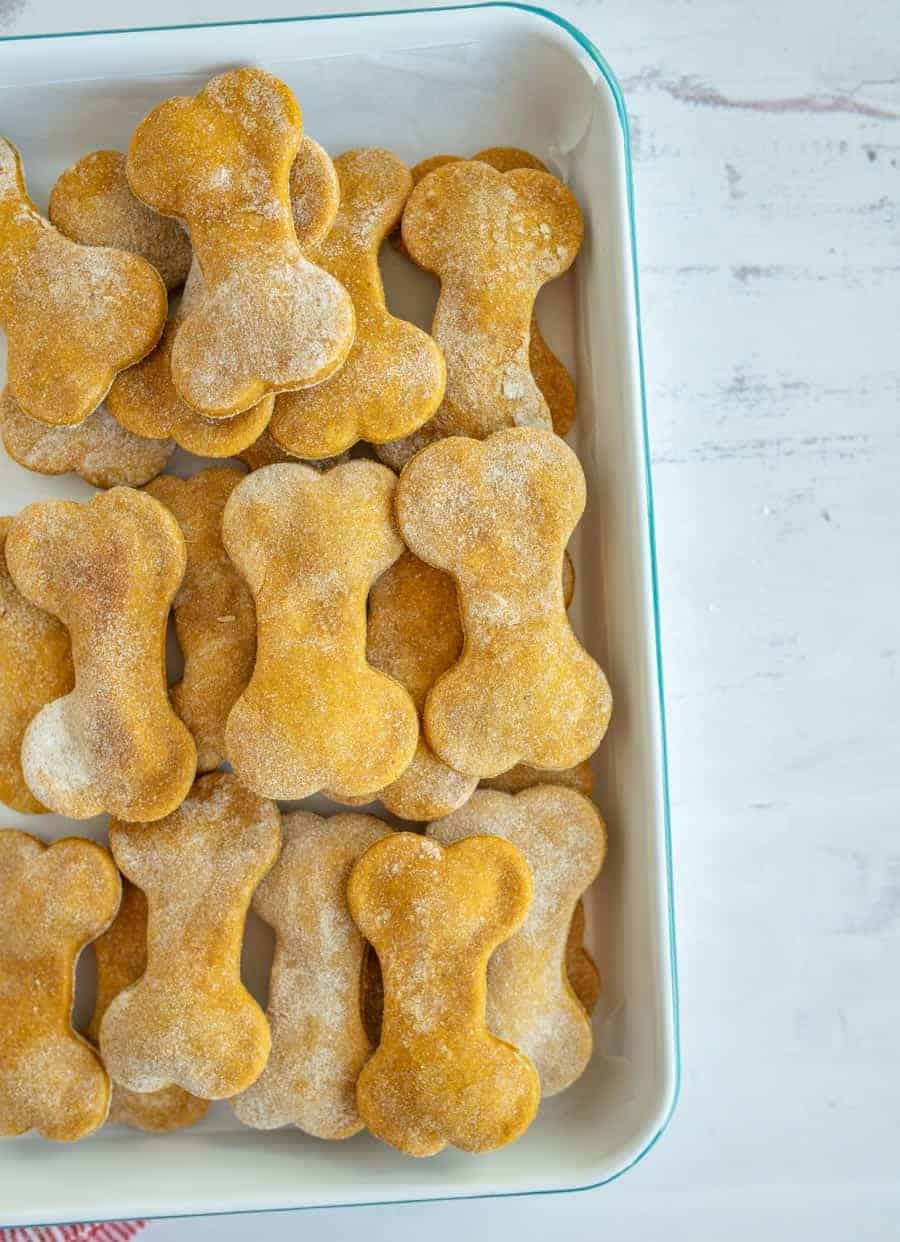 Is pumpkin good for dogs?
Vets commonly advise owners whose dogs have either constipation or diarrhea to feed them plain canned pumpkin to calm their tummies. It is a good source of fiber and also settles their stomach, and many dogs love the taste, too. Even if your dog isn't having stomach issues, pumpkin is a great and healthy natural ingredient that dogs enjoy (especially paired with peanut butter in a dog biscuit!).
Can I use regular flour for dog treats?
If you only have regular all-purpose flour, you can certainly use it, but many dog treat recipes call for whole wheat simply because it has a greater nutritional value!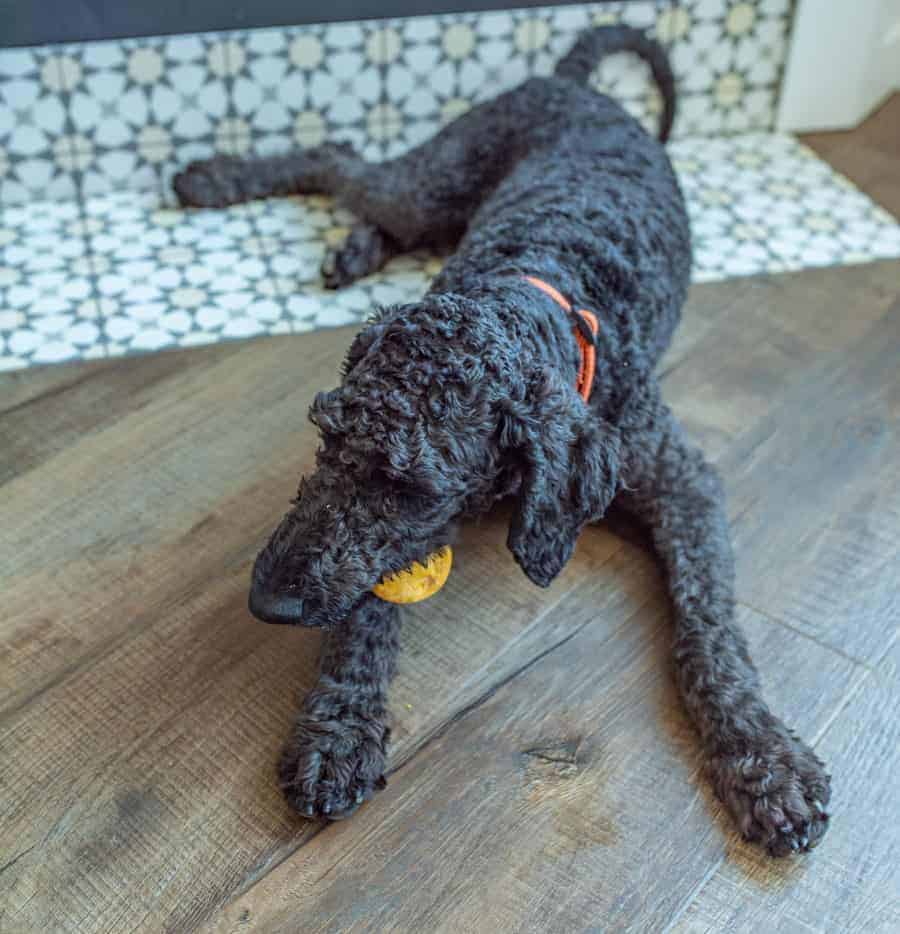 How long do pumpkin dog treats keep for?
These treats last in an airtight container in the fridge for a week, or frozen for 3 months. Just set them out on the counter for a few minutes to thaw before feeding them to Fido!
Is peanut butter good for dogs?
Peanut butter is a solid source of protein and healthy fats for your dog, but be sure it doesn't have any xylitol, as it's a sweetener in some PBs that is toxic to dogs.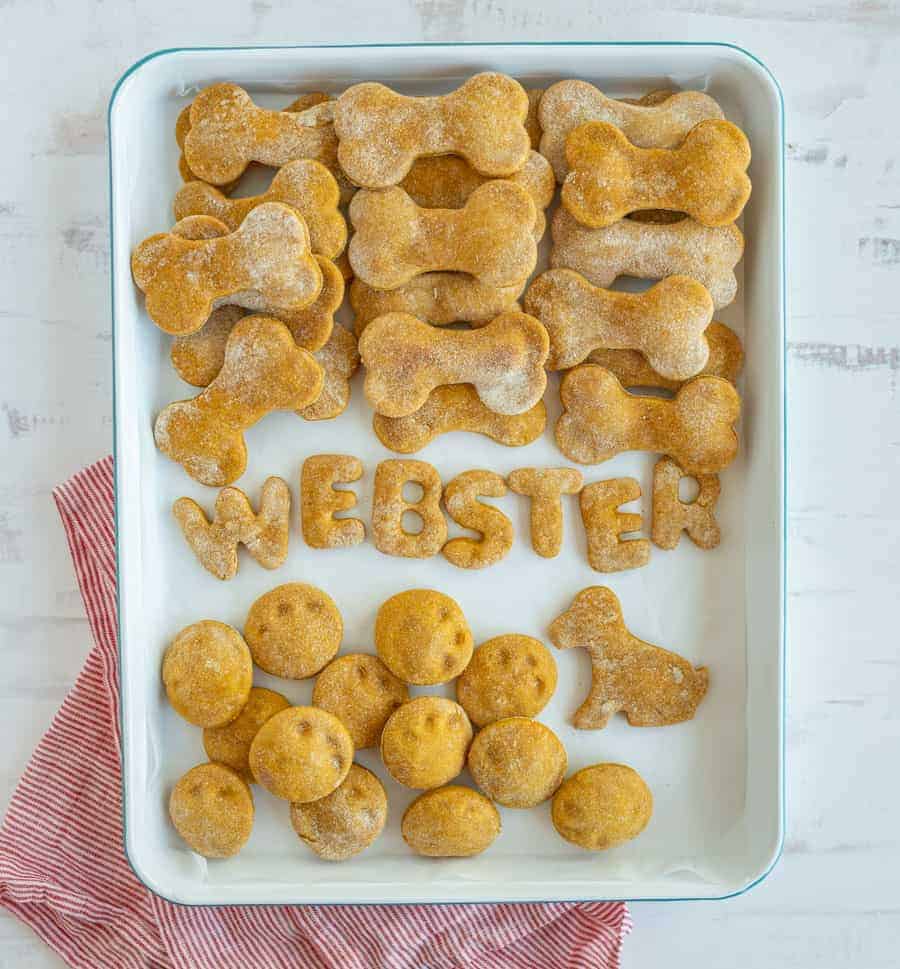 How do I make homemade pumpkin puree for this recipe?
I have you covered! I make homemade pumpkin puree by either cooking a whole pumpkin in the crock pot or by roasting whole pumpkins in the oven to make puree, both methods are great and good to know how to do. Just pick up a few sugar pumpkins (that's the type typically used for making pumpkin puree) the next time you are in town and you'll be able to make pumpkin puree at home.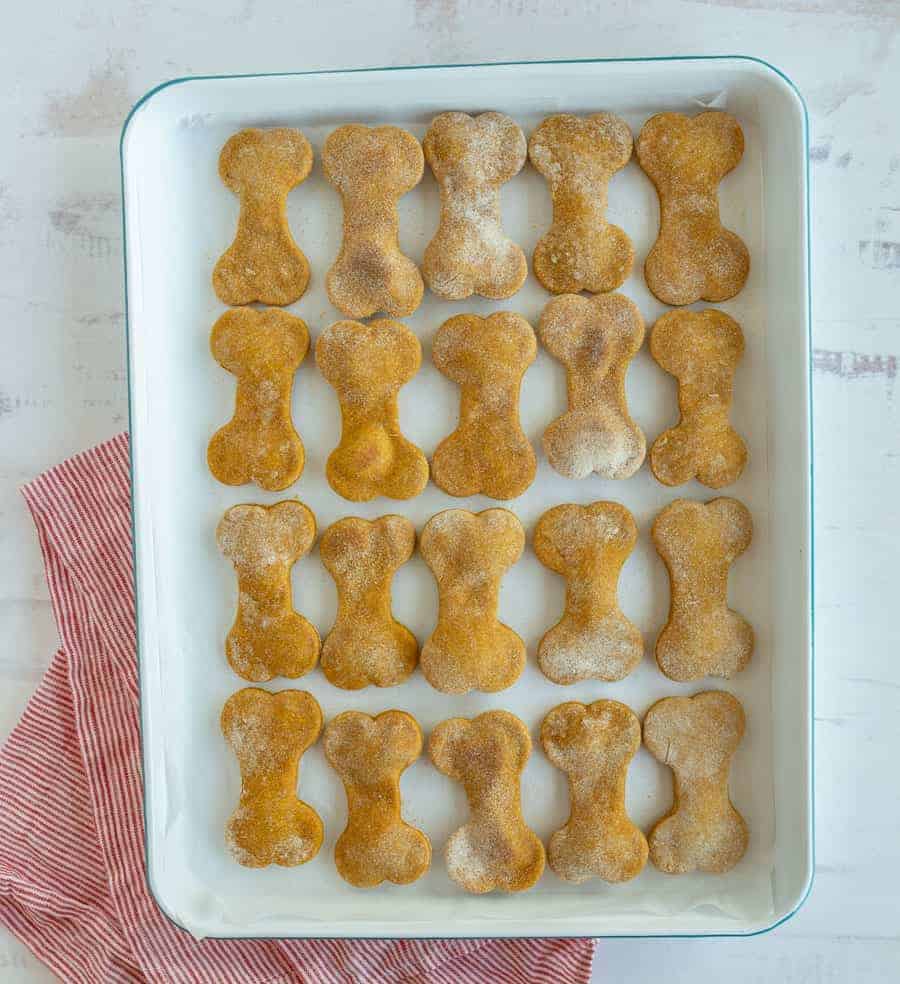 Print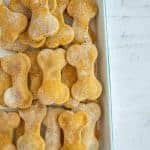 Easy Pumpkin Dog Treat Recipe
---
Author:

Total Time:

35 minutes

Yield:

4

dozen medium treats

1

x
Description
This easy pumpkin dog treat recipe contains four simple ingredients that are good for your pup and that he or she will love to chow down!
---
1 cup

pumpkin

2

eggs

¼ cup

creamy peanut butter

2.5

to

3

cups whole wheat flour
---
Instructions
Preheat the oven to 350 degrees F.
In a medium mixing bowl, combine the pumpkin, eggs, and peanut butter, and stir well.
Add 2.5 cups of flour, and stir to combine. The dough should be about the consistency of play-dough: soft and easy to roll out, but not wet and sticky. Add more flour as needed to reach this consistency.
Divide the dough into 2 pieces. Working with one piece at a time, roll it out on a well-floured surface until it is ½-inch thick.
Cut the dog treats out using a cookie cutter, or you can simply cut them into squares using a knife.
Place the cut-out cookies on a parchment-lined baking sheet.
Repeat with remaining dough, gathering and re-rolling the scrap dough until all the dough is used.
Bake for 20 minutes or until cooked through.
Store in an airtight container in the fridge for up to a week or in the freezer for 3 months.
Notes
The homemade dog treats will still be a little soft at the 20 minutes mark. My pup prefers them like this. Their shelf life is shorter like this, though (this is why you keep them in the fridge or freezer).
Bake for an additional 10 minutes if you'd like a crisp dog treat. They are more shelf stable when they are cooked longer, but the fridge or freezer will still prolong their usability.
Let treats thaw at room temp for a few minutes before giving to you dog.
Make sure your peanut butter doesn't contain artificial sweeteners like xylitol -- it's toxic for dogs.
Prep Time:

15 min

Cook Time:

20 min

Category:

dog treat

Method:

bake

Cuisine:

American
Keywords: homemade dog treats, dog treats, peanut butter, pumpkin
No cookie cutters? No worries! You can just roll out the dough and cut it with a knife or pizza roller for simple but effective treats.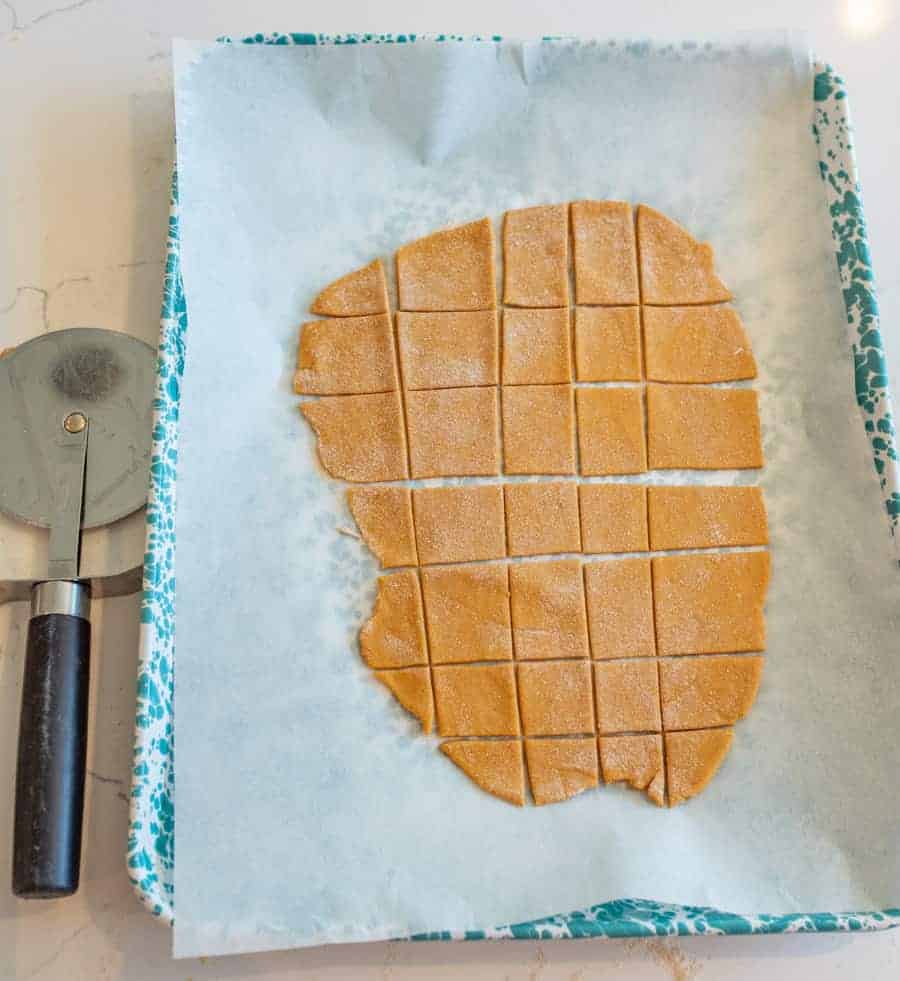 I don't have any other dog food or puppy treats on my site (yet!) BUT I do have a loads of people pumpkin recipes.
Here are a few of my favorite people pumpkin recipes:
Your pup will love and eat up this easy pumpkin dog treat recipe! It's only four ingredients and beyond easy to make healthy, tasty cookies for your furry friends.