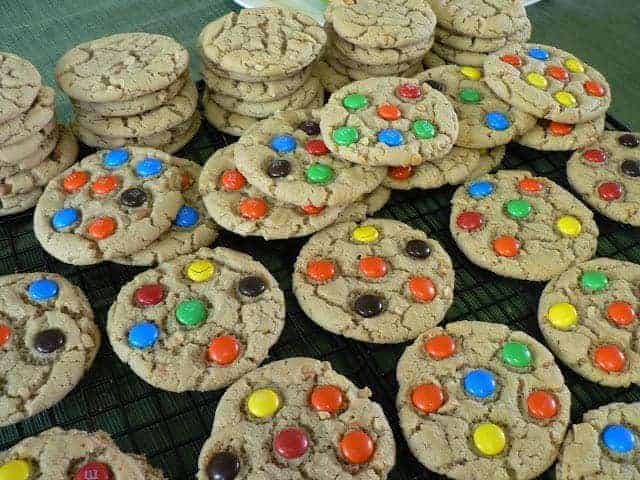 I needed to use a lot of peanut butter (it was out of date…) and I needed a treat for a bunch of people.  I like to cook pretty healthy, but when I'm giving it away I don't follow most of the rules.  I have a hard time using my fancy (and spendy) ingredients on people who don't know/care.  So these aren't typical for our house but they turned out just about perfect.The cookies were light and chewy and stayed moist for 3 days, not your typical slightly crunch PB cookie.
The M&M's were Macey's idea.  We made, rolled, and lightly pressed with a fork the cookies like normal.  Then we stuck in the M&M's by hand before we baked them.  We didn't press them in too hard… they turned out really pretty and the touch of chocolate was delicious! Half were left naked for a little variety and for people like Thomas who like a plain Jane PB cookie.
Chewy Peanut Butter Cookies
1/2 cup butter, softened
1 cup peanut butter
1 cup packed brown sugar
1/2 cup white sugar
2 eggs
2 T. light corn syrup
2 T. milk
2 t. vanilla
3 to 3 1/4 cups whitey, white flour (all-purpose)
1 t. baking soda
1/2 t. salt
M&M's if you'd like
Using a Kitchen Aid with the cookie paddle- cream the butter, Peanut butter, and sugar until and and smooth.  Add the eggs one at a time and beat to incorporate.  Add the milk and vanilla and mix until light and fluffy – around 30 seconds.  Add the flour, soda, and salt and mix.  You will know the cookies have enough flour when you can touch the dough and roll it in your hands without it sticking to you.  It shouldn't be sticky…
Preheat oven to 350 degrees.  Roll a small ping-pong sized ball in your hands.  Place on ungreased cookie sheet and lightly press with a fork twice, making a criss-cross shape on the top.  Don't be tempted to flatten them too much, they will spread nicely since you used butter and not margarine.  If you are using M&M's place them on top of the cookie and press in lightly.  Bake for 9-11 minutes (I baked them 10 minutes even…) 
Store covered so that you don't stare at them all day and eat one every time you walk by.