Classic Strawberry Rhubarb Pie is such a great spring and summer dessert that combines the sweetness of strawberry with the tang of rhubarb in a perfectly crisp crust.
Peak rhubarb season is April through June in the United States. It just so happens to match up with strawberry season as well. Strawberry rhubarb pie is the one of the best ways to celebrate spring and summer.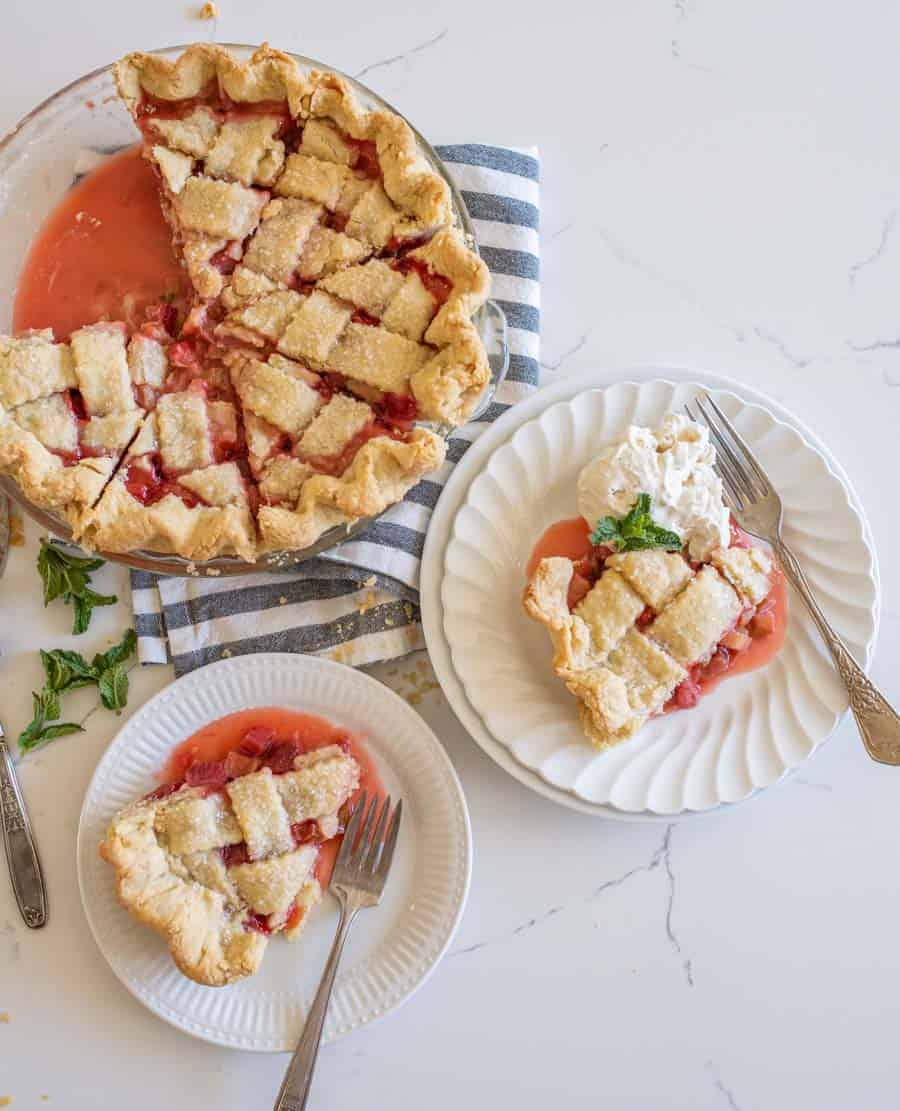 Strawberry Rhubarb Pie Recipe
Growing up, my neighbor would gift us some of her rhubarb. I thought it was the craziest looking vegetable, but I loved the taste. We would dip the ends in sugar and have ourselves a yummy snack. Then I was introduced to strawberry rhubarb pie and my life was forever changed.
This pie is scrumptious on it's own but I love to serve it with a scoop of vanilla ice cream. Just thinking about it gives me warm vibes and scenes of dining on the porch in warmer temperatures.
If baking with rhubarb is new to you, don't sweat it. You can buy rhubarb in the produce section of the grocery store. It looks similar to celery, but they are reddish in color.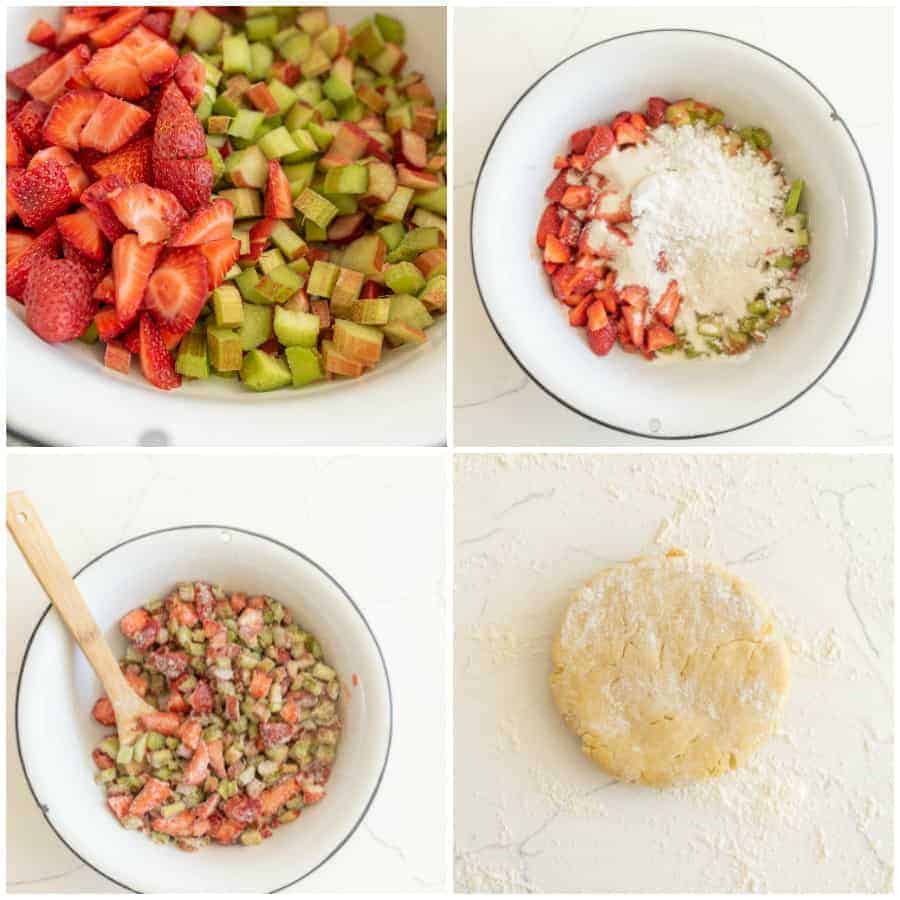 How to pick good rhubarb?
When selecting rhubarb at the grocery store or farmers market, you want to stay away from limp looking stalks. This indicates that they are old. Pick rhubarb that is firm and crisp to ensure the best taste.
Are rhubarb leaves poisonous?
You should never ingest rhubarb leaves because they are poisonous. They contain high levels of oxalic acid and if eaten in large volume can cause kidney damage. I mean you are going to need to eat pounds of the greens to be poisoned by them, but still, it's a fun dinner table conversation.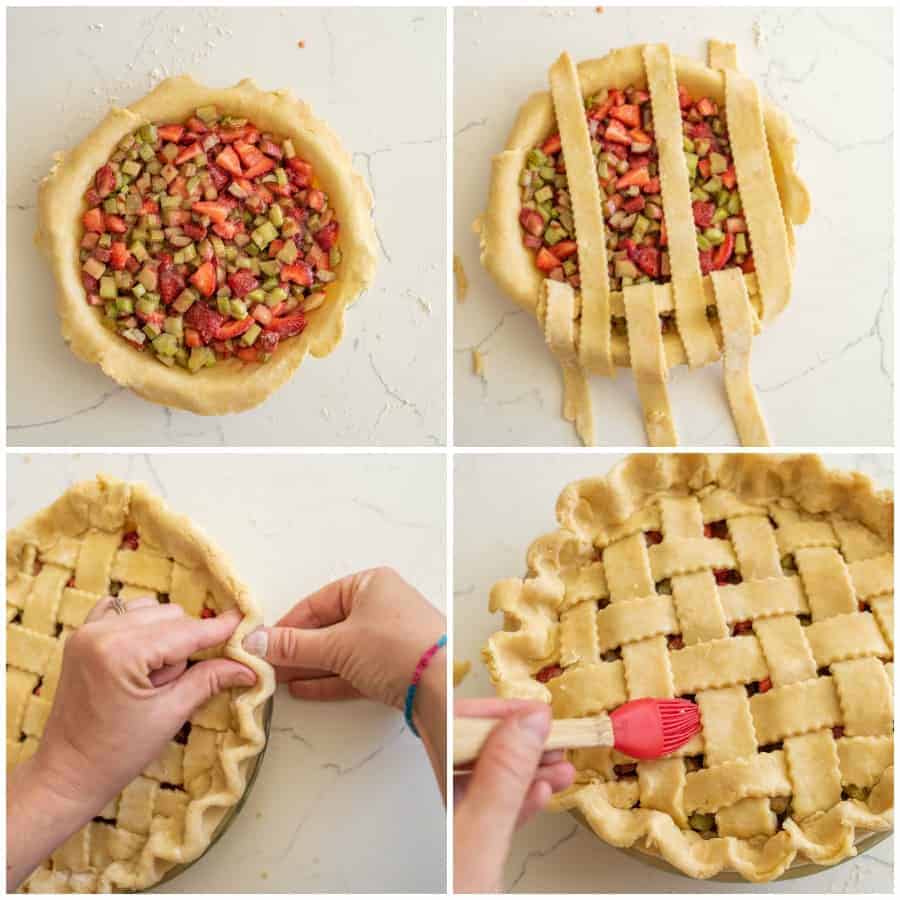 How do I thicken the filling?
You definitely don't want the pie filling to be too runny (though it will be a little runny, it's not as thick as say apple pie. To combat this you use a bit of flour to thicken up the filling.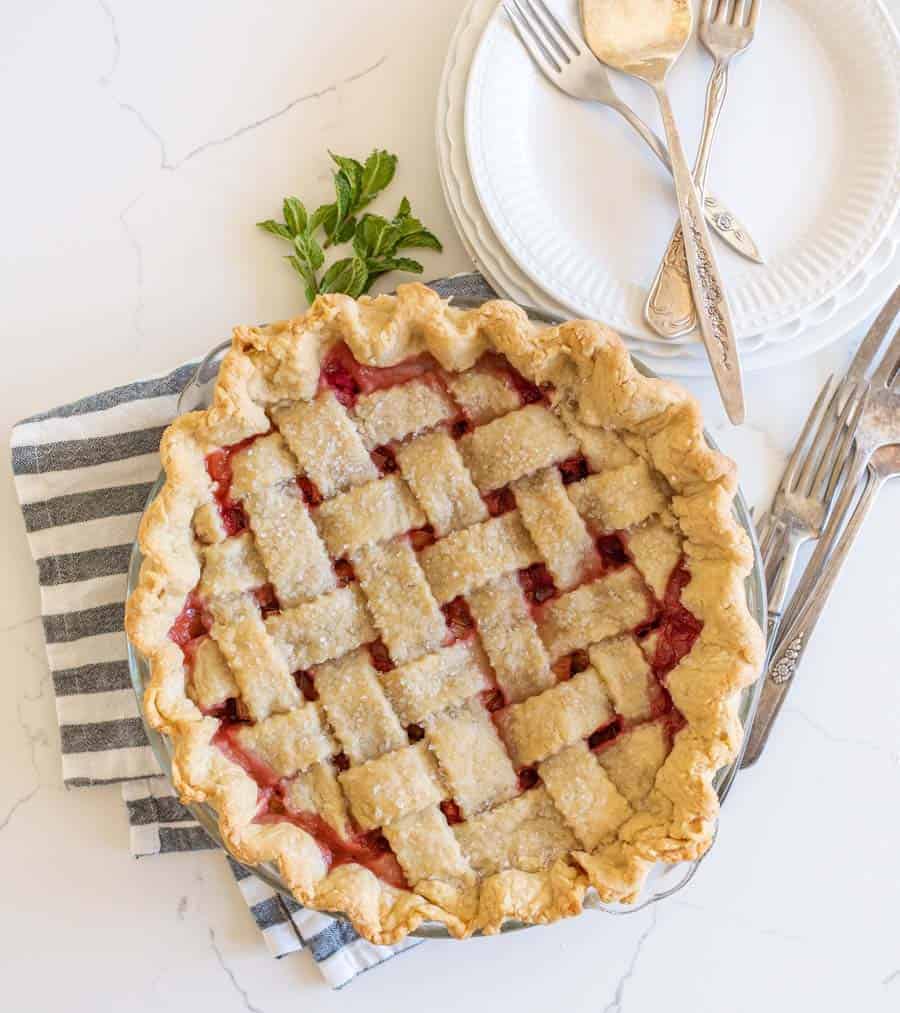 How to prepare rhubarb?
If there are any leaves on the rhubarb you need to remove them first due to their poisonous nature. I like to rinse my rhubarb well. Sometimes the stalk can be stringy so you will want to peel those parts off. Then simply cut the stalks as you would celery in about ½ inch pieces. You can compost the leaves but don't feed them to animals.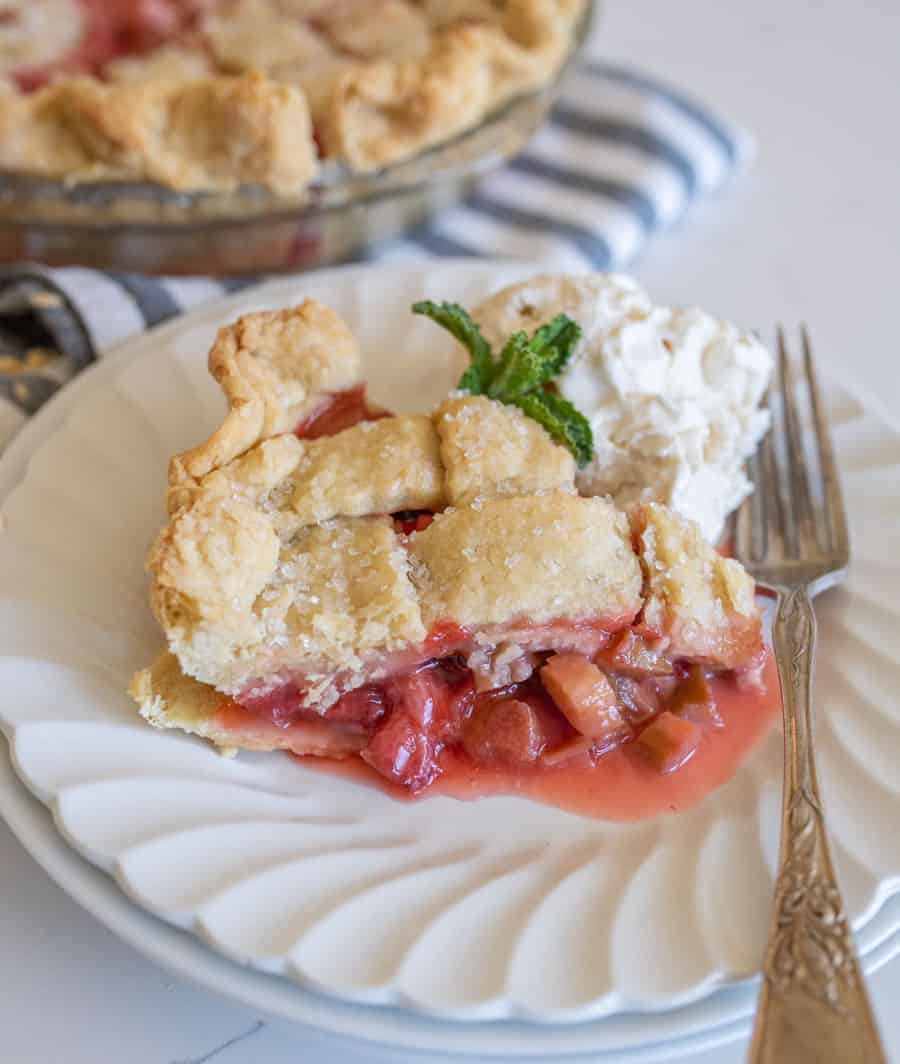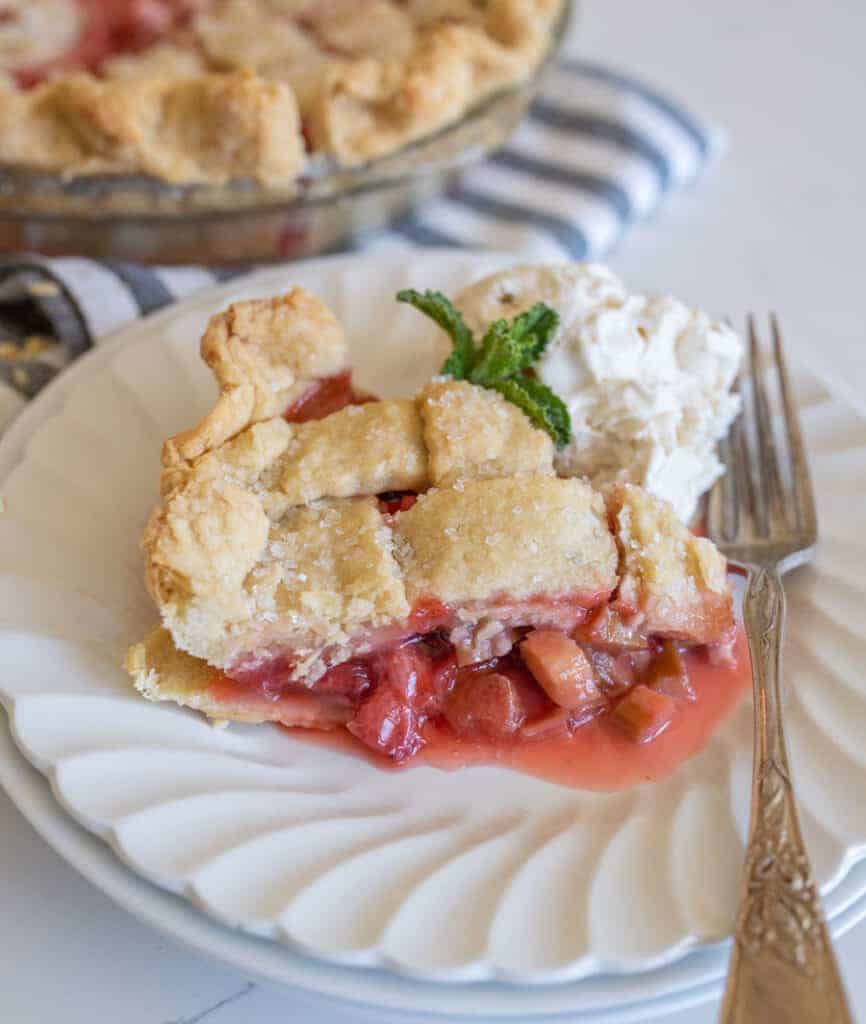 More rhubarb recipes:
Print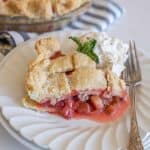 Strawberry Rhubarb Pie
---
Author:

Total Time:

2 hours 15 minutes

Yield:

Serves 8
Description
Classic Strawberry Rhubarb Pie is such a great spring and summer dessert that combines the sweetness of strawberry with the tang of rhubarb in a perfectly crisp crust.
---
For the Crust:
2 ½ cups

all-purpose flour

1 teaspoon

salt

¾ cup

shortening, I like butter flavored

6 tablespoons

cold butter

½ cup

ice-cold water
For the Pie Filling:
4 cups

chopped fresh rhubarb

2 cups

cut up fresh strawberries, stems removed

1

to

1 ⅓

cups granulated sugar

½ teaspoon

vanilla extract

½

cup flour
---
Instructions
To make the crust, measure the flour by scooping it in your measuring cup, and leaving off the top with the back side of a butter knife. This will help ensure that you aren't using too much flour.
Place flour and salt in a medium mixing bowl.
Add the shortening to the bowl.
Cut the butter into thin pieces, or you can grate it with the large holes of your cheese grater, and add to the flour.
Use a pastry blender or a fork to combine the flour, butter, and shortening. Press until you have pieces of the fat mixed in with chunks about the size of peas remaining.
Add the cold water all at once, and stir to combine. The dough will come together nicely.
Dump the dough out onto a lightly floured surface, and use your hands to collect it all into one ball.
Cut the ball in half, and flatten each half into a disc.
Wrap each disc tightly with plastic wrap.
Store in the fridge for at least 30 minutes before using, or up to 3 days before you make the pie.
When you are ready to make the pie, preheat the oven to 425 degrees.
Add the chopped rhubarb and strawberries, sugar, vanilla, and flour to a large bowl. Stir to combine.
Remove the pie crust from the fridge and roll one half out for the bottom of the crust into a 14 inch circle. Place circle into the bottom of a deep 9-inch pie plate.
Stir the rhubarb mixture again and then add it to the pie.
Roll the second disc of pie crust out into a 16 inch circle. Cut it into 10, 1-inch strips.
Add 6 strips across the pie, spacing them evenly across the pie. Pull back pieces 1, 3, and 5 and place a pie dough strip near the edge of the pie crust. You are making a lattice crust.
Replace pieces 1, 3, and 5 and pull back pieces 2, 4, and 6. Place another piece of pie crust close to the first one you laid down. Repeat with remaining strips until you've working your way across the pie and have use all the dough strips.
Fold the pie dough that is over hanging the edge of the bottom crust up and into the edge of the latice and then crimp the edges.
Brush the dough with water and then sprinkle with granulated or sparkling sugar.
Place the pie on a foil lined baking sheet, and place it in the hot oven.
Bake for 15 minutes.
After 15 minutes, reduce the oven temperature to 325 degrees F. without opening the door. Bake for an additional 1 hour. Check the pie after 30 minutes of cooking to see if the crust is getting to brown. If the crust is browning quickly, you can place a piece of foil gently on the top to prevent additional browning.
When the pie is done, remove it from the oven. All the pie to rest for 2-3 hours before cutting so that the filling has time to set.
Enjoy warm or at room temperature with vanilla ice cream on the side.
Prep Time:

1 hour

Cook Time:

1 hour 15 min

Category:

dessert

Method:

bake

Cuisine:

American
Keywords: strawberry rhubarb pie, strawberry rhubarb pie recipe, how to make strawberry rhubarb pie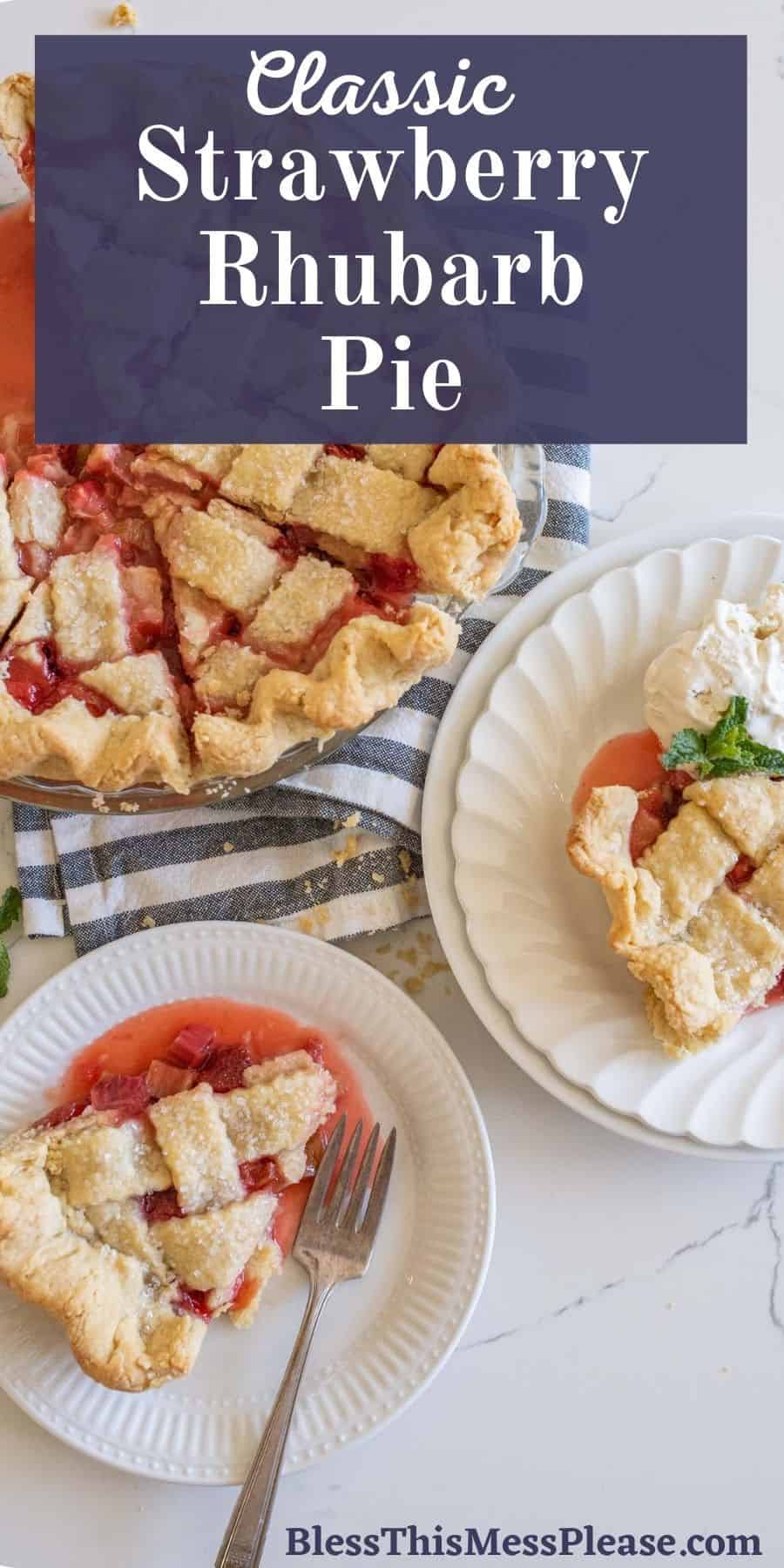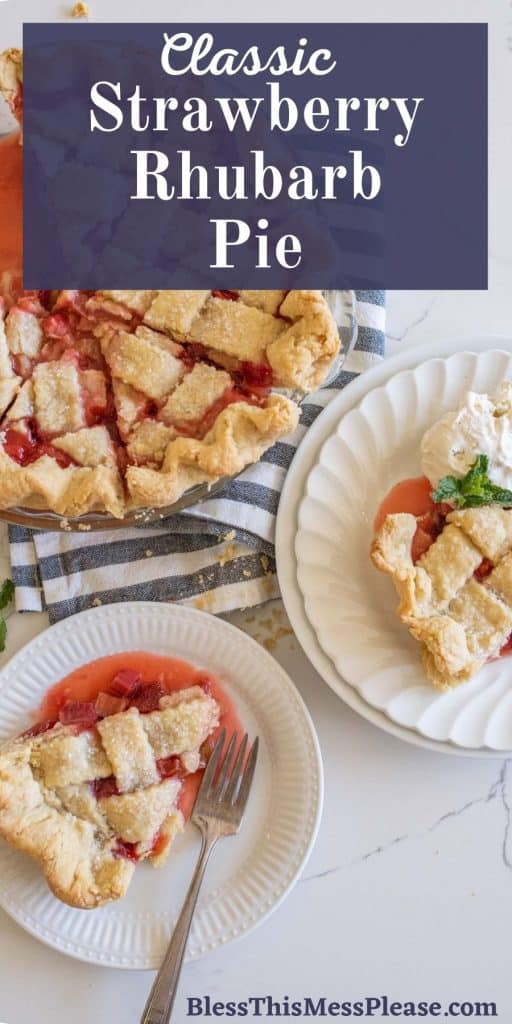 Strawberry rhubarb pie is a party for your tastebuds. It is sweet, tangy, and topped with pie crust. What more could you want?! I know you will love this pie and I hope you make it soon.