Homemade Rhubarb Crisp made with no other fruit and topped with an oatmeal topping. Baked to perfection, this is one of my favorite rhubarb recipes! It's perfect with ice cream on top.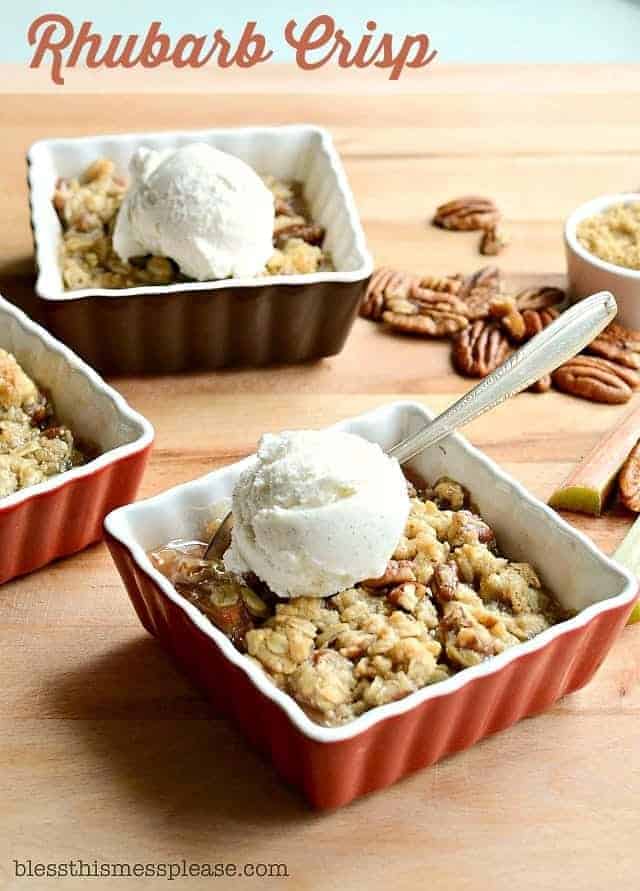 Rhubarb is too often combined with other fruit like strawberries, and I think it's a shame. There is a time and a place for that, but it isn't a must. This rhubarb crisp with no other fruit really highlights the unique qualities in rhubarb without hiding it with other flavors. It's sweet with just a bit of tang that makes it a perfect dessert. The richness from the butter and pecans go along great with the tart fruit. There are no dry parts to this crisp either because you melt the butter and stir it right in. That's my little secret for the perfect crisp.
What is Rhubarb? How Do You Eat It?
I think some people are weirded out by rhubarb, but I'm here to tell you that it is awesome! Mine just popped out of the ground and has about 6 inches worth of curly leaves coming out of the ground. It's tart, like a tart cherry (which is so good in baking) but it cooks down a lot. It's one of my favorite easy to go perennials on our farm and I look forward to it every spring. And fun fact, it's super high in vitamin C. We like to eat it raw like celery with a bit of salt on it when we aren't turning it into our favorite rhubarb desserts. Crisp is always my first choice when it comes to rhubarb desserts. It's simple to make and people are always really surprised at just how delicious it is once they try it, rhubarb lover or not!
Is Rhubarb Poisonous?
Fun fact- rhubarb leaves are poisonous.
While it would take ingesting roughly 10 pounds of leaves to kill an average size adult, small amounts will make you sick. Be sure to keep livestock and chickens out of your rhubarb patch, too – it's not good for them either. Have no fear; the stalks are just fine.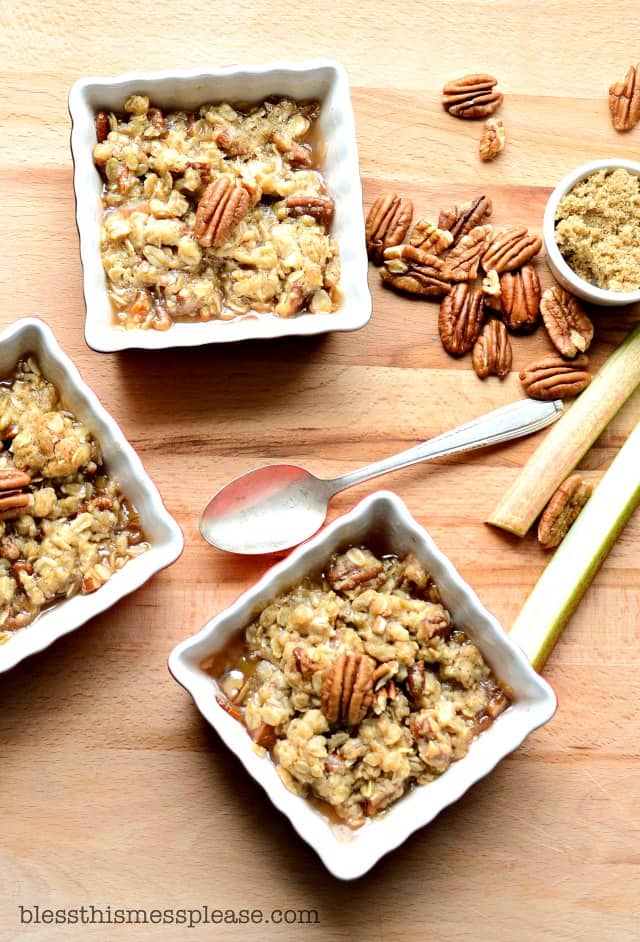 Tips and Tricks for Making Amazing Rhubarb Crisp:
My trick to making the best crisp on the block is to melt the butter and then stir it into the oat mixture. This means that you'll never have any dry pockets of oats and flour and it bakes up extra crispy.
Rhubarb comes in lots of varieties. You'll generally see red rhubarb, but it also comes in green. All of them taste pretty similar, so just use what you can find.
New to the rhubarb scene? Look for it at the farmers marker in mid to late spring. It's normally one of the first bits of produce you'll find.
I love serving rhubarb crisp in individual ramekins with a scoop of ice cream on top, but you can also make this recipe in an 8×8 baking dish. Do what you have! Individual is just fun, though, right?
Not a fan of pecans? Leave them out or sub another nut. I think they are SO good in this crisp.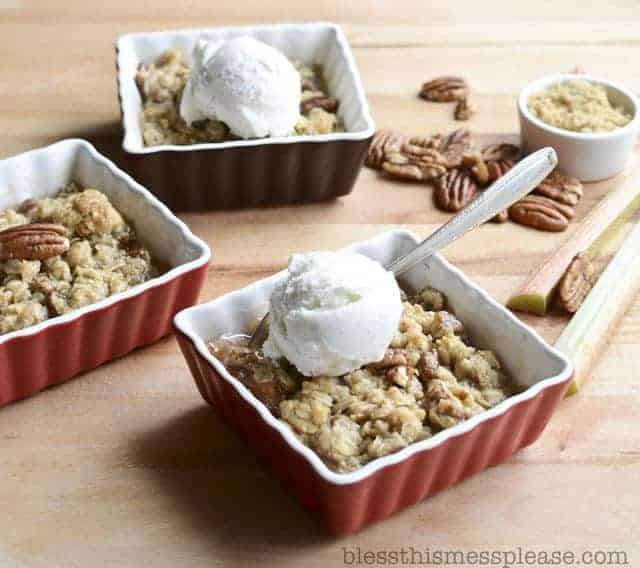 Here's my first rhubarb memory (feel free to skip down to the recipe).
When I was a little girl my family lived in Hope, Indiana on Walnut Street in a small one story home that had a purple clematis growing up the trellis on the porch. This house was the first home that my parents ever owned and I have great memories of their adventures in first time home ownership. We planted a garden behind the little shed and found amazing old bottles; my dad planted a sour cherry tree just for me; my mom planted red and yellow tulips all around the edge of the fence in the back yard; and this is the house my first puppy came home to. I remember when they remodeled the kitchen and while the floor was up, we found an old little raccoon skeleton underneath.
Some of my favorite memories of this house, though, were the neighbors. The Roses, and Sarah, and Boaz, and my very favorite – a little old woman who lived all alone right next door to us. We called her "Starnsie" and it wasn't until years later that I learned that wasn't even her name, but a nickname me and my siblings had given her that had stuck. Starnsie was small and white-haired. We shared a backyard fence and a love of growing things. She grew gorgeous orange poppies, gooseberries, rhubarb, and cherry tomatoes that we hoped would send a limb through the fence so that we could snatch the little tomatoes that happened to ripen on "our side". She also kept a stash of Bazooka bubble gum just inside her front door for when the neighbor kids would come knocking, often times without their mom's knowledge, begging for a piece of gum and a hello. Even my cousins knew about our wonderful gum-giving neighbor and would ask to go knock on her door as soon as they were out of the car.
In Starnsie's backyard is where I had my first taste of rhubarb. I was probably six or seven years old and we were taking a walk admiring her yard and playing with one of her Yorkies. She pulled a little kitchen knife from the pocket of one of the light cotton aprons that she wore over her dress. She bent down and cut a huge stalk with an equally huge leaf on top. After telling us how much she liked it, she proceeded to cut my sister and I a little piece that looked like a pink-backed piece of celery. I thought nothing of it and took a bite. It was so sour! In my young mind, I thought Starnsie had old woman taste because it wasn't good at all. Why on earth would someone eat this stuff?
I so wish I had a picture of Starnsie to show you. And even more, I wish that I could tell her how wonderful her friendship was for a little girl next door. So until we meet up again in Heaven, I'll think of her every time I eat rhubarb or Bazooka bubble gum, and I'll say a quiet prayer of thanksgiving for kind souls who have left such a strong impression on my heart.
I'm also glad I gave rhubarb another try down the road; now I love the stuff! This recipe is for you and for her. I know she would have liked it with a big scoop of vanilla ice cream in the humid Indiana spring. And I know you'll like it too.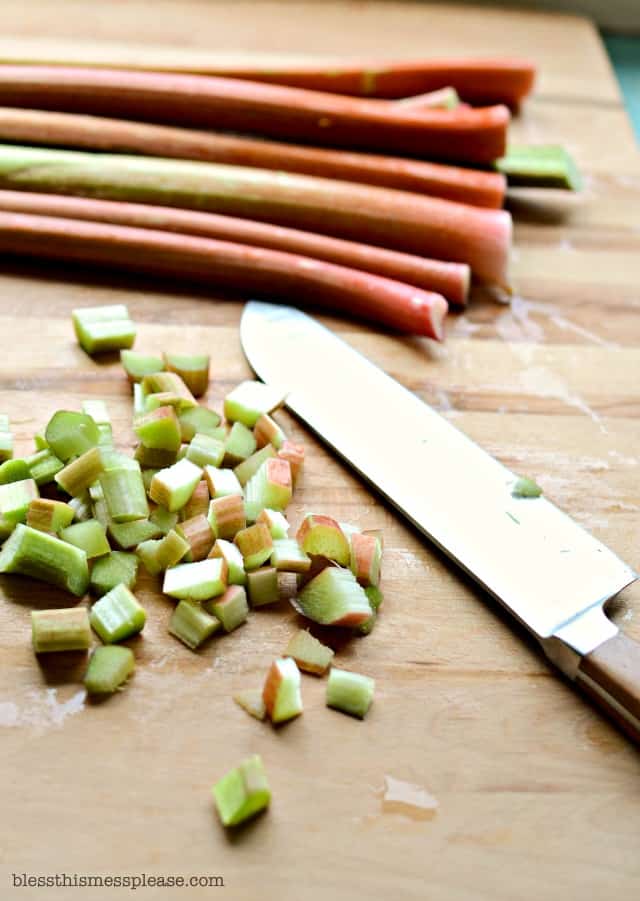 Craving more? Subscribe to Bless this Mess to get new recipes, meal plans, and a newsletter delivered straight to your inbox! If you try this recipe, let me know what you think! Leave a comment, pin it, and don't forget to tag a picture #blessthismesseats on Instagram. I love to see your kitchen skills in action!
Print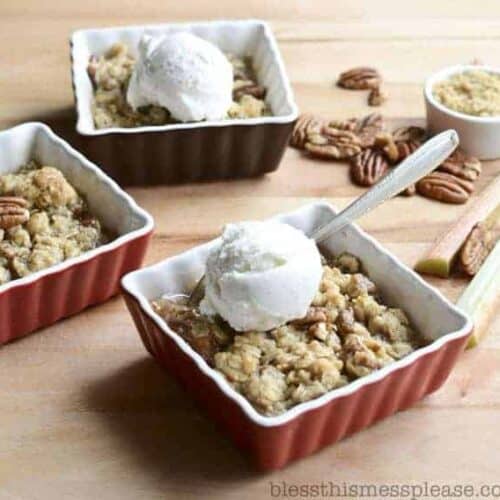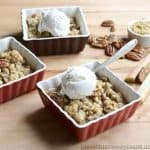 Rhubarb Crisp Recipe (Without Any Other Fruit)
---
Author:

Prep Time:

15 min

Cook Time:

24 min

Total Time:

39 minutes

Yield:

Serves

4

-

6

1

x
Description
Homemade Rhubarb Crisp with oatmeal topping. Baked to perfection, this is one of my favorite rhubarb recipes! It's perfect with ice cream on top.
---
Scale
Ingredients
For the Fruit:
2 1/2 cup

s of chopped Rhubarb

1/2 cup

sugar

1 tablespoon

corn starch
For the Crisp Topping:
1/4 cup

brown sugar

1/4 cup

granulated sugar

1/3 cup

flour

1 cup

old fashioned oats

1/2 cup

pecans, chopped

1 teaspoon

vanilla

1/2 cup

salted butter, melted
---
Instructions
Preheat your oven to 375 degrees. Lightly spray an 8×8 inch square baking dish or individual ramekins (4 to 6 depending on how big of a serving you want in each) with cooking spray. Set aside.
In a medium bowl, combine the chopped rhubarb, sugar, and corn starch and stir to combine.
In a second medium bowl, combine the sugars, flour, oats, and pecans. Stir with a fork to combine. Add the vanilla and melted butter and stir until no dry powder is left.
Stir the rhubarb and sugar again and then place it in your baking dish or divide it evenly among the ramekins. Place the crisp topping on top of the rhubarb in the dish. If you used ramekins, place them on a baking sheet and then transfer them to the hot oven or put the baking dish straight into the oven. Cook for 18-24 minutes until the crisp is lightly browned and the rhubarb is bubbling around the edges.
Let the crisp cool for 5 minutes before serving hot with ice cream or fresh whipped cream.
---
Notes
This crisp is best enjoyed the same day.
Category:

Dessert

Method:

Oven

Cuisine:

American
Keywords: rhubarb, rhubarb recipes, rhubarb crisp, rhubarb crisp recipe
Want To Save This Recipe?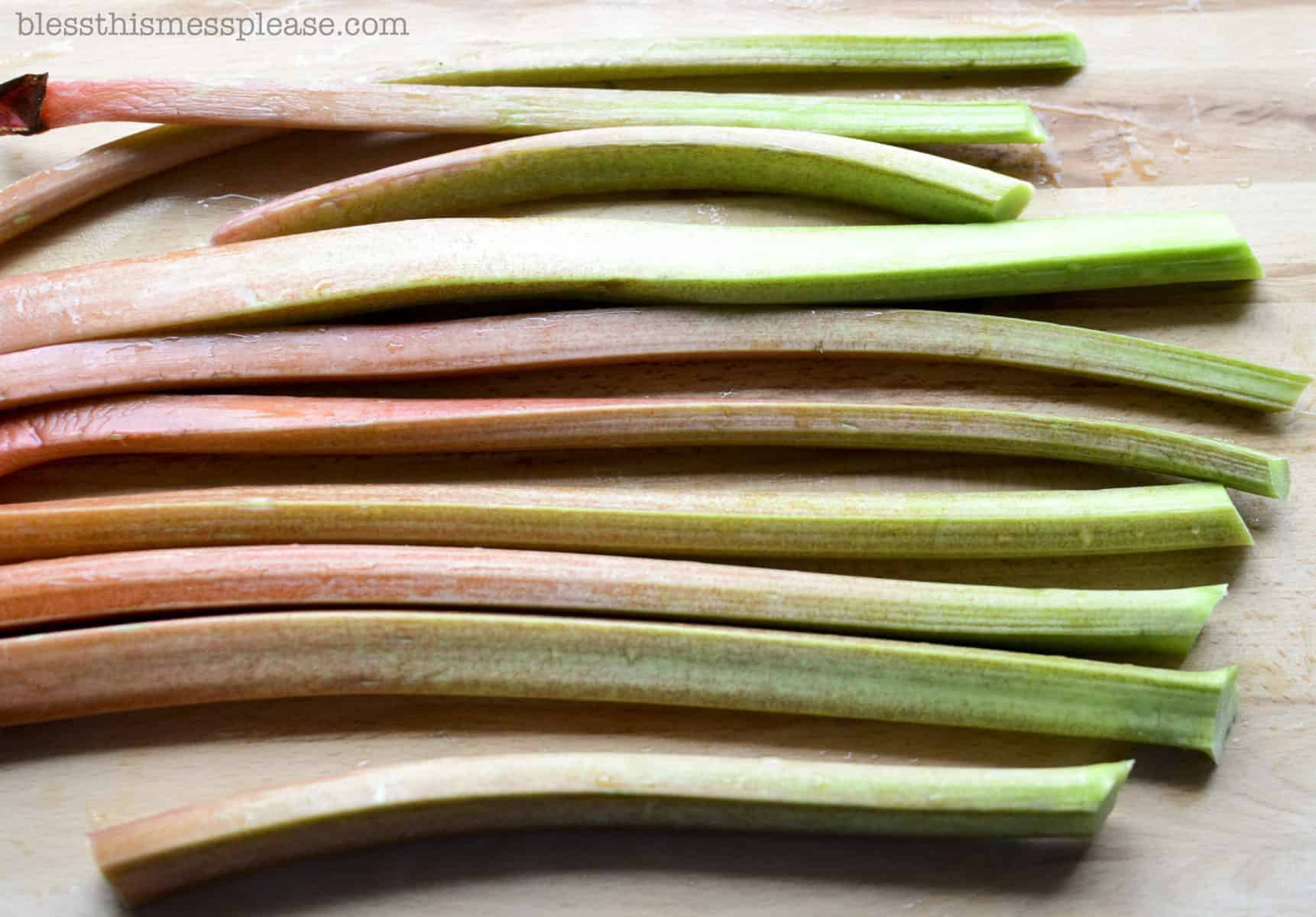 Here are a few other recipes you might like today:
Sour Cherry Crumble from Bless this Mess
Grandma's Raspberry Cobbler from Bless this Mess
Strawberry Rhubarb Crumb Bars from Bless this Mess
Strawberry Rhubarb Lemonade from Bless this Mess
Rhubarb and Greek Yogurt Popsicles from The View from Great Island
This post was originally published in June 2014 and has been updated and reposted in April 2018.