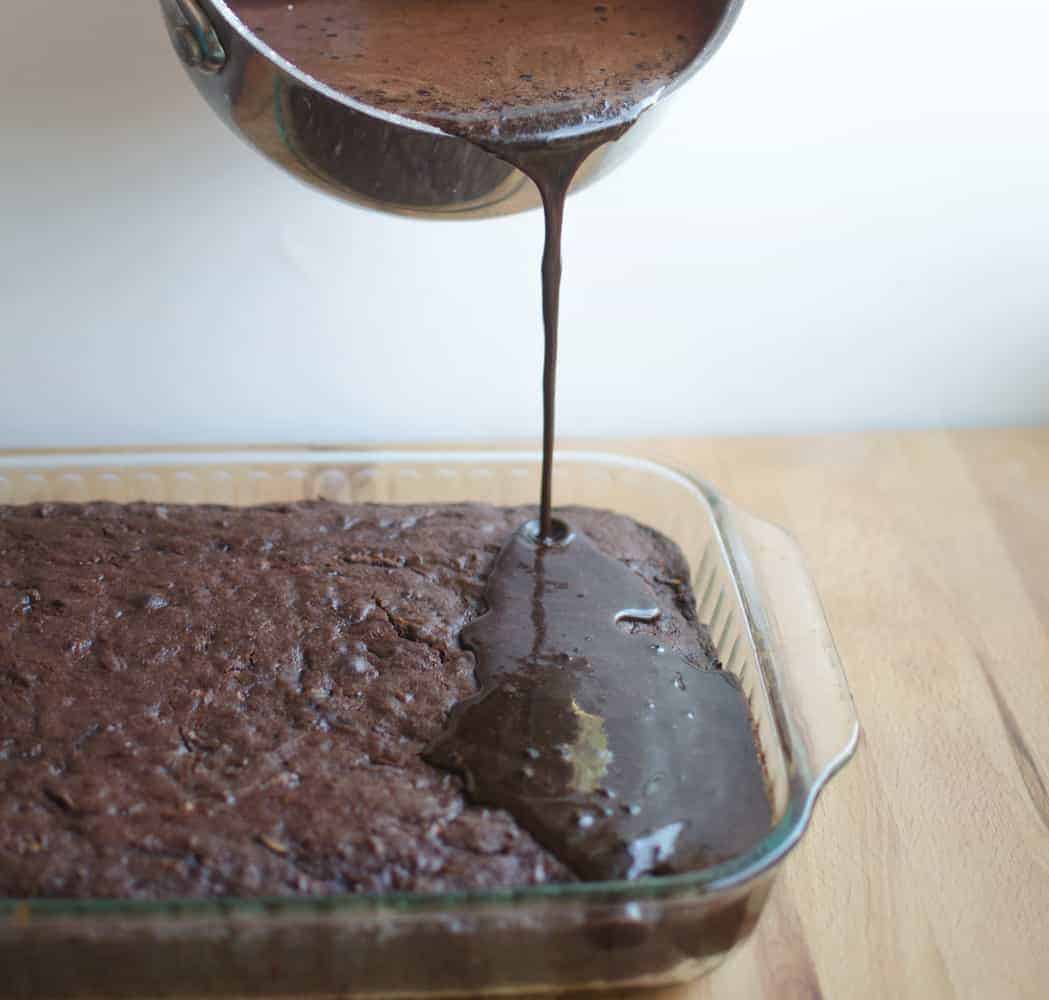 Chocolate Zucchini Cake made from 3 cups of grated zucchini with a rich pourable icing on top.
There are few things that I love more than chocolate zucchini cake. I've been making this cake for 3 years now and it is one of my all-time favorite recipes. I make lots of recipes once and move on (I love trying new things!), but there are a handful that I go back to again and again and again; this is one of those recipes. I took pictures of it last year to share with you and then had a cute little newborn in the middle of the summer and never got it posted. I'm finally sharing this amazing chocolate zucchini cake recipe with you and I'm so glad. It kind of feels like a moral obligation to get this recipe to you now. I hope you have zucchini on hand because this chocolate zucchini cake would be the best simple Sunday afternoon dessert to make.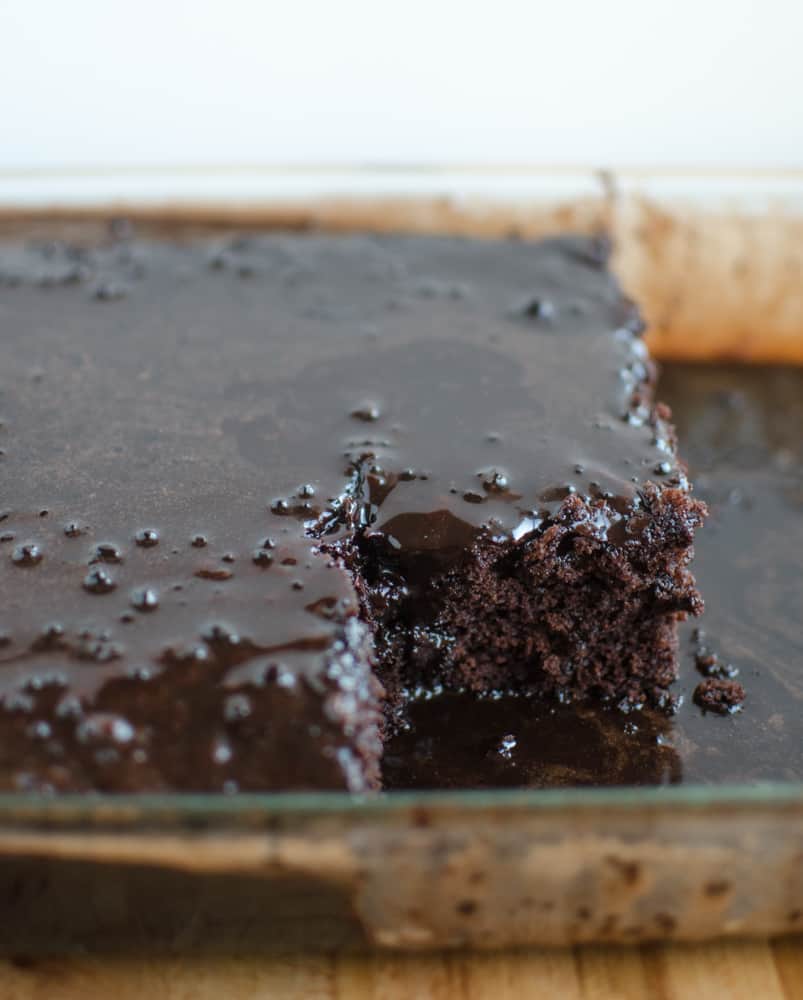 Here's what I love about this Chocolate Zucchini recipe:
Your family will have no idea that there's 3 cups of vegetables hiding inside, but you'll feel great about serving a dessert that also includes vegetables #momwin
You can't mess it up. This cake is so simple and it comes out right every time. The cake batter is actually a lot like a quick bread recipe and always works really well. It doesn't fall, it's always moist, and it's super chocolaty. Even if you aren't much of a baker, you can make this cake.
You can make the frosting two different ways. You can heat up the icing on the stove and make a warm pourable frosting and drizzle it over the warm cake. This method lets the frosting soak into the cake and then it's extra moist, (it's a lot like my Grandma's sheet cake recipe we love). OR you can make the icing more like a traditional chocolate butter cream which means you have chocolate cake with a nice layer of buttercream on top. The ingredients are all the same but it feels like two different cakes. My husband loves the first method of pourable frosting (he loves extra moist cake) and I love the buttercream because I love icing. You can do whichever. I make this so often that I rotate which icing I make. OR if you don't like icing, skip it, serve it with a dusting of powdered sugar, or serve the cake warm with a little whipped cream or vanilla ice cream. You have so many options.
It travels great, serves a crowd, and can be made ahead of time. I love taking this cake to picnics, church gatherings, and to parties all year long (perk of grating a little zucchini and sticking it in the freezer!).
Here's what the baked cake looks like. Isn't it pretty?!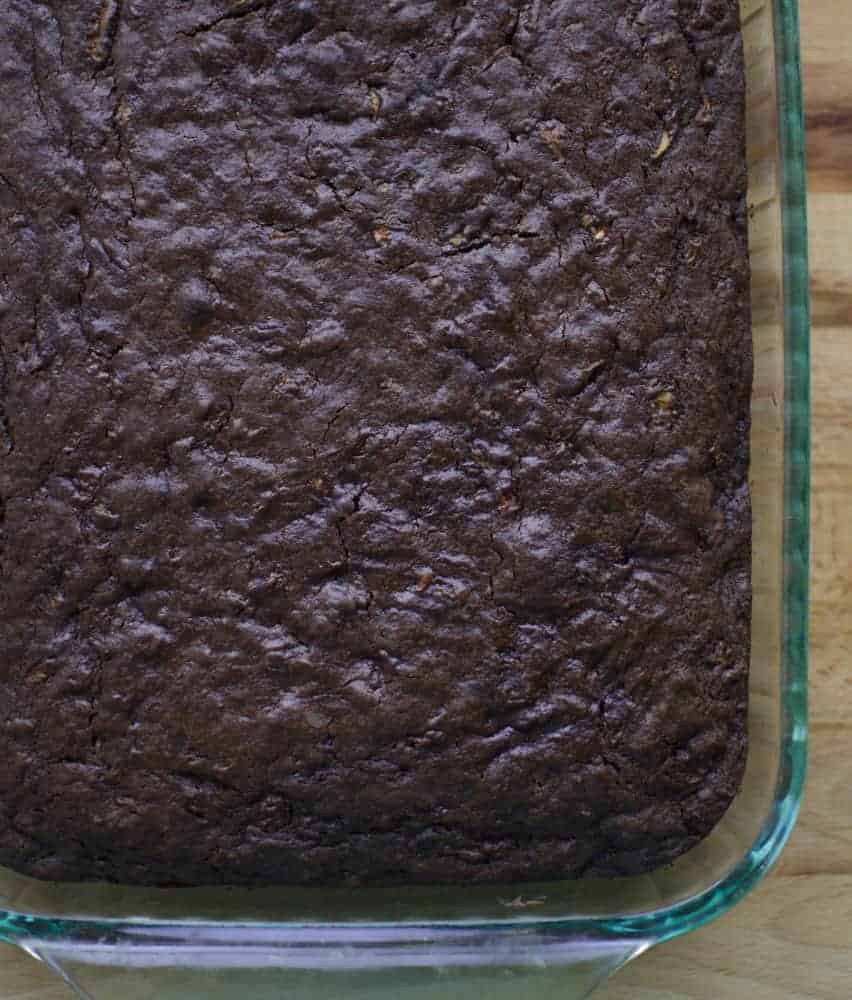 Print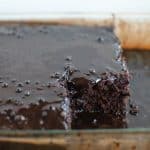 Chocolate Zucchini Cake
---
Author:

Prep Time:

15 mins

Cook Time:

45 mins

Total Time:

1 hour

Yield:

20

1

x
Description
Chocolate Zucchini Cake made from 3 cups of grated zucchini with a rich pourable icing on top.
---
Scale
Ingredients
For the Cake:
1 cup

butter, melted

1¾ cup

s granulated sugar

2 teaspoon

vanilla

1 teaspoon

baking soda

½ teaspoon

baking powder

1 teaspoon

salt

2

eggs

½ cup

sour cream

2 ¾ cup

s flour

¾ cup

cocoa powder

3 cup

s grated zucchini

¾ cup

semi sweet chocolate chips
For the Frosting:
½ cup

butter

½ cup

milk

¼ cup

cocoa powder
dash salt

1 teaspoon

vanilla extract

4 cup

s powdered sugar
---
Instructions
Preheat the oven to 325 degrees.
In a large bowl add the butter and sugar. Beat until well combined and light and fluffy, about 3 minutes. Add the vanilla, soda, baking powder, and salt and stir to combine. Add the eggs and sour cream and stir to combine. Add the flour and cocoa powder and stir until the mixture just starts to come together. Add the zucchini and chocolate chips and stir to combine. Don't over mix here or your cake will be tough.
Grease a 9 inch by 13 inch baking dish well. Add the cake batter and use a spatula to spread out the batter evenly in the dish. Bake for 45 to 50 minutes until the cake springs back lightly when touched and a toothpick inserted into the center comes out with just a few moist crumbs attached.
For the frosting (2 variations)
For the pourable frosting:
Add the butter and milk to a medium saucepan and place it over medium heat. When the butter melts add the cocoa powder, salt, and vanilla and stir to combine. Add the powdered sugar and stir until the mixture is smooth and any lumps of powdered sugar melt. Pour the hot icing over the hot cake. Serve right away or wait a few hours until the frosting soaks into the cake, both are great.
For the buttercream:
Add the softened butter to the bowl of your stand mixer (it should be room temperature but not melted). Add the milk, cocoa powder, salt, and vanilla and beat until the mixture starts to come together. Add 3 cups of powdered sugar and beat until well combined. You can add more powdered sugar to reach the desired consistency. ( Normally add another 1/2 cup but don't usually add the whole 4 cups). Spread the icing over a cooled cake and enjoy!
---
This recipes is inspired by and adapted from Cookies and Cups.
Here's the cake with the buttercream on top! So delicious!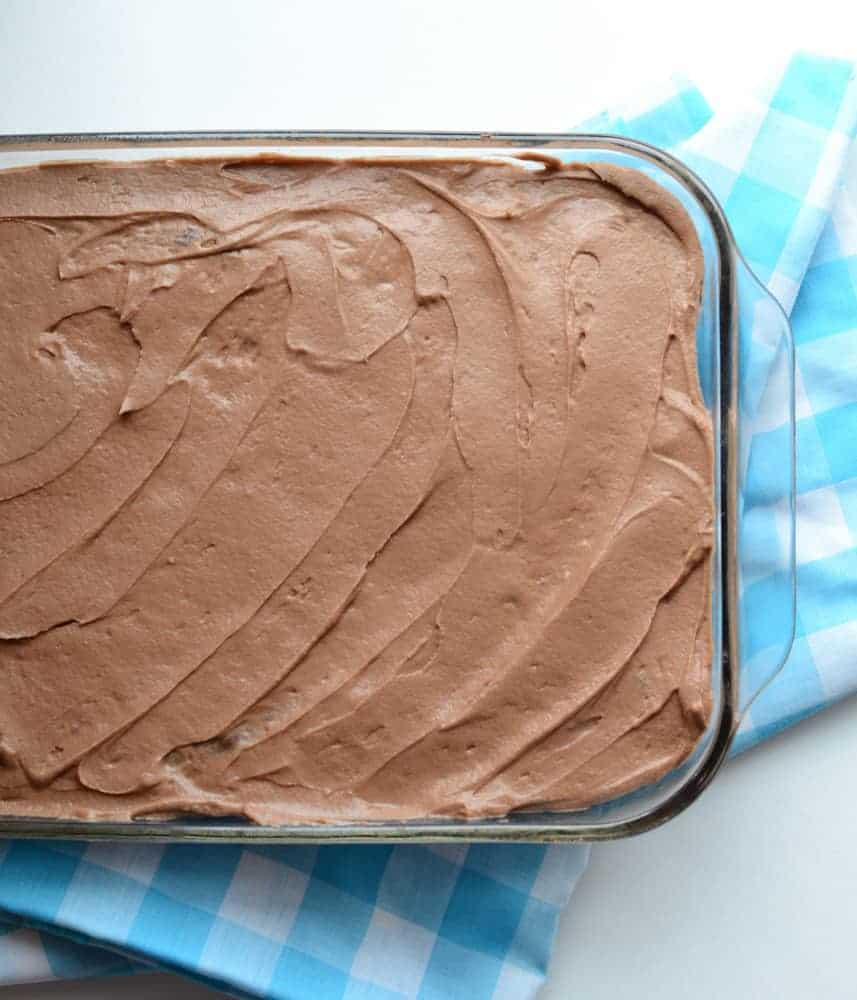 Didn't that change the feel of the cake? With the pourable frosting it's extra moist, rich, and dark. When you whip the butter instead of melting it you end up with a beautiful buttercream and the cake looks a bit more like a traditional chocolate cake. Both are so good! Which one do you think you'll try first?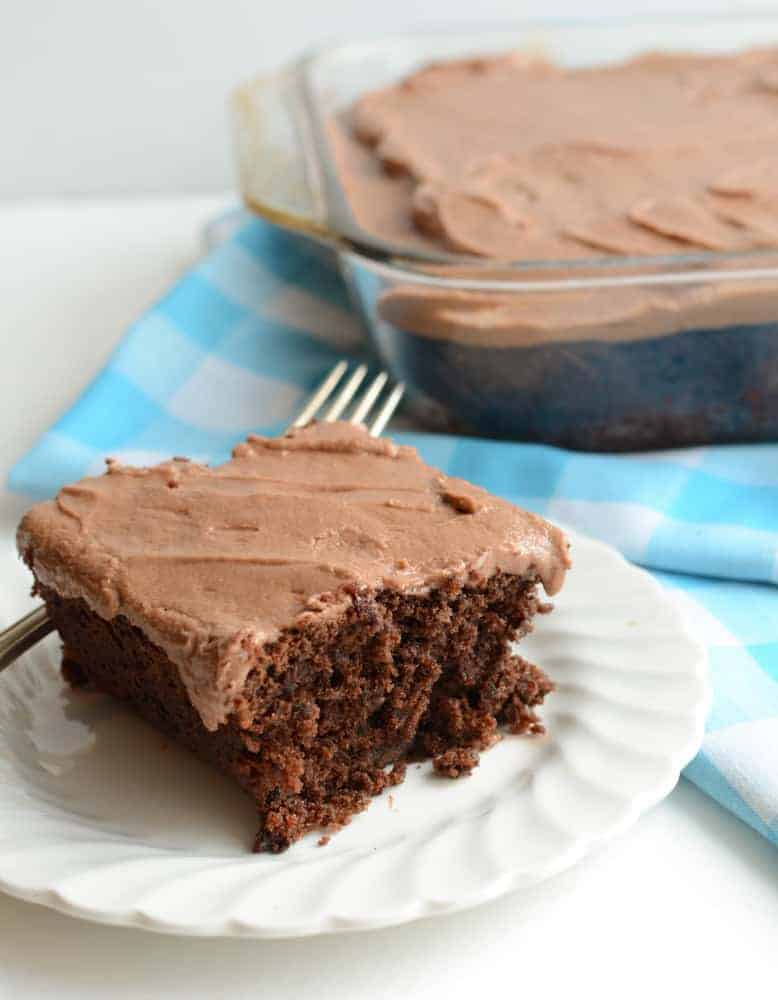 I've made this chocolate zucchini cake a million times and definitely have some tips for you:
You can use plain whole milk yogurt or Greek yogurt in place of the sour cream, they all work great.
If you use normal sized chocolate chips (these are my favorite!) then you end up with little chunks of chocolate in the cake. I like that. My husband does not like little chunks in his cake. So you can also use the same amount of mini chocolate chips and they give you a great flavor but melt all the way when baked.
When you put the warm pourable frosting on a warm cake, it will take a few hours for it to soak in. You can serve it right away and it's a bit messy (but delicious) or you can let it sit for a few hours or overnight and the icing will soak into the cake. It's great both ways, the second is a little less messy.
If you really want to hide the zucchini from your family I suggest peeling the skin off (so there's no green specks) and using a small grater so that the pieces cook into the cake. I have a pretty large box grater and once in a while the zucchini pieces are still pretty easy see. The smaller the grater the better when it comes to hiding vegetables in cake.
I have made this cake with 1/2 white flour and 1/2 white whole wheat flour, as well as 100% white whole wheat. I thought that you couldn't even tell I made changes with the 1/2 and 1/2 option and the 100% white whole wheat option was still really good. It did taste a little wheaty, but if you are going for healthy, I'd totally do it, it was still super sweet, moist, and delicious.
You can substitute melted coconut oil or any other mild salad oil (like vegetable, avocado, or canola oil) for the butter and it also worked great.
Seriously, you can't screw this up. Make it your own and love it!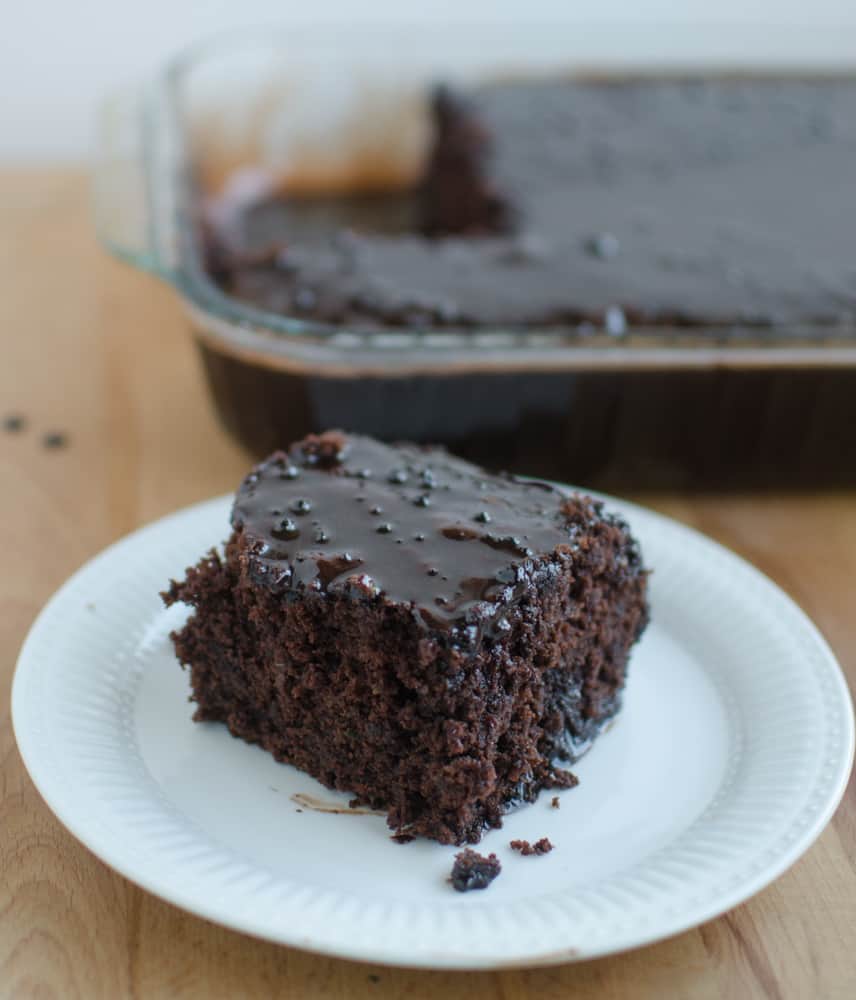 I'm so glad to get this recipe out of my draft pile and into your hands! I hope that you love it, make it a million times, and find a neighbor to share it with. This is one of my favorite cakes to take a nice big piece over to single man in town that we are friends with. He's never sad when I show up at his door with chocolate cake. I'm sure there's someone in your life who would love it too! Plus, it's so easy and fool-proof that even though it looks fancy, it'll feel like a piece a cake for you to make- get it, piece of cake.
ENJOY!
I'd love for you to share, pin, and all the other things to get this recipe out there. Your friends and family neeeeed it!