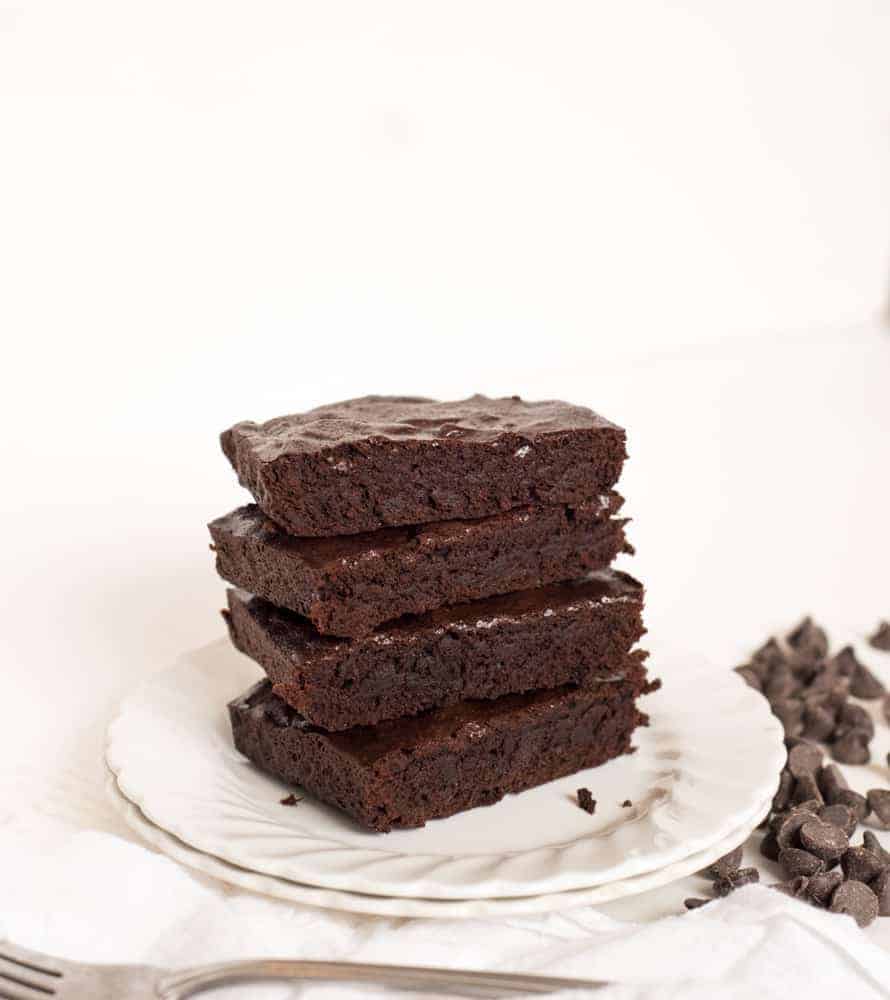 Small Batch Double Chocolate Brownies makes just enough for a romantic dessert for two. Rich, fudgy brownies for the win!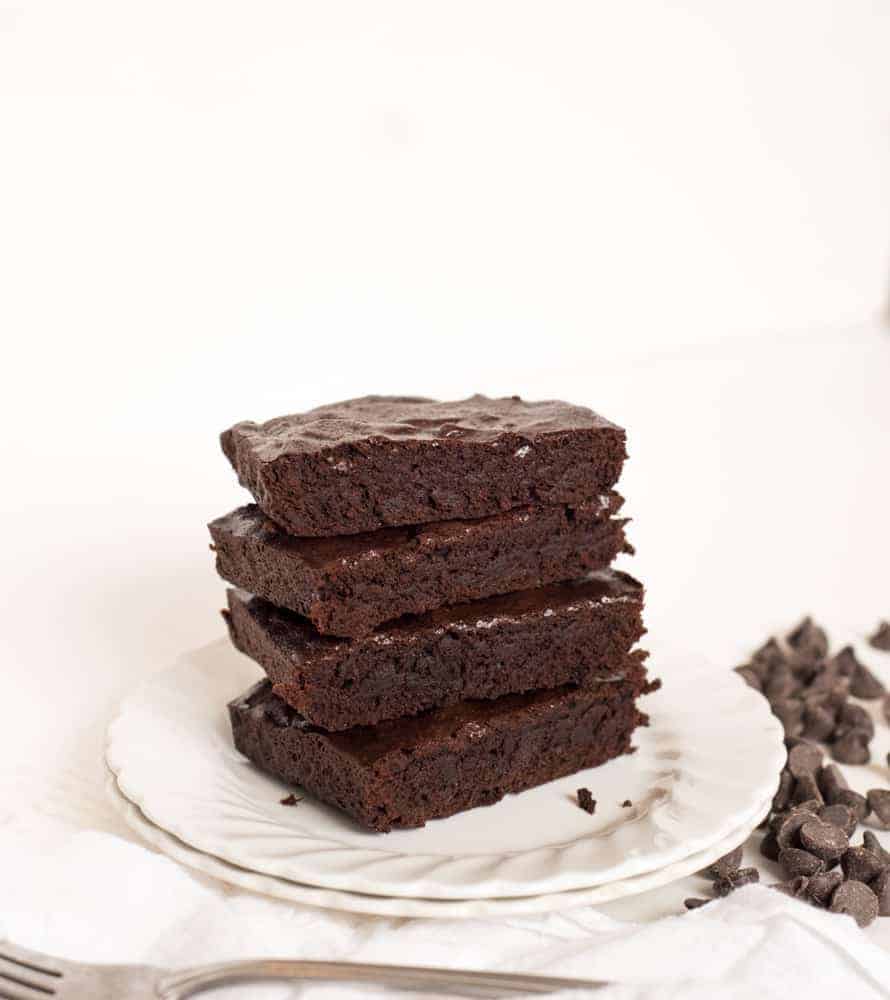 I'm so excited about this recipe! Small Batch Double Chocolate Brownies are going to change your life. Maybe we should change the title of this post to The Life Changing Magic of Small Batch Brownies, and then I can write a book all about it. It can be a companion guide to that Tidying Up book. When you are done cleaning, or just done reading the book and feeling overwhelmed, you can make some brownies and feel better. Brownies are magic like that.
Did you know that I love small batch treats as well as ginormous feed-a-crowd ones? I love small batch double chocolate brownies because they take about 25 minutes from start to finish (including baking time), which is just how long I need to load the dishwasher. After a crazy day with the kids, I can come upstairs, get some small batch double chocolate brownies in the oven, clean up the kitchen, and then eat my treat. Sometimes I just need a little bit of warm chocolatey goodness in my life that I don't have to share with the little people.  If Thomas is lucky, I'll share half the batch with him, and if he's out of town, I get a treat two days in a row. The small batch is a treat that won't totally derail my efforts for healthy eating the rest of the week.
I made these small batch double chocolate brownies a total of 10 times this month in order to get them perfect (don't worry, I shared with lots with my neighbors!). I was inspired by my friend Christina at Dessert for Two, who had a great small batch brownie recipe. She put cute holiday M&M's on top of hers, but I wanted to melt some extra chocolate into mine. When it comes to brownies, I like them extra rich, full of chocolate flavor, a little gooey in the middle, and super moist. These brownies are just that. If you are a cake-like brownie fan, this is not the recipe for you. Rich chocolatey brownies for the win.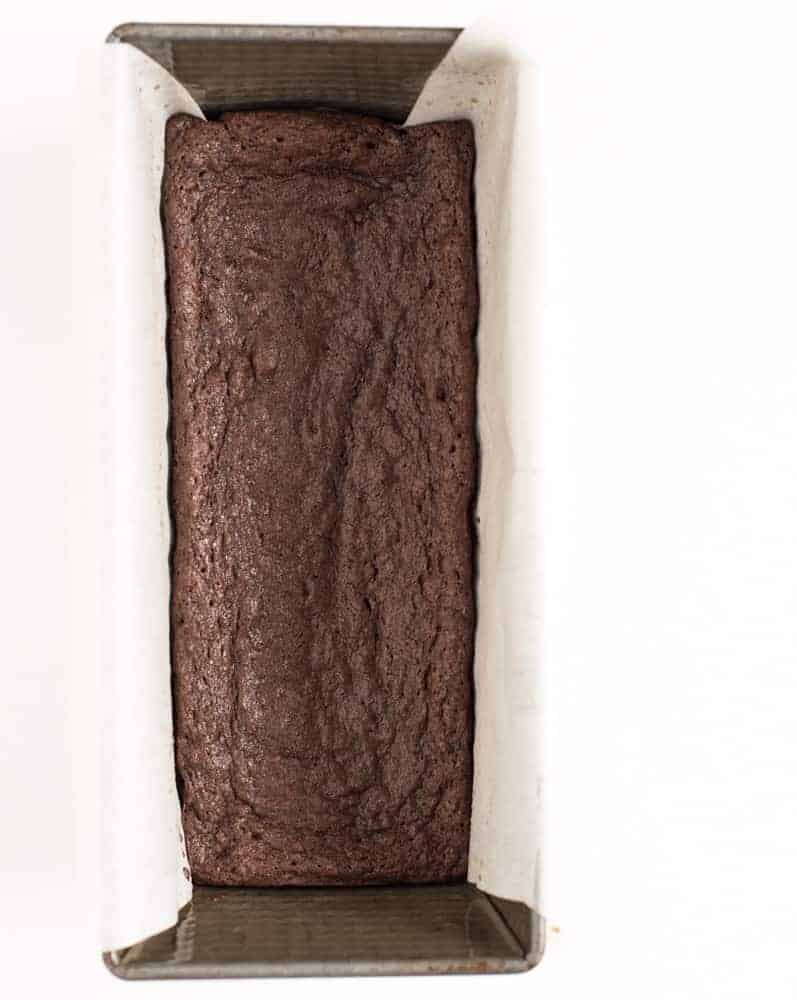 Craving more? to Bless this Mess to get new recipes, meal plans, and a newsletter delivered straight to your inbox! If you try this recipe, let me know what you think! Leave a comment, pin it, and don't forget to tag a picture #blessthismesseat on Instagram. I love to see your kitchen skills in action!
Print
Small Batch Brownies
---
Author:

Prep Time:

5 mins

Cook Time:

25 mins

Total Time:

30 minutes

Yield:

4 brownies
Description
Small Batch Double Chocolate Brownies makes just enough for a romantic dessert for two. Rich, fudgy brownies for the win!
---
Ingredients
1/4 cup butter (4 tablespoons of 1/2 a stick)
1/4 cup chocolate chips
1/2 cup sugar
1 large egg
1 teaspoon vanilla
1/4 teaspoon salt
1/4 cup cocoa powder
1/4 cup all-purpose flour
---
Instructions
Preheat the oven to 350 degrees. In a microwave safe bowl add the butter and chocolate chips. Microwave on high for 30 seconds and then stir well until smoothed (about a minute). Add the sugar and stir well. Add the egg and stir to combine. Add the vanilla and salt and stir to combine. Add the cocoa powder and flour and stir to combine well.
Line a 9 inch by 5 inch loaf pan with parchment or spray with cooking spray. Add the brownie batter and smooth out the top with a spoon. Bake for 24-26 minutes. Remove from the oven and allow to cool for 10 minutes before serving warm or at room temperature.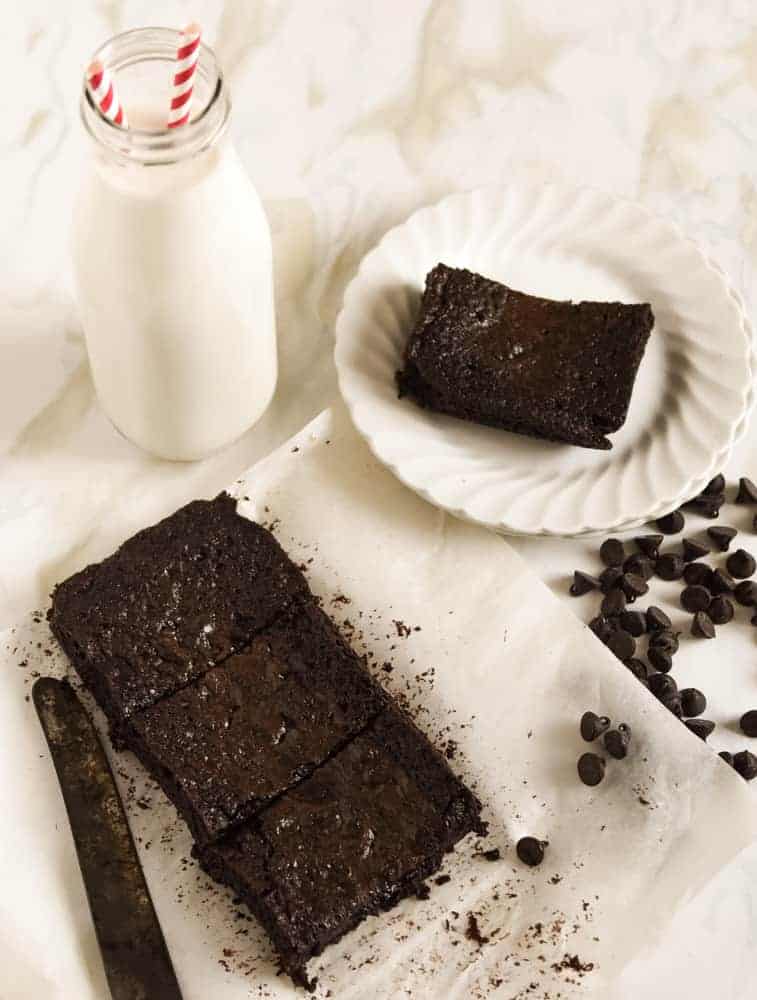 This recipe is great because you can make it all in one bowl. I used a glass 4-cup measuring cup to melt my chocolate and butter together and then I just used it as my mixing bowl to finish up the recipe. You can't beat one bowl to wash!
You should make this recipe if any of these apply to you:
You are prone to eating a whole big pan of brownies, but want to avoid that.
You have a small household (empty nesters, young families, single peeps).
You adore all things chocolate but can't be trusted with a whole pan of brownies.
You enjoy a treat that is just for you and doesn't include sharing with your kids.
You hate cleaning up the mess that little people make with brownies. Smaller pan = less crumbs on the floor.
Chocolate is your love language.
Let's be honest. This recipe is for everyone! I can't wait for you to make them!
I wanted to note that the size of the pan will determine how thick the brownies are and that will alter the time they need to cook. I tested mine in a 9 inch by 5 inch loaf pan. If you don't have that, you might need to play around with the baking time to make sure they are cooked through without being overdone.
Happy Valentine's Day, friends! I love this holiday and plan on spending it with my family. We put lots of tea light candles on the table, have bubbly drinks, and I make shrimp and pasta because my kids are crazy for shrimp. It's casual but always memorable. I plan on ending the night with a pan of these brownies, just for me and Thomas. Enjoy, from my kitchen to yours.