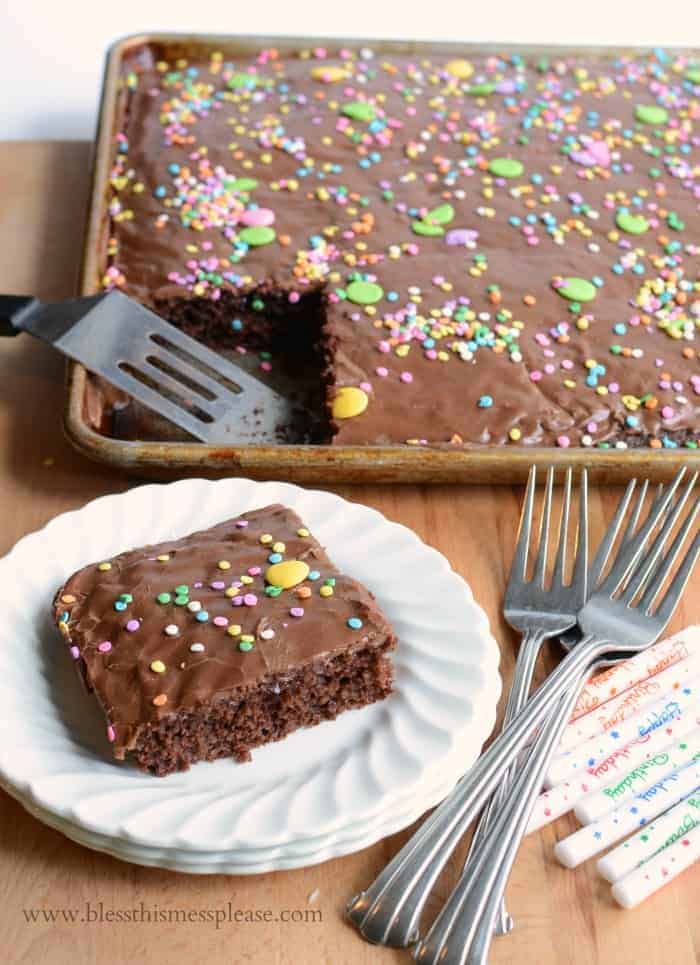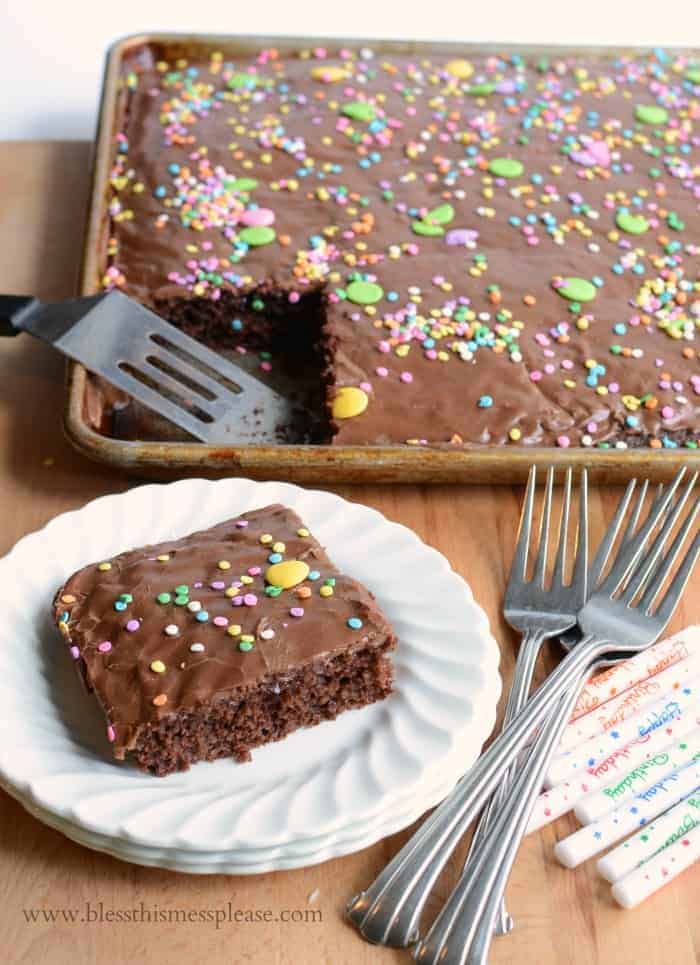 I did a shout out a few months ago on my Facebook page asking what you wanted to see more of on the blog and one of the responses I got was "quick and easy cheater desserts" (thanks for the comment DaNae!). Unbeknownst to most of you, I'm a master at "cheater" desserts. I love making things from scratch, but I also know the value of my time and money. It just isn't necessary to make a from scratch cake when you plan on feeding it to a group of four-year-olds or are taking it to a family reunion where it will get lost on a table with 136 other desserts. I'm not saying this type of recipe doesn't taste good, some of them are my all time favorites and are requested often. What I'm telling you is that it's ok to save a little time and money using a cake mix now and again.
First up in my Cheater Dessert category is my Grandma Shoaf's famous chocolate sheet cake. This is one of Thomas' very favorite desserts and something I've been making for years and years. My grandma raised 13 kids and has a TON of grandkids. She loves making this chocolate sheet cake because it's delicious but it also feeds a lot of people. It's a perfect candidate for parties, picnics, and reunions this summer. I've gotten it down to an art and can make this beauty in just under 30 minutes, start to finish. Here's a few other accolades, it's great the next day (if not better) and it travels really well. Put this on your to make list next time you have an event to attend because it's pretty perfect. The best part is you cheat a little and use a box of cake mix for the cake (and yep, my Grandma uses the cake mix too, she's the one who let me in on her time-saving tip!). A fool-proof homemade icing and some sprinkles seal the deal and you are done!
I can't believe it's taken me this long to share this recipe with you. I hope you love it as much as we do.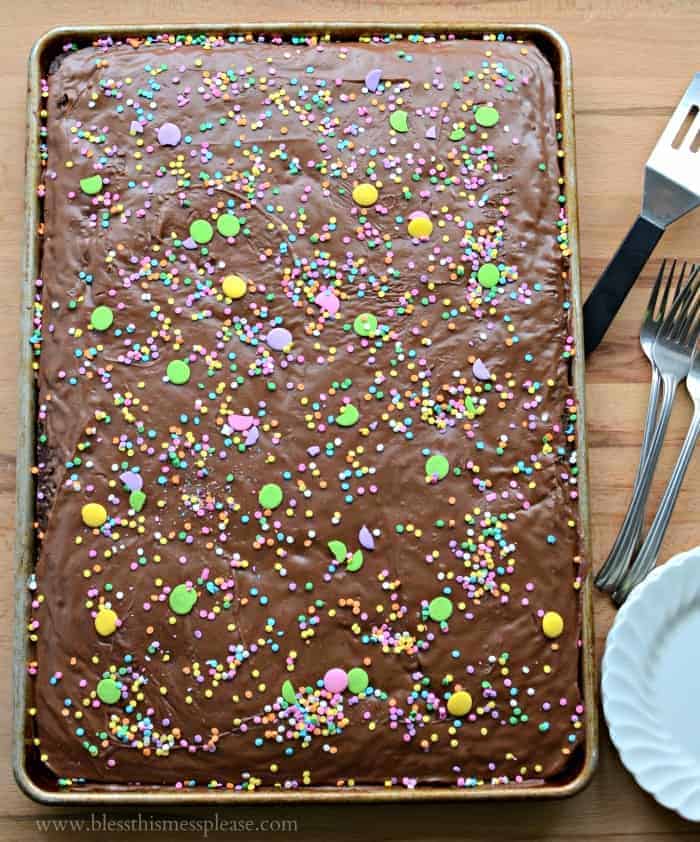 If you try this chocolate sheet cake, let me know what you think! Leave a comment, pin it, and don't forget to tag a picture #blessthismesseat on Instagram. I love to see your kitchen skills in action!
Print
Grandma Shoaf's Quick and Easy Chocolate Sheet Cake
---
Scale
Ingredients
For the Cake
1

box Better Crocker Devil's Food Cake Mix (plus ingredients called for on the box)
For the Icing
1

stick (1/2 cup) butter

1/4 cup

cocoa powder (I like the dark dutch-processed kind, my family prefers normal Hershey's kind)

1/3 cup

milk

1

pound or

4 cup

s powdered sugar

1 teaspoon

vanilla
As many sprinkles as your heart desires, the more the better
---
Instructions
Preheat the oven to 350 degrees. Make the cake batter according to the package directions and spread it evenly into a large greased, rimmed sheet cake pan (also called a Jelly Roll pan, should measure about 17 1/2 inches by 13 inches). Bake until the cake is cooked through. You'll start to smell the cake and the cake will spring back when touched lightly, 12 to 15 minutes.
While the cake is cooking, in a small sauce pan heat the butter, milk, and cocoa over medium heat until the butter melts, stirring often. Remove from the heat. Add the powdered sugar to a large bowl (you can also use a stand mixer here) and slowly whisk in the melted butter mixture into the powdered sugar. Stir until well combined and no lumps remain. Add the vanilla and stir to combine.
While the cake is still warm (let it sit for maybe 5-7 minutes, you want it hot but not pipping hot), drizzle the icing over the warm cake and then use a spatula to spread it to the edges. If you try to spread too much or go over the same place again and again you are going to pull up the top of the cake and get crumbs in your icing. The goal is to quickly spread it out and move on… too much fussing will just make a mess. Add the sprinkles while the icing is still warm. The sprinkles will also cover any messes you made if you tried to spread the icing too much.
The cake is great warm, at room temperature, and even the next day. No need to refrigerate over night, sugar is an excellent preservative. I have a plastic lid that fits my sheet cake pan and makes traveling a breeze. I highly recommend a lid for your pan.
---
For this recipe, I recommend:
[asa_collection btmp]sheet_cake[/asa_collection]
I have made this chocolate sheet cake no less than a million times. Most sheet cake recipes just have you add the powdered sugar to the melted butter and go. I don't do this because more often than not the powdered sugar gets lumpy and looks ugly on the cake. The secret to smooth icing here is to add the hot melted butter mixture to powdered sugar while stirring, and not the other way around. Pro tip for sure.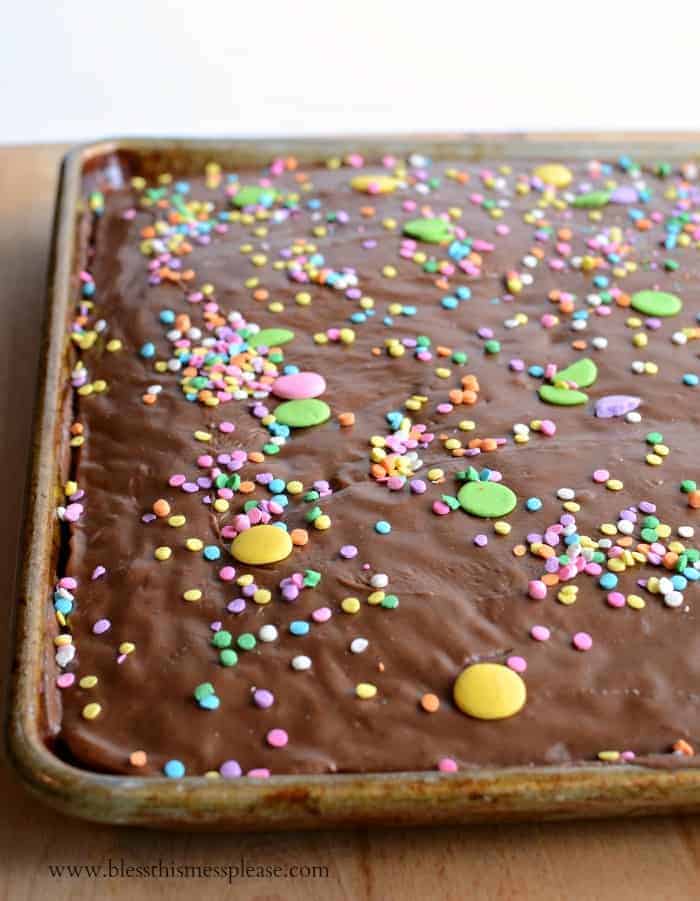 My other favorite "cheater recipes" are coming! While you're waiting, here's a few I've already posted:
Cheater Chocolate Chip Cookie Bars
Gooey Pumpkin Butter Cake
White Cloud Icing (easy recipe that goes perfect on a cake mix cupcake and it happens to be one of the most popular recipes on my site!)
Homemade Soft Oreos (also use a cake mix!)