Baklava is a dessert that is made with phyllo dough, nuts, and honey. It is crunchy, sweet, and really unique and oh so delicious.
You might be wondering what in the world is Baklava and where did it come from. Baklava dates back to the 16th century. It is originally from Turkey, Greece, and the Middle East- although each of those regions try to claim the dessert.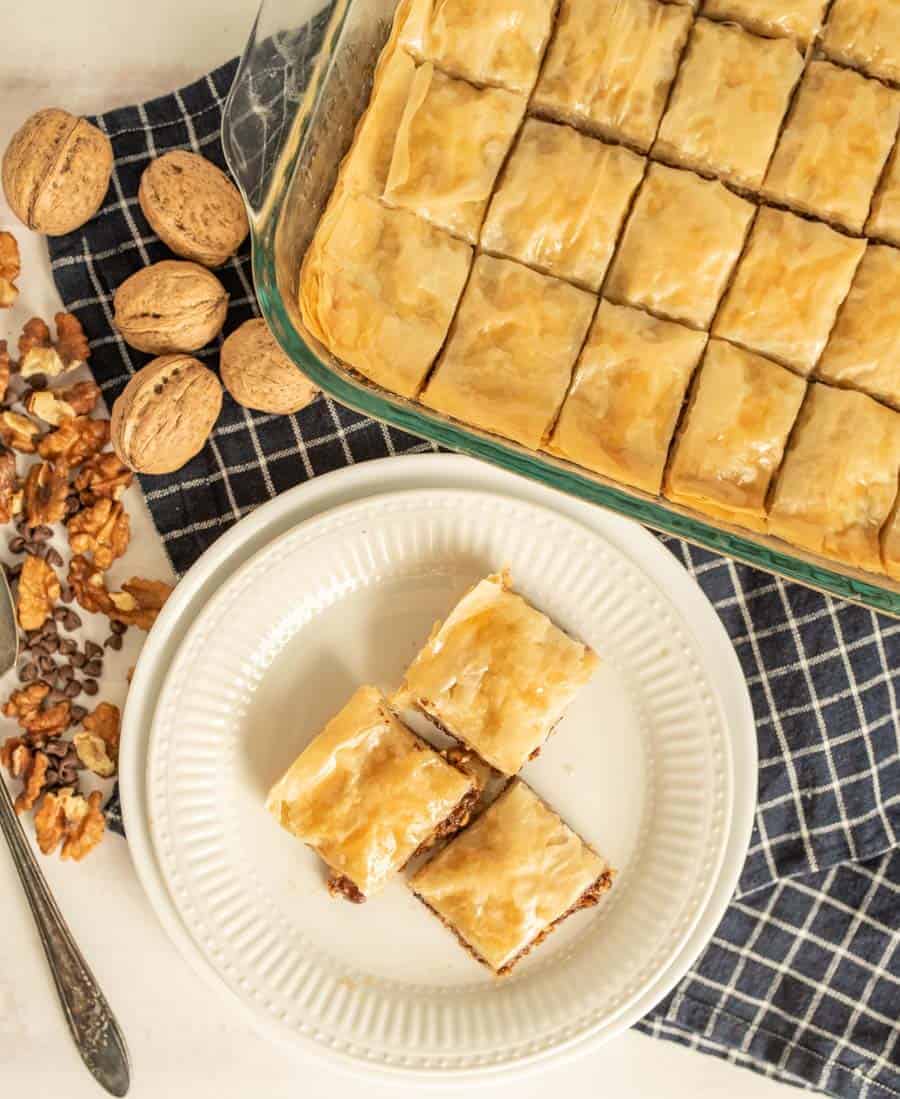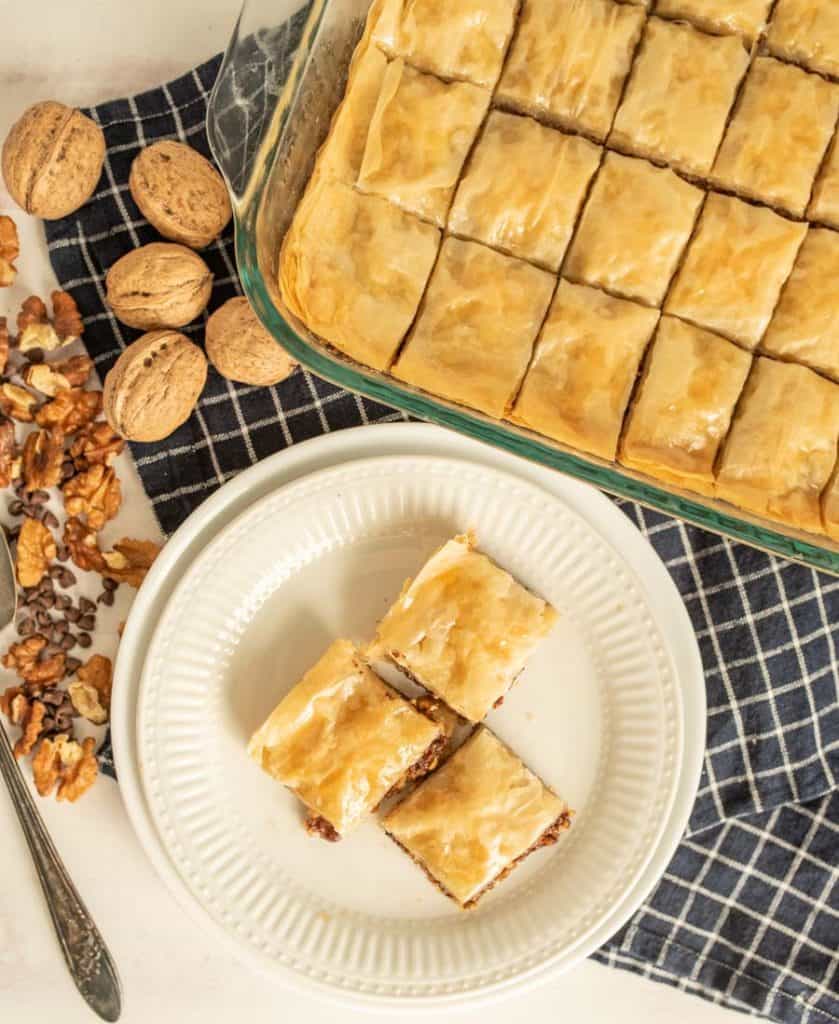 Chocolate Pecan Baklava
Baklava is made up of many layers of crisp, paper thin phyllo dough. In between each layer there is a yummy nut mixture and then the entire thing is drenched in a sweet honey syrup. The combination of these flavors will blow.you.away! This version has chocolate and pecans in it too!
Making baklava is relatively simple but there are quite a few steps involved. You will make the sweetened honey mixture, then prepare the nut mixture. Finally, you will prepare the phyllo dough. Once all these steps are taken, you are ready to assemble!
Homemade baklava is so much better than anything you will get at a restaurant. It is worth the extra effort to enjoy this dessert at home.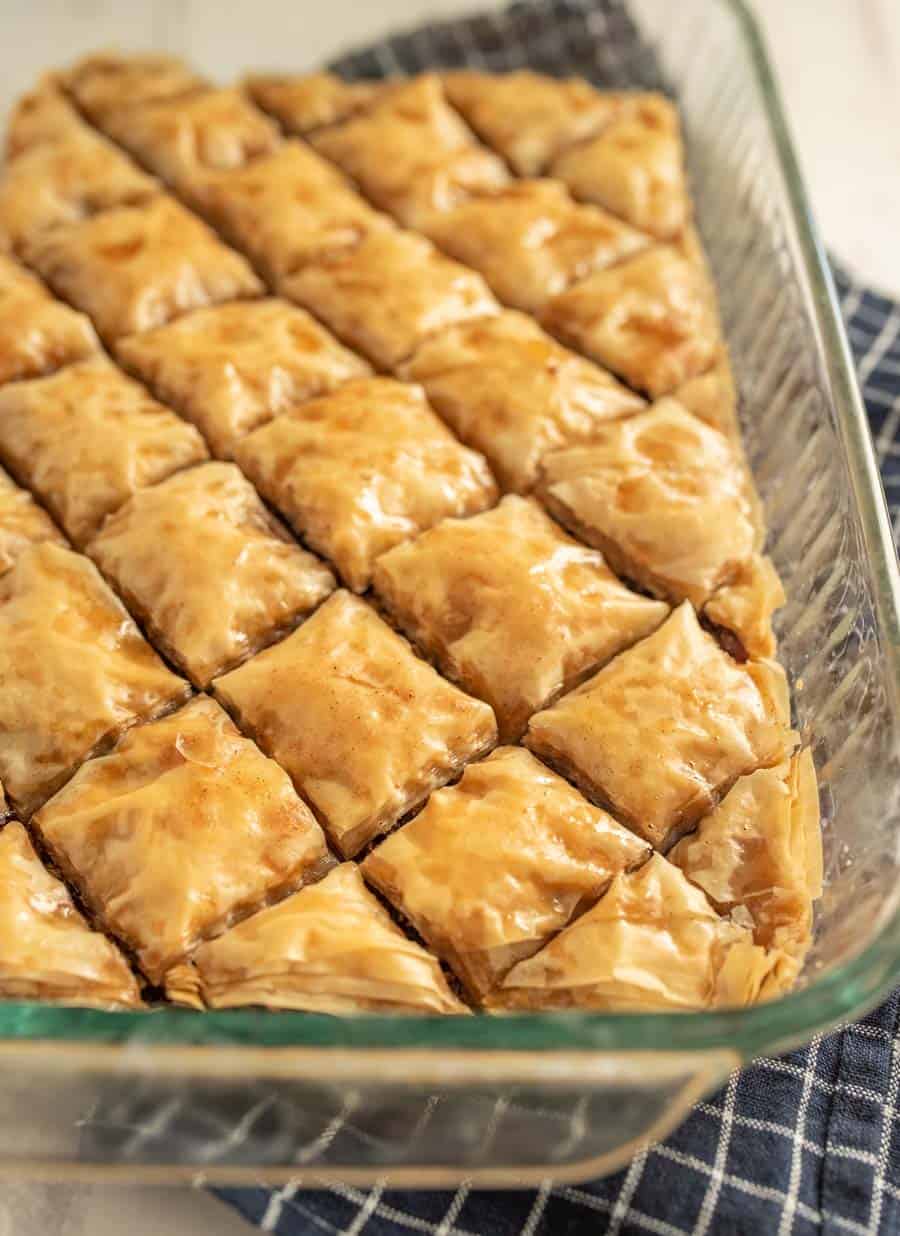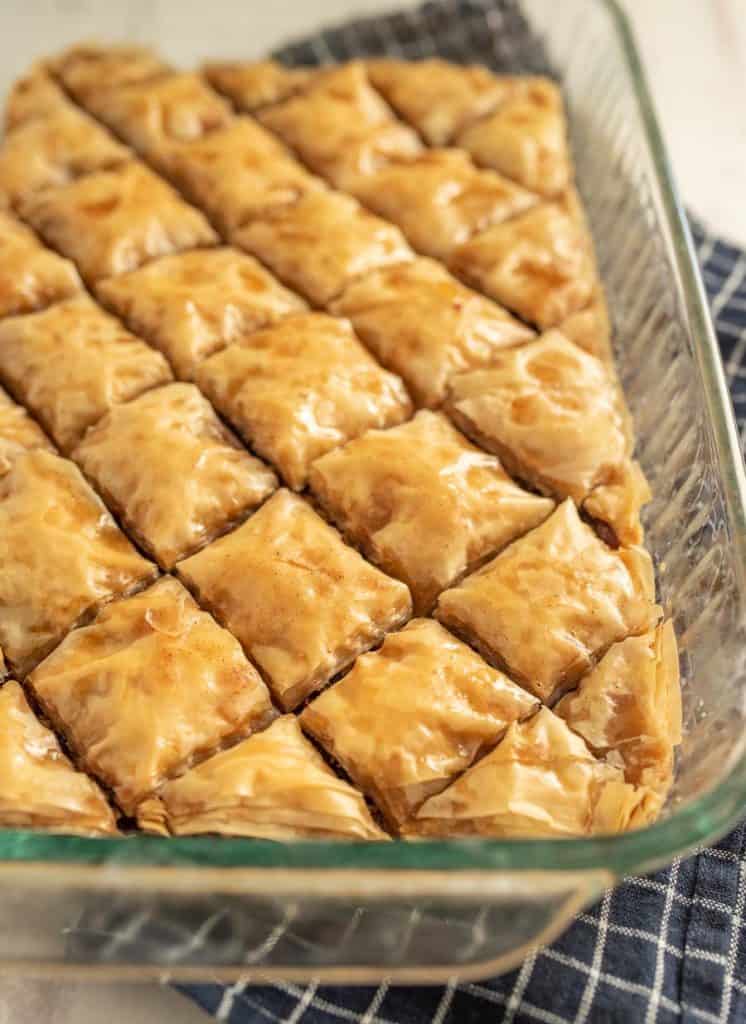 What nuts are used in baklava?
I like to use chopped walnuts or pecans. You can also incorporate pistachios or hazelnuts as well.
Is baklava served warm?
Baklava is best eaten at room temperature. It tastes really great if it has sat for several hours or even made the day before. Doing this allows time for the flavors to meld and for the phyllo dough to get crispy again.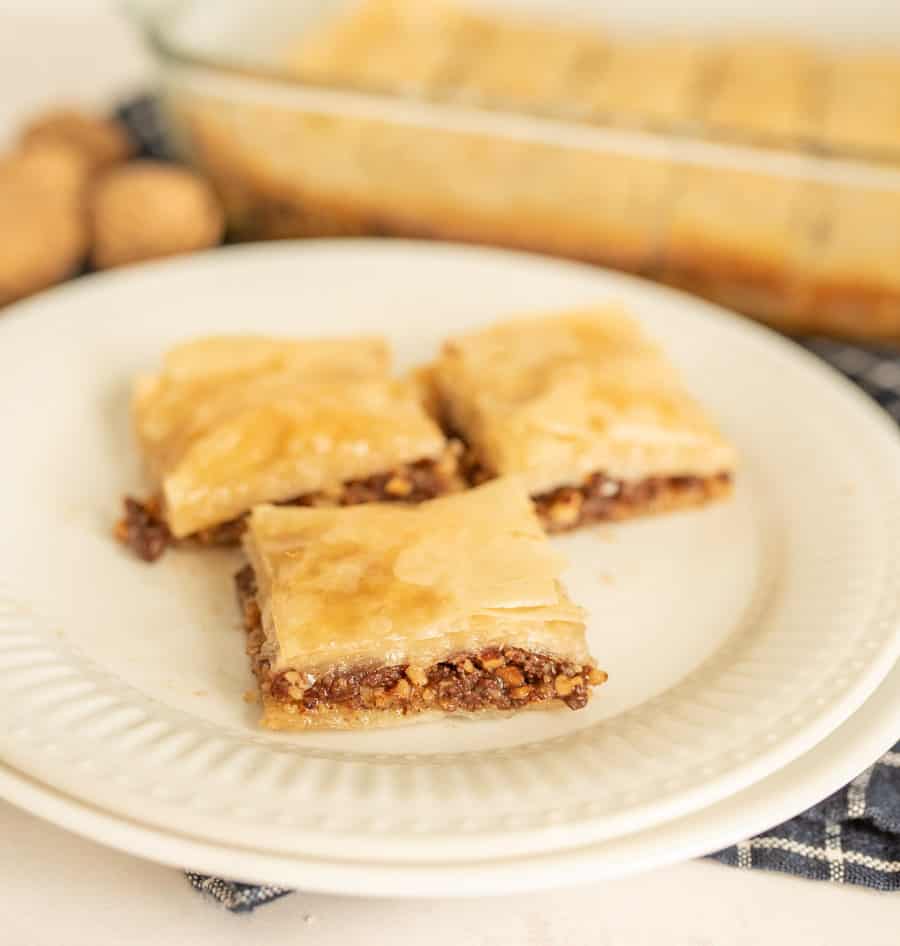 How do you know when baklava is done?
You will know when baklava is done because the top will turn golden brown. You can also use the toothpick method. If it comes out clean, you're in business!
What do you serve baklava with?
Baklava can be enjoyed as is or you can serve it a la mode. We often make it for Christmas and put it on your Christmas cookie plates for parties and friends and everyone loves it.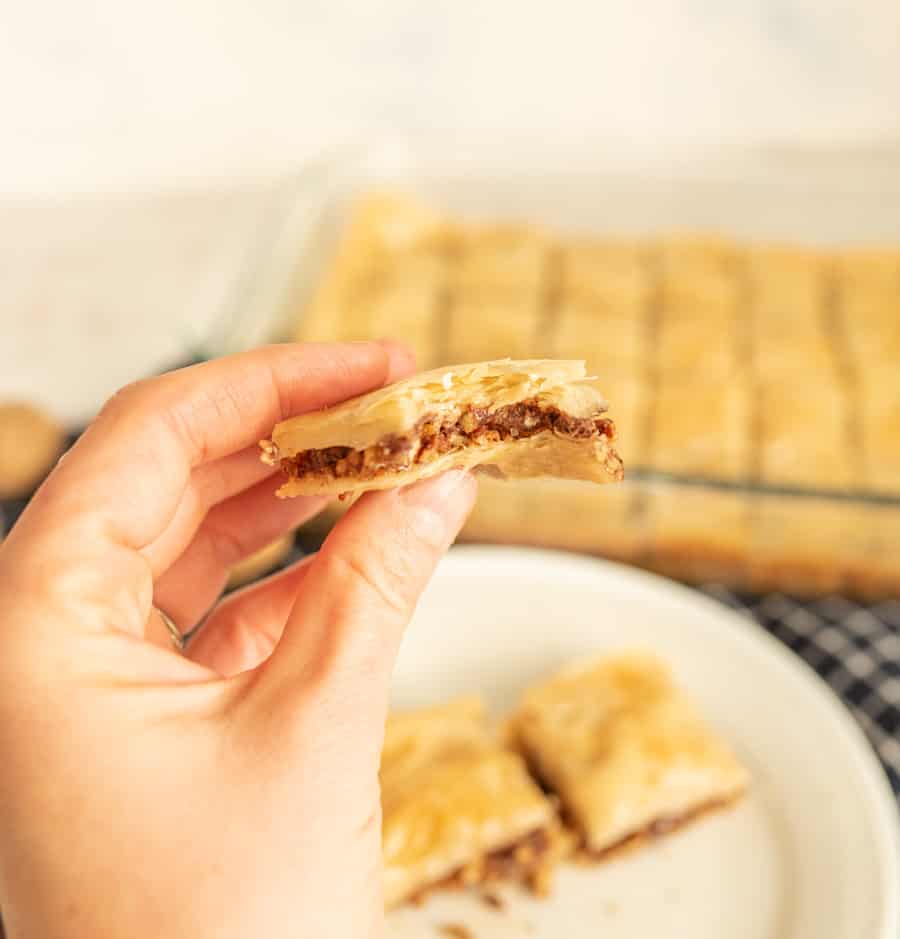 More cookie recipes:
Print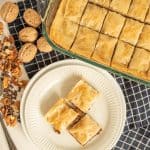 Beth's Chocolate and Pecan Baklava Recipe
---
Author:

Total Time:

55

Yield:

30

pieces

1

x
Description
Baklava is a dessert that is made with phyllo dough, nuts, and honey. It is crunchy, sweet, and really unique and oh so delicious.
---
For the Syrup:
1 cup

sugar

½ cup

water

¼ cup

honey
For the Filling:
1 ½ cups

pecans toasted and finely chopped

¼ cup

sugar

½ cup

mini semi sweet chocolate chips
For the Phyllo:
1 cup

unsalted butter

24

sheets frozen phyllo dough, thawed in the refrigerator overnight
---
Instructions
Combine all syrup ingredients in a medium saucepan.

Bring to a boil over medium heat.

Boil for 5 minutes.

Remove from heat and allow to cool.

Melt butter in the microwave or on the stove.

Once melted skim any milky substance off the top.

Pour clear portion of butter into a separate container.

Discard remaining milky substance at the bottom.

Heat oven to 350.

Unroll phyllo onto cutting board.

Cut dough to fit in 13x9 inch pan.

Cover any phyllo you aren't working with, with large dry towel.

Brush bottom of 13x9 inch pan with melted butter.

Lay 1 sheet of phyllo dough in pan.

Brush phyllo with butter.

Repeat with 11 more sheets of phyllo (so 12 layers of butter and phyllo on the bottom).

In a small bowl mix together the pecans, sugar, and mini chocolate chips for the filling. Evenly sprinkle filling onto phyllo in the bottom of the pan.

Top with remaining phyllo, brushing butter in between each layer as before.

Cut baklava into squares or diamonds, cutting all the way to the bottom ( about 1 ½ inch pieces).

Bake 25 minutes until golden brown.

Remove the pan from the oven.

Immediately pour cooled syrup evenly over the baked baklava.

Cool completely before serving.
Notes
Chopping the pecans very small and very uniformly will result in a much better filling.
Normal chocolate chips are just too big in this recipes in my opinion. The minis melt more evenly.
Prep Time:

30

Cook Time:

25

Category:

Dessert

Method:

Bake

Cuisine:

Greek
Nutrition
Serving Size:

1 slice

Calories:

135

Sugar:

11.1g

Sodium:

1.2mg

Fat:

10.2g

Carbohydrates:

11.7g

Protein:

.6g
Keywords: baklava, baklava recipe, how to make baklava, baklava with phyllo, chocolate baklava, pecan baklava, easy baklava recipe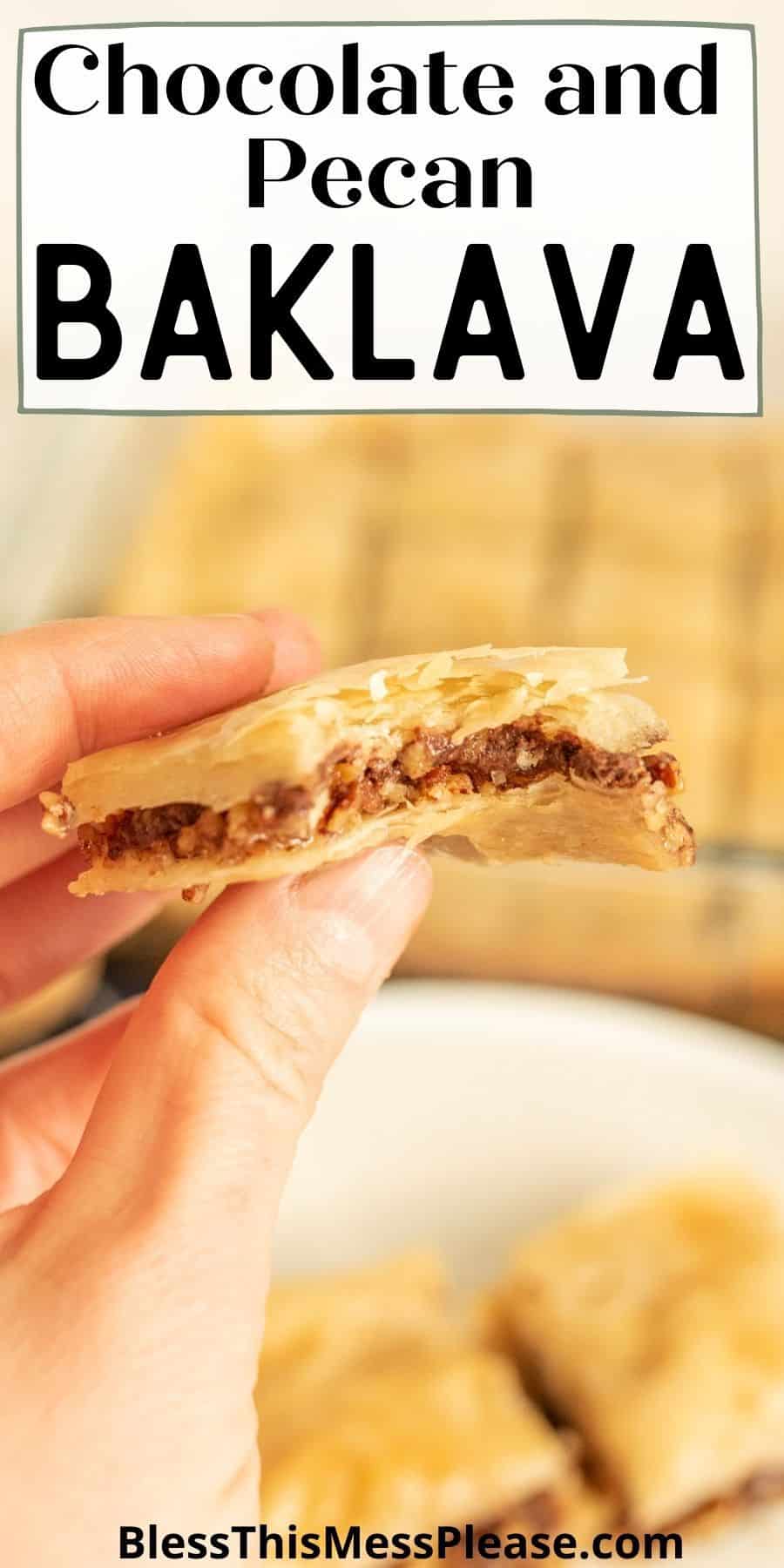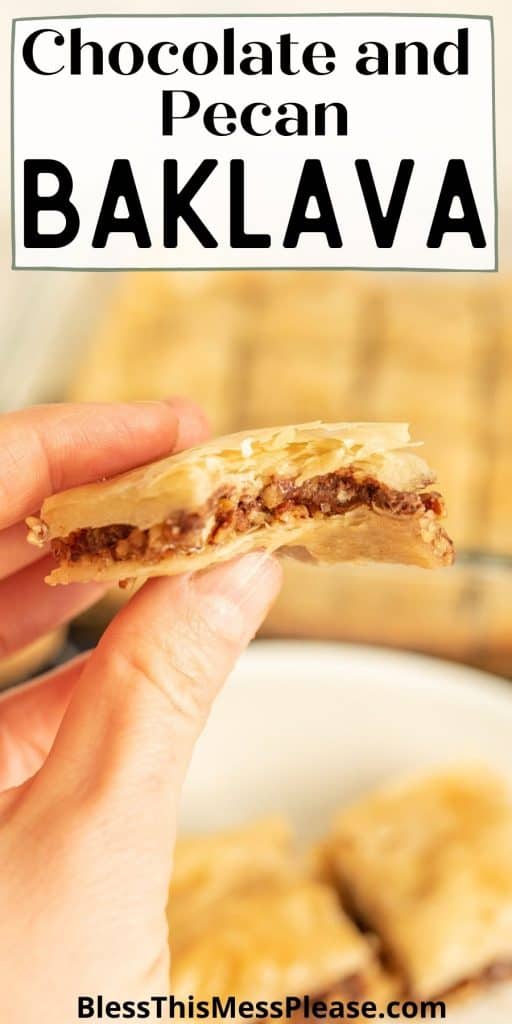 This Baklava recipe is such a fun dessert. It is something that most people don't eat very often so it makes it a special occasion. I know you are going to love the flavor, texture, and sweetness of this dessert.