The best pecan pie recipe is made with a secret ingredient that you have in your kitchen right now -- browned butter! There's always room in the fridge for a fresh homemade pie with sweet pecan nuts!
Whether you're celebrating a holiday or just want a delicious treat to snack on this week, this pecan pie is the perfect recipe for you!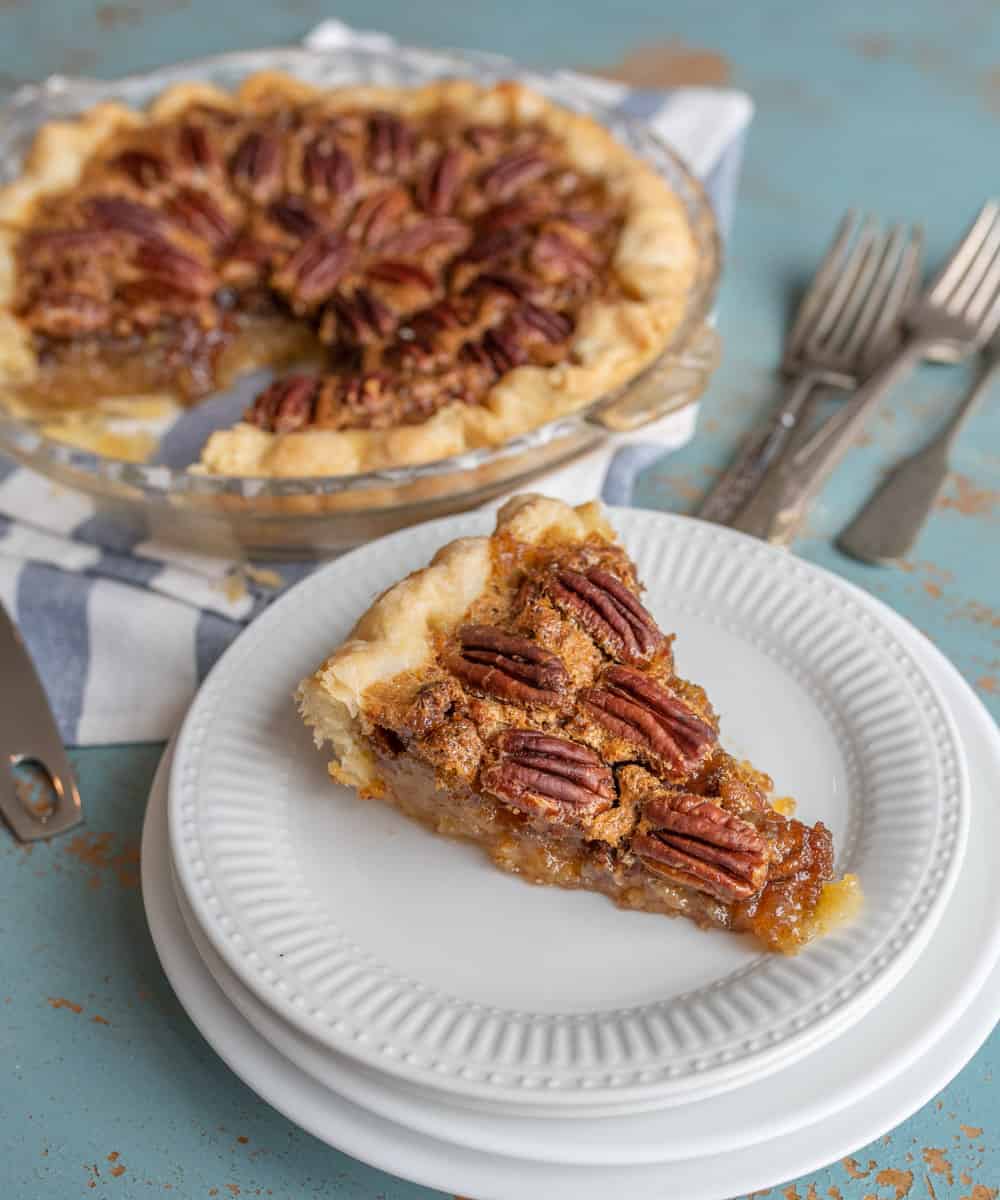 An Easy Pecan Pie Dessert Recipe
This pecan pie is the best. I've made a lot of different pecan pie recipes in my day, and I love this one. You brown the butter a little on your stovetop before adding it to the egg and sugar mixture, and it makes the pie extra-rich and caramel-y. If you want to add a few pecans to the top, they won't sink to the bottom. Also, the filling won't overflow the pie crust (I have a problem with that for some reason, and it makes such a mess in my oven). It is delicious and the only pecan pie recipe you'll need.
There's something magical about pulling a pie made from scratch out of the oven. It seems to take you back to a time when life was simpler and homemade pie was standard fare in American kitchens. Today, amidst the hustle and bustle of everyday life, taking time to make pie is almost therapeutic. It's a slower process than opening a box of brownie mix, but there's so much satisfaction in it. Butter, flour, and sugar are the building blocks of all things good, and making a homemade pie is a pretty great way to use them. Plan to take an afternoon to bake, and you just might love how grounding the whole process is for you. And you'll have a beautiful pie to enjoy after dinner or to share with friends, and that's a pretty great reward, too.
After writing a huge post all about pie crust, I wanted to share a few classic, simple, perfect-for-every-holiday pie recipes to go with it. You need something delicious to fill your favorite pie crust and this post is just that – all things pie! This really is the best pecan pie recipe, and I hope you love it. You can find this recipe plus SEVEN other pie recipes in one post if you are still looking around for something that looks perfect for your Thanksgiving table.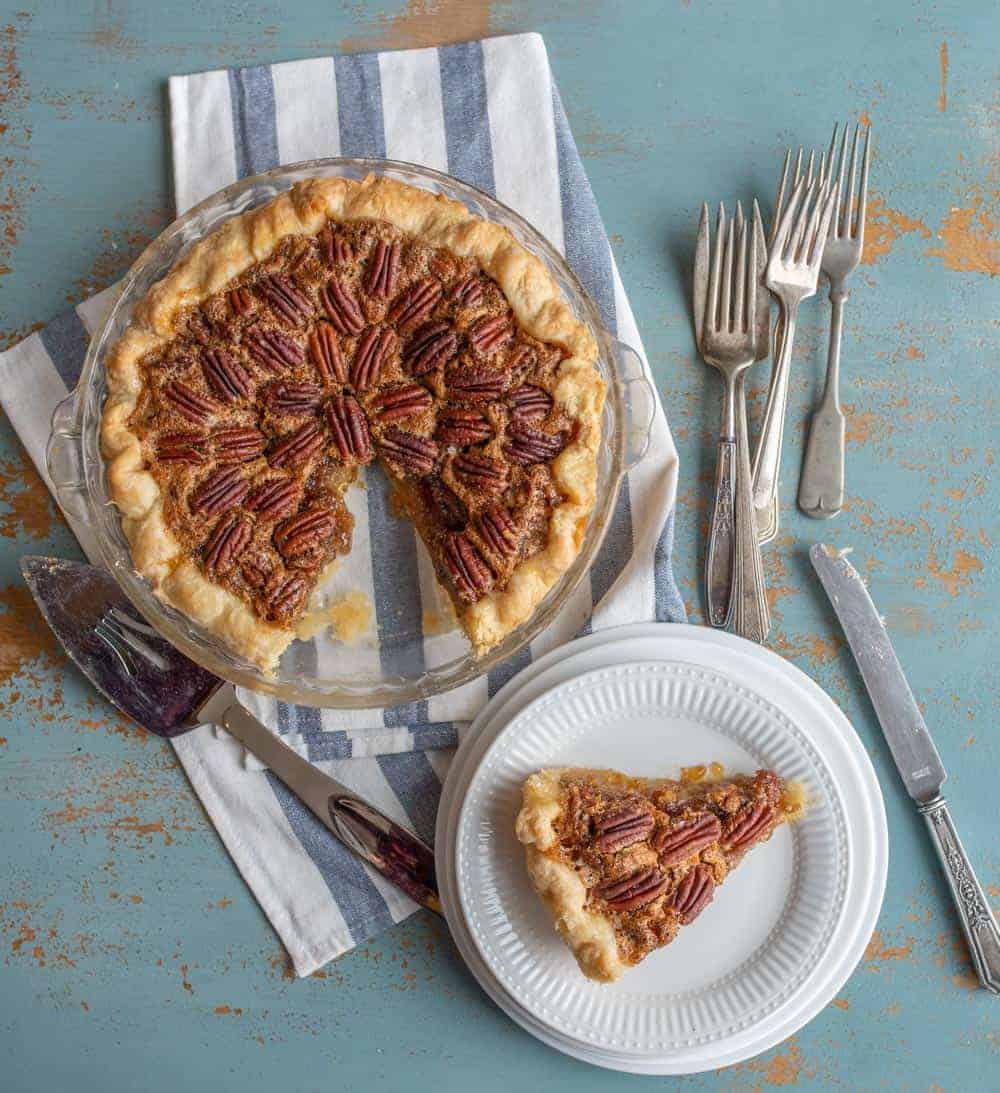 How do you know pecan pie is done?
The top of a pecan pie will look golden and a bit caramelized when it's done. It should shift a bit in the middle, but if it's really jiggly, it's probably not done.
How long should a pecan pie cool?
I like to let pecan pie cool for at least two hours before cutting and serving it. It finishes cooking and sets as it cools, which allows pie slices to stay together better once they've cooled for a while.
Should I refrigerate pecan pie?
You can refrigerate pecan pie for up to 3 to 4 days after baking it. Cover it loosely with foil or plastic wrap before storing it in the fridge.
Can pecan pie sit out overnight?
Yes, you can leave this out overnight for a day or two! Just be sure to cover it. It makes a great Thanksgiving dessert option when you want to work ahead and keep oven and kitchen space open for the day of.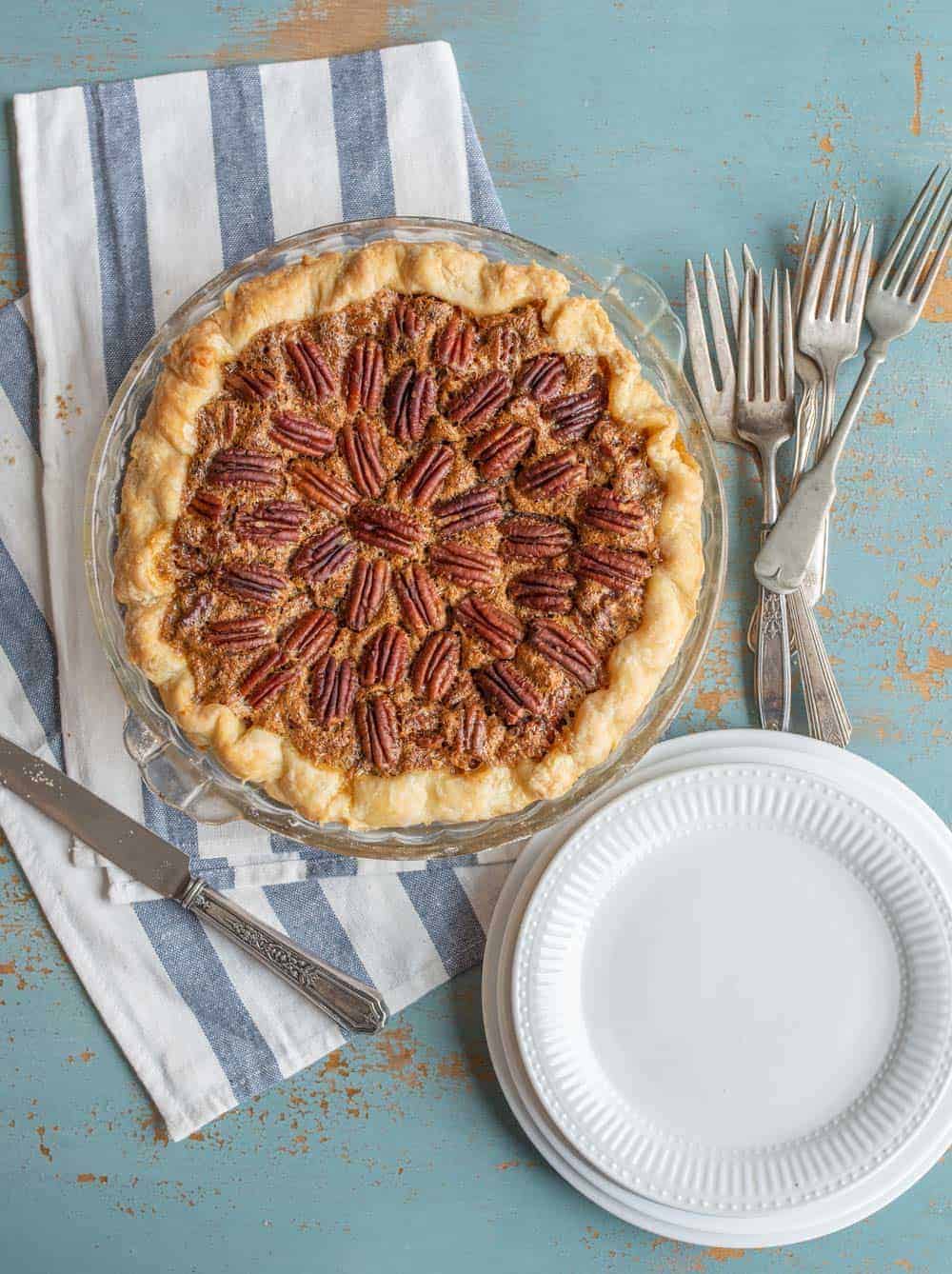 How to make the best pecan pie:
The secret to this amazing pecan pie is the browned butter. Have no fear -- it's SO simple. You are really just heating up the butter on the stove until it's browned. Just keep an eye on it so you don't scorch it. You'll be making browned butter for everything you do after this. It's so good on veggies, meat, in cookies, and in just about any other place you use butter or melted butter.
I have great luck buying reasonably priced pecans at Costco. The bag is large (because Costco...), but I can use them in pie, date bites, granola bars, oatmeal energy bites, this lovely fall salad, or simply candied for a snack (that recipe uses maple syrup to candy them so it's pretty healthy!). Long live the pecan.
This recipe can be made a day or two ahead of time and left at room temperature until serving. That makes it a great option to prep ahead of time the week of Thanksgiving, leaving your oven and fridge open!
It's best to use a deep pie plate for this recipe. I recommend this one.
I love pie recipes that only use a single crust. Make a double crust and then make two pies (like a pumpkin pie that also only needs a single crust). Two pies for the effort of one, SIGN ME UP!
Print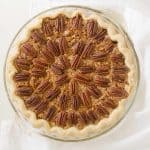 The Best Pecan Pie Recipe
---
Author:

Total Time:

1 hr 5 mins

Yield:

8

-

10

servings

1

x
Description
The best pecan pie recipe is made with a secret ingredient that you have in your kitchen right now -- browned butter! There's always room in the fridge for a fresh homemade pie with sweet pecan nuts!
---
1 cup

granulated sugar

1 cup

light corn syrup

1 teaspoon

vanilla extract

1 teaspoon

salt

¼ teaspoon

ground cinnamon

4

eggs

½ cup

(

1

stick) salted butter

2 cups

pecans (plus extras to line the top, if desired)
---
Instructions
Prepare your pie crust, and pop it in the fridge until you are ready. Use a deep 9-inch pie plate so that it doesn't bubble over while cooking.
In a small bowl, combine the sugar, corn syrup, vanilla, salt, and ground cinnamon, and whisk to combine well. Add the eggs, and whisk until well combined.
In a small saucepan, over medium heat, melt the butter, and then cook, stirring very often, until the butter starts to darken and smells fragrant, about 4 to 5 minutes (the butter will burn if you aren't careful, so keep an eye on it).
Slowly pour the brown butter into the sugar mixture while whisking until well combined. Add the nuts (you can chop them up or not; I like mine chopped up a bit).
Pour the pie filling into the prepared crust, and line with additional pecans if desired.
Bake at 350 degrees F. for 50 to 60 minutes. The middle can jiggle just a bit, but should not be sloshy.
Remove from the oven, and allow the pie to cool before cutting and serving.
Notes
Best pecan pie recipe out there. Mark my words.
Prep Time:

15 mins

Cook Time:

50 mins

Category:

Dessert

Method:

Oven

Cuisine:

American
Keywords: pecan pie recipe, how to make pecan pie, thanksgiving pie recipes, best pecan pie recipe, homemade pecan pie, easy pecan pie recipe, easy pie recipes

Love pecan pie? You might also love these pie recipes:
This post was originally published in November 2018, and has been updated and rephotographed in November 2019.
This is truly the best pecan pie recipe ever, and I can't wait for you to try it and fall in love with it, too!