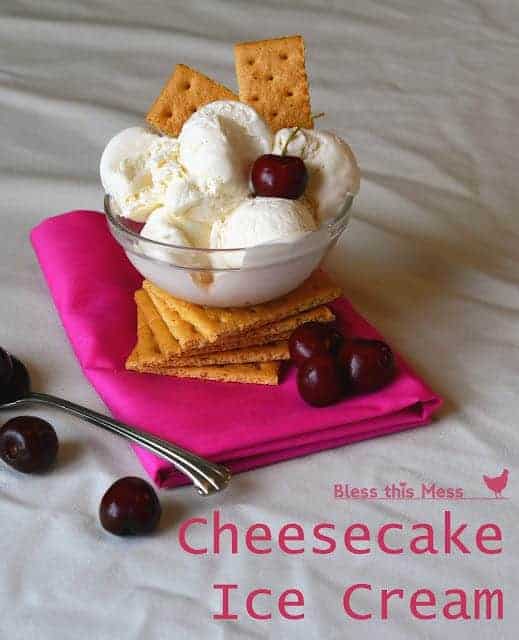 Happy National Cheesecake Day! This is perfect if you don't have the time to bake a whole cheesecake, can't imagine turning on your oven in July, or are too cheap to commit five packages of cream cheese to one dessert. It's a win-win type of recipe in my book and amazing to boot.
This stuff is decadent and rich, and it really tastes like eating frozen cheesecake except the texture is a little smoother. I love enjoying rich desserts because a little is so satisfying. 
Are you celebrating National Cheesecake Day? If so, let's hear about it! Feel free add a link to your recipe in the comments!
Cheesecake Ice Cream
Makes about 5 cups
Printable Recipe
8 ounces cream cheese, at room temperature
1 cup granulated sugar
1/2 tsp. salt
2 tsp. pure vanilla extract
1/2 cup sour cream
1 cup whole milk, at room temperature
In a medium bowl add the cream cheese, sugar, and salt. Beat with an electric mixer (or use a stand mixer) on medium speed until light and fluffy, about 3 minutes. Add the vanilla and the sour cream and beat for another minute. Stir the milk into the cream cheese mixture until completely combined. Cover and refrigerate for one to two hours, or overnight, until completely chilled. Add the ice cream mixture to your ice cream maker and process according to manufacturer's directions.
Notes:
I use a Cuisinart Ice Cream Maker that you just freeze the canister the ice cream is made in. It takes about 15 minutes to make ice cream with no salt and ice to mess with. I love it!
If you don't feel like letting the mixture sit in the fridge to chill, it isn't a big deal for this recipe since nothing is heated to cook. Just plan on the ice cream taking a little longer to freeze in your maker.
I sandwiched some of this ice cream between some of my homemade graham crackers to make cheesecake ice cream sandwiches and they were divine!
If you like a harder ice cream, put the ice cream in a freezer container and cover. Let it freeze for at least 2 hours and then let it sit for 10 minutes on the counter before serving. The ice cream straight out of the maker is just like soft-serve. Out of the freezer it is like store-bought.
Disclosure: I am not fancy enough to work with Cuisinart – the ice cream maker was a gift from my husband and I just really like it.
I'm sharing this recipe over at:
Crazy for Crust