Chicken fajitas are a sizzling sensations are beloved by many for their delicious combination of seasoned chicken, sautéed onions and peppers, and a medley of toppings.
Not only are chicken fajitas incredibly tasty, but they are also remarkably easy to make, making them a go-to choice for busy weeknight dinners or casual gatherings with friends and family.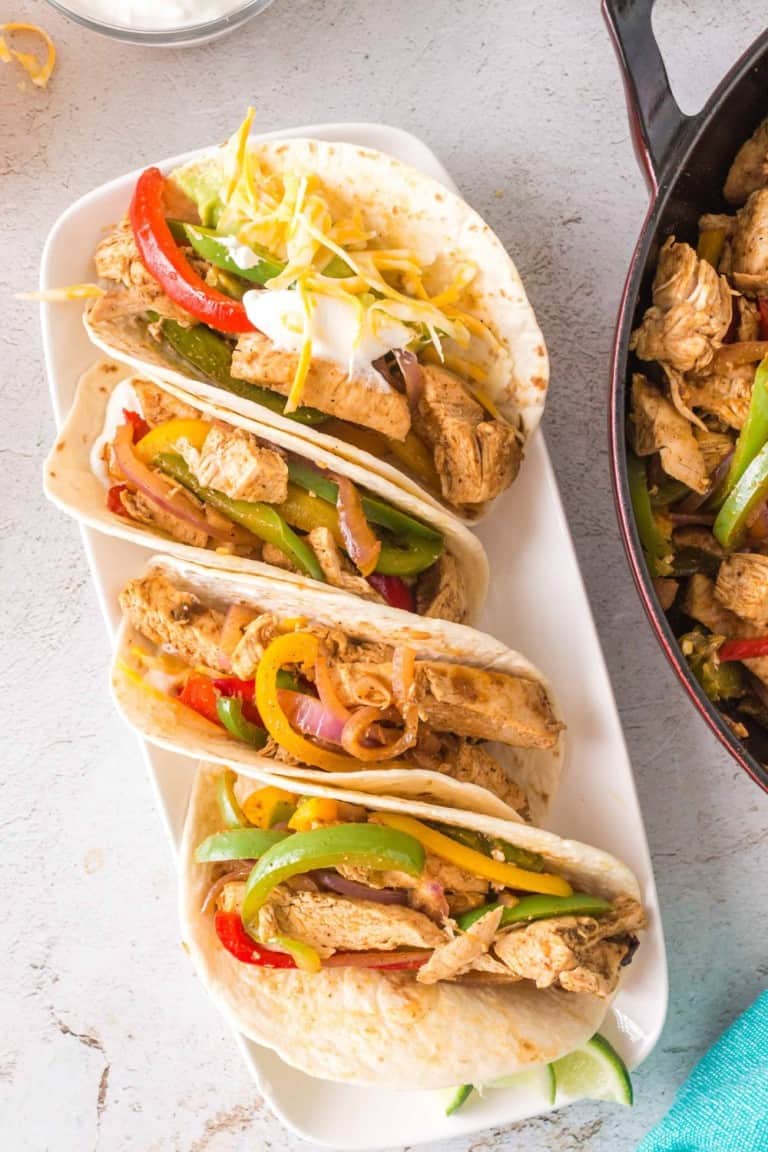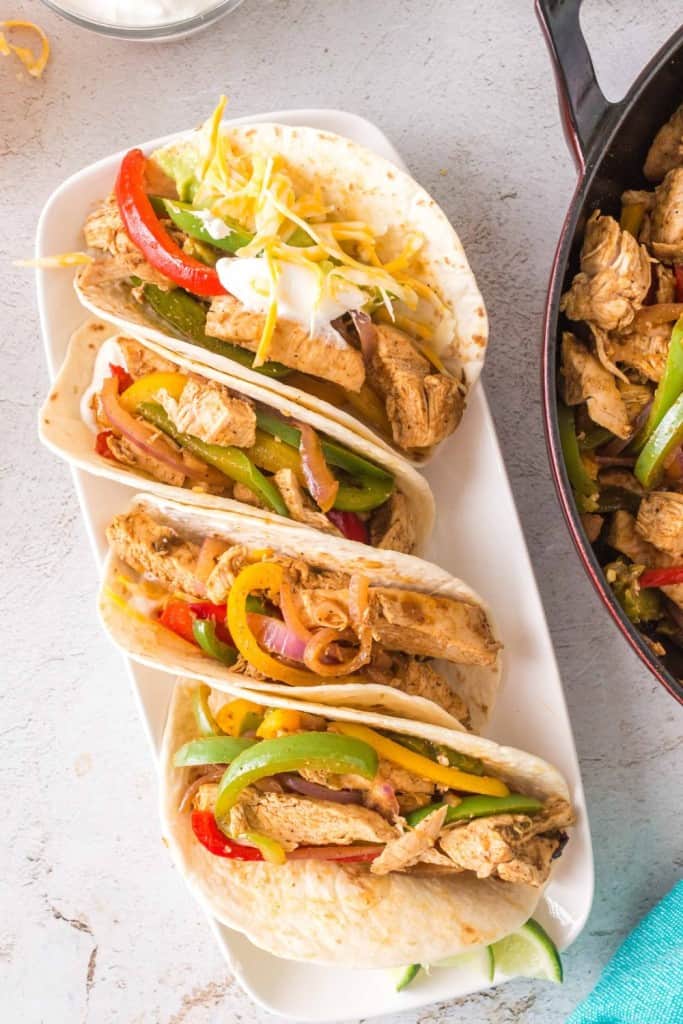 Chicken Fajitas
Chicken fajitas have become a favorite among food enthusiasts worldwide. The combination of tender, marinated chicken with the caramelized onions and colorful bell peppers creates a symphony of flavors that excite the palate. The seasonings, such as chili powder, cumin, and garlic, infuse the dish with a delicious kick that satisfies spicy food lovers.
One of the joys of chicken fajitas is the opportunity to personalize each serving. Whether you prefer a dollop of sour cream, a generous heap of guacamole, a dash of salsa, or a sprinkling of shredded cheese, you can tailor the toppings to suit your taste preferences.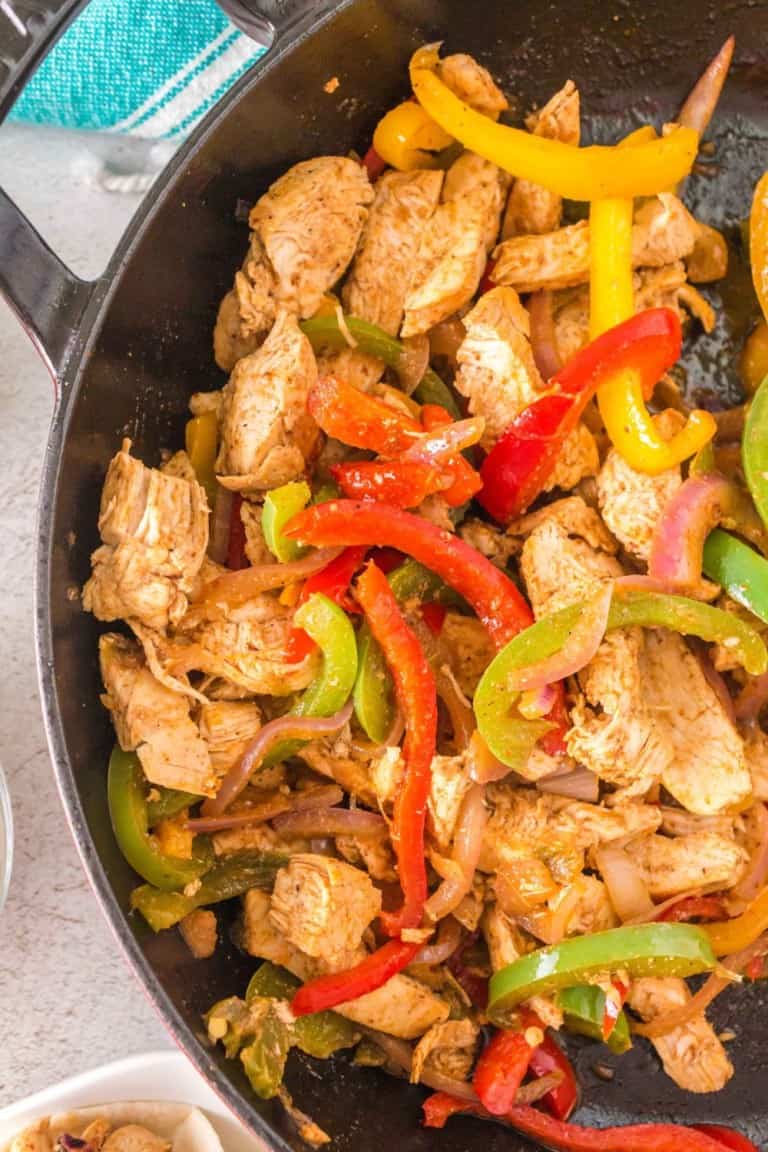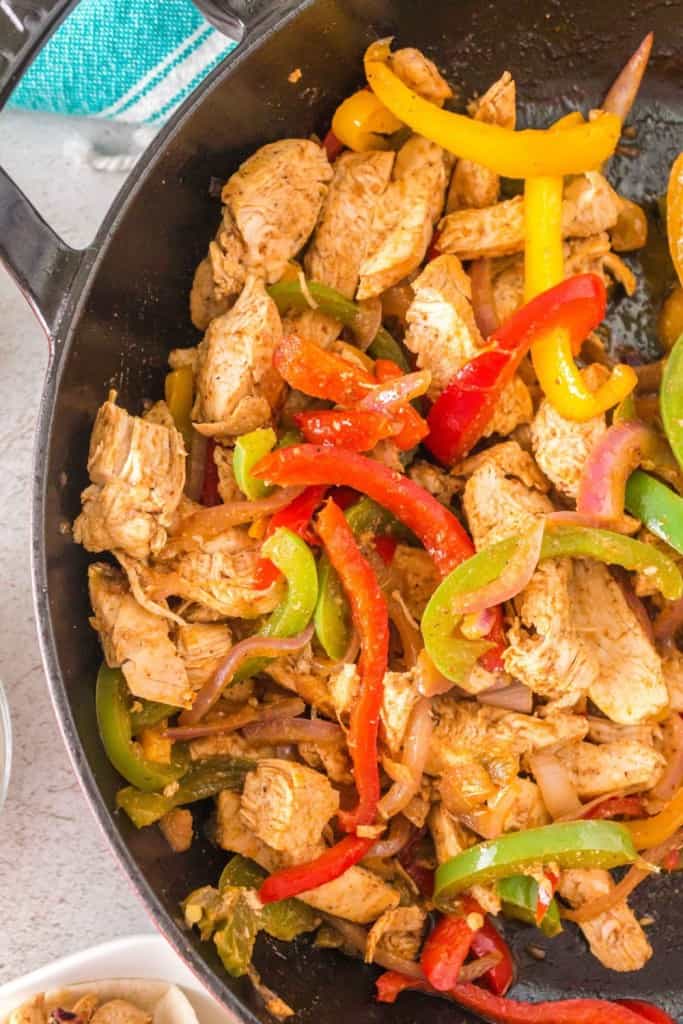 While chicken fajitas are a complete meal on their own, you can elevate your dining experience by serving them with some delectable accompaniments. Here are a few suggestions:
Mexican Rice: The aromatic blend of rice, tomatoes, spices, and herbs complements the flavors of chicken fajitas perfectly.
Refried Beans: Creamy and savory, refried beans add a comforting touch to your plate.
Fresh Salsa and Guacamole: These zesty and creamy dips offer a refreshing contrast to the smoky fajita flavors.
Crisp Salad: A simple salad with mixed greens, tomatoes, and a light vinaigrette adds a refreshing element to balance the richness of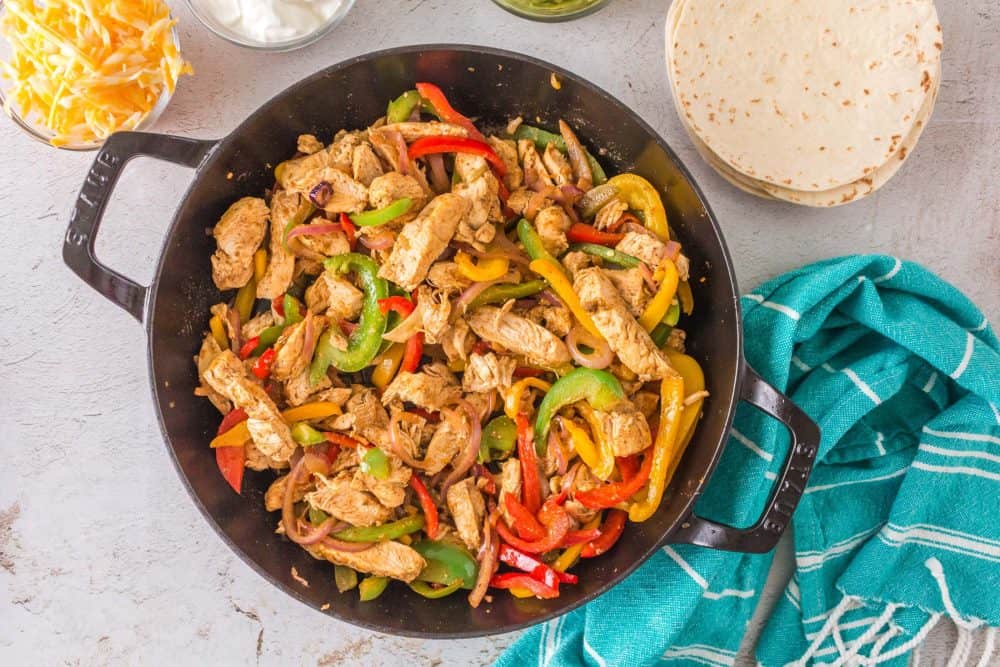 Ingredients
Chicken breast
Lime juice
Garlic
Chili powder
Cumin
Jalapeno
Bell peppers
Yellow or red onion
Cilantro
Flour tortillas
Keep scrolling to find a full, printable recipe with a detailed ingredient list.
Recipe Instructions
Whipping up a batch of chicken fajitas is remarkably simple. Here's a quick rundown of the process:
Marinate: Slice the chicken into thin strips and toss them in a marinade of olive oil, lime juice, spices, salt, and pepper. Allow the chicken to marinate for at least 15 minutes, or longer for enhanced flavor.
Grill or Sauté: Cook the marinated chicken on a grill or stovetop skillet until it's browned and cooked through. Set it aside.
Sauté the Goodness: In the same skillet, sauté sliced onions and bell peppers until tender and slightly charred. Return the chicken to the skillet and stir everything together for a couple of minutes to let the flavors meld.
Serve and Enjoy: Warm your tortillas, assemble your fajitas, and garnish with your favorite toppings. Dig in and relish the delightful flavors!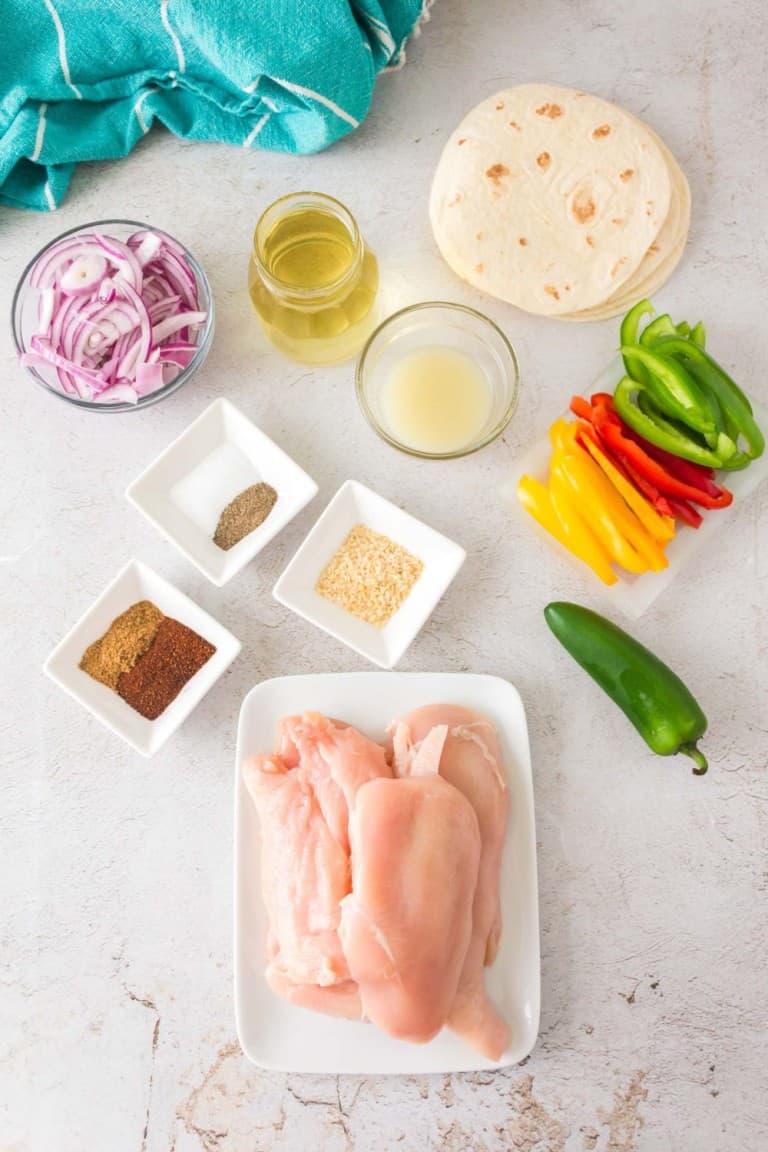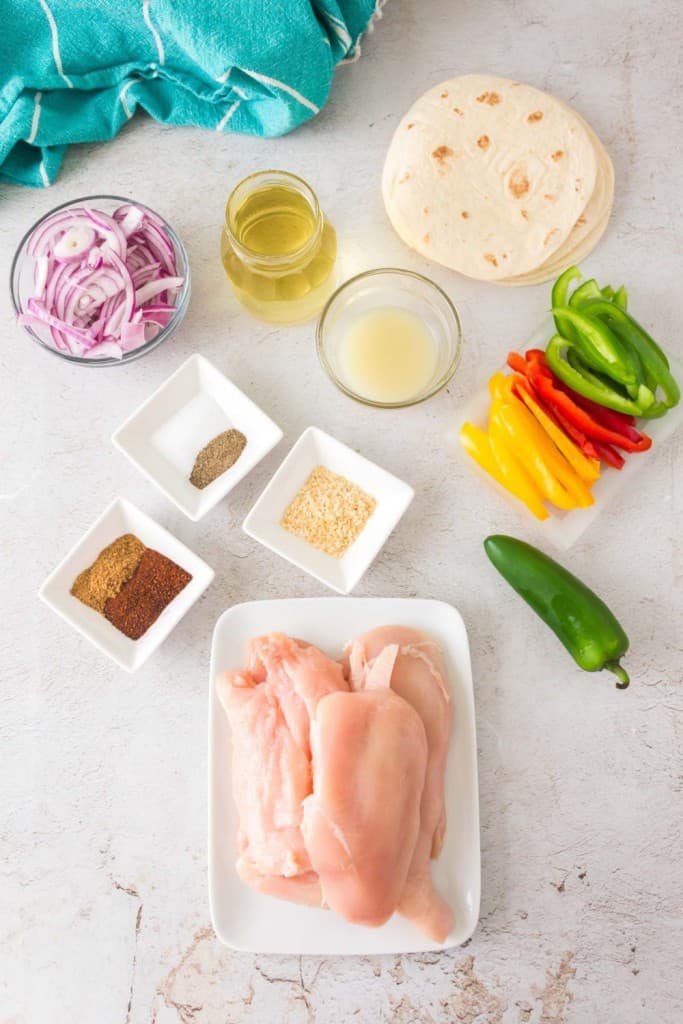 Frequently Asked Questions
Can I use a different protein instead of chicken?
Absolutely! While chicken is the traditional choice, you can substitute it with beef, shrimp, or even tofu for a vegetarian option.
Are there any alternatives to tortillas?
If you prefer a low-carb option, you can serve the fajita mixture over a bed of lettuce as a salad. Alternatively, you can use lettuce leaves or cauliflower tortillas as a gluten-free alternative.
Can I adjust the spice level?
You can adjust the amount of chili powder and other spices to suit your preferred level of spiciness. Feel free to experiment and find the perfect balance for your taste buds.
Can I make chicken fajitas in advance?
While it's best to cook the chicken and vegetables fresh for optimal flavor and texture, you can marinate the chicken ahead of time to save preparation time. Sauté the onions and peppers just before serving.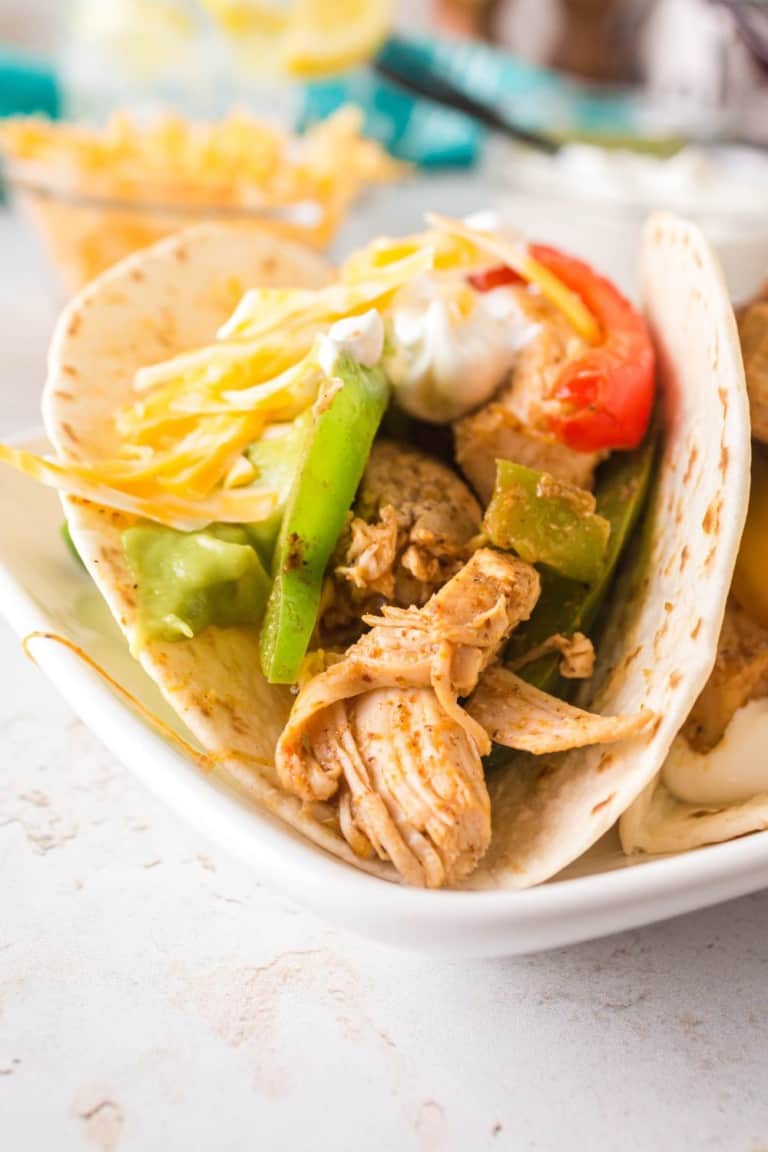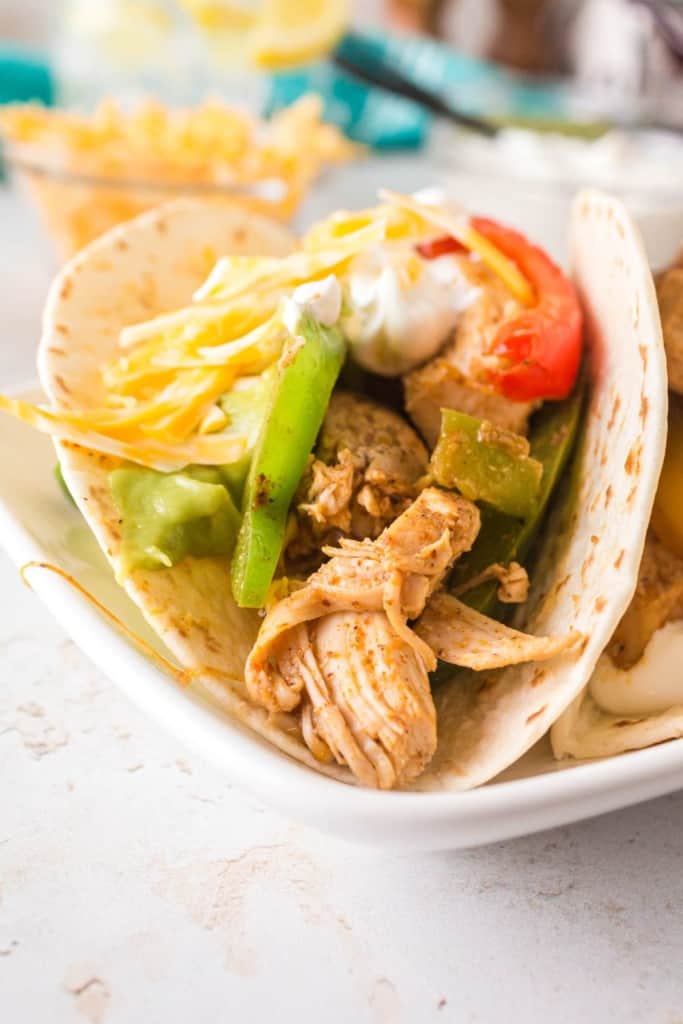 More Recipes
If you've tried this Chicken Fajitas recipe or any other recipe on Bless This Mess, then don't forget to rate the recipe and leave me a comment below! I would love to hear about your experience making it. And if you snapped some pictures of it, share it with me on Instagram so I can repost on my stories.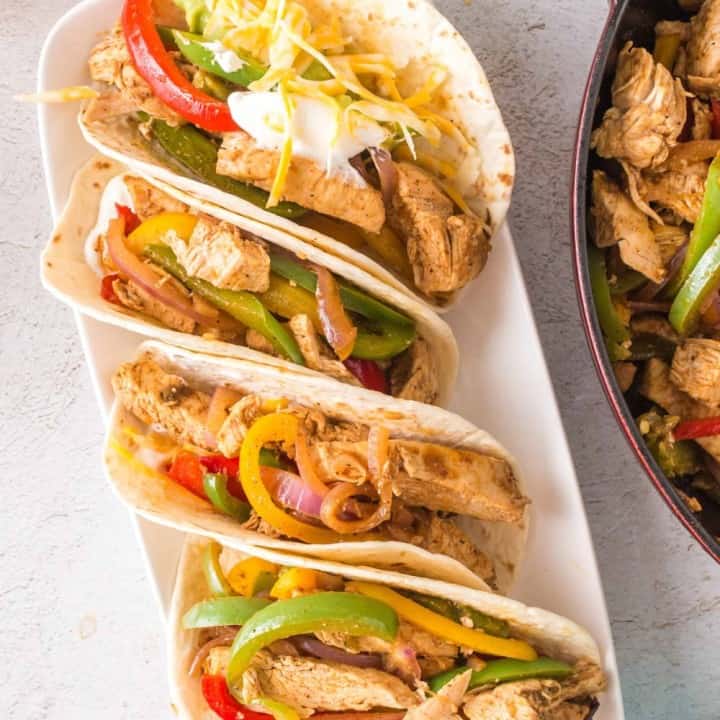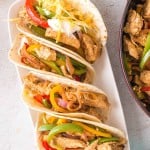 Print Recipe
Chicken Fajitas
Chicken fajitas are a sizzling sensations are beloved by many for their delicious combination of seasoned grilled chicken, sautéed onions and peppers, and a medley of toppings.
Ingredients
3-4

medium chicken breast

about 2 pounds total, cut through the thickest part (so you'll have 6-8 thin breast pieces)

¼

cup

+ 2 tablespoons olive oil

¼

cup

fresh lime juice

3 ½

teaspoon

minced garlic

divided

2

teaspoon

chili powder

divided

2

teaspoon

ground cumin

divided

1

jalapeno

seeded for less heat if desired, minced

2

teaspoon

salt

more to taste

1

teaspoon

freshly ground black pepper

3

medium bell peppers

preferably 1 red, yellow and green, seeded and sliced

1

medium yellow or red onion

sliced

3

tablespoons

chopped fresh cilantro

10-12

6-inch flour tortillas, warmed

Optional toppings such as sour cream, shredded cheese, salsa, and/or guacamole
Instructions
In a large zipper topped bag or a container with a lid that is large enough to fit your chicken, add together ¼ cup olive oil, lime juice, 2 teaspoons minced garlic, 1 teaspoon chili powder, 1 teaspoon cumin, jalapeno, salt and pepper. Stir a bit to combine.

Add chicken and toss well to fully coat the chicken in the marinade. Cover and let marinate in the refrigerator for at least 1 hour and up to 6 hours.

Preheat a 12-inch cast iron pan over medium-high heat. Add 1 tablespoon olive oil then remove chicken from marinade and place in the skillet. Let cook until seared and browned on bottom, about 5 minutes.

Flip chicken and continue to cook until chicken registers 160 - 165 degrees on an instant read thermometer in the center, about 5 minutes longer. If you find chicken is browning too quickly before cooking through you can reduce the temperature slightly.

Transfer chicken to a cutting board, tent with foil and let rest 5 minutes before slicing.

Meanwhile add remaining 1 tablespoon oil to the same cast iron skillet set over medium-high heat.

Add bell peppers and onions, season with salt and pepper. Saute about 4 minutes, only tossing occasionally and scraping up browned bits from the bottom of the pan.

Add remaining 1 teaspoon chili powder and cumin, 1 ½ teaspoon garlic and saute until just the peppers are tender crisp, about 2 minutes longer.

Return chicken to pan, toss in cilantro and serve warm in tortillas with suggested toppings.
Notes
If your chicken is very thick it is going to take longer to cook so plan on a longer cooking time or cut the chicken into thinner pieces before marinating.
You have a lot of flexibility with this recipe. Feel free to add more peppers or onions as you like and add toppings like cheese or sour cream to your taste as well.
Nutrition
Calories:
182
kcal
|
Carbohydrates:
31
g
|
Protein:
5
g
|
Fat:
4
g
|
Saturated Fat:
2
g
|
Polyunsaturated Fat:
1
g
|
Monounsaturated Fat:
1
g
|
Sodium:
1158
mg
|
Potassium:
250
mg
|
Fiber:
4
g
|
Sugar:
5
g
|
Vitamin A:
2096
IU
|
Vitamin C:
80
mg
|
Calcium:
92
mg
|
Iron:
3
mg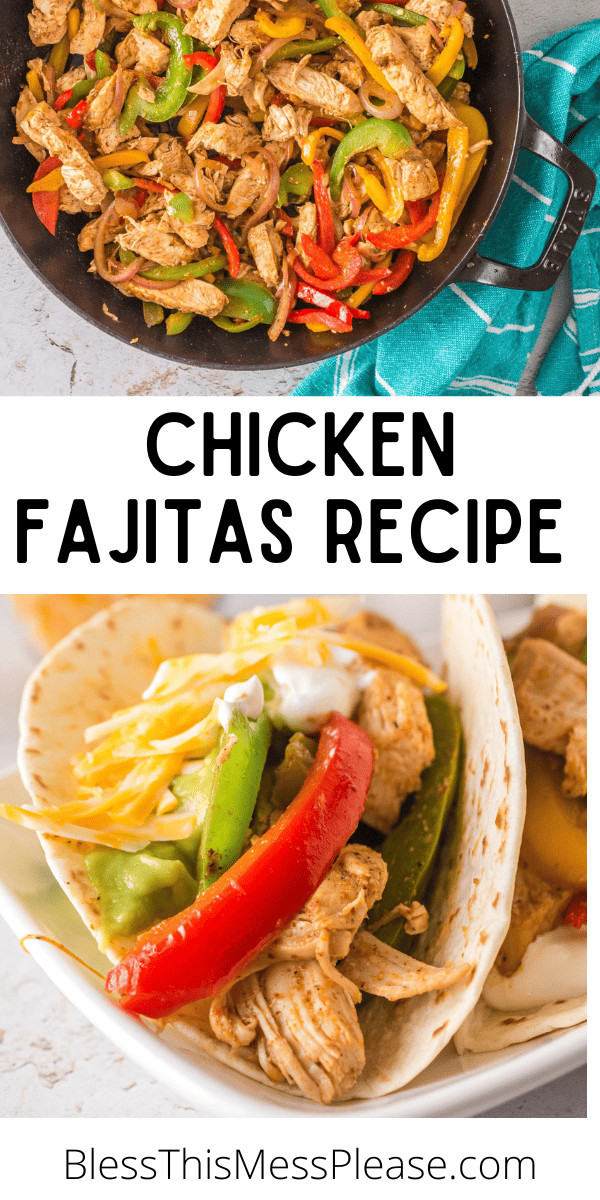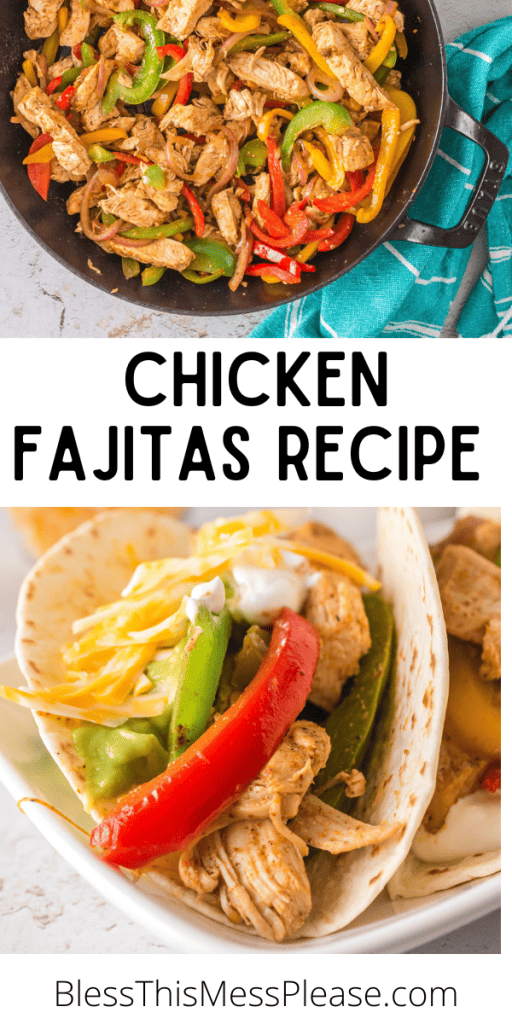 Chicken fajitas have rightfully earned their status as a sizzling sensation that is beloved by many. The tantalizing combination of flavorful seasoned chicken, sautéed onions and peppers, and a medley of toppings creates a culinary experience that excites the taste buds and leaves a lasting impression.