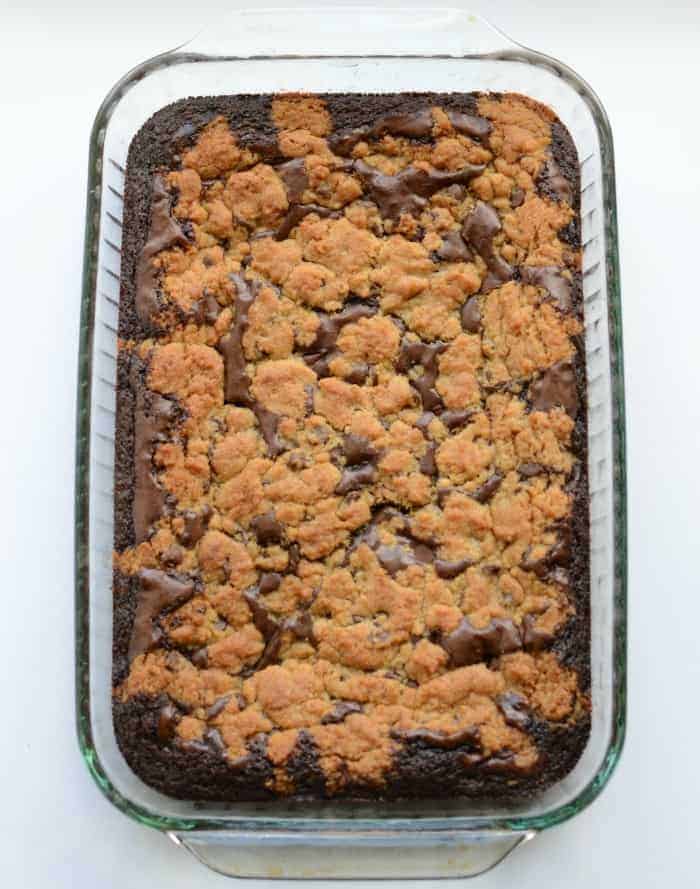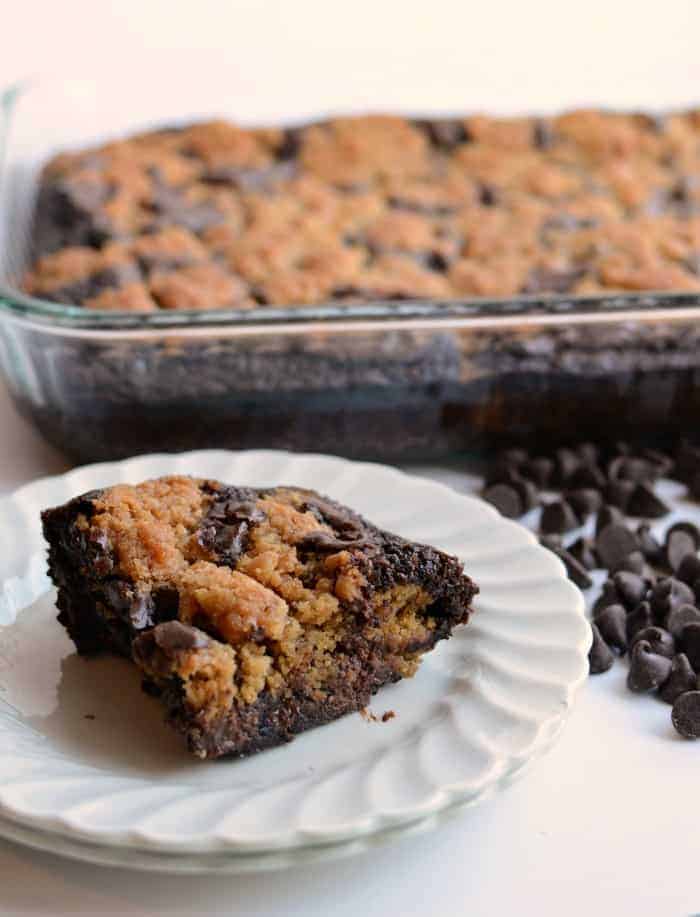 Brookies. Have you heard of them?! They are a delightful combination of brownies and chocolate chip cookies and they are amazing! This recipes is a "cheater" recipe because there's not really anything homemade to them. You know what though, that's why I love them! They take me about 8 minutes to pop in the oven and I'm done. The taste is right on though. Trust me on this one, this is a must have recipe.
This is the perfect treat to make when you need a snack to take to a church activity, a potluck, or other social gathering. They can be made the night before, they travel well, they don't mind a little warm weather (no icing that's going to melt in the summer heat), and everyone loves them. The only problem with them being so easy is that you feel a little silly when someone asks you for the recipe. Saying, "well, you just need a box of brownie mix and a bag of cookie mix and you are ready to roll" isn't much of a secret family recipe is it? Oh well, most people can appreciate a delicious truly easy treat!
I've made these no less than 10 times this summer and I'm pretty sure they'll fall into fast rotation at your house too. Enjoy!
This is the brownie and cookie mix that I use. They are what I can get at my store and so that's what I roll with. I'll be honest, those cookies are not good as cookies in my opinion (because when you have the best chocolate chip cookie recipe ever, there's no other cookie recipe in your life!). I don't even like to eat the dough once it's made. But when you add it to the brownies to make brookies, something magical happens and makes everything ok. Trust me on this one.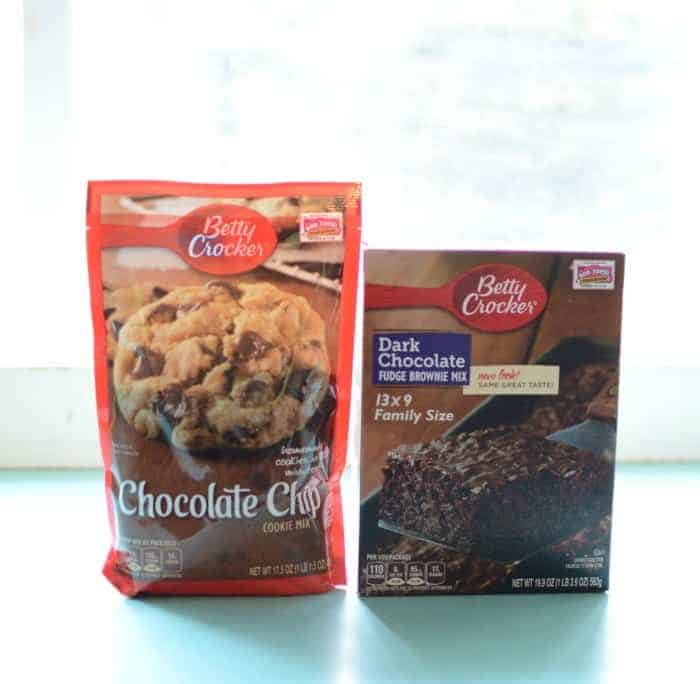 I mix up the brownies and add them to my greased plan. I'll use a spatula to really get the bowl pretty clean and then I'll make the cookie dough right in the same bowl, no washing it out in the middle. It's all making it into the same pan in the end… So not only is this easy, but you are only dirtying one bowl to make it. Here's what it looks like before baking.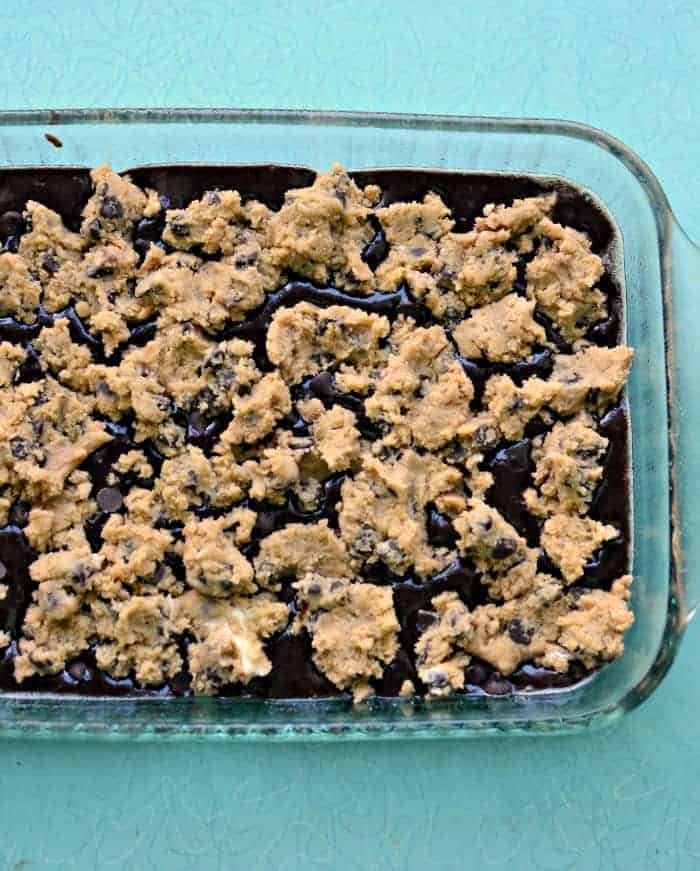 If you try this recipe, let me know what you think! Leave a comment, pin it, and don't forget to tag a picture #blessthismesseat on Instagram. I love to see your kitchen skills in action!
Print
Cheater Brookies (Chocolate Chip Cookies + Brownies)
---
Scale
Ingredients
1

family-sized box of brownie mix, plus everything on the back of the box that you need to make them (around

19.9 ounce

box)

1

small package chocolate chip cookie mix, plus everything on the back of the box that you need to make them (around a

17 ounce

bag)
---
Instructions
Preheat the oven to 350 degrees. Spray a 9×13 inch baking dish with cooking spray and set aside.
Make the brownies according to the package directions and add them to the pan.
Make the cookies according to the package directions. Add the cookie dough in chunky pieces to the top of the brownies (see pictures for example).
Bake for 27-30 minutes until the cookies are nice and golden brown.
---
Notes
If you can't find the Betty Crocker mixes I use I recommend finding a cookie dough package that calls for butter as the fat to mix in. I tried one that called for oil and it wasn't very good.
I use a glass baking pan, baking time may very if you use a metal pan.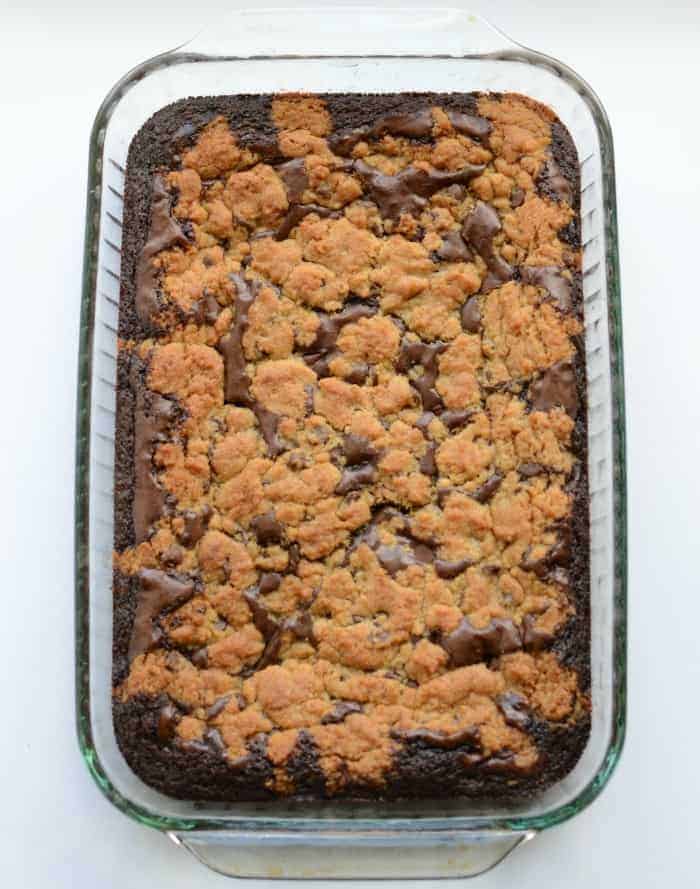 Voila! And there you have one very delicious rich dessert that stays really soft and chewy. I know these brookies might go against my homemade philosophy but we all need a few tricks up our sleeve. Am I right?! Enjoy friends.
If you need a few more dessert options, here's my entire visual dessert category. My, it's a pretty sight!
Thanks so much for stopping in!